Original Article – https://www.loveproperty.com/gallerylist/89109/retro-kitchens-of-yesteryear-that-will-make-you-nostalgic
Ultimate kitchen throwbacks
Ethan / Flickr [CC BY 2.0]
From the slick curves and bold hues of the 1940s to the innovative flat-pack cabinetry of the 2000s, the humble kitchen has undergone an evolution like no other. Step back in time as we explore some of the most iconic and nostalgic retro kitchen designs from every decade. Click or scroll on and let's take a trip down memory lane…
1940s: Red, white and blue kitchen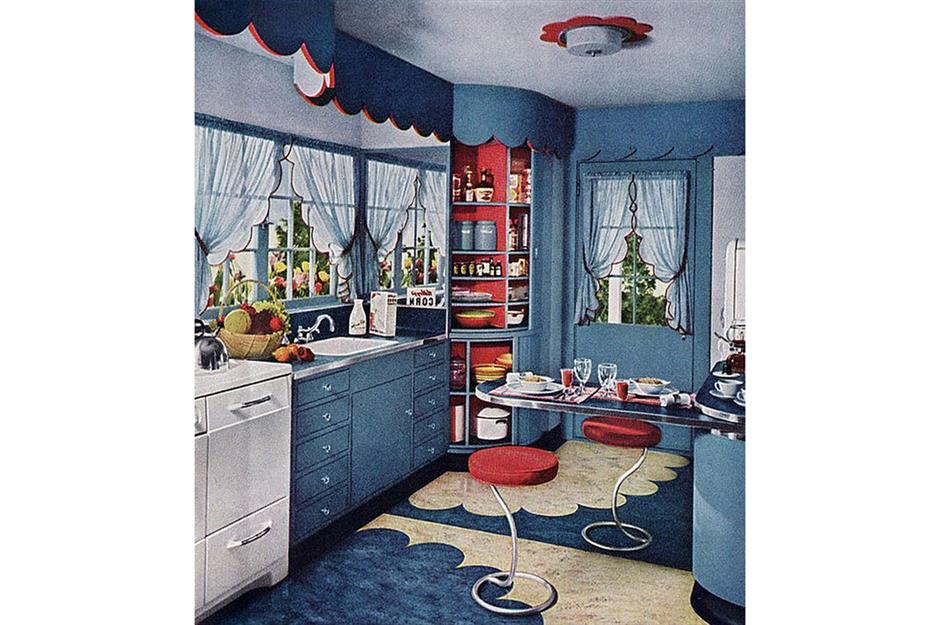 @isabella.honeybee / Instagram
Here's proof that we've gotten ever so safe in our decorating choices. While this denim-blue beauty might not be to everyone's taste, you can't help but marvel at the scalloped trim with red edging, curved larder shelving and matching sheer curtains. Published in Ideas for Every Room by Armstrong Cork Company, this statement flooring is certainly the star of the show.
1940s: Sleek kitchen
retrorenovation.com
Despite the prevalence of steel cabinets in the 1940s, wood was still a popular and reliable choice. With its slab-front units, curved breakfast bar and bent metal counter seats, this kitchen shows the origins of many of today's trends. We can breathe a sigh of relief that the brown-and-yellow colour scheme was abandoned at the turn of the decade though…
1940s: Kitsch polka dot kitchen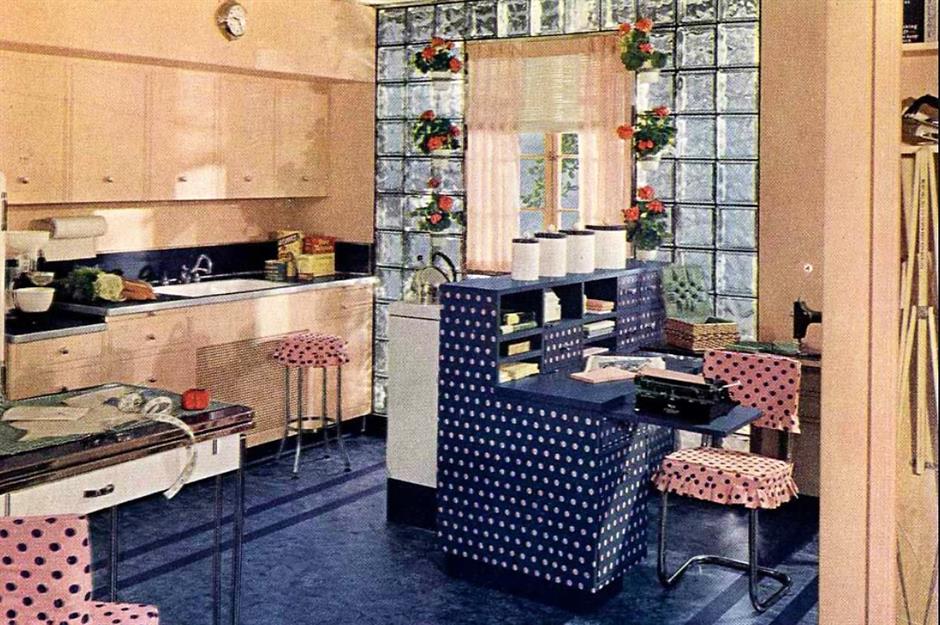 retrorenovation.com
Designed by influential interior stylist Hazel Dell Brown in 1941, this pale pink and blue kitchen is polka dot perfection. From the glass-block wall with its artfully mounted flowerpots to the skirted chair and counter stool covers, the space bears witness to Brown's eye for detail. We particularly love the integrated desk with its handy compartments.
1940s: Yellow kitchen with a daybed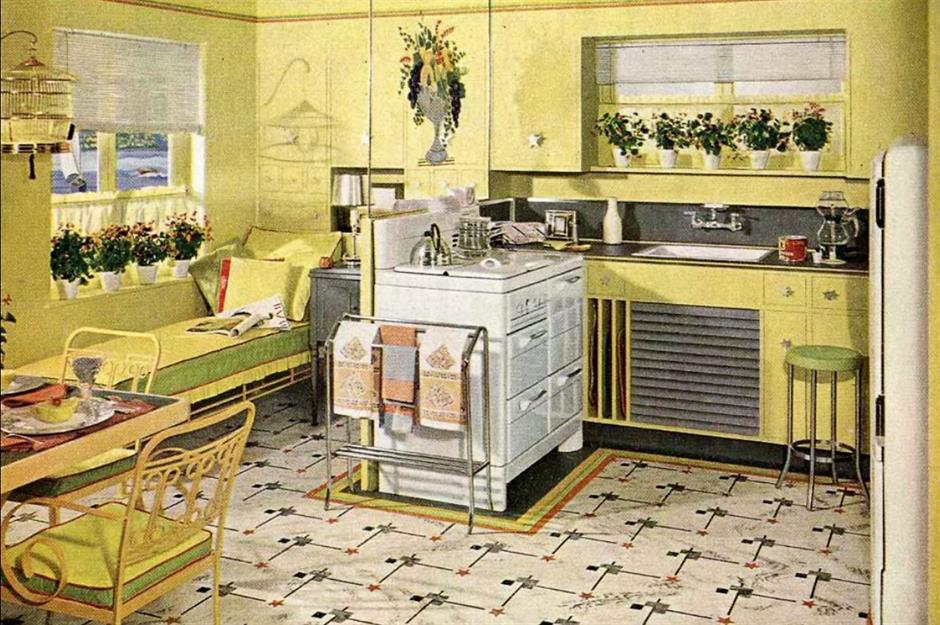 retrorenovation.com
Another gem from 1940s designer Hazel Dell Brown, this pale yellow kitchen is chock-full of quirky features. From the glass divider printed with an elegant floral design to the daybed in the corner, this vibrant room has everything you'd ever need in one space.
1950s: Mint green kitchen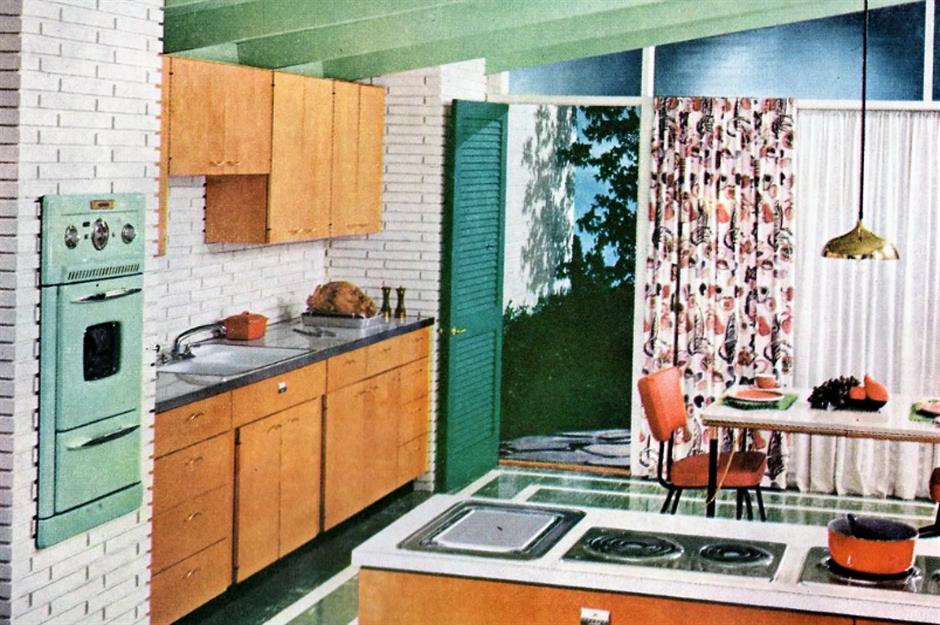 Ethan / Flickr [CC BY 2.0]
This 1950s magazine illustration features a mint green oven that matches the slanted rafters, a polished brass pendant light and elegant wood cabinetry. Note the white brick wall—a predecessor to the metro tile—and the trendy chrome- and gold-coloured hardware, which can be seen in many modern homes today.
1950s: American kitchen
Ethan / Flickr [CC BY 2.0]
Sporting a gleaming stainless steel oven and matching hob, this would have been a cutting-edge kitchen back in its day. The pale yellow units are offset by an orange wall which has been decorated with an eclectic collection of metal trivets, rolling pins and ladles.
1950s: Turquoise kitchen with gingham curtains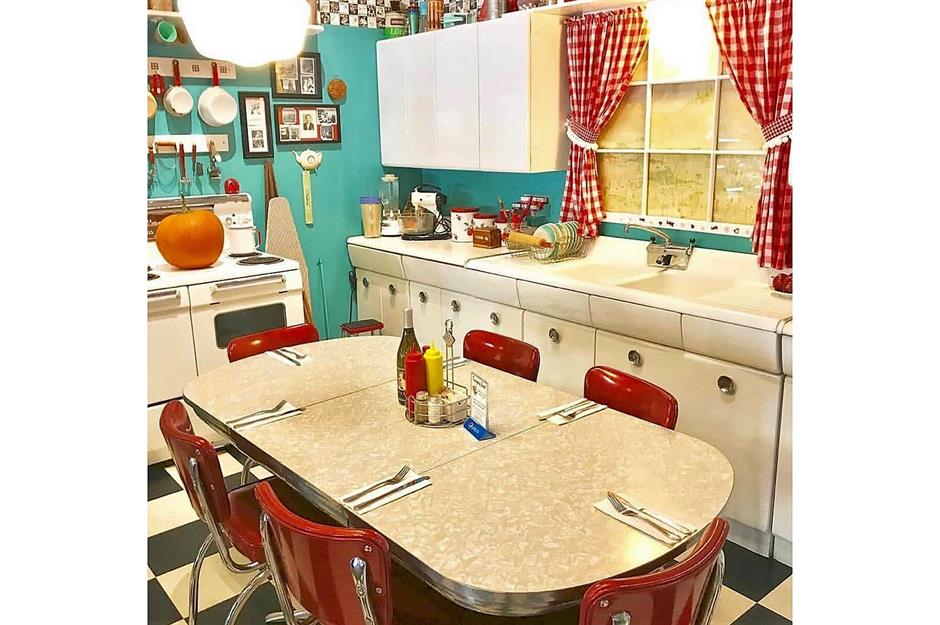 @lucafrankde / Instagram
We're firmly in the 1950s with this striking cream-and-red kitchen. A nod to the American diner, whose popularity surged during this decade, it features polished steel chairs with cushioned seats, gingham curtains and chequered lino. We love the little gallery wall and red-handled saucepans hanging over the cooker!
1950s: Mid-century wooden kitchen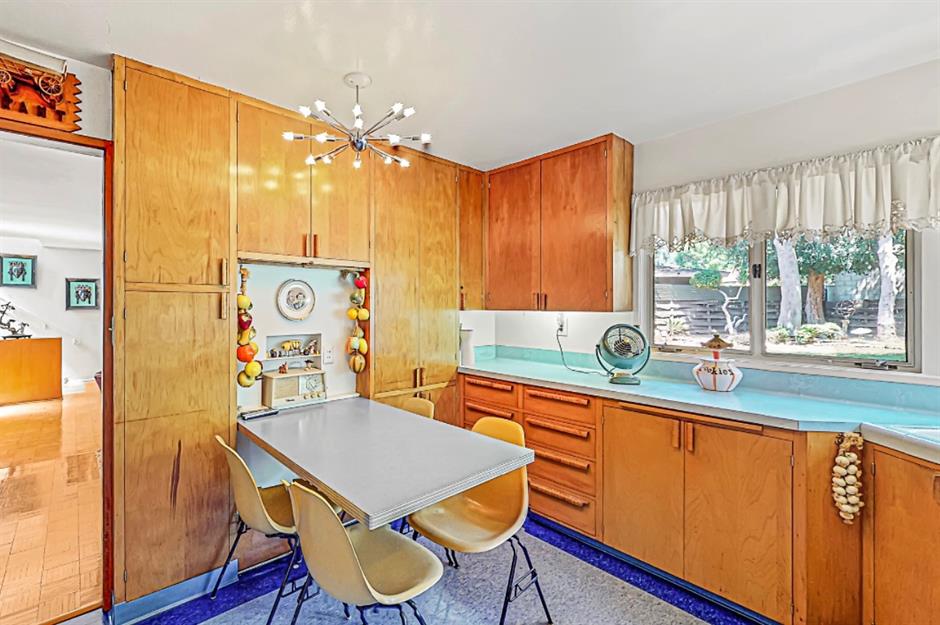 CIRCA
With its two-tone lino floor, moulded bucket chairs and lace-edged pelmet, this kitchen is a perfect 1950s time warp. Although commemorative plates and braided garlic strings are yet to make a comeback, the sputnik chandelier wouldn't look out of place in a contemporary home.
1950s: Vintage blue and yellow kitchen
Ethan / Flickr [CC BY 2.0]
A picture of domestic bliss, this magazine illustration features powder-blue units and contrasting copper-coloured appliances. Note the archetypal sunburst clock, the under-cabinet dining nook and of course the beaming housewife. An early ancestor of the industrial trend, the image reveals the roots of the exposed brick wall.
1950s: Salmon pink kitchen
@timecapsule_homes / Instagram
The 1950s saw pastel shades aplenty in kitchens, including salmon pink, as we can see in this kitchen, which looks as though it's straight out of a time capsule. Complemented by white wood panelling, floral curtains and geometric linoleum, this compact cooking space is brimming with vintage appeal.
1950s: Vintage GE steel kitchen
retrorenovation.com
When General Electric first launched its 'Wonder Kitchen' in 1955, it was an immediate hit. Featuring a slew of the company's appliances and their famous glass-fronted 'cabinettes', this cream-coloured steel kitchen was the model of practicality and ingenuity for its time.
1950s: Bold kitchen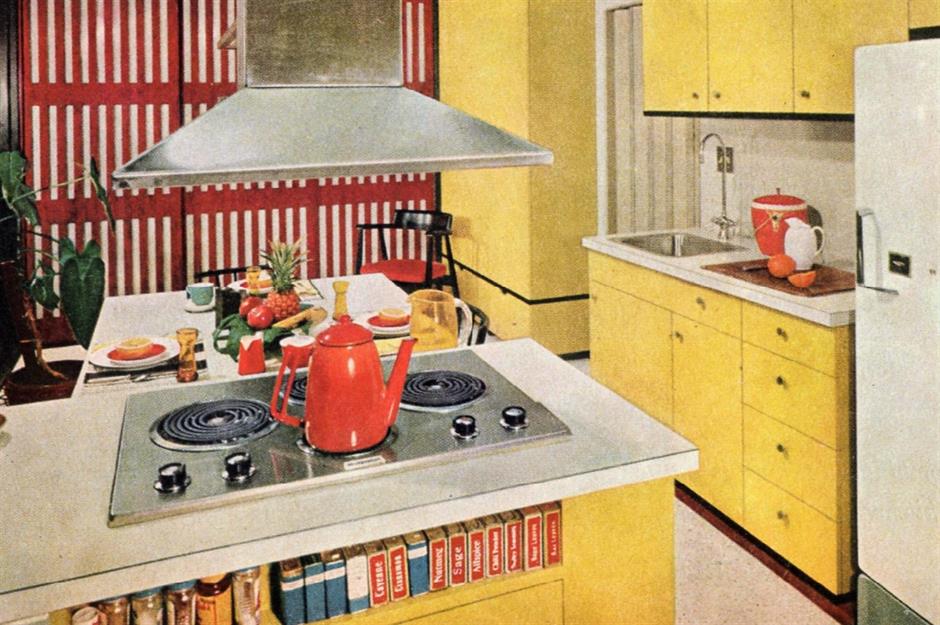 Ethan / Flickr [CC BY 2.0]
Bold, sunny hues dominated the 1950s, symbolising a more optimistic outlook following the Second World War. With its canary yellow units, coral-coloured kettle and vibrant spice tins, this bright kitchen was an early example of the colour-blocking trend. Best of all is the bright red coffee pot—a perfect piece of retro homeware.
1950s: Pink and green kitchen
Ethan / Flickr [CC BY 2.0]
Mint green may not be in fashion now, but pastel-coloured cabinets were all the rage back in the 50s. Combined with candy pink walls and accessorised with a trendy sunburst clock and matching copper kettle, this colourful kitchen was bang on trend 60 years ago.
1960s: Charming country kitchen
Steven Coling / Shutterstock
With its eclectic display of patterned crockery and powder blue chequerboard sink skirt, this charming kitchen offers a glimpse into an old-fashioned country home. Cheerful sunflowers, stripes and bright blue cabinets make this a sunny space to cook and eat. We love the record player—perfect for kitchen parties!
1960s: Retro kitchen with a hatch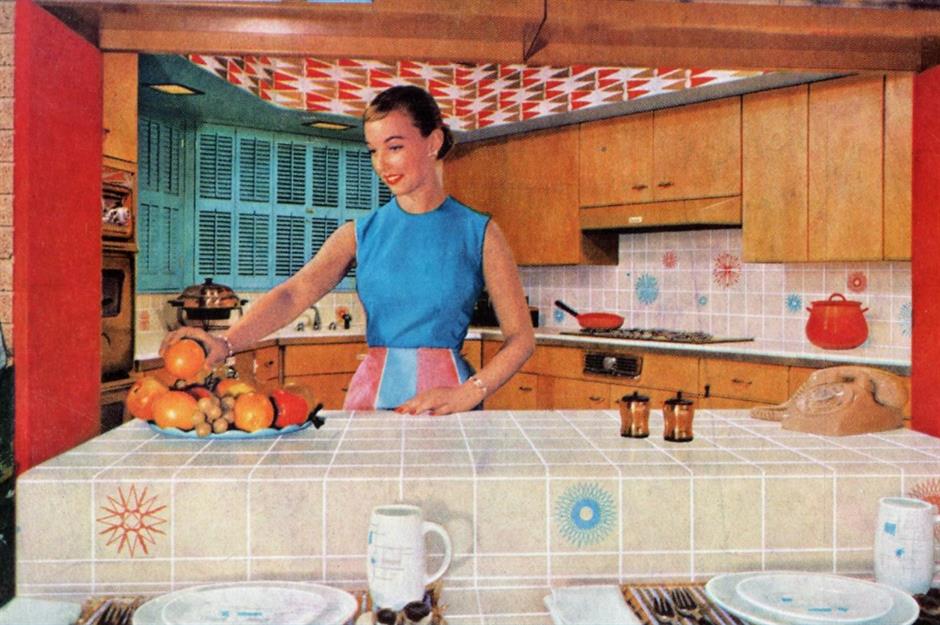 Ethan / Flickr [CC BY 2.0]
The handy hatch—an intrinsic feature to many a retro kitchen—takes centre stage in this vintage magazine illustration. With its loud geometric ceiling and pops of red and turquoise, this vibrant image will bring back memories of Friday family suppers and Sunday roasts.
1960s: Mid-century galley kitchen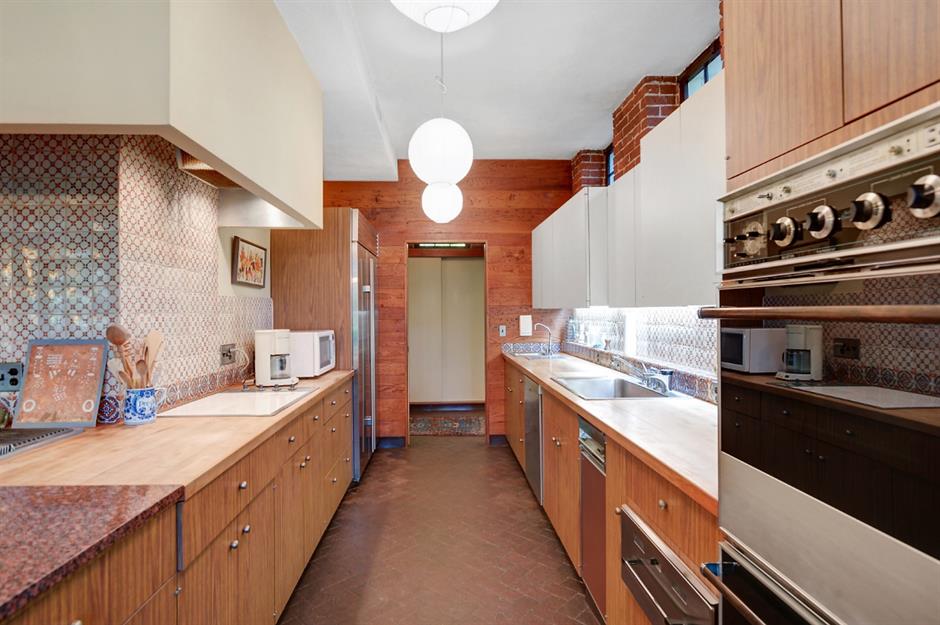 CIRCA
This trendy galley kitchen boasts many features that would not look out of place in a contemporary home. From the Moroccan-style tiles to the frosted glass pendant lights, the space is a source of inspiration for homeowners embracing the mid-century modern trend.
1960s: Julia Child's kitchen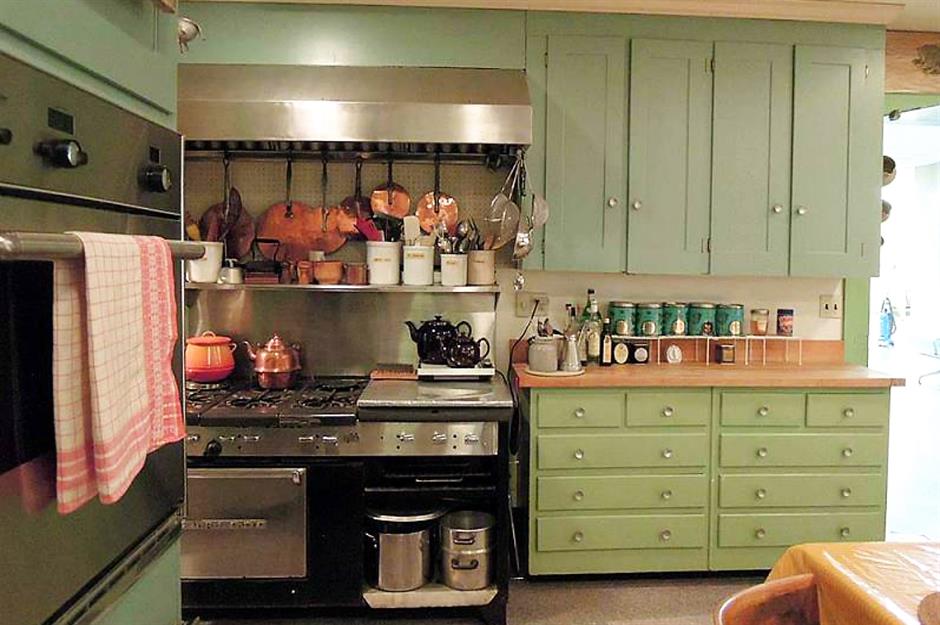 National Museum of American History
Now on display in the National Museum of American History, the kitchen of celebrated chef Julia Child epitomises the sleek designs favoured by homeowners in the 1960s. Complete with butcher-block counters and a stainless steel range, this was every home cook's dream kitchen and Julia designed it with her husband Paul, including the ingenious pegboards for hanging her gleaming copper pans.
1960s: Utilitarian white kitchen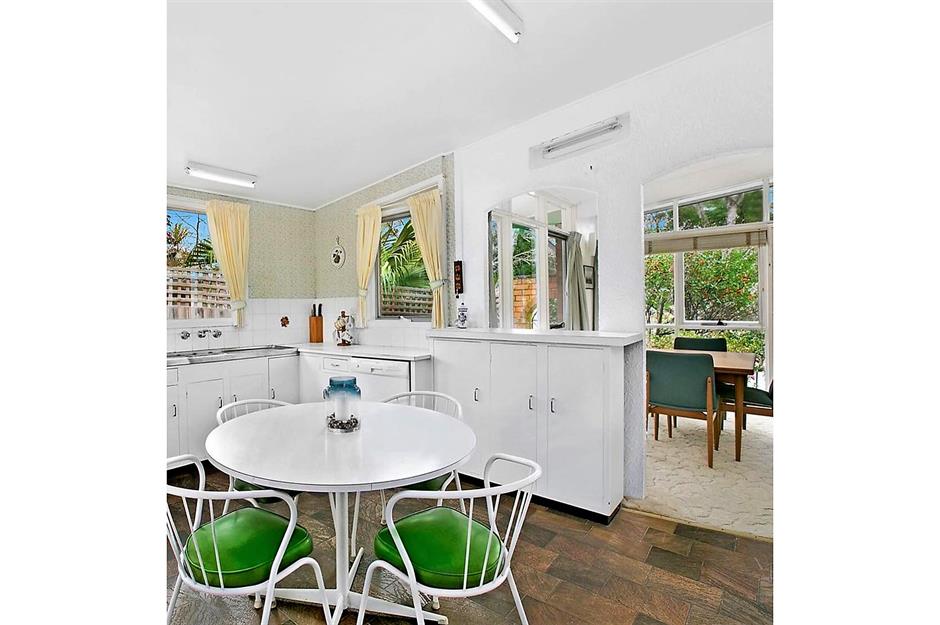 @timecapsule_homes / Instagram
Sleek and utilitarian, this all-white kitchen is offset by brown-tiled floors and bright green leather seat cushions. Complete with patterned wallpaper, lemon yellow curtains and strip lighting, the space is a perfectly preserved 1960s relic.
1960s: Industrial-style kitchen
CIRCA
With its curved counter, stainless steel splashback and cluster of pendant lights, this kitchen shows off a number of 21st-century kitchen trends. The wood-panelled walls and ceiling fan were typical of the 1960s, as was the open-plan layout. With dinner parties becoming increasingly popular, kitchens were built to facilitate entertaining.
1960s: Cream kitchen with a retro booth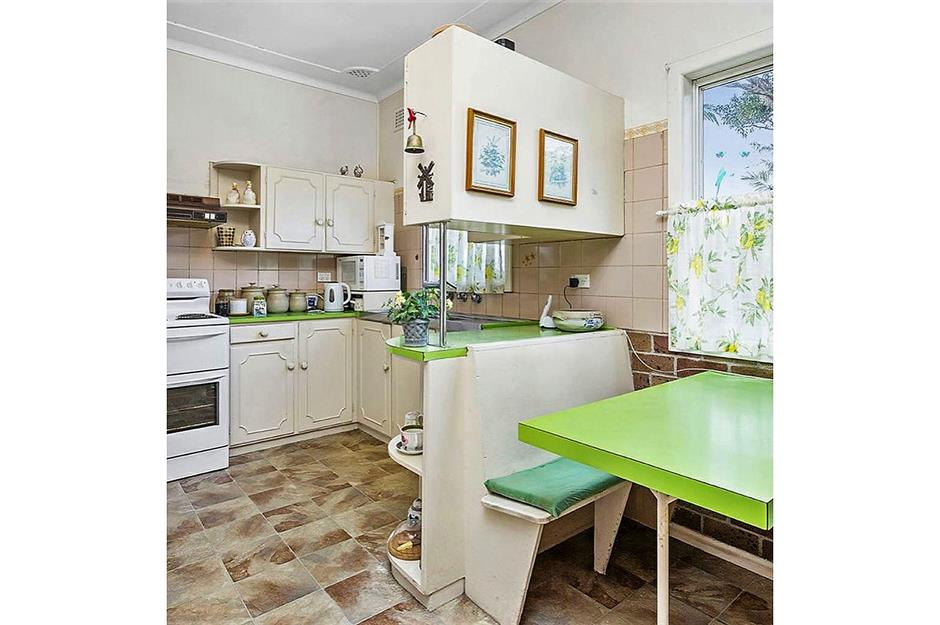 @timecapsule_homes / Instagram
What better way to bring a pop of colour to a boring beige kitchen than to add bursts of vibrant lime green? With its diner-style booth, curved counter and lemon-print curtains, this retro kitchen would have been the epitome of cool back in the day.
1960s: London kitchen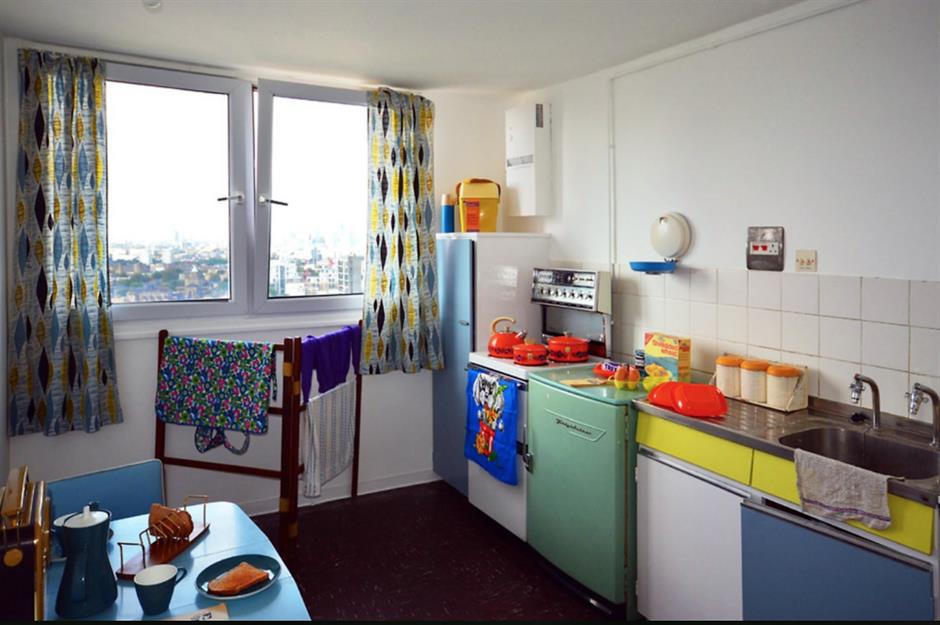 George Rex / Flickr [CC BY-SA 2.0]
With its neon yellow sink panels, bright orange cookware and jazzy curtains, this cheerful kitchen symbolises the liberal mindset of the swinging '60s. The quirky mix of pastel and fluorescent hues has sadly not stood the test of time, but there's no reason why it can't make a comeback.
1960s: Bright kitchen with patterned tiles
@timecapsule_homes / Instagram
The designer of this kitchen certainly had no qualms about mixing and matching. With its bright wooden cabinets, trompe l'oeil tiles, faux marble counters and floral pelmet, this room is nothing if not original. The pièce de résistance is the turquoise shagpile—one trend that has not dated well!
1960s: Wooden kitchen with a multi-tier island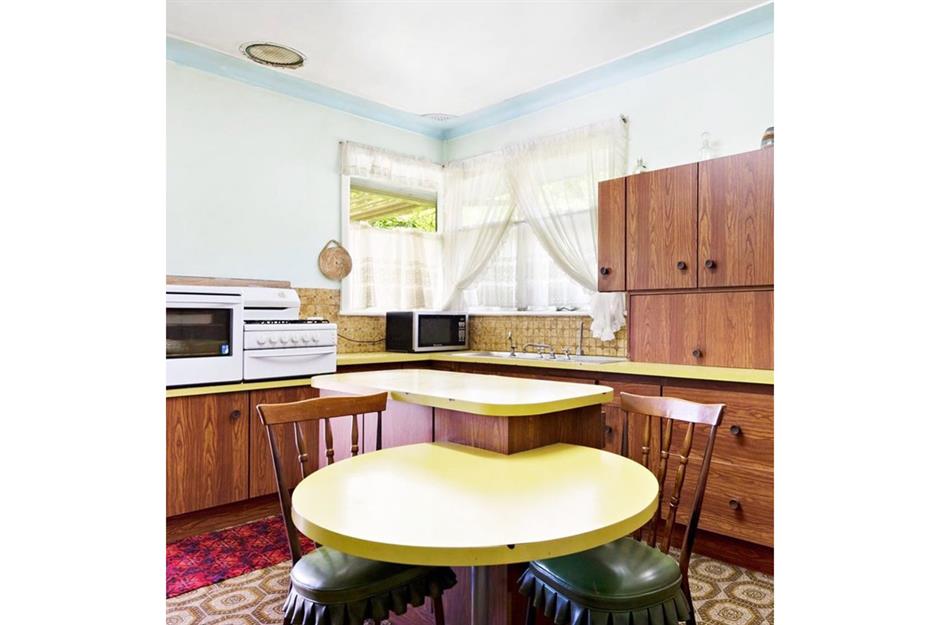 @timecapsule_homes / Instagram
Bright yellow counters, green chairs, a red rug and blue crown moulding—it sounds like a garish nightmare, but weirdly, it works. Throw in faux wood units, lace curtains and some utilitarian-looking appliances and you've got yourself the perfect 1960s kitchen.
1970s: Wooden kitchen with a bar
@timecapsule_homes / Instagram
Wood was king in the 70s as designers moved towards natural hues and organic materials. With its wooden beams and rich, grained cabinets, this time-capsule kitchen is a prime example of late 20th-century design. Warm and homely, this space would have been perfect for entertaining.
1970s: Sunny yellow kitchen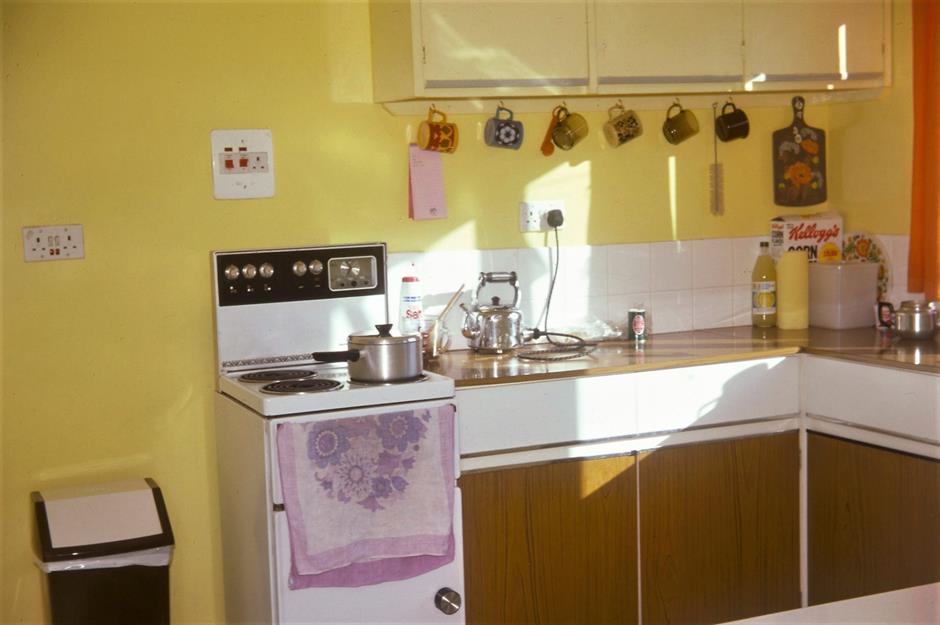 denvilles_duo / Flickr [CC BY-NC-ND 2.0]
The 1970s were all about the hippie movement and this sunny yellow kitchen pays homage to the decade of flower power. The mismatched hanging mugs match the tea towel and chopping board, while the colourful Kellogg's Corn Flakes box adds the perfect finishing touch to this retro throwback.
1970s: Electric blue kitchen with a statement ceiling
@vintage__interiors / Instagram
Now here's a kitchen fit for the boldest of decorators. Rows of handleless electric blue units have been carefully designed to fit this quirky curved space, offset by unusual black-and-white wallpaper across the walls and even the ceiling. A brass fisherman-style pendant light illuminates the dining area—a feature that's since come back into vogue with the resurgence of industrial design.
1970s: Avocado kitchen
@andthentheotherone / Instagram
This bold kitchen encapsulates everything we love to hate (or actually, just love) about the late 1960s and early '70s design trends. From the avocado-green units featuring contrasting white panelling to the busy floral tiles, it's a vintage lover's dream scheme.
1970s: Monochrome streamlined kitchen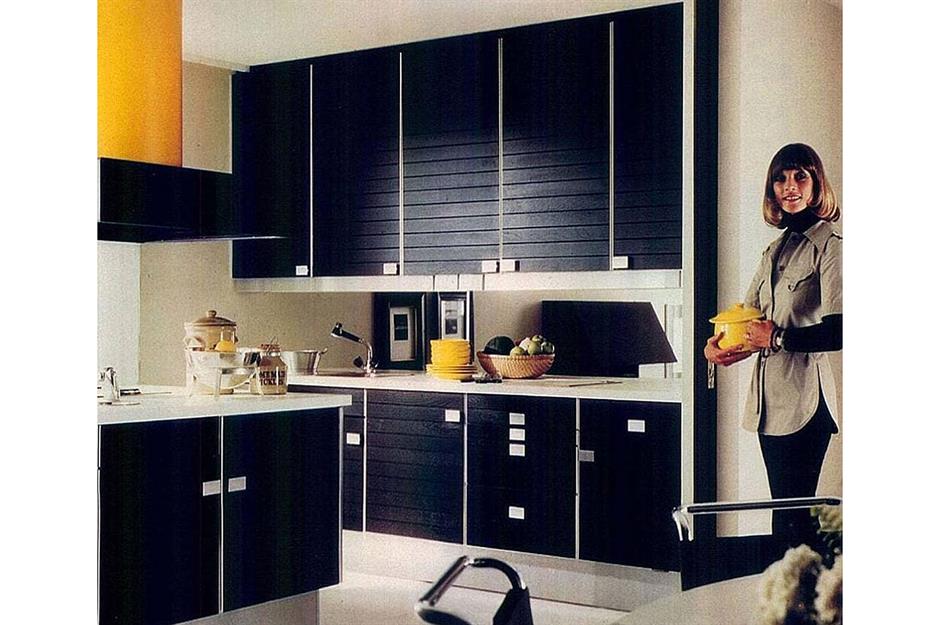 @vintage__interiors / Instagram
Sleek and streamlined, this gorgeous monochrome kitchen is evocative of the emerging taste for minimalism in the 70s. Of course, black kitchens are also a huge trend now, but it's the block metallic handles and horizontal wooden cladding that's really got us. Unexpected bursts of yellow across the crockery and wall add a playful twist to this sleek space.
1970s: Pastel pink kitchen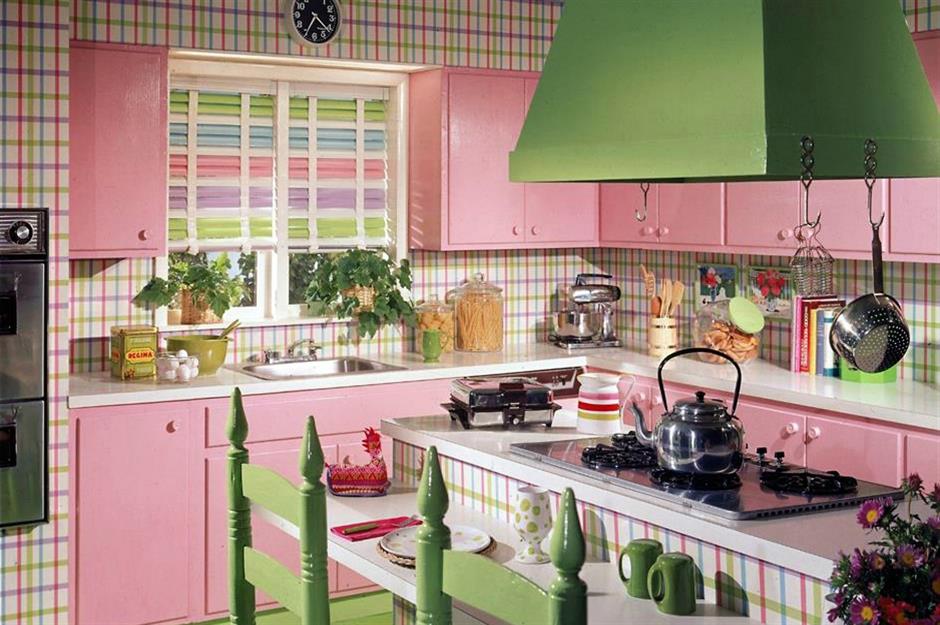 Hulton Archive / Getty Images
We're back to pastels with this eye-catching green-and-pink kitchen. Complete with matching plaid wallpaper and multi-stripe blinds, this image highlights the mid-century penchant for matching powder-hued fittings and appliances. Even the milk jug matches!
1980s: Brown tiled kitchen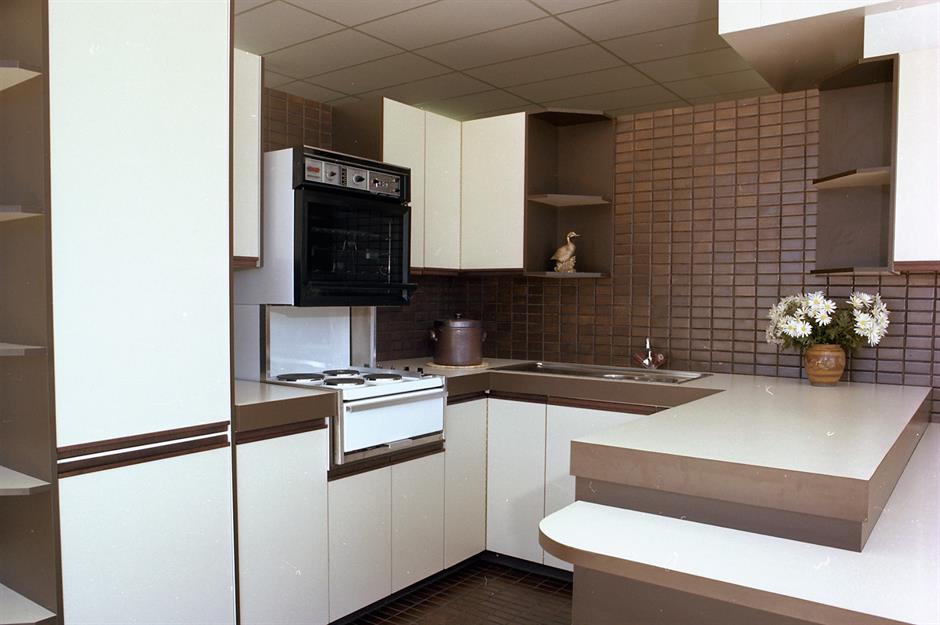 National Museum of Australia
A slightly more austere style, this 1980s Australian kitchen champions the new taste for minimalism. A hangover from the 70s where earth tones were on-trend, it features mottled brown tiles with matching accent shelving and cabinet trims. The suspended oven is a great space-saving feature and child-friendly to boot.
1980s: Rattan kitchen
@the_80s_interior / Instagram
Proof—if any were needed—that design is cyclical, this rattan kitchen has bounced right back into fashion in the 2020s. The gorgeous honey-hued wooden cupboards have a central panel made from wicker, which adds texture and depth to the overall look. Even the dishwasher has been given the same treatment!
1980s: Red and white kitchen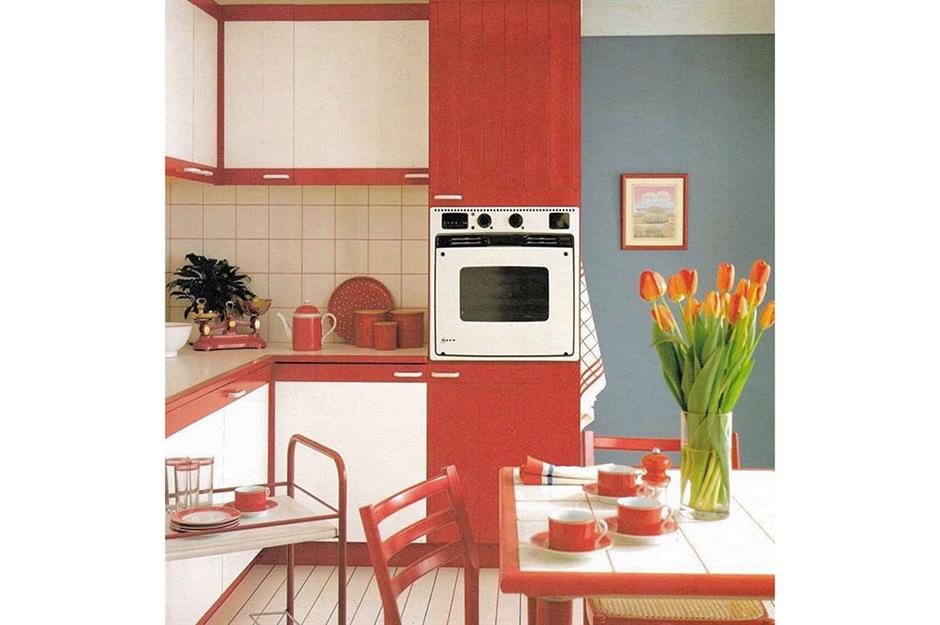 @the_80s_interior / Instagram
Now this is what a kitchen looked like in the 1980s! The red and white colour scheme was a hot favourite of the decade. Evocative of the era, white units, built-in appliances and graph tiles contrast with the vibrant cabinet trim and scarlet accents across the crockery and drinks' trolley.
1980s: Tiny white kitchenette
@vintage__interiors / Instagram
Small kitchens are nothing new, as this tiny vintage set-up proves. Simple yet striking in design, the snug scheme features nostalgic hallmarks of 1980s design, including minimalist white cabinetry and matchstick tiling across the walls and floor. We're impressed that such a compact space can accommodate dual stainless steel sinks!
1980s: Wooden kitchen with a built-in TV
@vintage__interiors / Instagram
Clad floor to ceiling in honey-hued wood, this kitchen of yesteryear is the epitome of its era, with its lozenge-shaped breakfast bar and rattan-and-chrome bar stools. In the UK and the US, the 1980s saw the introduction of more TV channels, so it's no surprise that the television is positioned pride of place in a specially designed built-in unit.
1980s: Coral wallpapered kitchen
@vintage__interiors / Instagram
This 80s kitchen certainly has the wow-factor thanks to this incredible arched glass roof which lets the light flood in. A mishmash of traditional design elements, from the lanterns and swagged blinds to the punchy coral wallpaper, this kitchen manages to pull them all off with style. We particularly love the oversized ferns perched on top of the cupboards.
1980s: Euro-style kitchen with handleless cabinets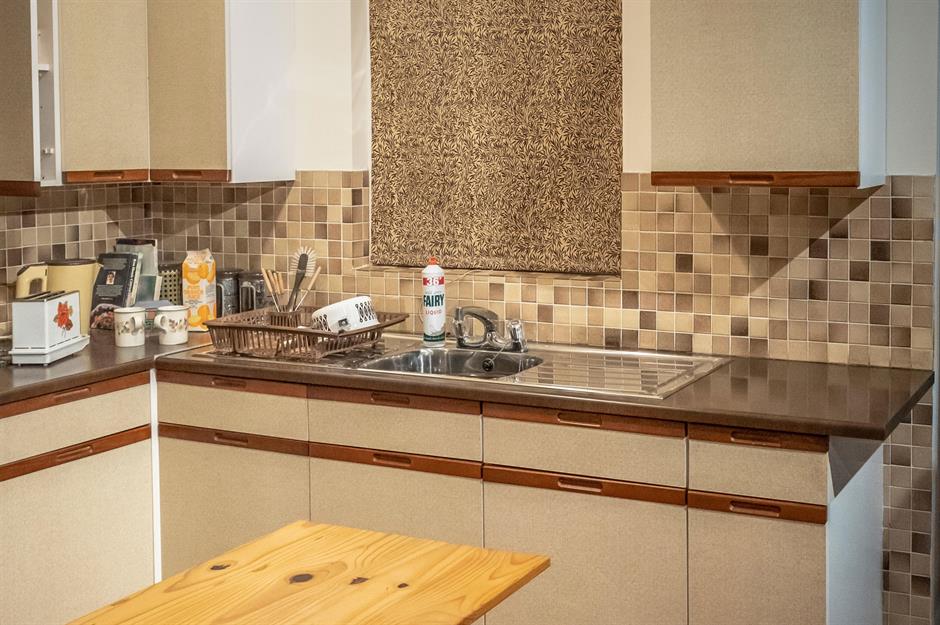 simon evans / Alamy Stock Photo
Another popular kitchen design to emerge from the 80s was the concept of kitchen cabinets without handles. The Euro-style kitchen was a trend of yesteryear that featured pale laminate-fronted units, finished with streamlined wood trims and seamless indented handles.
1980s: U-shaped kitchen with high-tech appliances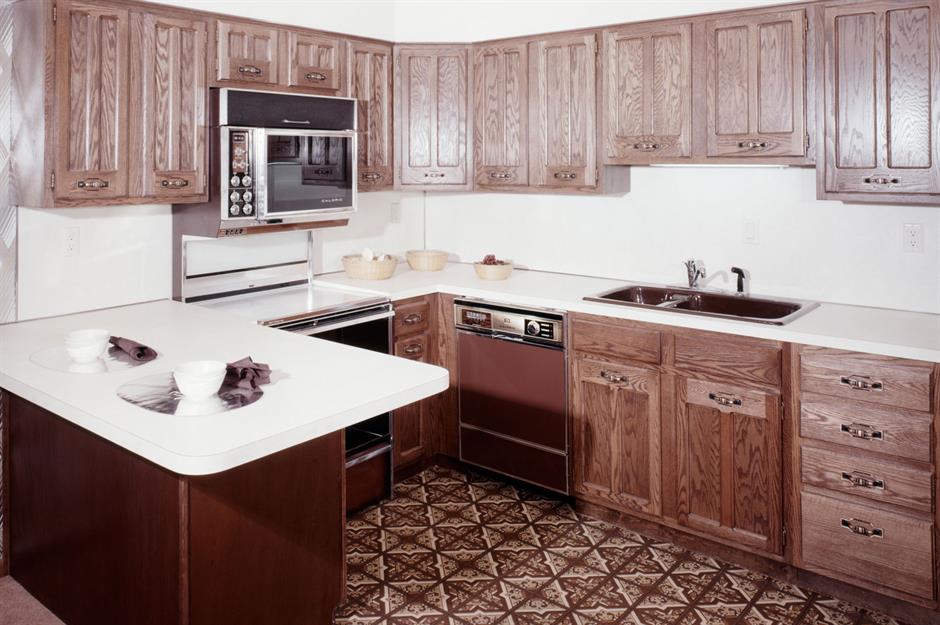 ClassicStock / Alamy Stock Photo
In the 1980s, popular open-plan layouts made way for U-shaped kitchens with continuous worktops. This extended counter space offered more room to accommodate the latest shiny kitchen appliances of the day. As microwave ovens became more affordable and high-speed cooking ever more desirable, that familiar ping was soon ringing out across 80s households.
1980s: White kitchen with recessed handles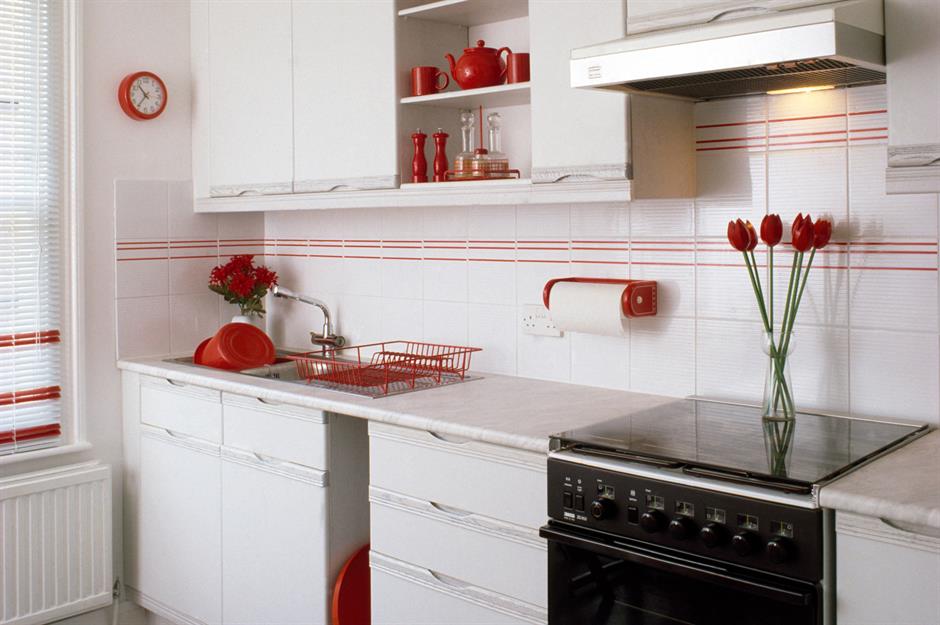 Elizabeth Whiting & Associates / Alamy Stock Photo
Minimalist white kitchens with contrasting red trims, splashbacks and accessories were a fixture in trendy 1980s homes. White laminate cabinets and matching worktops were neutral and easy to keep clean, while vibrant accents added a point of difference. Streamlined cabinet handles were rising in popularity at this time too, so these recessed openings would've been all the rage.
1980s: Kitchen with a breakfast bar
Elizabeth Whiting & Associates / Alamy Stock Photo
During the 80s, living on the go was the fashion. Consequently, almost every kitchen needed a breakfast bar where you could grab a quick bite to eat. Cool kids of the 'yuppie' era may remember coming down to breakfast and helping themselves to a bowl at the cereal station.
1980s: Honey-hued wood kitchen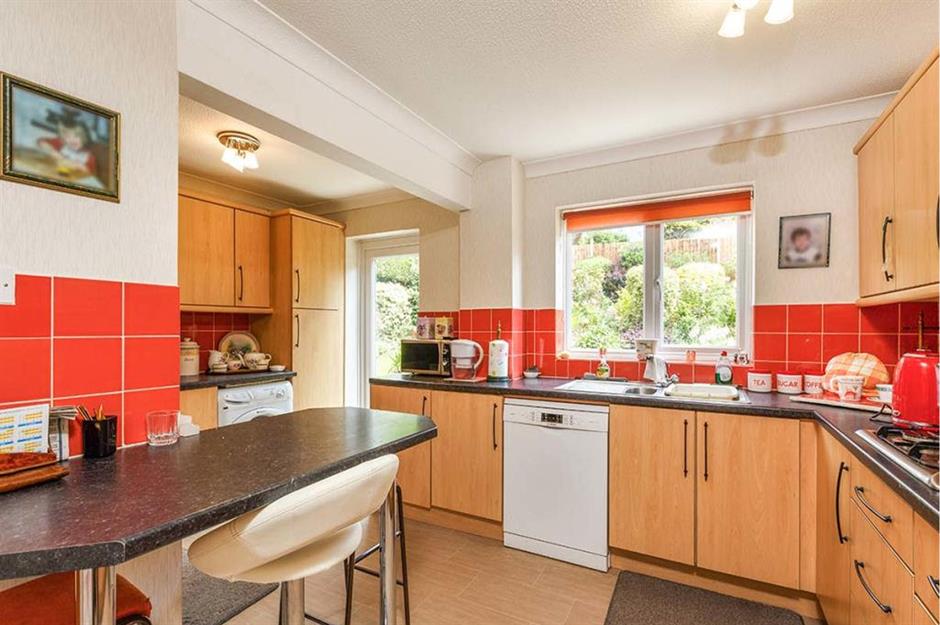 Your Move
During the 1980s, honey-hued cabinets lightened up the look of the heavy, dark wood kitchens of the previous decade. Combined with laminate worktops and a high-rise breakfast bar, the look was affordable and relaxed. Note that vivid red hue, a favourite of the era, creeping in across the splashback and accessories.
1980s: Country-style kitchen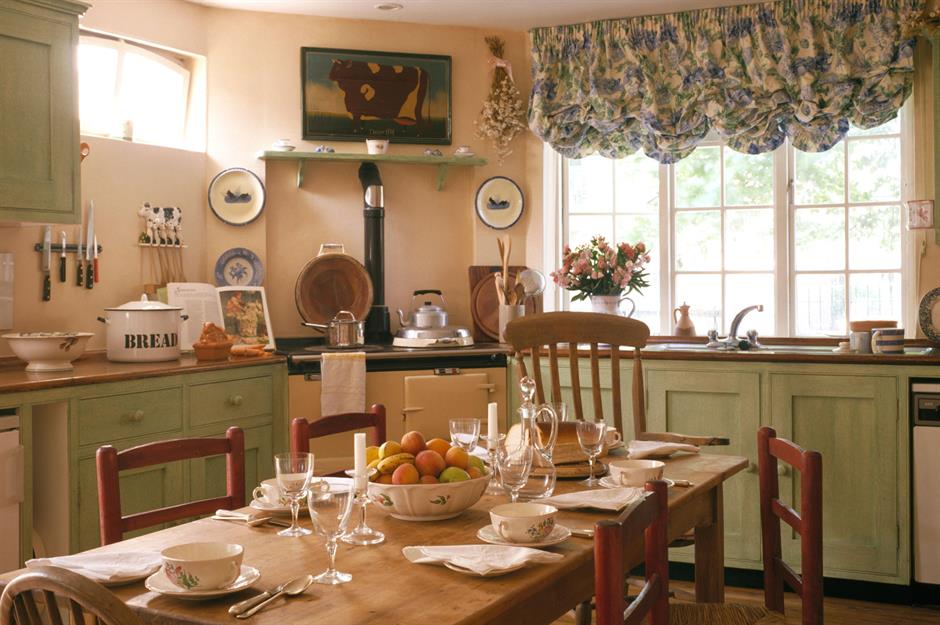 Elizabeth Whiting & Associates / Alamy Stock Photo
Homely farmhouse-style kitchens were a desirable look in the 80s. Martha Stewart modelled the large kitchen of her Turkey Hill farmstead in Connecticut in homage to this popular trend. The design typically featured wooden cupboards framing a large dining table, accessorised with homely fixtures such as floral curtains, copper pots and decorative wall plates.
1990s: Kitchen with black granite countertops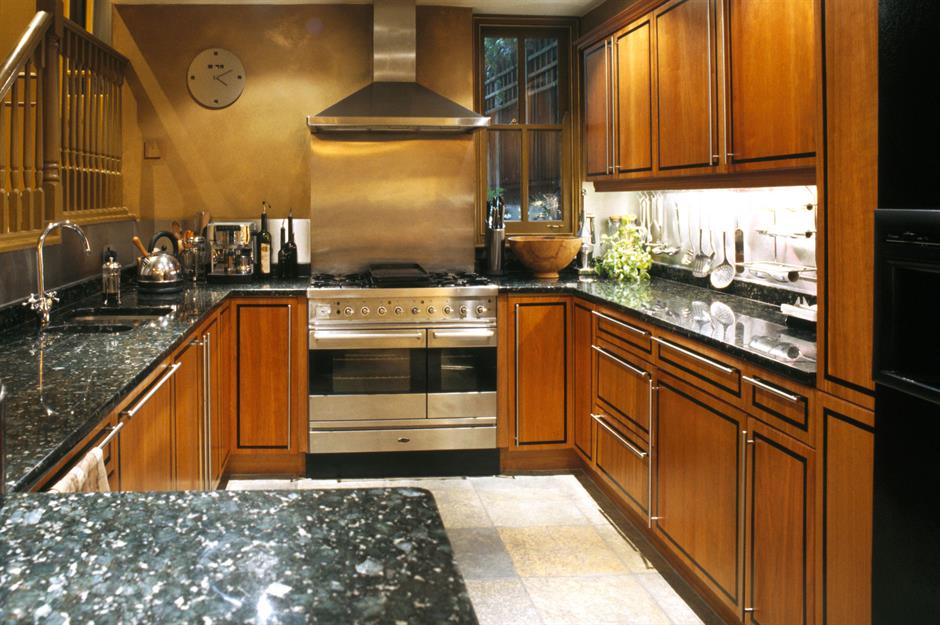 Elizabeth Whiting & Associates / Alamy Stock Photo
Granite was heralded as something of a cutting-edge material for kitchen worktops during the 90s, due to its distinctive grain and durable nature. Black was probably the most iconic hue of the decade, contrasting dramatically with the era's popular cherry wood cabinetry. Affordable alternatives such as Corian, which was a solid-surface countertop that mimicked the look of stone without the cost, also rose to prominence.
1990s: Kitchen with stainless steel appliances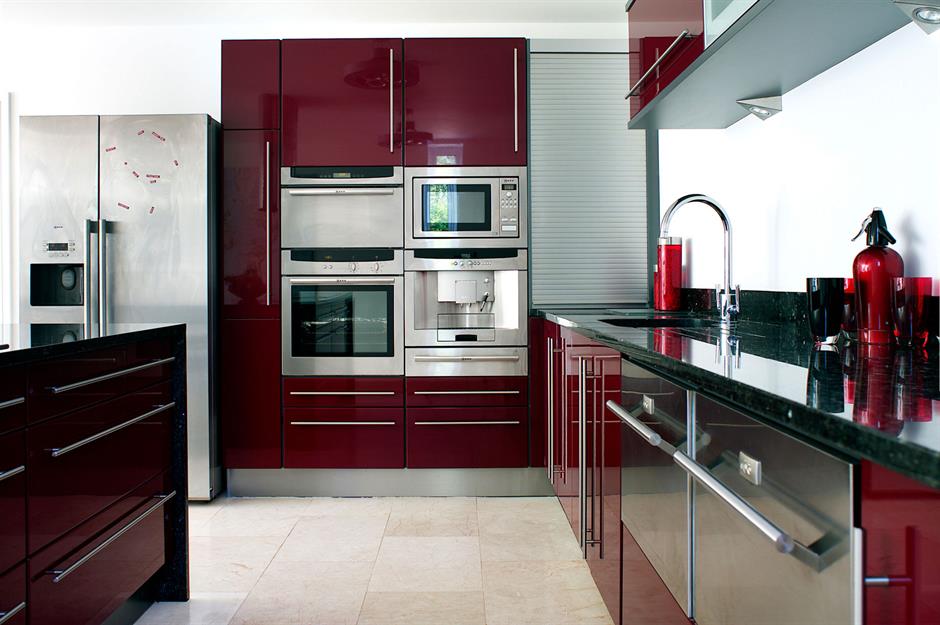 Arcaid Images / Alamy Stock Photo
With a growing emphasis on sleek, streamlined design, stainless steel kitchen appliances began to gain traction in the 1990s. Double-door refrigerators, ovens and microwaves went from black, white or beige to sophisticated steel. Fit for even the best chefs, this key material shift added a professional feel to our cooking spaces.
1990s: Grey kitchen with slab high-gloss units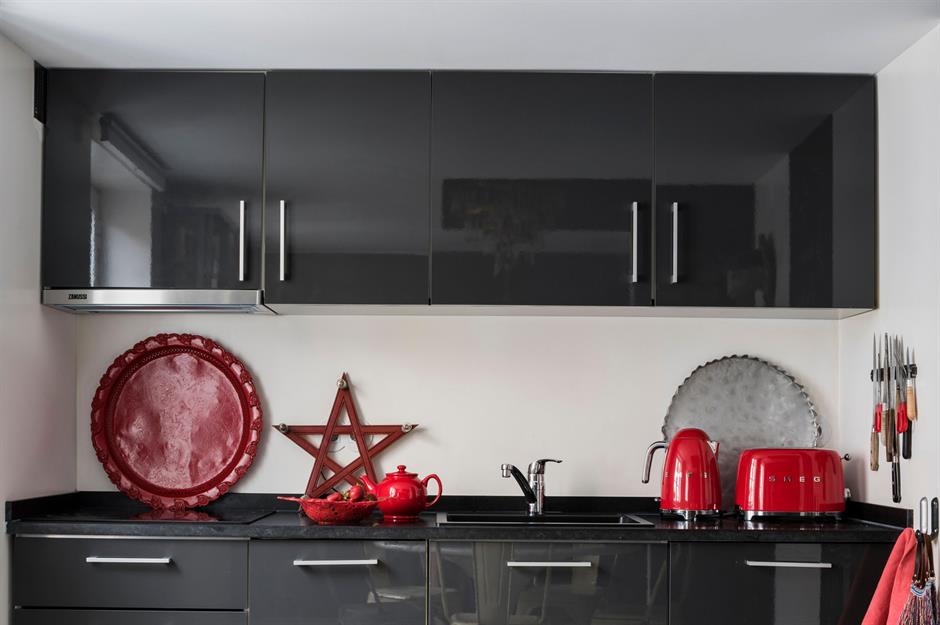 Andreas von Einsiedel / Alamy Stock Photo
With shiny stainless steel appliances came a new-found love of high-gloss handleless kitchens and cabinets. Fuss-free slab units led to experimentation with a whole range of colours, from bright white to rich burgundy and charcoal grey. The streamlined finish worked well with integrated appliances and modern steel sinks and faucets.
1990s: Cherry wood Shaker-style kitchen
ML Harrisl / Alamy Stock Photo
In contrast to the contemporary high-gloss looks that remained popular well into the new century, classic kitchens took on a smart Shaker-style aesthetic in rich tones such as cherry wood. Colour and pattern were introduced through mosaic splashbacks—the smaller the tile and more intricate the pattern the better.
1990s: Kitchen with a multifunctional island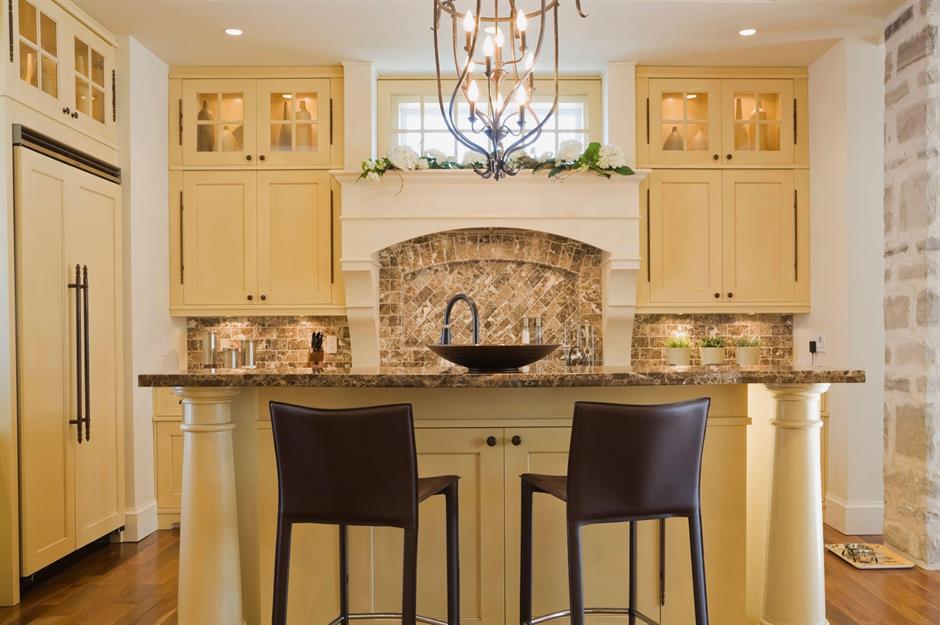 Perry Mastrovitol / Alamy Stock Photo
By the 1990s, breakfast bars had made way for grand kitchen islands. During this time, the kitchen took on a dual role as the main living hub of the home—as well as cooking, it was used for family time, entertaining and studying. Kitchen islands had to be large and multifunctional to accommodate this shift in usage. As well as hosting a sink and preparation space, this granite island has plenty of space for casual dining, homework and socialising.
1990s: Tuscan-style kitchen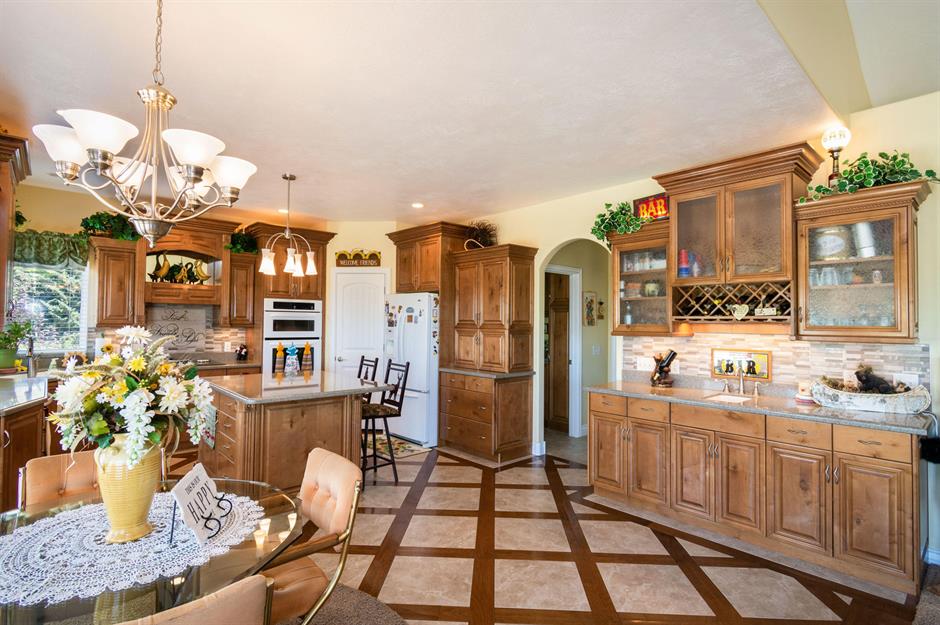 Wirestock, Inc. / Alamy Stock Photo
At one point in the 90s, Tuscan-style kitchens were everywhere. An iteration of the rustic design vernacular that originated in the Med, Travertine floor tiles, granite worktops, glazed cabinets and terracotta accessories were staples of this faux-Tuscan trend.
2000s: Flat-pack kitchen with modular units
IKEA
Carpenter and construction engineer Mikael Warnhammar developed and launched IKEA's first modular kitchen in 1999. By the millennium, the freestanding units were embraced by millions. Mix-and-match, flat-pack VÄRDE IKEA kitchen units teamed with industrial-style extras could be installed in our homes at a fraction of the price of fitted kitchens.
2000s: All-white kitchen with metro tiles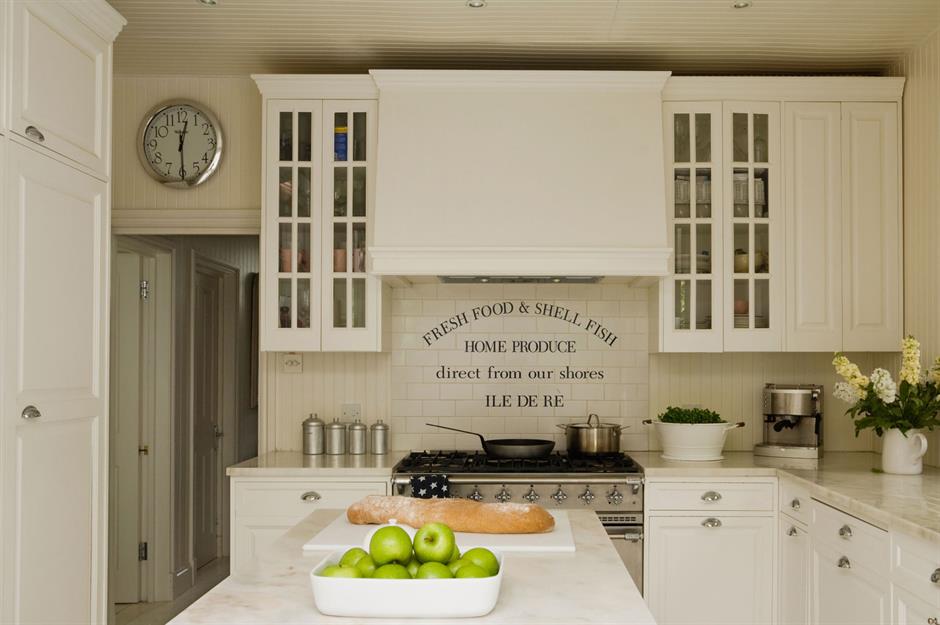 Andreas von Einsiedel / Alamy Stock Photo
Heading into the 21st century, we saw kitchen trends move away from warm-toned wood in favour of white decorating schemes. Runs of white cabinetry were topped with pale marble worktops, while the world went crazy for metro-tiled splashbacks. Glass cabinets balanced the bright white-on-white schemes and word art began to adorn our walls.