Original Article – https://www.loveproperty.com/gallerylist/70704/fabulous-front-door-ideas
Upgrade your kerb appeal with a front door glow up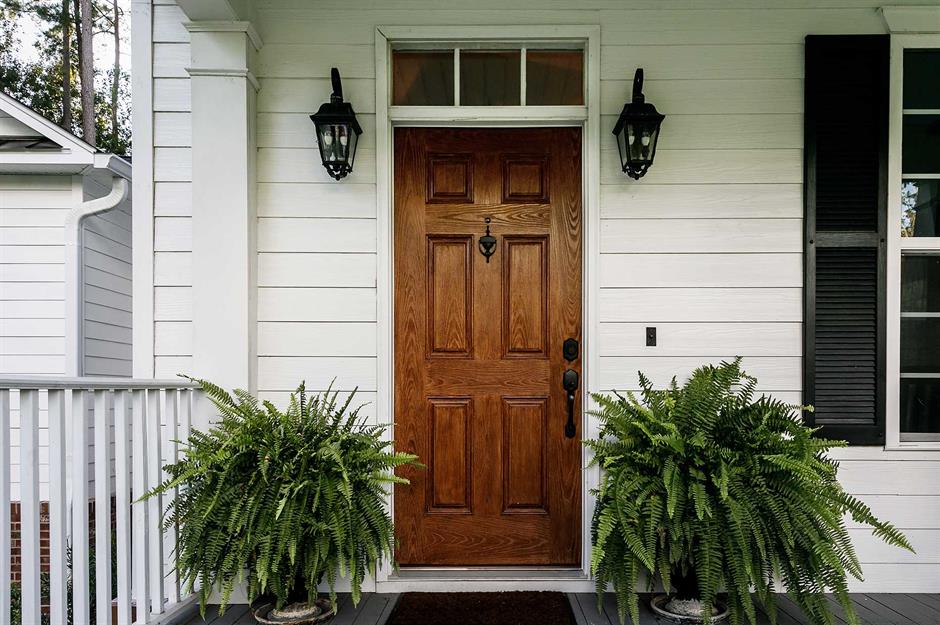 Ursula Page / Shutterstock
First impressions count and your front door is the key to adding that all-important kerb appeal to your home. From welcoming guests to conveying your own personal style, a few careful touches can make all the difference. Whether you're repainting an existing door, freshening up with a new doormat or giving your porch a complete overhaul, these front door ideas will give you an entrance to be proud of.
Marry up porch frames
Annie Sloan
Enhance a bright front door colour choice further by continuing it onto door frames and porch timber. This glorious yellow named Tilton is part of the Annie Sloan and Charleston Farmhouse collaboration. This striking front door channels artistic flair when teamed with decorative stained glass door panels.
Install a box light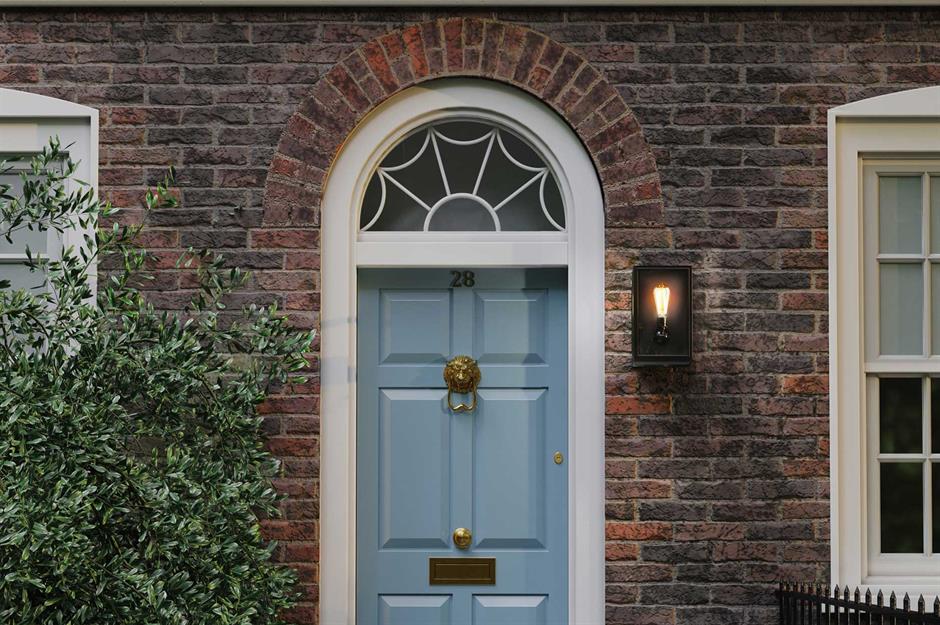 Davey Lighting
Modern box lights work fantastically well outside contemporary homes and but they also look smart on older period properties. Clean-lined and weather-proof, they can be installed with a motion sensor to turn on automatically when you come home.
Paint PVC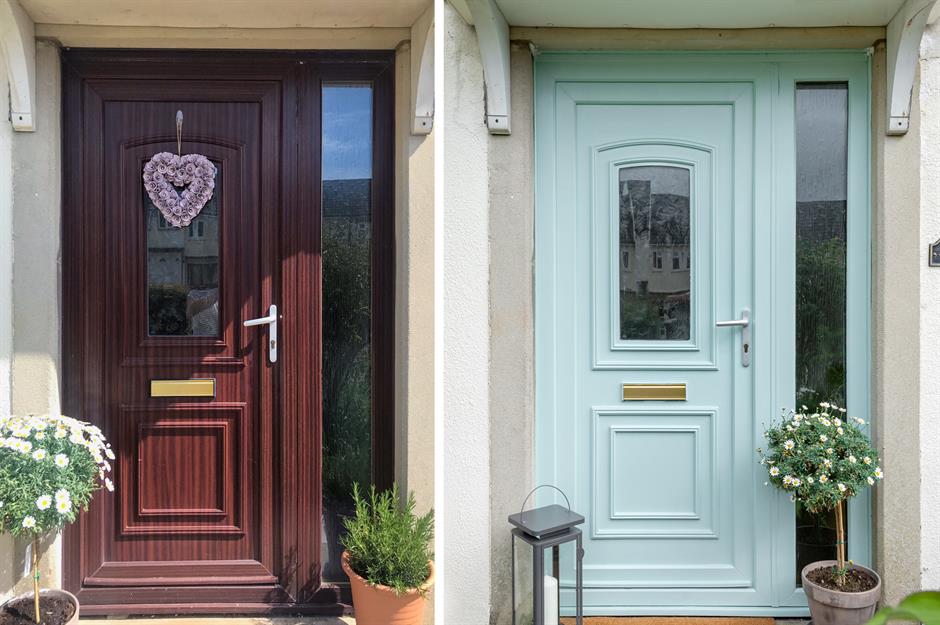 Rust-Oleum
Give a dingy and drab uPVC front door a bright makeover. The project is so easy to achieve and the results look brand new. Ensure your door is free from dust and cleaned thoroughly, then allow to dry. Cover and seal the door fixtures with masking tape and apply one to two coats of all-surface paint.
Run with a theme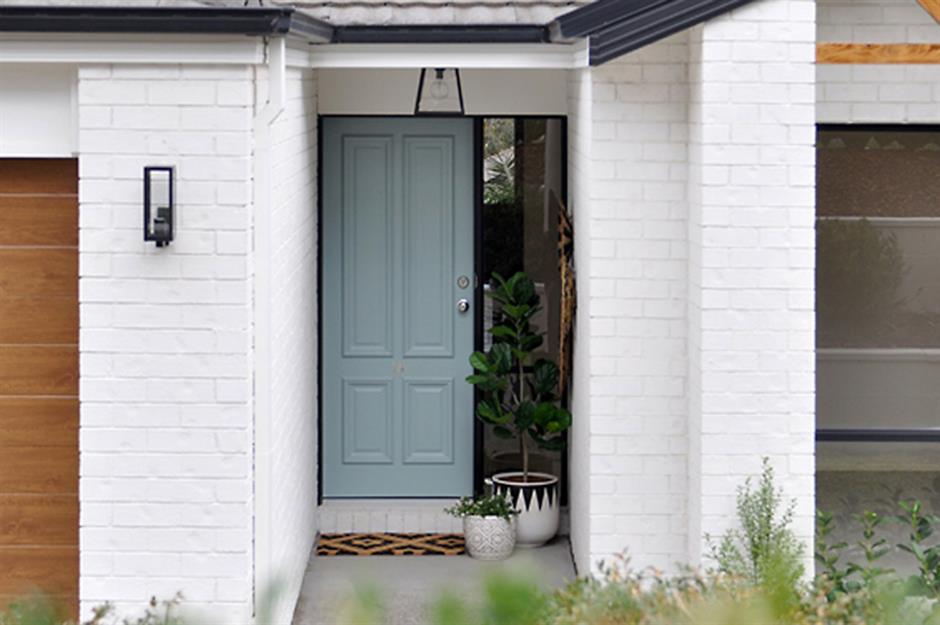 The Painted Hive
This modern monochrome entrance has been lifted with a refreshing lick of duck egg blue paint across the front door and accessorised with an on-trend display of beautiful wall baskets. The look is tied together with a matching geo-style doormat and a lush faux fiddle-leaf fig plant that definitely won't wither!
Add impact with green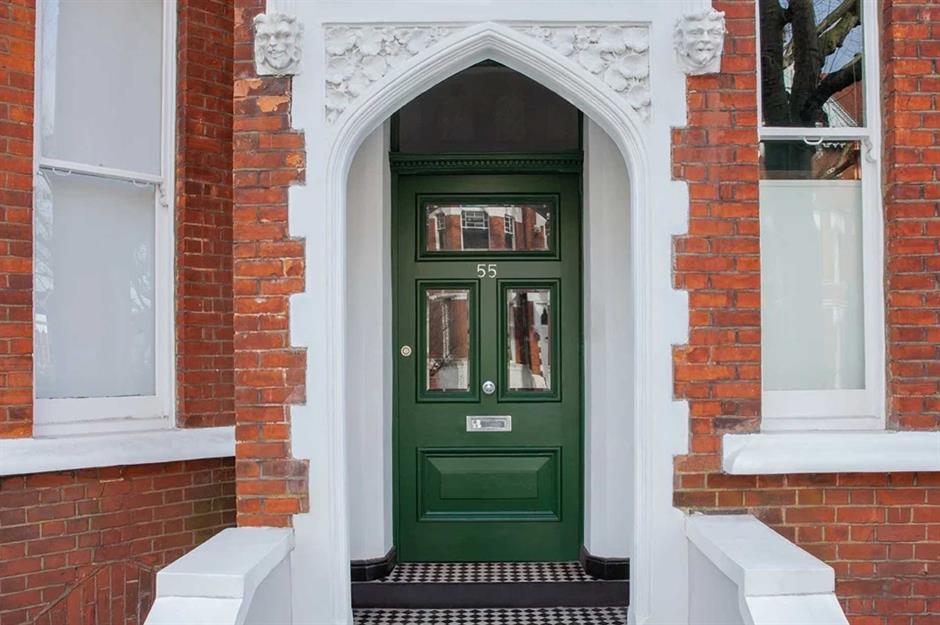 Farrow and Ball
A classic racing green front door jumps out against a whitewashed porch and looks ultra-confident. The smart Victorian monochrome tiles make a traditional addition that's charming and well-suited to the period property.
Choose a neutral palette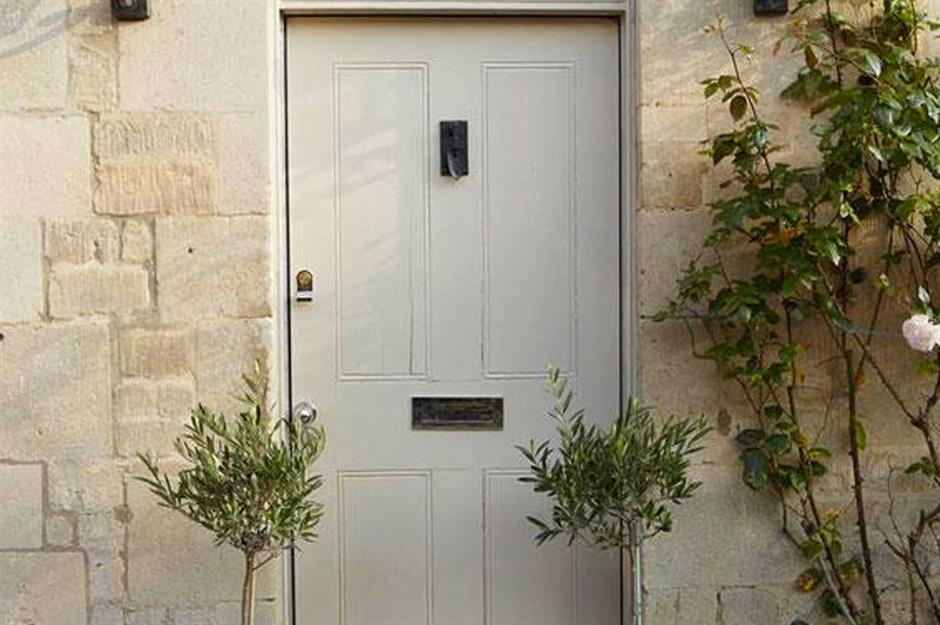 Farrow & Ball
Famous for their refined and stylish colour charts, Farrow & Ball is our firm favourite when it comes to rejuvenating a front door. This subtle palette, painted in F&B's Stony Ground shade, blends in beautifully with its sandstone background to create a calming and elegant first impression.
Match the garage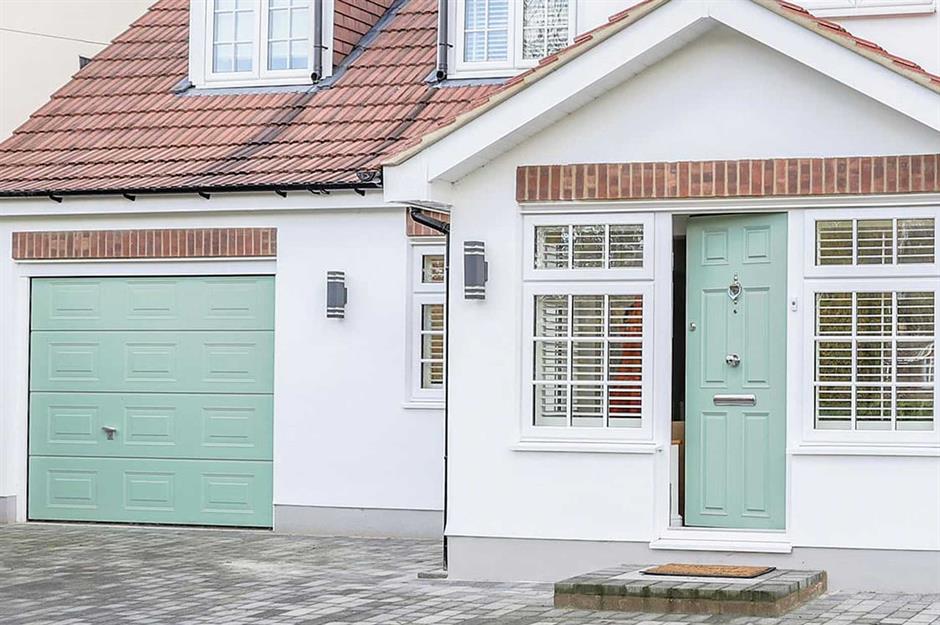 Everest
Give your home coordinated kerb appeal by painting the front door and garage the same colour. This soft mint green looks refreshing and clean set against a white exterior. Silver chrome door furniture and porch lighting add a smart finish to the entrance.
Go for statement glazing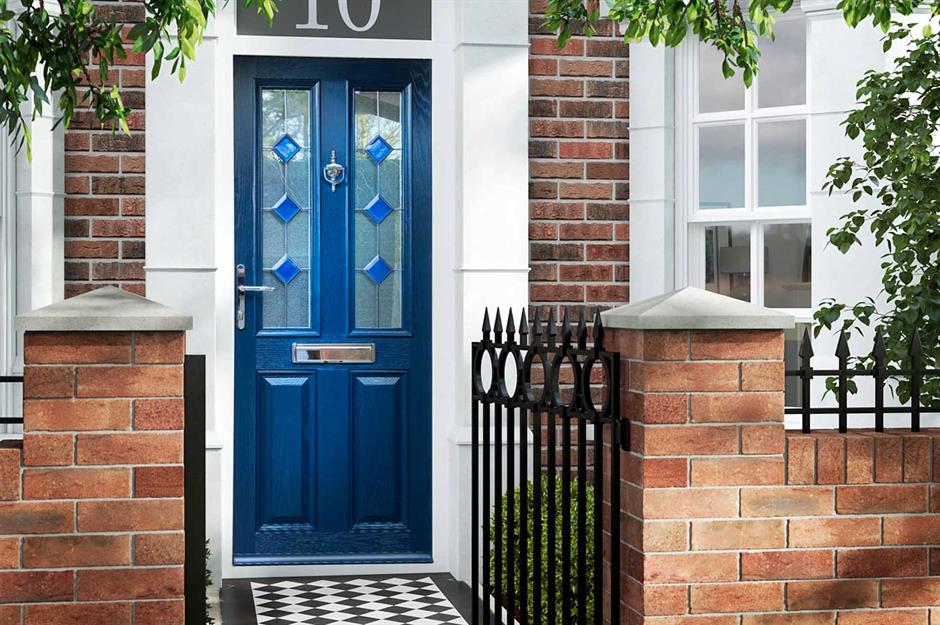 Everest
For an entrance hallway that's starved of natural light, it makes sense to opt for a glazed or partially glazed front door. If you're concerned about privacy, you don't have to use clear glass – you could go for patterned, frosted, coloured or tinted designs to blur the view in. To ensure that the door remains secure, it's advisable to install toughened glass.
Add a welcome sign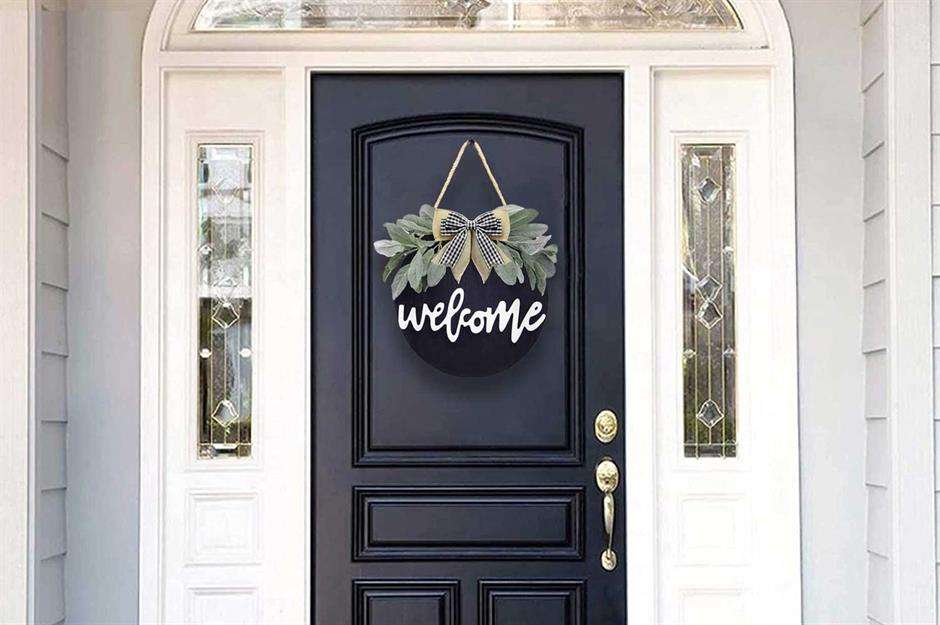 Amazon
Cheer up a plain black door with a cheery welcome sign. The rustic addition adds a shot of homespun charm with farmhouse friendly looks.
Blend into the background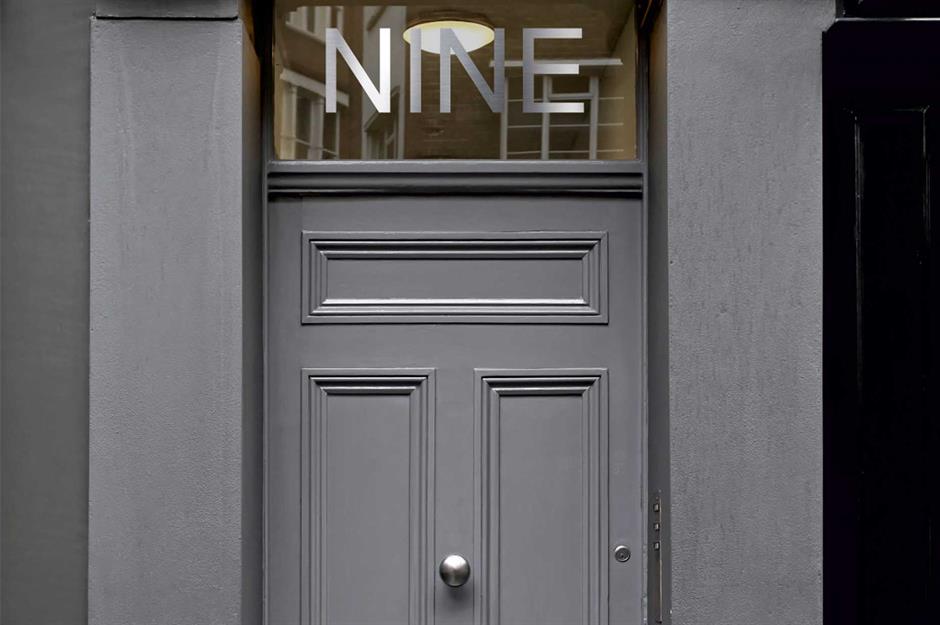 Pulfrost
Front door ideas don't have to be bright and beaming. If you'd prefer a more discreet entrance choose a neutral colour that blends into its back-drop. This urban grey door looks sophisticated and the simple spelt-out number 'NINE' above the door is just enough detail to wonder what design-conscious decor might lay beyond.
Embrace cabincore
Lights4fun
If you are lucky enough to own a cabin or a rustic country home, make a play on the woodland charm with idyllic door decorations. Think vintage festoon lights, lavender wreaths and illuminated potted trees. Complete the warm welcome with lanterns and candles placed on simple wooden stools.
Go Dutch
Everest
A stable-style front door, or Dutch door as it is sometimes known, is especially useful for homes that have few windows and require extra ventilation. Split horizontally, the top half of the door can be opened independently of the bottom half to allow airflow. The design lends itself best to rural homes but can also be very effective in quirky industrial-style properties.
Add an eye-catching door knocker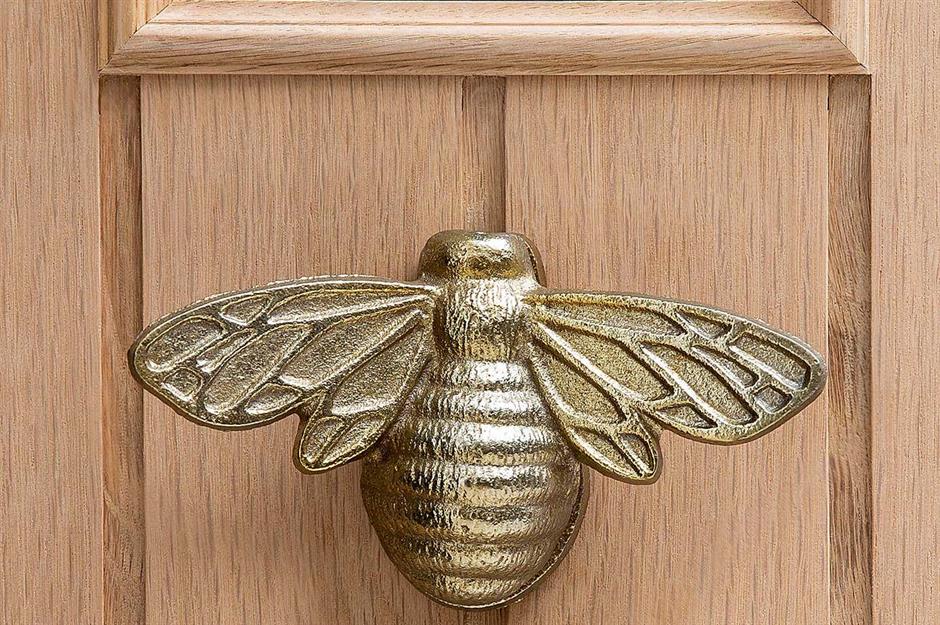 Dunelm
Motif door knockers are proving popular – and we can understand why. Endearing brass characters such as bumblebees, dragonflies and even hedgehogs make an instant impact, or take inspiration from the French and opt for a hand for something more quirky.
Hang a pretty wreath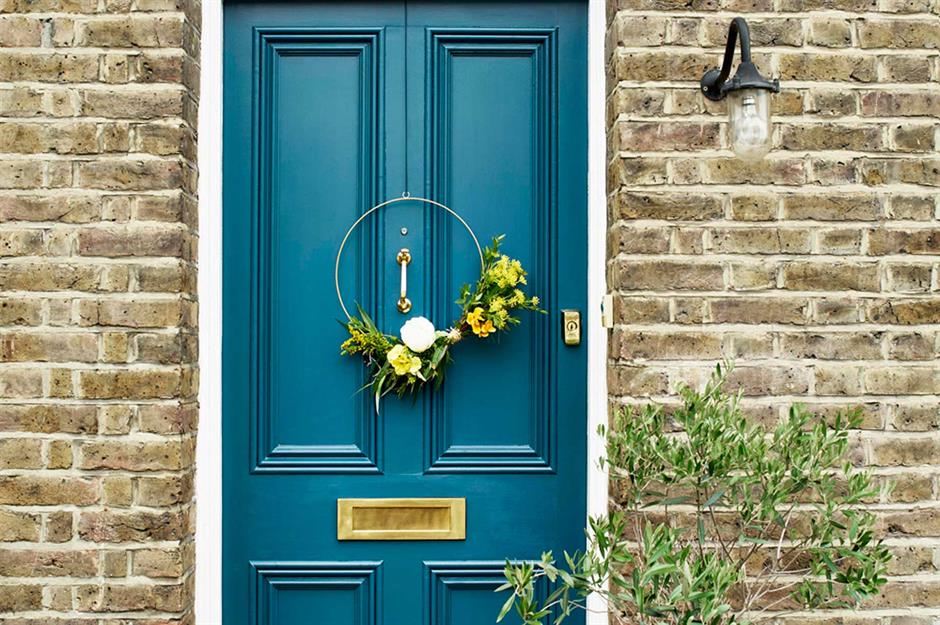 Dulux
If you want to make a strong statement, turn the colour wheel up a notch. This teal front door looks bold and beautiful against the white surround and classic brickwork. Not just for the festive season, you can go for arrangements with fresh green foliage and sunny yellow blooms to adorn the door all year round.
Lay a smart path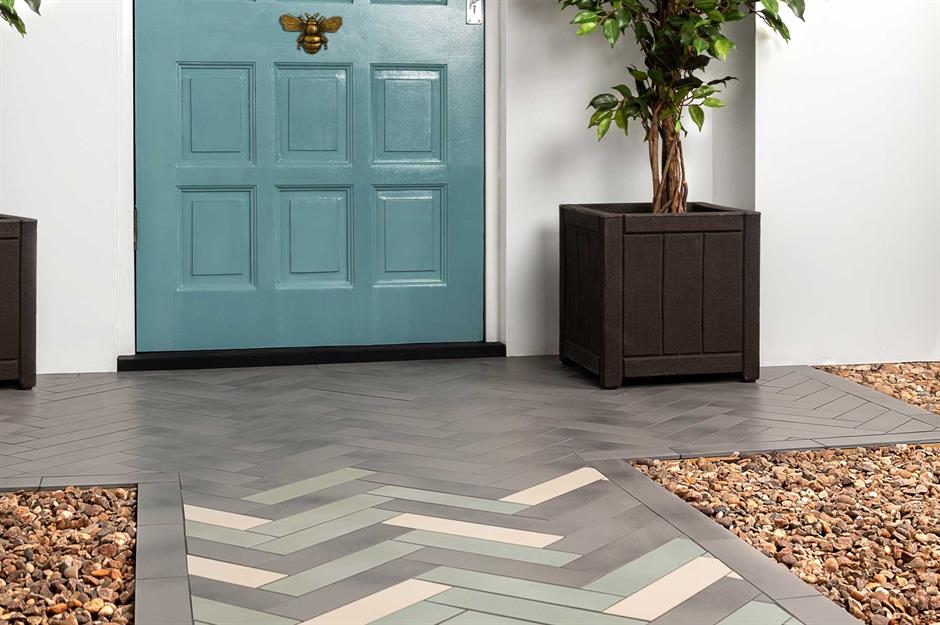 Walls and Floors
Make the walk up to your newly painted front door a modern masterpiece. These dark grey, sage green and ivory flat brick tiles create a striking herringbone pattern with tones that pick out the teal-coloured door.
Plant exotic trees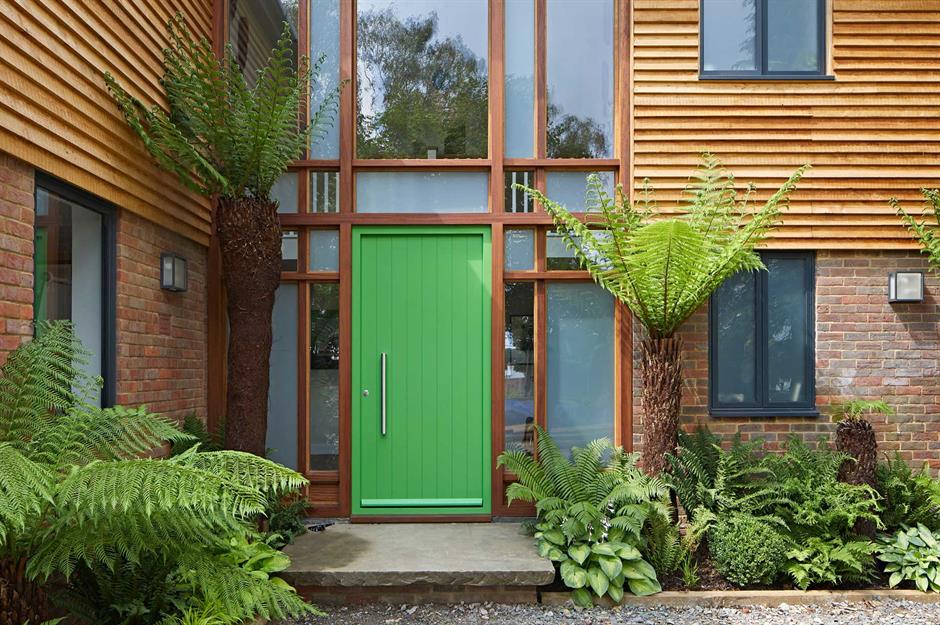 Urban Front
Give your front door a tropical makeover by framing the entrance with striking ferns, palm trees and striking sculptural plants. Don't be afraid to go for verdant colour on the front door – just stick to a vibrant shade rather than a dark forest green to make it pop.
Cheat glazed numbers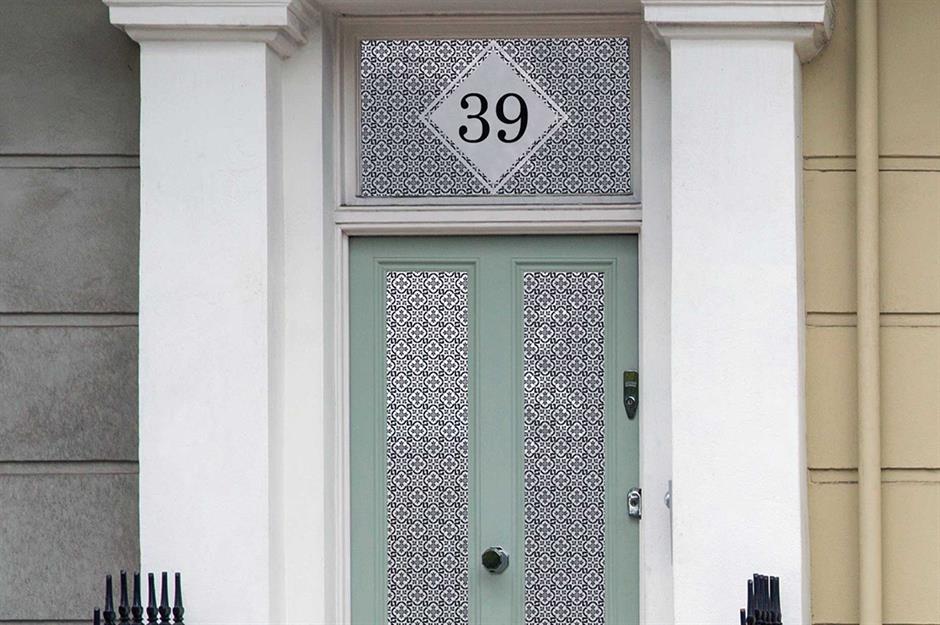 Pulfrost
Glazed numbers look refined on traditional front doors but can be expensive to buy and install. Instead, fake the real thing with specialised peel and stick window film.
Calm with lavender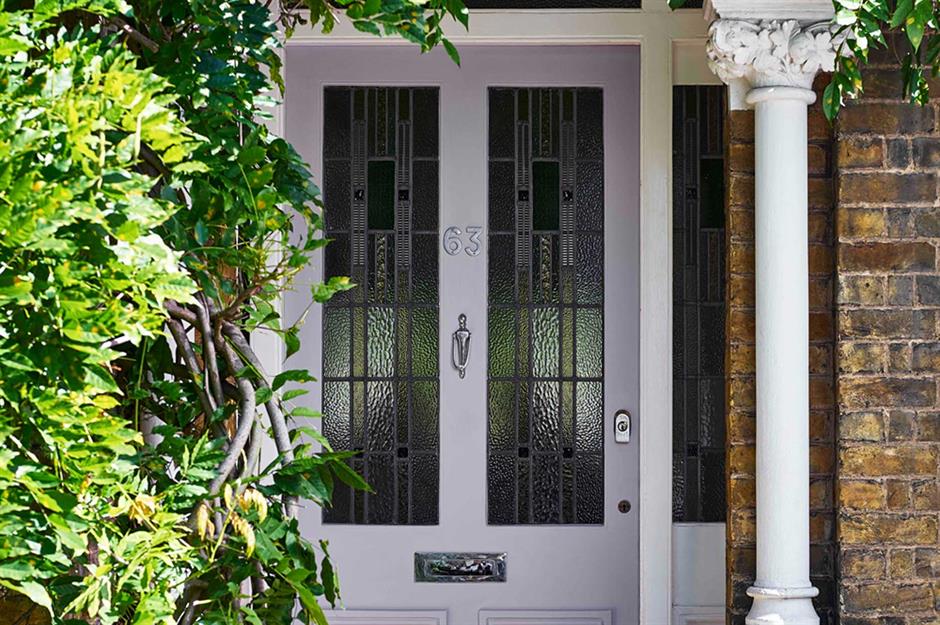 Dulux
Paint colour experts Dulux state that restful shades such as lavender will set a calm tone at the entrance to your property. Enhance the romantic scene by planting climbers such as Wisteria or Honeysuckle to tap into wistful country style.
Wow with a floral arch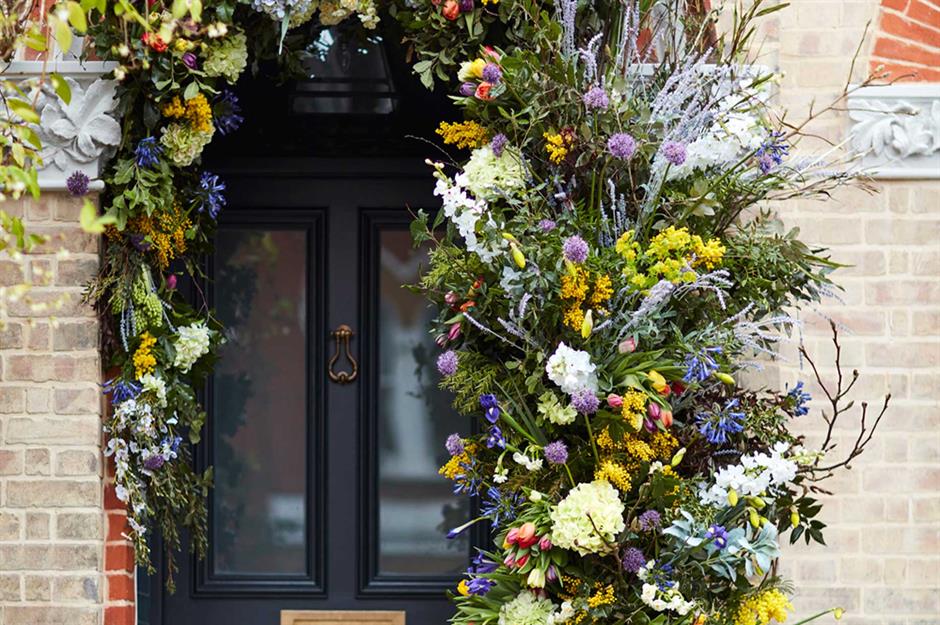 Dobbies
Floral arches are a striking social media trend and a huge step up from the humble door wreath. They are made by layering up a metal frame and chicken wire with flowers and foliage. If it looks too complicated commission a florist to create a seasonal sensation to blow guests away with floral colour and aroma when visiting.
Echo design elements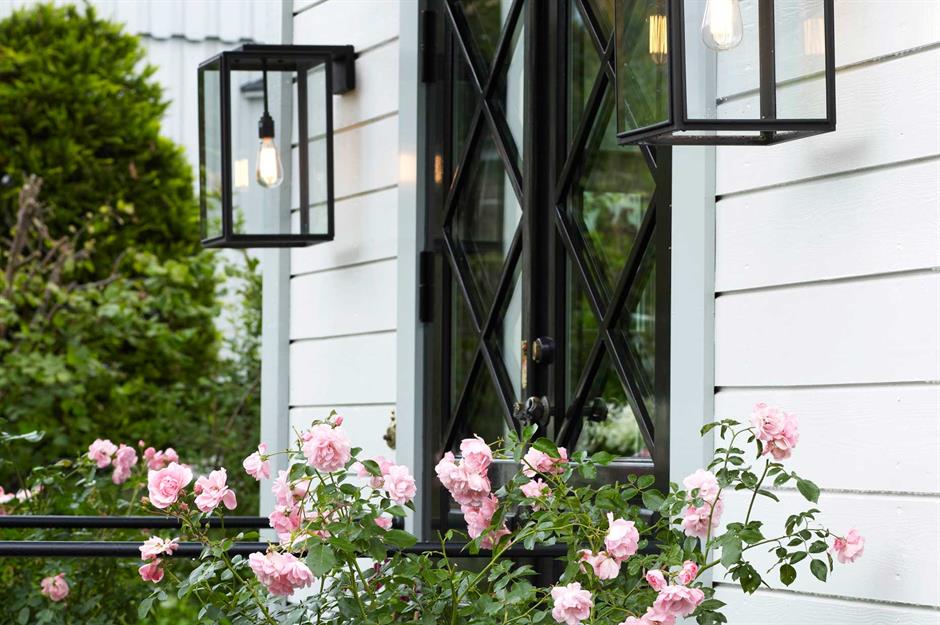 Davey Lighting
Look for lighting similar in style to an elegant glazed door to highlight the intricate design. The matching black framework looks effortlessly chic set against white exterior cladding.
Channel coastal vibes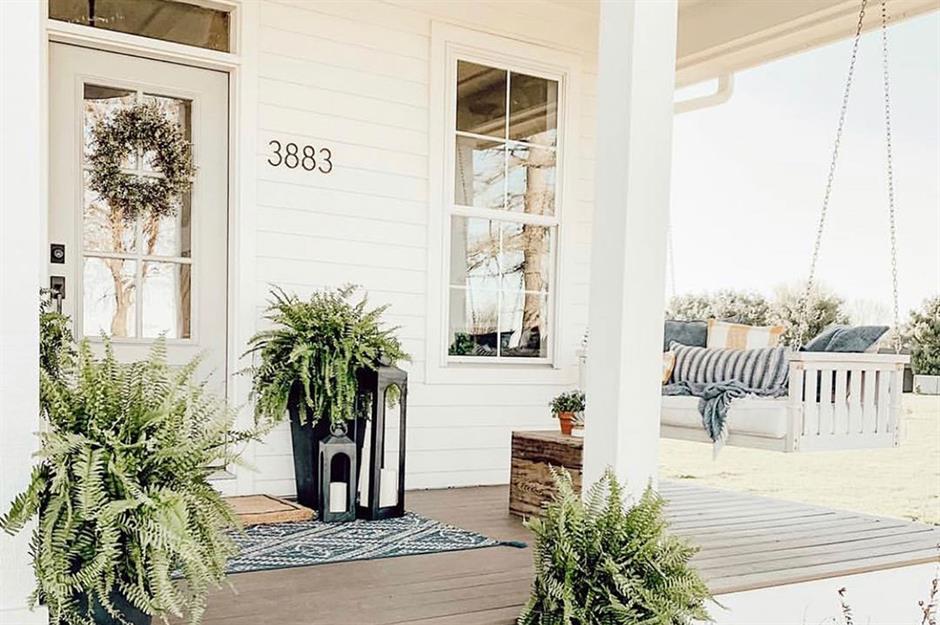 @vine.and.willow / Instagram
Whitewashed cladding and a pale sand-coloured door will create a calming entrance that conjures up seaside vistas. Here, a blue porch rug, storm lanterns and a wooden swing chair create a stylish yet relaxed beach house vibe that wouldn't look amiss on the Californian shorelines. Plenty of leafy foliage in galvanised pots finishes the coastal style.
Makeover with moody cladding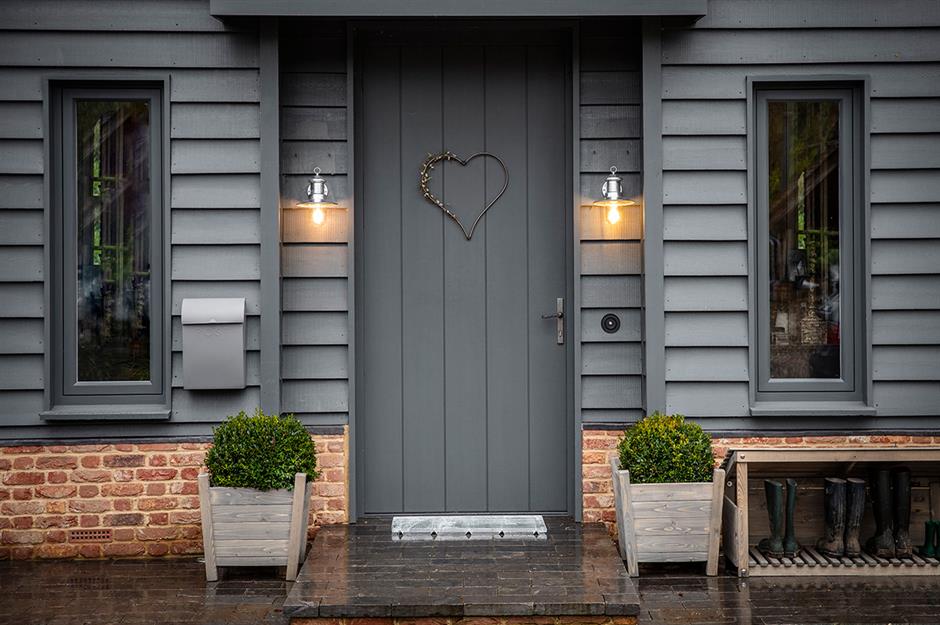 Garden Trading
Cabin-style wood cladding looks stylish and contemporary when painted in tonal shades of slate grey. Lift the look with symmetrical wall lighting, a touch of topiary and a simple iron heart wreath to evoke modern-country cool.
Hang pretty baskets
Dobbies
Nothing beats hanging pretty baskets for an injection of colour, especially when matched with a petal pink door. This romantic cottage entrance is picture-perfect – the charming bumblebee door knocker adds a whimsical finish to this idyllic country home.
Create curve appeal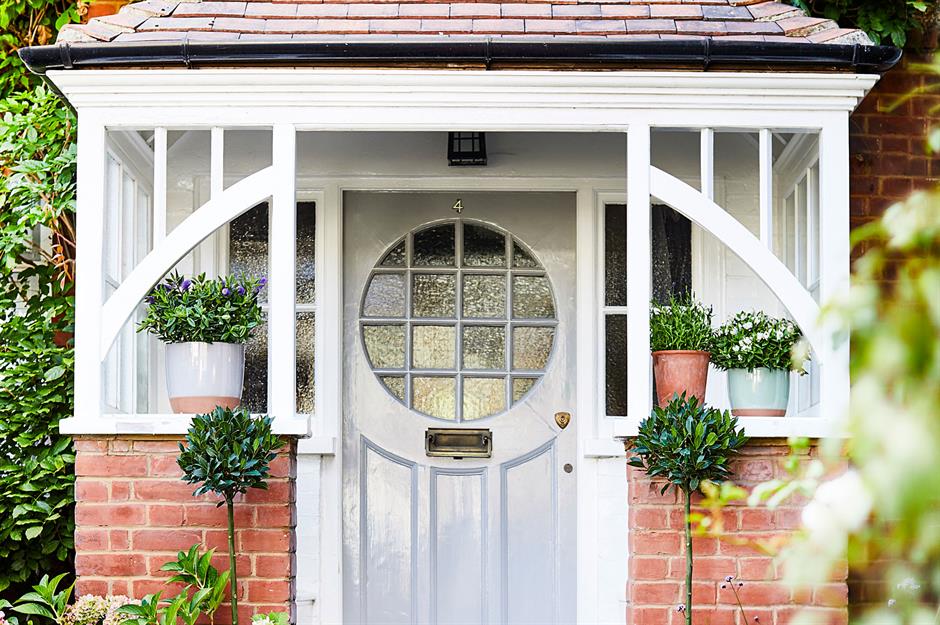 Dobbies
Front doors don't have to be all right angles. To soften your home's exterior consider going for an arched porch and a circular-paned front door. This rounded shape works with both double and single doors and adds a touch of elegant post-war nostalgia.
Choose vintage details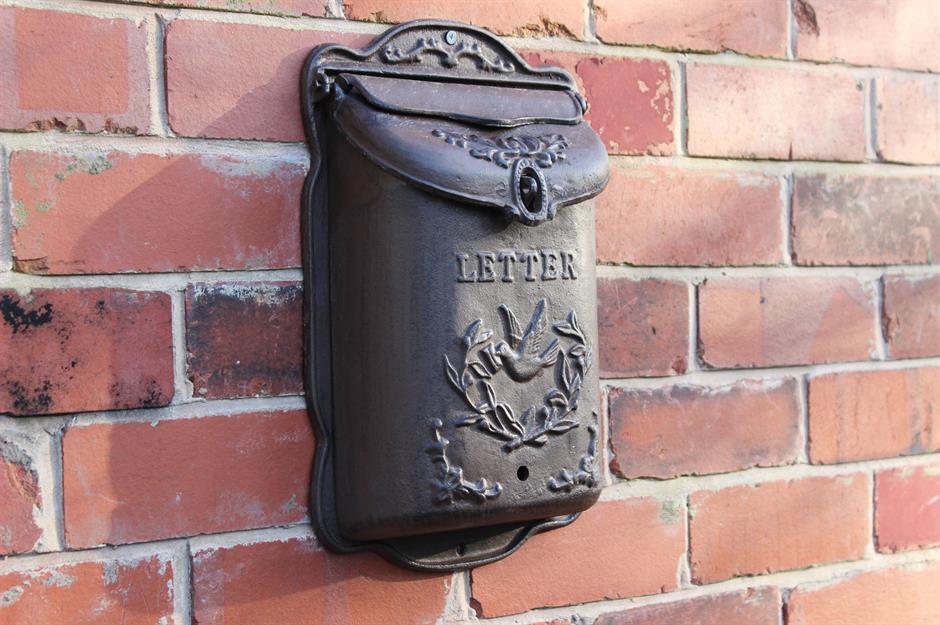 Melody Maison
Attention to detail will make your front door stand out from all the others in the street. With an embossed dove design, this vintage cast iron mailbox looks endearing and will make the perfect companion piece to a classic or country-style door.
Supersize your door number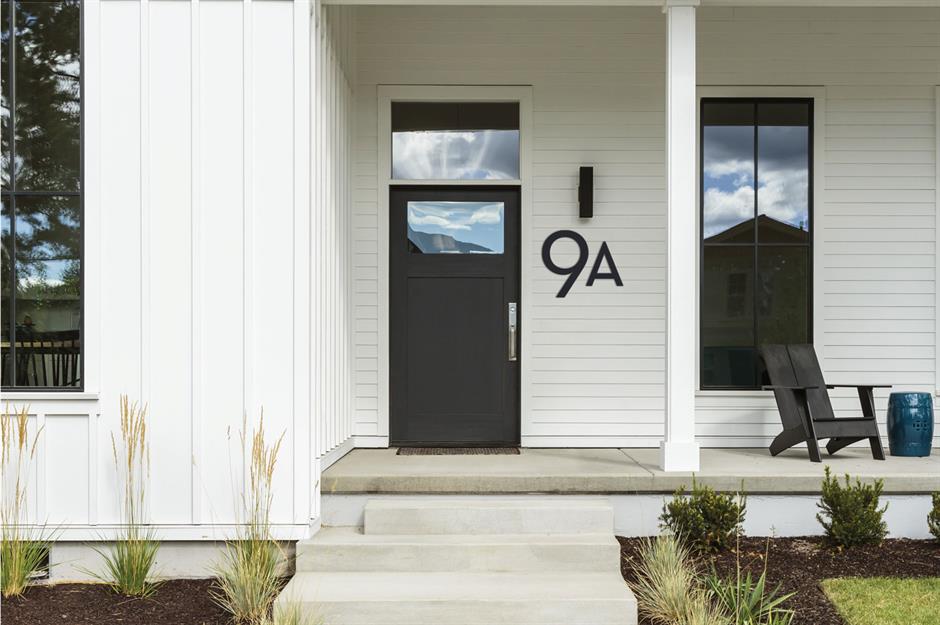 Lisa Sarah Designs
Be a postman or delivery driver's best friend with a front door number you can't miss. This sleek monochrome porch looks smart and tidy, with large graphic numbering adding a bold stylistic feature. Follow suit with a well-kept lawn that's landscaped with a modern and minimalist planting scheme.
Update the doormat
House of Bath
A doormat will keep your hallway clear of muddy footprints and add some personality to the entrance. A durable and hardwearing material such as metal or rubber works better for exterior steps and this attractive scrollwork design will offer a warm welcome. It even has a secret compartment for hiding keys!
Screen it off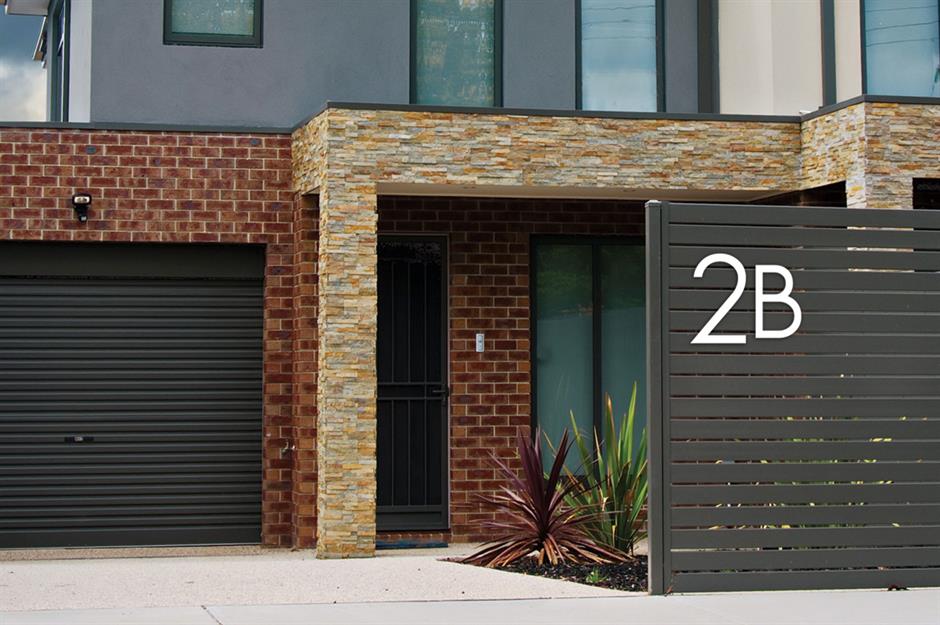 Lisa Sarah Designs
Modern front doors can be just as attractive as period doors, especially when they're integrated into the architectural design. Set behind a contemporary privacy fence and porchway, this black door is sleek and discreet. To tie the whole building together, colour-match the window frames and garage door in the same hue.
Add some sunshine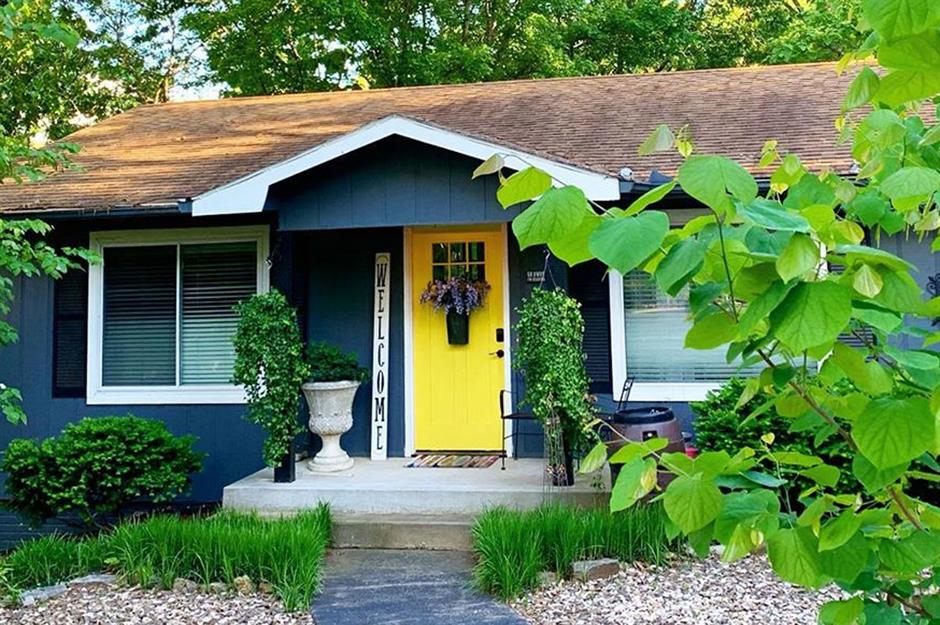 @blondegirlfrnd / Instagram
Hardwearing door paints are now available in every colour of the rainbow so you can experiment with an understated neutral, a soft pastel or a daring, bold hue. Here, a bright yellow shade contrasts beautifully with the dark blue front of this home. When you feel the need for a change, you can simply paint it in another shade and it'll refresh the whole facade of your home!
Call on the classics
Jeld Wen
How you dress your front door has a major impact on the final look. Symmetrical fixtures such as the porch lighting and lavender pots here will create an ordered and elegant look. For a timeless finish, you can't go wrong with a wood stain, while a stained glass panel will draw in light and add architectural interest.
Go with the grain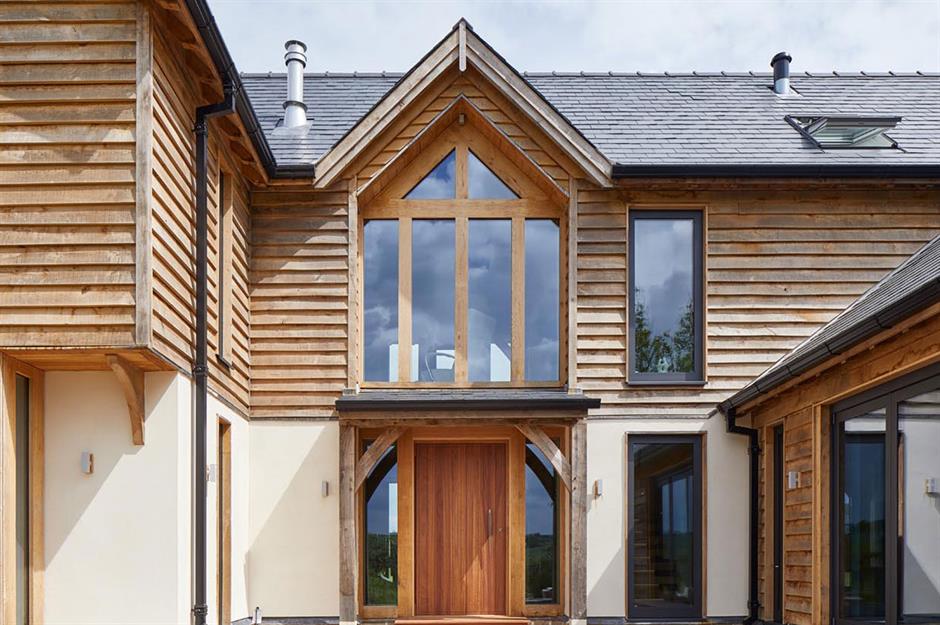 Urban Front
A solid oak door makes a beautiful addition to a home entrance, especially when it's in keeping with the rest of the house. Barn conversions and country properties, in particular, are the perfect choice for this type of door. Make sure it withstands wear and tear by regularly treating the wood to protect it from the elements.
Let it glow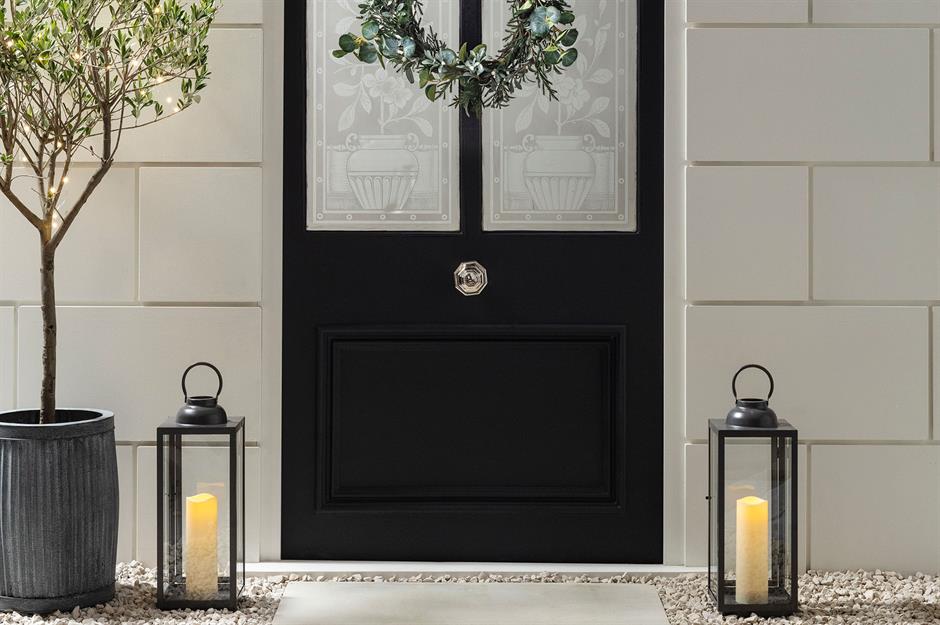 Lights4fun
Pretty porch lights needn't be displayed just at Christmas time. Outdoor lanterns will add a welcoming glow to your front door as the night draws in. Opt for outdoor versions that are designed to withstand the weather, while a solar-powered model means no messing about with unsightly wires or batteries.
Ring the changes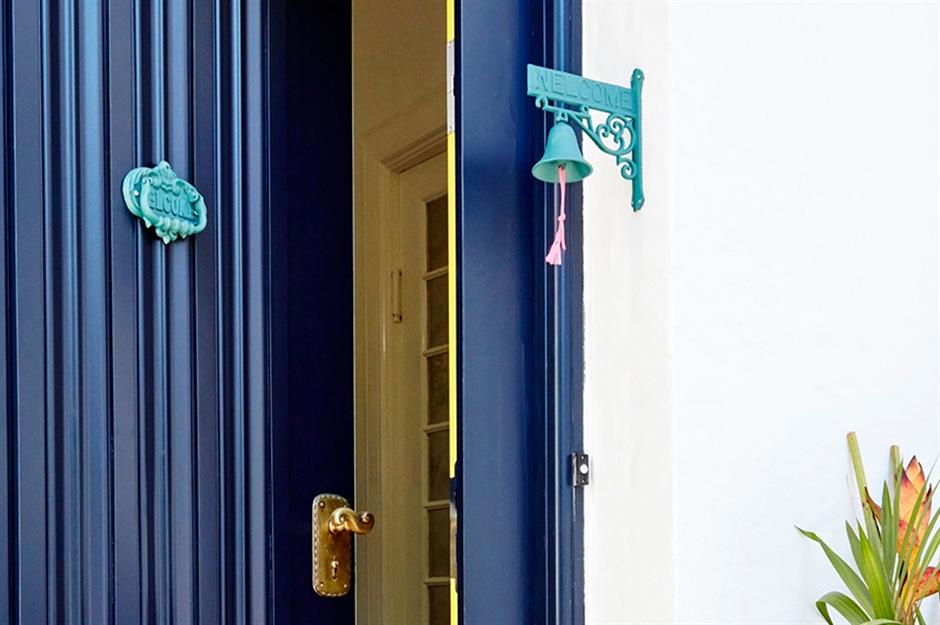 TakaTomode
A doorbell is a necessity but that doesn't mean it has to be mundane. Think outside the box for a fun twist on tradition – you could opt for a sleek and contemporary video doorbell for extra security, a brass push button for a classic look or even a wall-mounted bell in turquoise that's sure to make visitors smile.
Light it up
Evalution
Porch lights serve both a practical and aesthetic purpose. Movement-activated models can help you navigate the way when returning home after nightfall, as well as deterring would-be intruders. With an array of designs available, they can also create ambiance and help frame your entrance way – we love this stylish orb-style fitting.
Experiment with unique lighting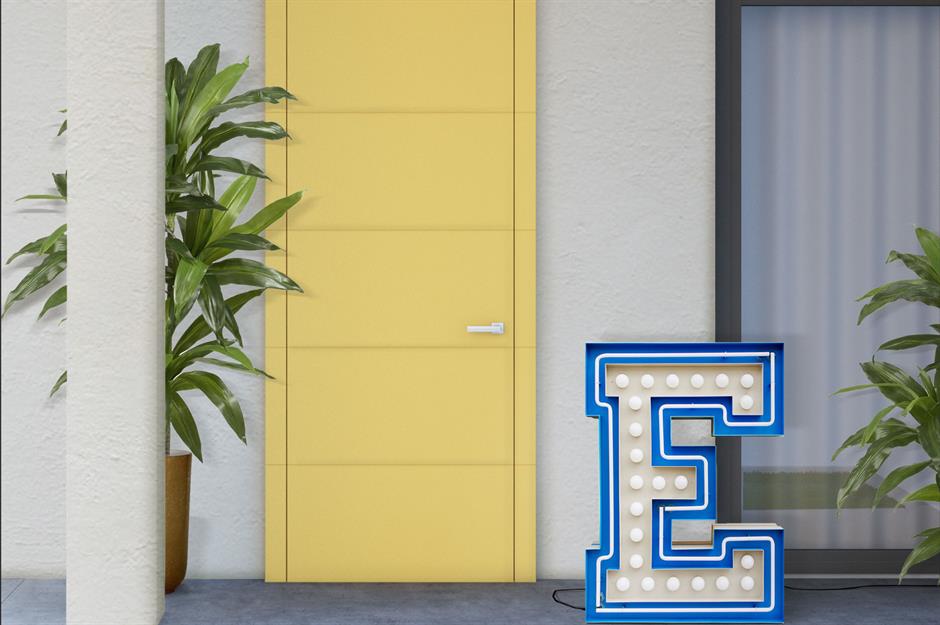 DelightFULL
Create a playful first impression with a colourful front door and bespoke statement lighting. This fun porch is a perfectly balanced scheme, pairing lemon curd yellow with a dazzling one-metre-high neon letter in royal blue.
Style it sympathetically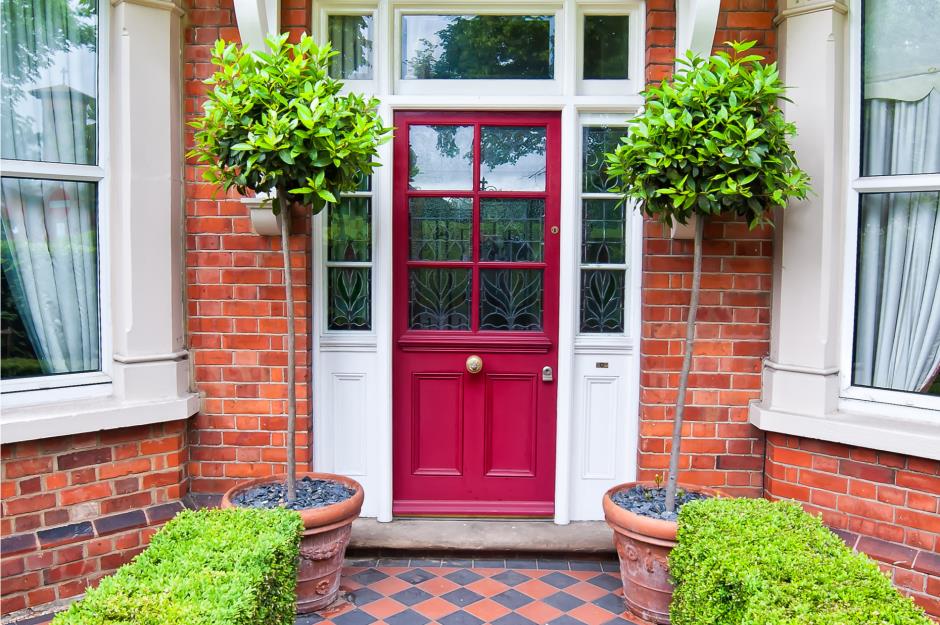 Jozef Sowa / Shutterstock
The first thing to consider when choosing a front door is what kind of style will be in keeping with the rest of the house. Try to choose a sympathetic design that looks like it belongs there. If in doubt, do a little research into the history of your house to find out what would have been there originally.
Pick a pivoting door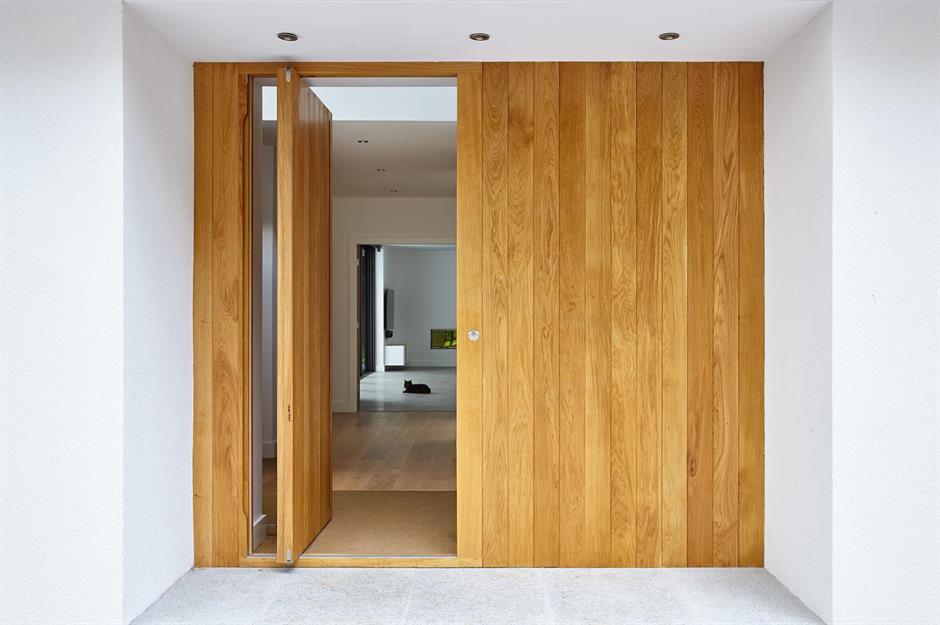 Urban Front
Most front doors are hung on a door frame with traditional hinges, but pivoting doors are on the up in modern homes. Fixed with pivots at the top and bottom, they are particularly suited to very heavy doors, distributing the weight more evenly and making opening and closing a doddle.
Keep it classic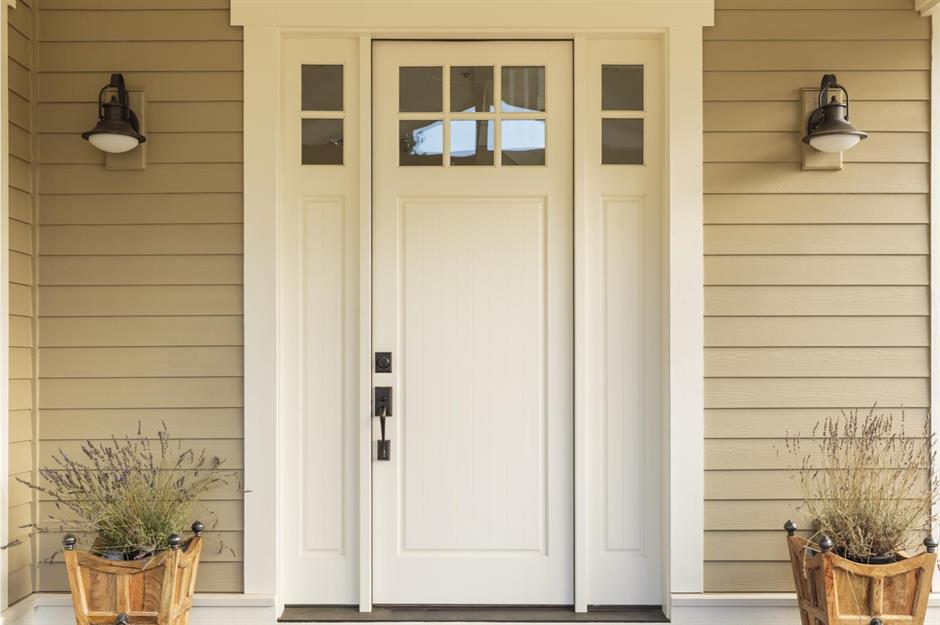 David Papazian / Shutterstock
Make a regal entrance with a classic Colonial-style front door. Formal in design and pleasingly symmetrical, they're a treasured choice for their refined aesthetic. Here, high windows in the door and side panelling allow light to flood into the entrance hallway whilst maintaining privacy.
Go for Georgian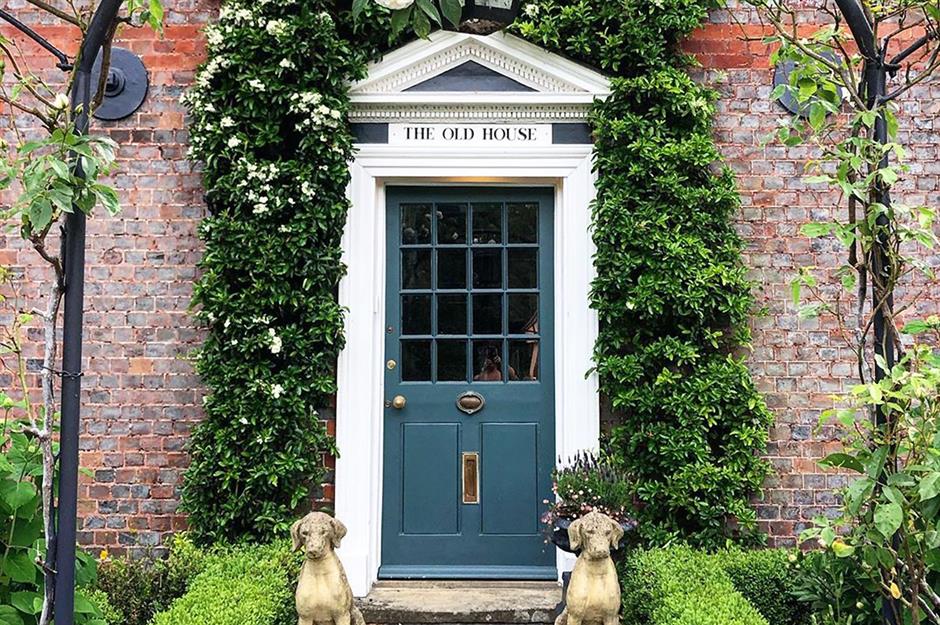 @madamecherry / Instagram
Known for strong craftsmanship and attention to detail, a Georgian front door traditionally features panelling and a glazed grid window pane. Generally painted, this style of front door is well suited to country homes and cottages. Here, this blue-grey design is beautifully offset with an arch of foliage and ornate cornicing.
Glaze in swathes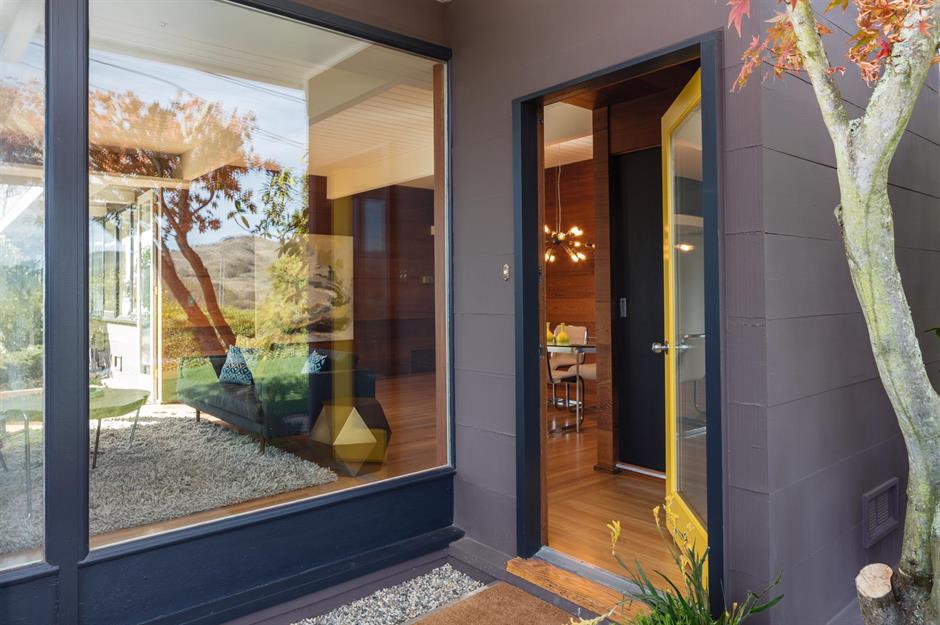 BondRocketImages / Shutterstock
If you have an inner porch door or live in a gated property, a fully-glazed front door is a great option that'll give instant wow-factor to your home's facade and draw in plenty of natural light. Toughened glass and the latest locking systems will ensure it's super-secure.
Call on composite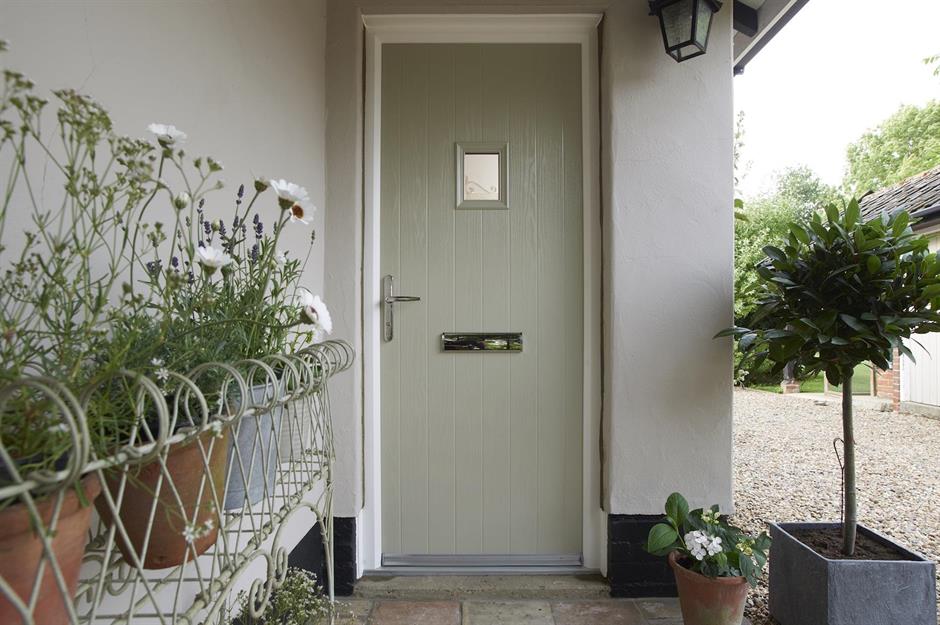 Anglian Home Improvements
Designed to look and feel exactly like wood, composite doors usually contain an outer skin made from glass reinforced plastic (GRP) or UPVC to prevent them warping, expanding or shrinking like timber. Lighter in weight, they also tend to be cheaper than wood models and come in a variety of colours.
Settle on steel
Samson Doors / Hormann
Popular in America, steel doors are great thermal insulators and one of the hardest materials to break into. Steel doors now come in a variety of colours across both traditional and contemporary designs, and are available from a range of retailers.
Evoke Edwardian elegance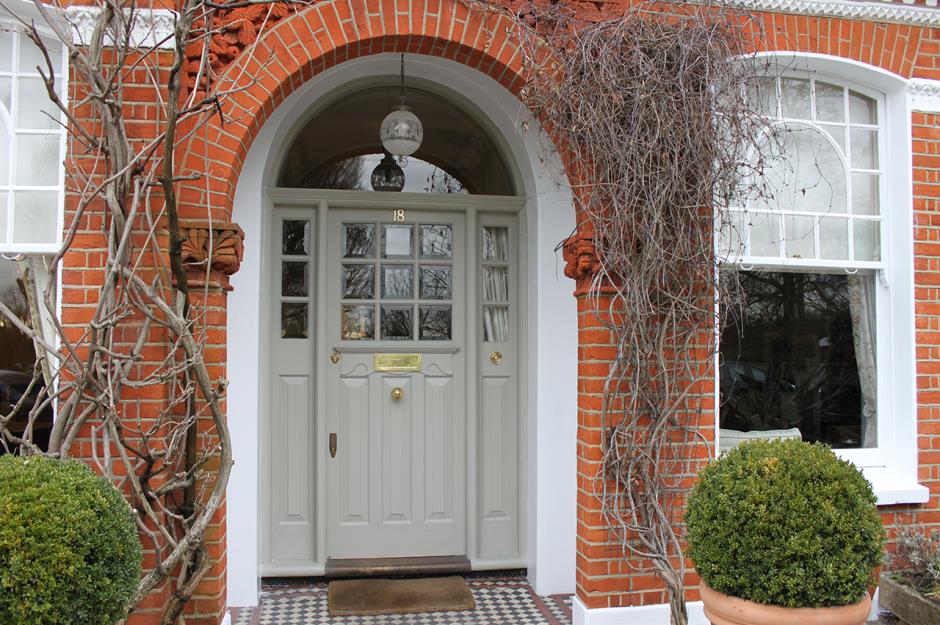 700billionreasons.com
Heavily influenced by the Arts and Crafts movement, Edwardian-style front doors tend to be elegant and refined. Sometimes set within a wider intricately glazed frame, these entrances often feature simple panelling, organic shapes and stained glass. If your home has history, why not show it off?
Style-up both sides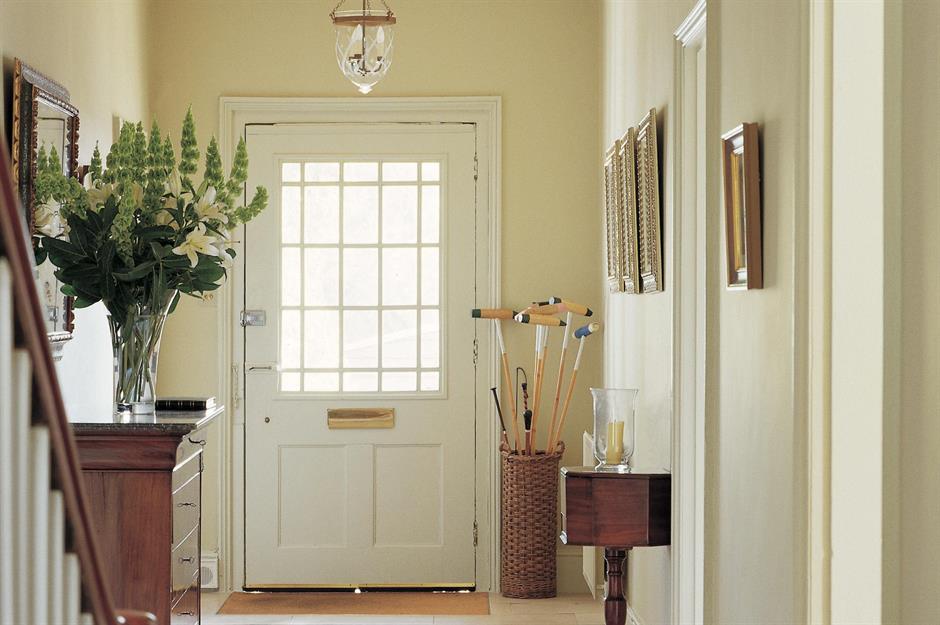 Farrow & Ball
A well-designed front door will look good from the inside of your home as well as the outside. Don't feel constrained by the external colour – you could opt for a completely different shade for the interior to match your entrance hallway's aesthetic.
Makeover with metal
Urban Front
Our interiors are awash with metal finishes at the moment, so why not take the industrial trend outside to your entrance way? This boxed metal porch is cleverly engraved with the house number for a stylish finish. A glass roof and sides offer a dramatic modern finish and illuminate the hallway.
Embrace engineering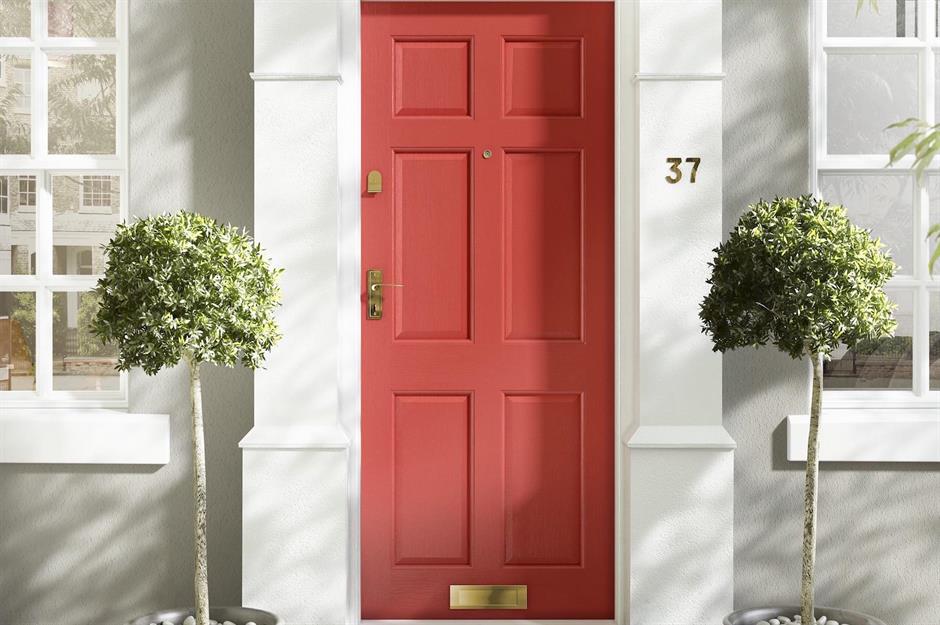 Benchmarx
Cheaper than solid hardwood doors, engineered wood doors are made from layers of wood pressed and glued together with a hardwood veneer skin applied on top. An engineered door is less likely to warp or move than a solid wooden door, whilst offering all the traditional charm of the real thing.
Keep it country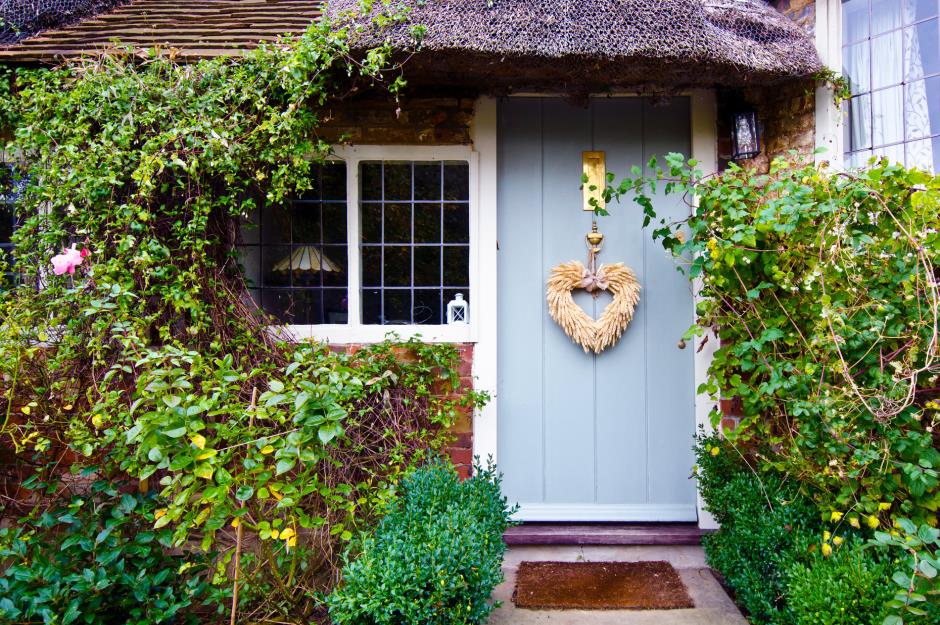 mubus 7 / Shutterstock
Traditional chocolate-box cottage doors tend to be simple in construction with minimal detailing. Here, the letterbox is inserted vertically to reflect the lines of the planks in this traditional design. Painted a chalky sky blue and accessorised with a rustic wheat wreath, we think it looks picture-postcard pretty!
Dare to go double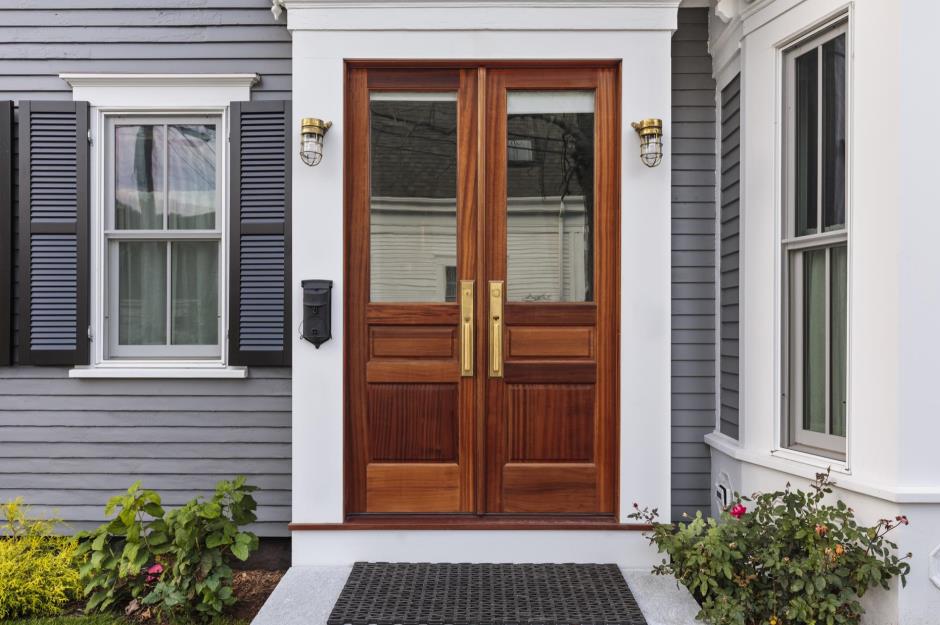 David Papazian / Shutterstock
A double front door will give your home's entrance a regal feel. For ease of opening, one door tends to stay bolted shut, while the other is used day-to-day. This wide design isn't just aesthetically pleasing – being able to open both doors means you can transport bulky items such as beds and sofas with ease.
Create contrast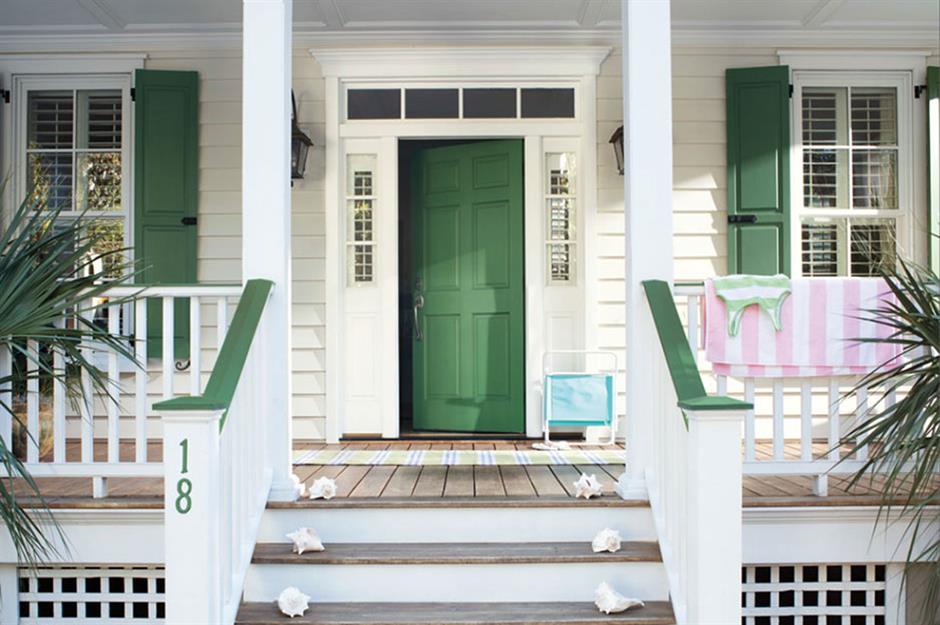 Benjamin Moore
For a refreshing entrance, paint your front door and porch a contrasting mix of white and green. Pick out the door, shutters and bannister with the botanical hue and accessorise with plenty of potted plants. Balance with bright white walls and a dark wood floor to warm up the space. Seashells decorate the steps and add a whimsical touch.
Pair dark wood with black and white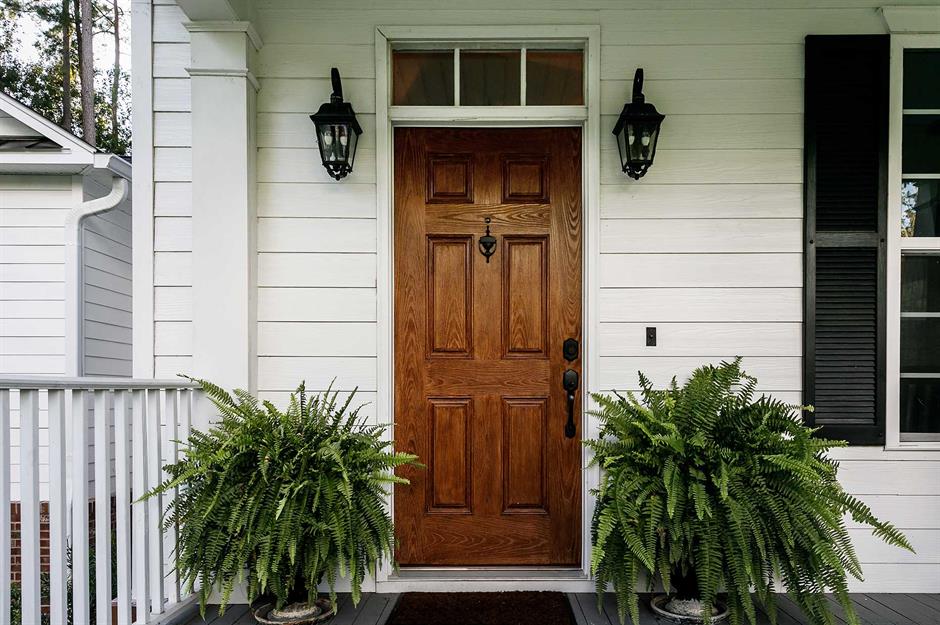 Ursula Page / Shutterstock
Joanna Gaines knows a thing or two about design, and her go-to palette of white, black and wood is the backbone of her signature Magnolia style. A pair of traditional wall lights marry up with the black painted shutters and two impressive ornamental ferns create symmetry that's incredibly pleasing to the eye.