Update your home without breaking the bank
https://www.loveproperty.com/gallerylist/70122/easy-style-freshenups-to-transform-a-home-on-a-tight-budget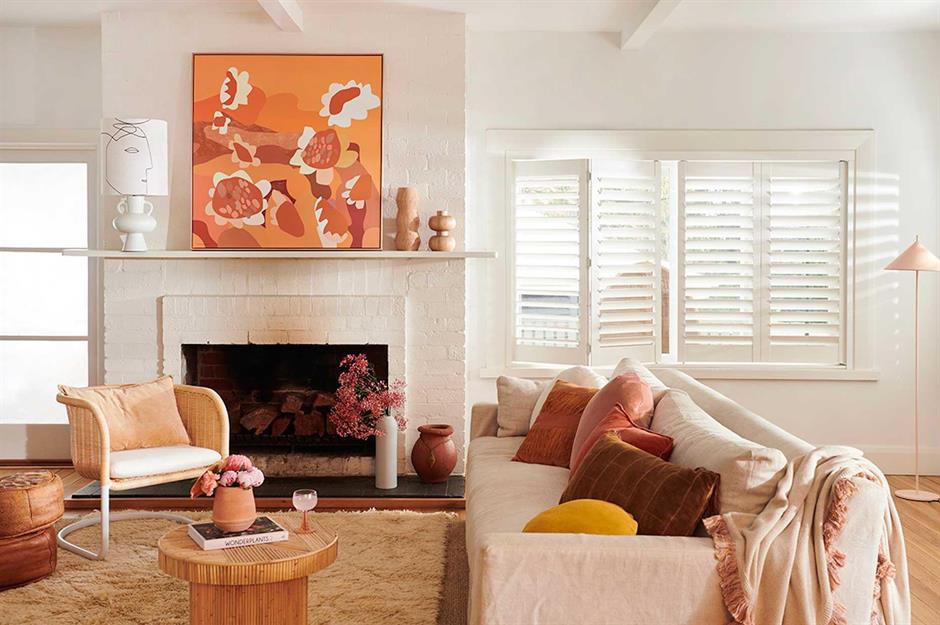 Norsu Interiors
Has it been a while since you decorated? Perhaps your home is looking a bit tired and needs a revamp or maybe you've just moved into a new place and you're desperate to make your mark on it. Here are some relatively cheap and simple mini-makeover ideas that should reinvigorate your home without blowing the budget.
Paint the radiators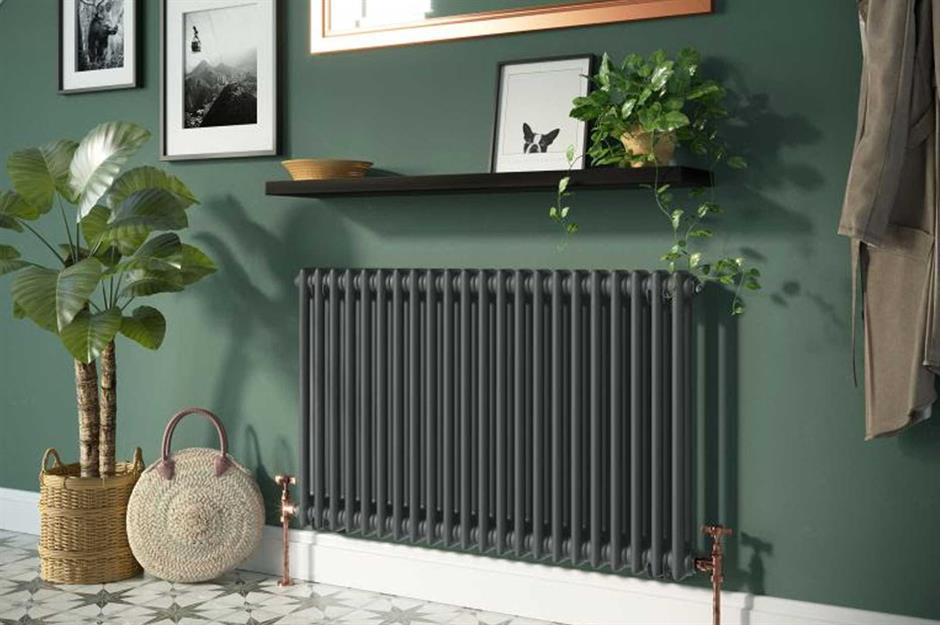 Soak.com
Painting radiators to blend seamlessly into their background is currently hot on the interiors circuit. It's a perfect way to create a chic and finished look when giving your room a mini makeover. Be sure to pick the correct specialist paint and follow a tutorial.
Create new dining spaces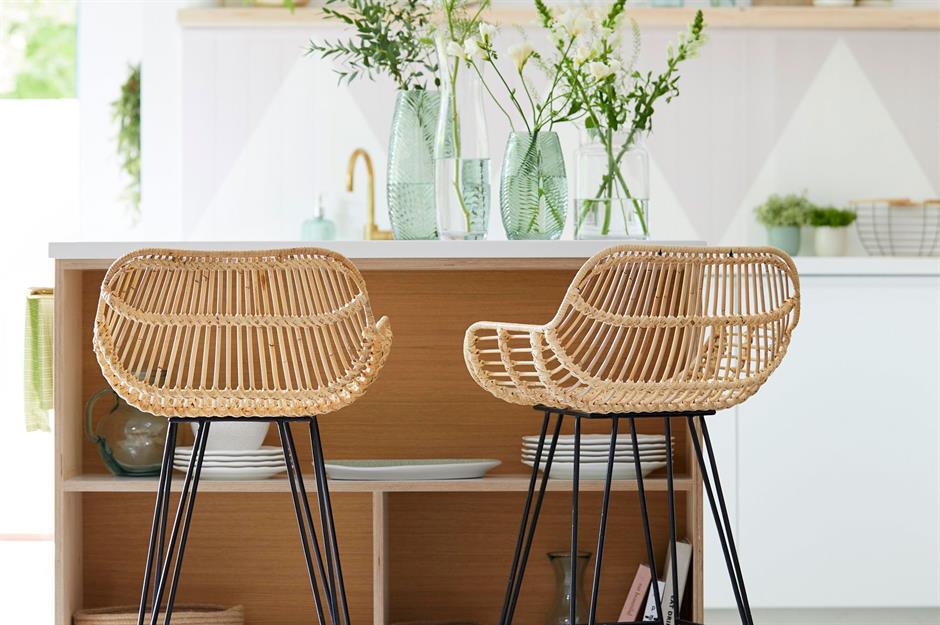 Dunelm
Short on dining space at home? Give a room a new dimension by finding genius places to eat. Placing two stylish bar stools at the end of a kitchen peninsula will turn it into a mini breakfast bar for light meals.
Give a corner new meaning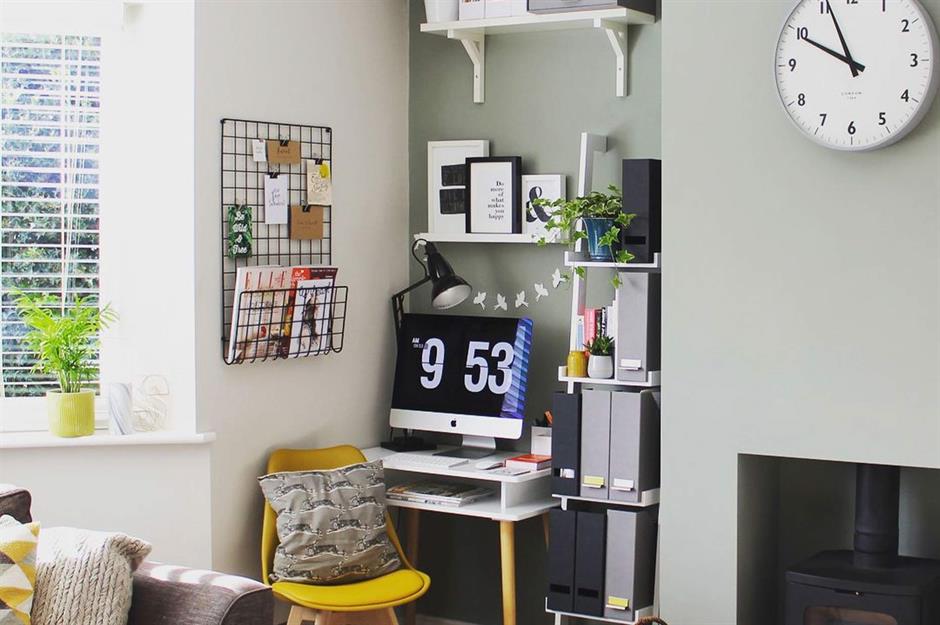 @dreaming_of_a_sea_view / Instagram
If you don't have time to update a whole room focus on a corner. This living room alcove by @dreaming_of_a_sea_view is working extra hard as an innovative, tiny home office. The small desk slots in perfectly next to a narrow ladder shelf.
Have fun with lighting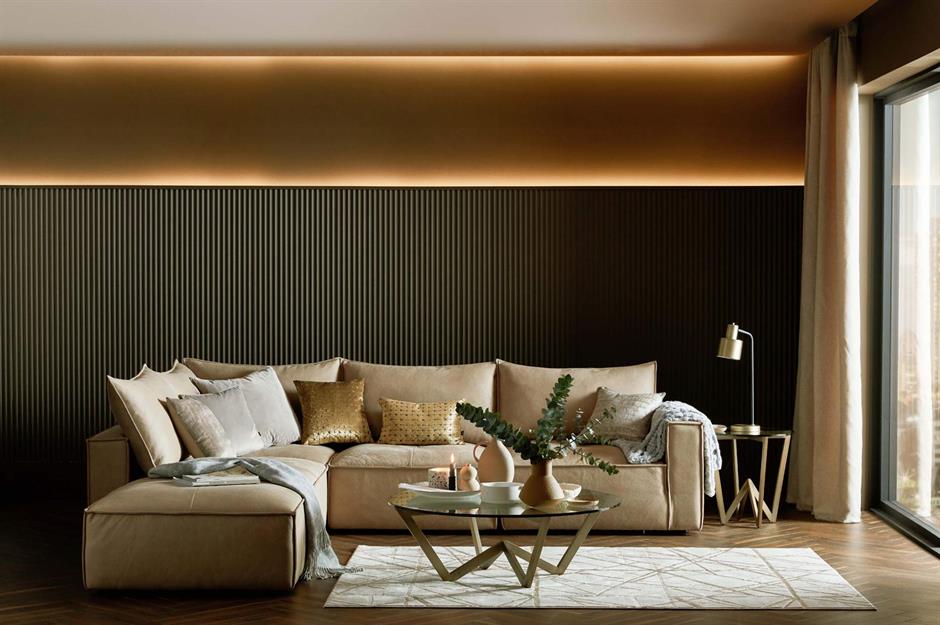 Sofology
Give the living room a new nightly glow by being creative with lighting. LED strip lighting to the back of the TV will transform it for movie nights. Or, horizontal pipe lighting above wall panels can give a feature wall new meaning.
Change the shower curtain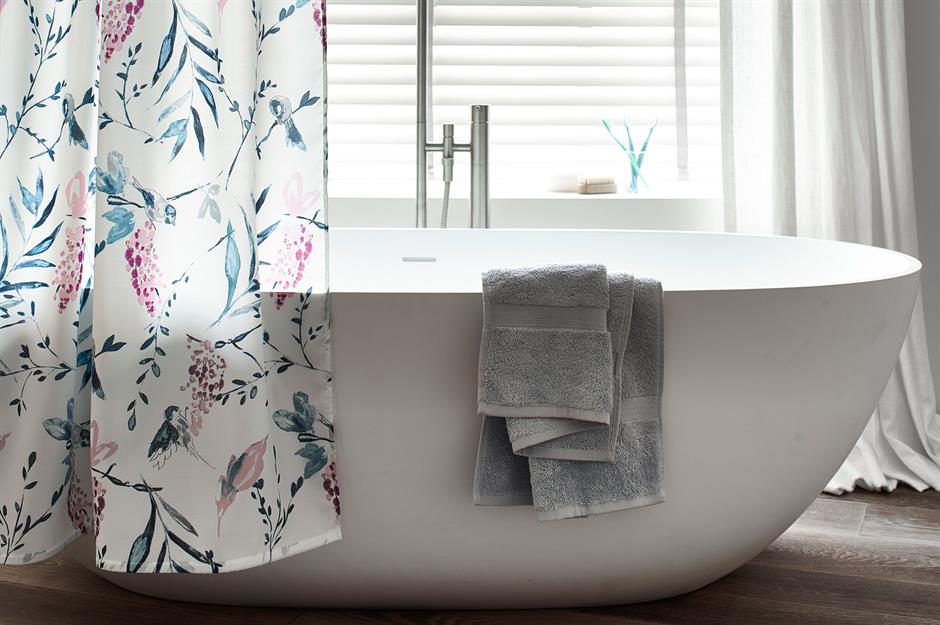 Argos
Sometimes, one simple change can transform a space entirely. If you have a neutral bathroom why not inject colour and pattern with a new shower curtain? Being a relatively cheap bathroom furnishing means you can afford to own a few and change them up with the seasons.
Repaint kitchen units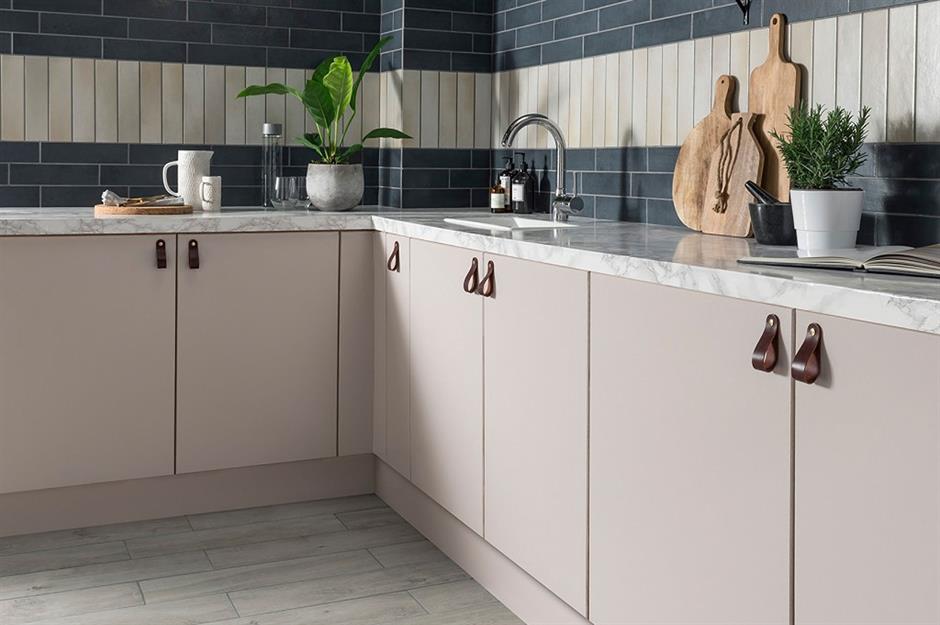 Topps Tiles
An alternative idea to update a tired kitchen without touching the layout is to paint existing kitchen units a fresh new colour. It's quick, budget-friendly and easy with the correct preparation and paint.
Install a barn door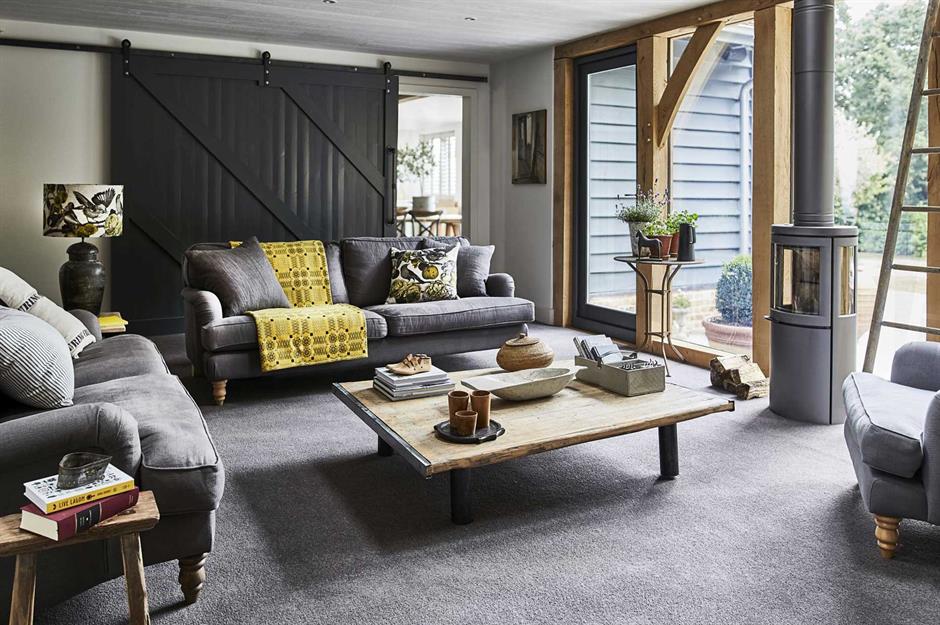 Carpetright
Swap out boring regular doors for something more fun. Sliding barn doors look authentic in country style room schemes. With the right amount of wall space to slide along they offer more floor space to work with. Most doors come with sliding hinges to make installation simple.
Divide an open-plan room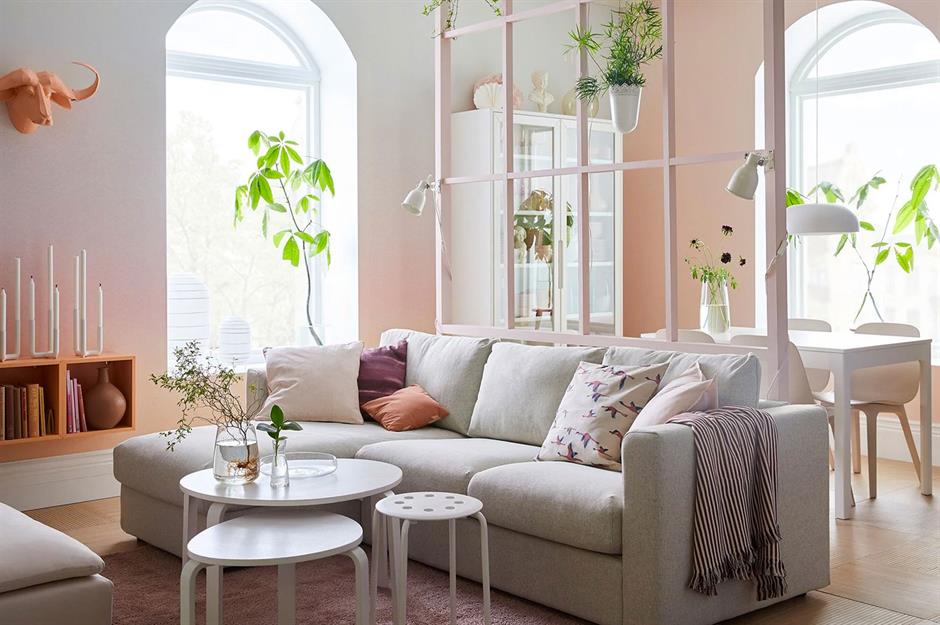 IKEA
A smart room divider will give a large open-plan room new meaning. Privacy and peace are always important aspects of our home, so a divider can offer partial concealment when needed.
Spruce up your outdoors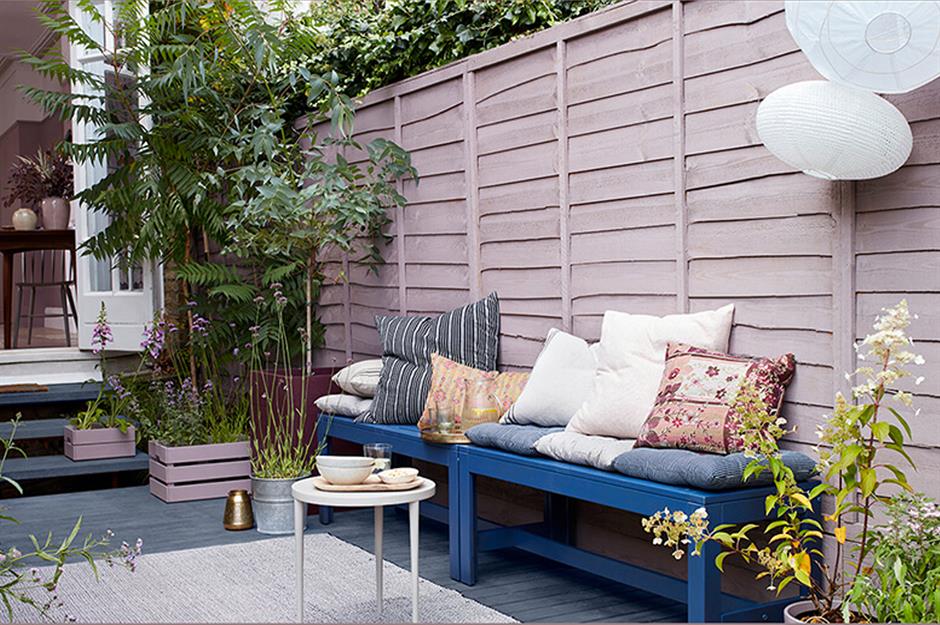 Cuprinol
Take the small renovation revolution outside by giving your outdoor space a tidy up. Book a slot at the local recycling centre and set to work clearing clutter, trimming back overgrown foliage, and cutting any lawned areas. Freshen up your patio with a colourful lick of fence paint and create an outdoor oasis with garden furniture and weatherproof furnishings.
Cosy up with texture
Nordic House
Layering texture in a room is the easiest and cosiest way to give a room a new character. Panelled walls, soft rugs and tactile cushions will inject a restful and inviting personality Nordic style.
Throw a cloth over the kitchen table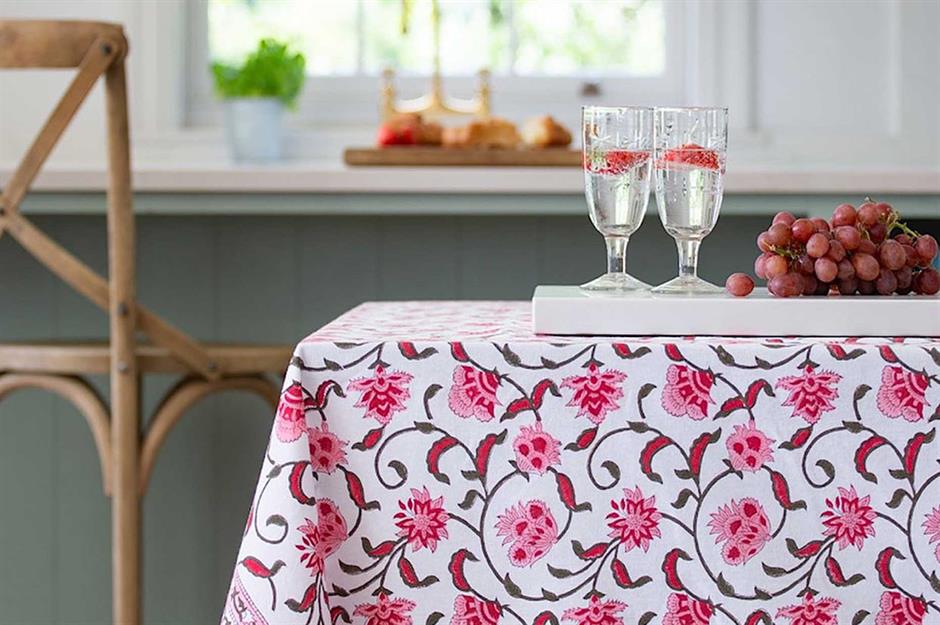 The Wisteria Tree
Bold, bright and beautiful, this vibrant tablecloth is a simple way of injecting colour and pattern into a plain kitchen that needs a spruce up. Whether you choose to match it to the colours already in the room or fancy introducing a whole new aesthetic altogether, this striking hand block printed cotton tablecloth is the perfect way to do so.
Invest in a new sofa
Loaf
A cushy sofa with relaxed pleats and deep buttons is a classic sofa design. But, throw in sumptuous velvet in a striking mustard tone and the living room will feature a wow factor focal point everyone will want to snuggle on.
Change the atmosphere with curtains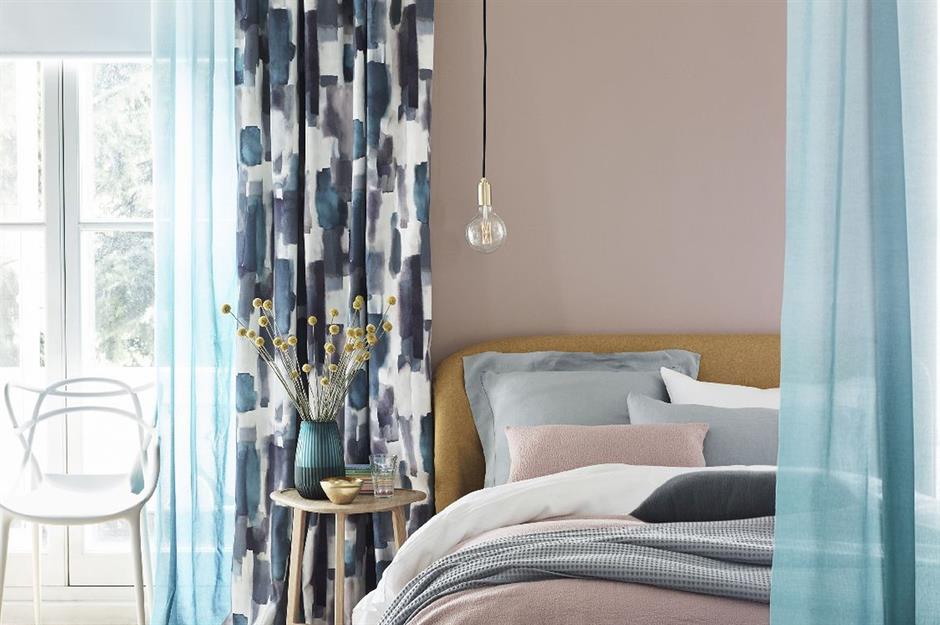 Make sure your mini bedroom makeover goes from bland to beautiful with full-length curtains. There are so many options to choose from, from off the peg to more luxurious made-to-measure. The drapes don't have to stick to the windows either. Add hotel-style by creating a dressing area or suspending them from a frame at the end of the bed.
Style with storage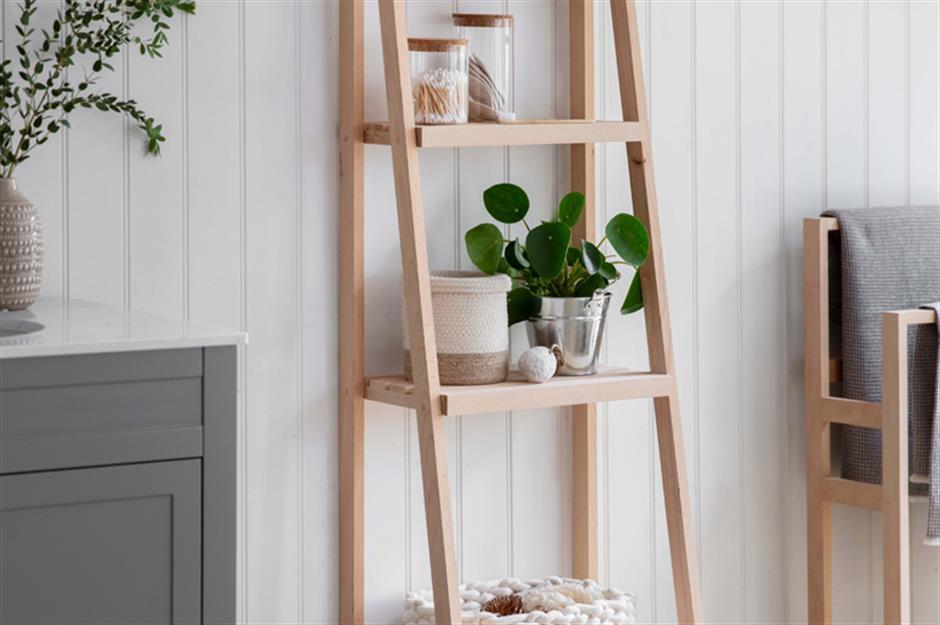 Garden Trading
We love a storage hack or two. Turn your belongings into gorgeous 'shelfies' by decanting everyday items into attractive storage boxes and jars. This works particularly well in kitchens with open shelves and on leaning ladders in bathrooms.
Update small appliances
Swan
Swapping out old and well-used small kitchen appliances for sparkling new ones will instantly update a tired kitchen. Look for colour coordinated versions or a tone that will pick out the hues of a splash back or statement floor. Be sure to look after your appliances too!
Change or add handles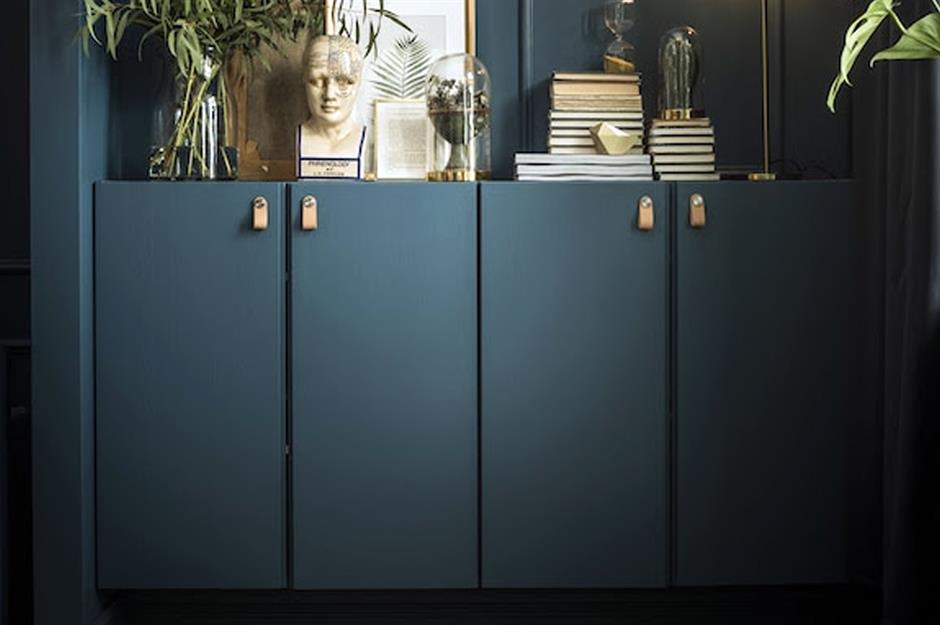 IKEA
Here's a super simple action that updates furniture. We love how these mainstream IKEA IVAR cabinets have been transformed into unique sideboards with dark and dramatic paint. Leather handles have been easily added to offer contrast and warmth.
Fashion a feature wall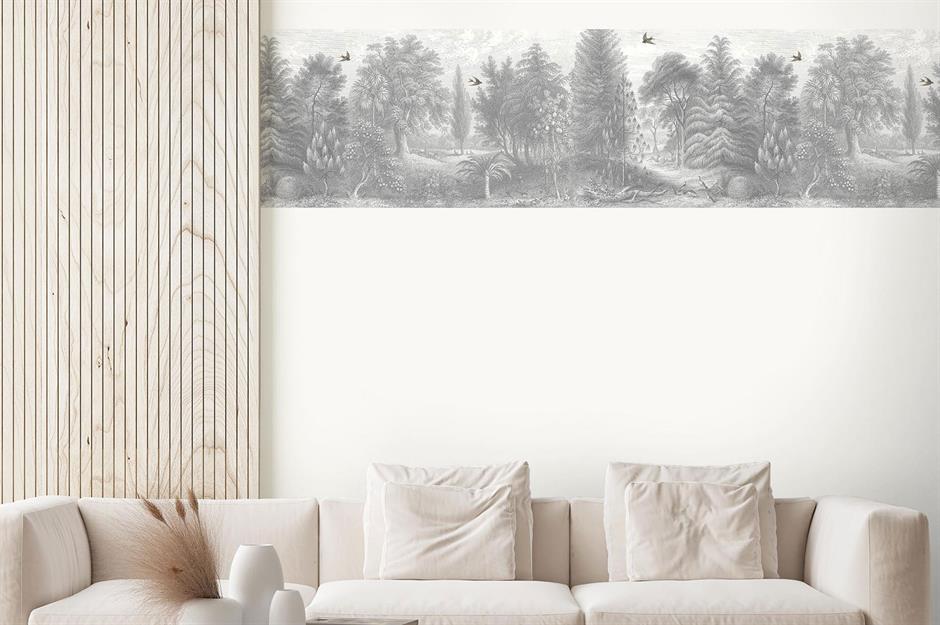 Woodchip and Magnolia
If you don't have time to paint an effect or wallpaper a whole room why not mount a border instead? Teamed with a simple strip panel section this chunky wallpaper frieze is up-to-date.
Add pattern to floors
Dunelm
Make a statement on your floors without ripping up the existing one. Peel and stick floor stickers create little mess and require no group or specialist tools so will bring the illusion of real floor tiles at a fraction of the price. Alternatively, floor paint is a practical and more permanent option.
Maximise natural light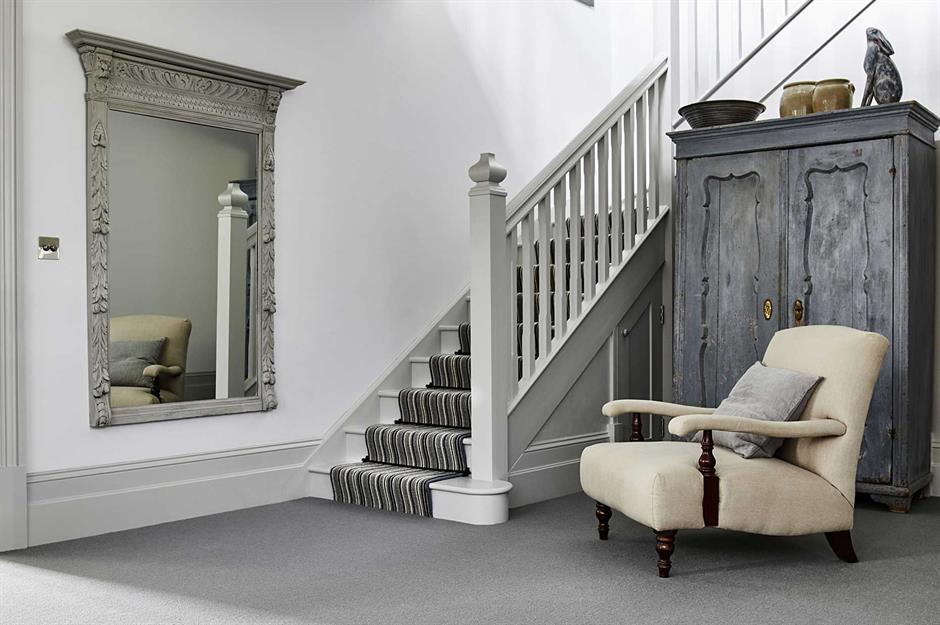 Carpetright
The more natural light you can draw into your home the brighter and fresher it will look. There are a few simple steps you can take to increase the light in your home: strategically place mirrors opposite windows, opt for reflective surfaces on kitchen units, door handles and taps and switch solid internal doors for glazed doors to bring light into dark areas such as hallways. You will be amazed at the difference these small changes will make.
Get wall painting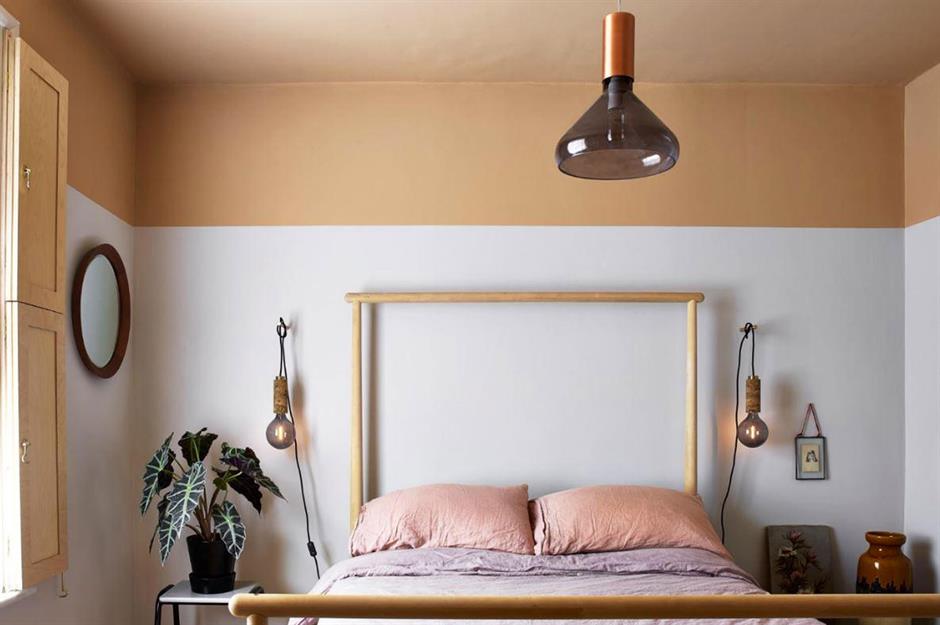 Crown Paints
It's not difficult to learn how to paint a wall with a professional finish. Prep well, try out some samples, choose your colour and spend a weekend to giving one room in your home a fresh lick of paint. Chances are you will love the result and go on to paint subsequent rooms. If you want to be really daring, add a paint decorating effect. Use two or three paints and go for blocks of different colours for a real style statement.
Roll out the wallpaper
Graham & Brown
A bold and beautiful wallpaper design can really give a room the 'wow factor'. Pick out your favourite pattern and use it to create a feature wall in your lounge or bedroom or really go for it and cover all four walls. If your budget is tight or you don't quite have the guts to do a whole large room, start off in a smaller area such as an entrance hallway, cloakroom or snug.
Change your bed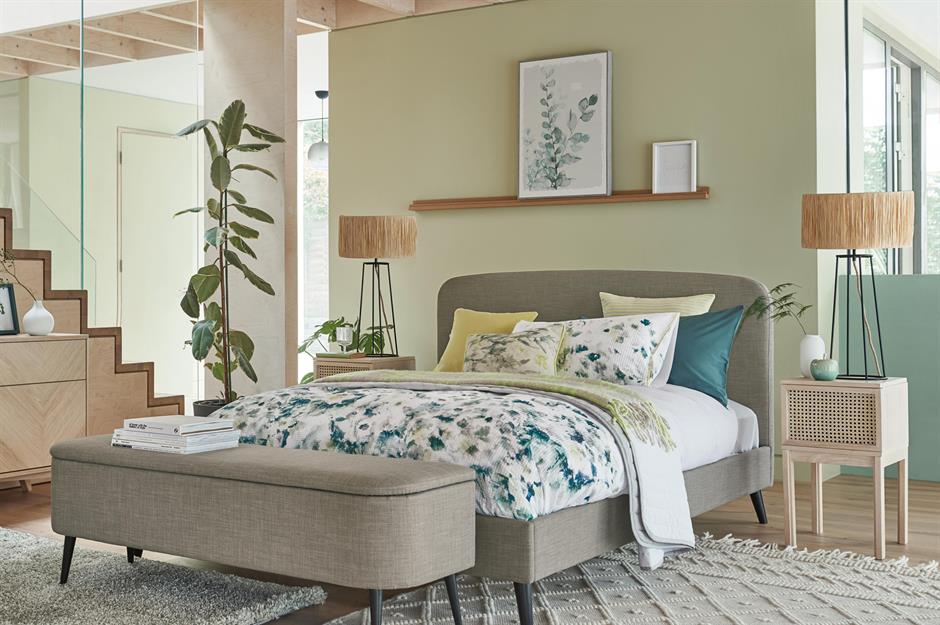 Next
Change your bed, literally. If your mattress is in perfectly good condition, go for a whole new bed frame or just opt for a new headboard. You can transform a bedroom just by changing the style and shape of the bed.
Refresh the bedlinen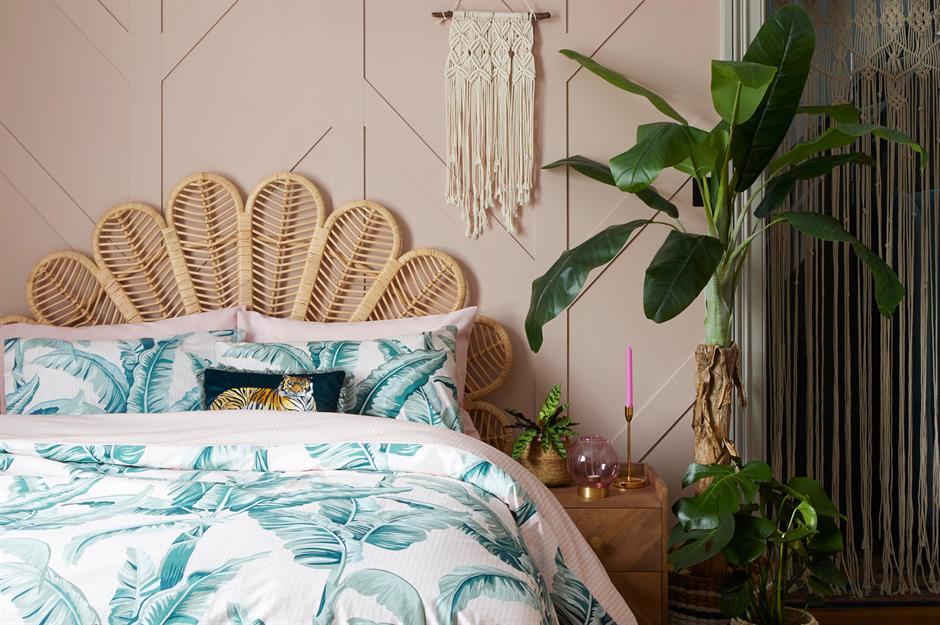 Dunelm
A new coloured or patterned duvet cover, or perhaps the addition of a bedspread, throw, and a few scatter cushions can radically alter how your bedroom looks. Plus there's nothing like climbing into crisp new bedclothes for the first time.
Tidy up with tiles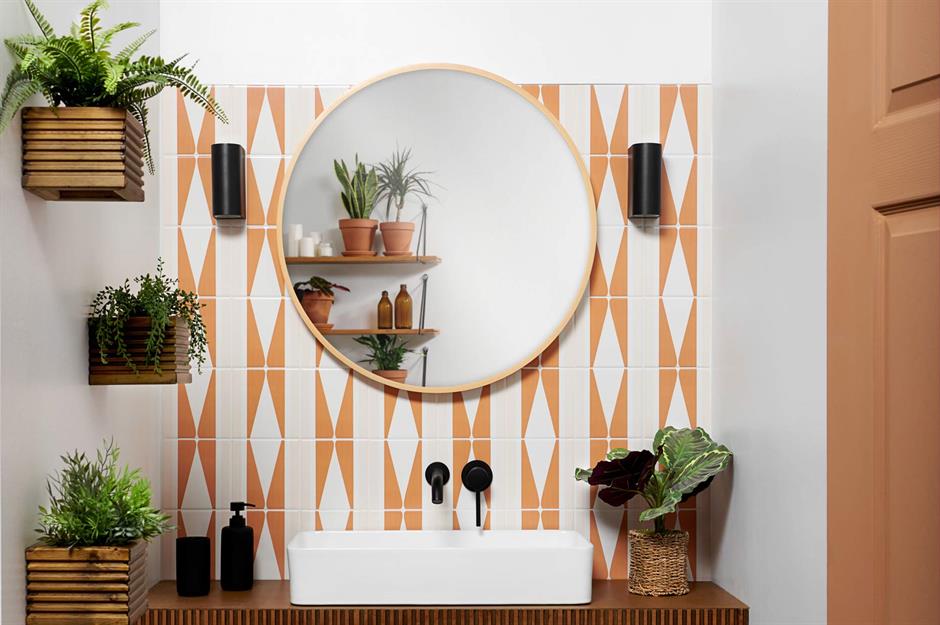 Walls and Floors
Whether it's just retiling a splashback in the kitchen or bathroom or going the whole hog and tiling all the walls (and maybe even the floor), it's incredible how those little porcelain or stone shapes can alter a room. Patterned tiles are particularly spectacular. Insider tip: larger tiles are generally cheaper to install, because they are less fiddly to cut and don't require so much grouting.
Swap out bathroom towels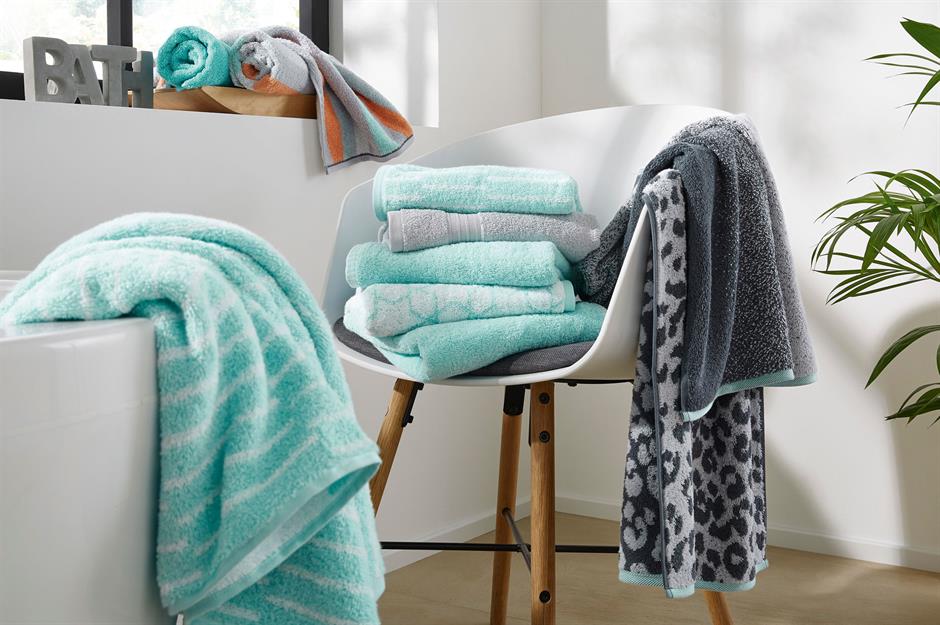 Dyckhoff
Treat yourself and your bathroom to a set of new towels. If your bathroom is all white or neutral, a new set of patterned or colourful towels can completely change the scheme. Perhaps go for some on-trend leopard print towels to inject a tropical edge.
Replace cushions
Furniture Village
If your scatter cushions on the beds, armchairs and sofa are starting to look a bit tired and dated, take off their covers and get new ones. Maybe cheer the room up with some bright pops of colour or go for a serene scene with a mix of muted pastels and texture. If the cushions themselves seem to have lost their stuffing replace those too with lovely plump new ones that you can sink right into.
Bring in blinds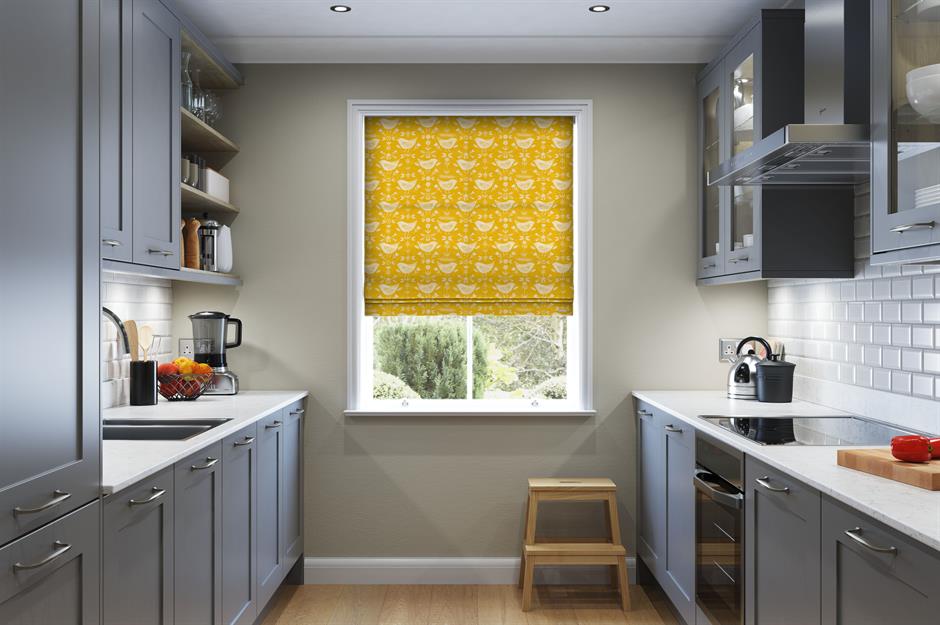 247Blinds
Turn your windows into a focal point with colourful blinds that compliment or contrast a decorating scheme. Super easy to install: they are cleaner and fresher than traditional curtains as well as space-saving in smaller rooms
Paint the front door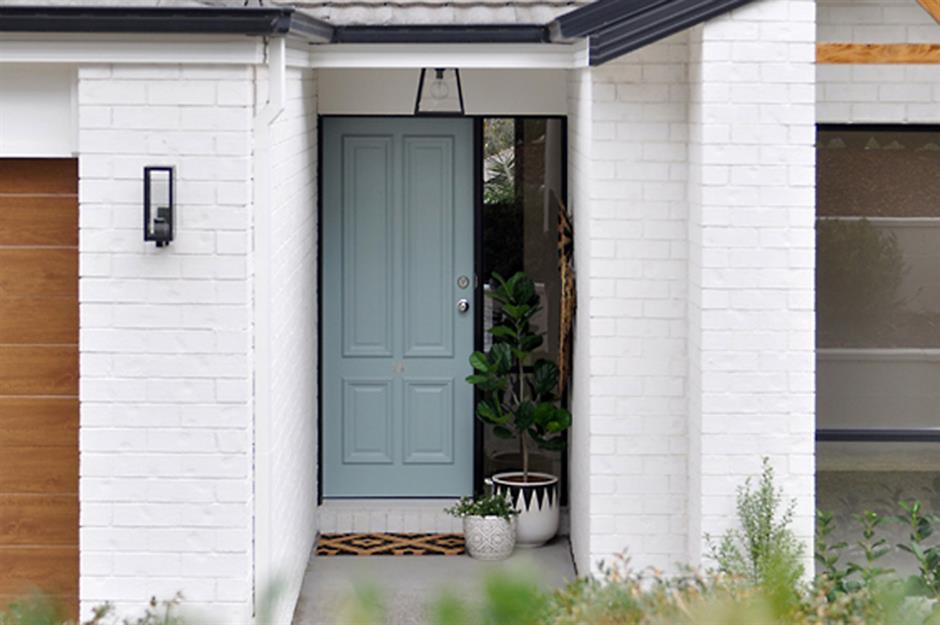 The Painted Hive
Your front door is the first and last thing that visitors to your home see. To improve that first impression why not replace it? You could go for something modern to create a contrast or opt for one that complements the period of your home. If you don't want to go to the trouble and expense of replacing your front door, give the original door a new coat of paint or varnish. You'll be shocked at the difference it makes. @thepaintedhive has lifted her white entrance with a refreshing lick of duck egg-toned paint.
Lay a rug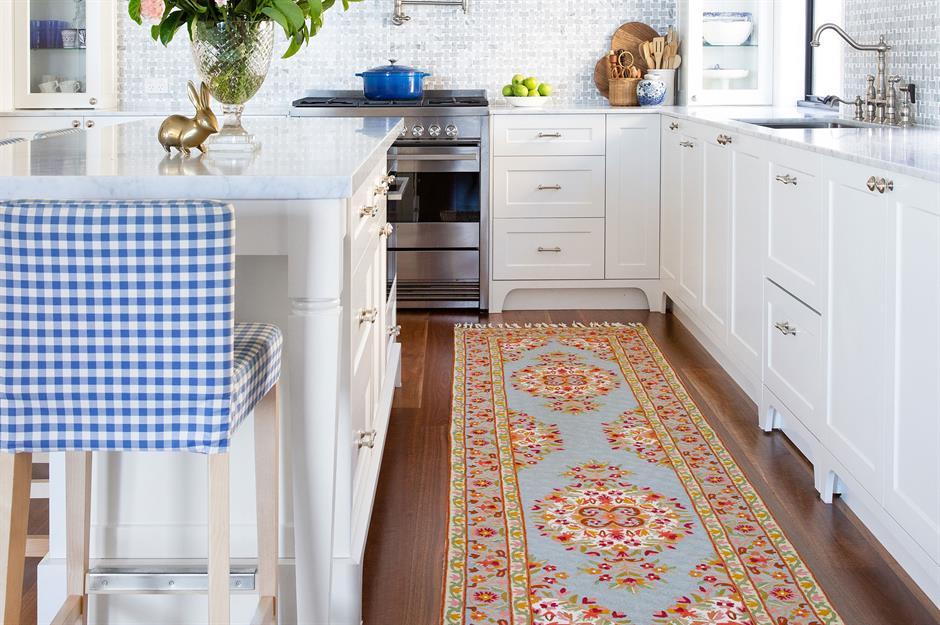 Carmine & Teal
A brightly coloured rug can really lift a room, but those colours do fade over time. If it's been a few years since you bought some of your rugs they may have has lost their vibrancy, or perhaps been worn down by heavy traffic or stained by spills. Replace them with lovely new ones, not only will they look great, you will enjoy sinking your toes into them too.
Welcome house plants to every room
Dobbies
Do you dream of your home looking like it's been pulled from the pages of an interior magazine or film set? One thing that you will notice about beautiful interior shoots is that they are always full of stunning houseplants and vases of beautiful flowers. Bring the outside in by adding grouped plants to your window sill or place an larger one in striking pot on the floor.
Introduce new light shades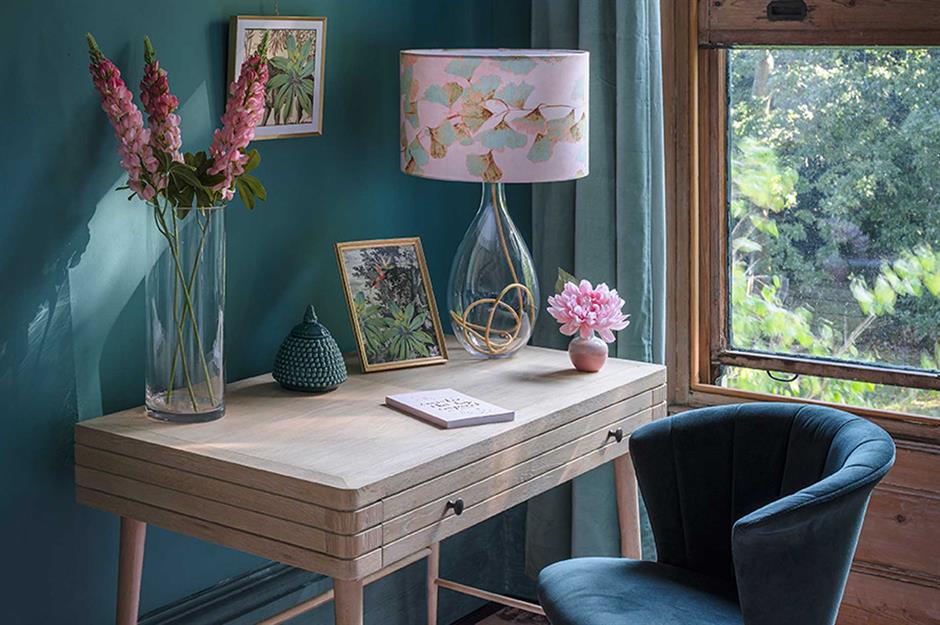 Anna Jacobs
Light shades, whether they be on bedside lights, office desk lamps or pendant lights take seconds to change. There are some hugely expensive shades on the market, but there are also plenty of good value ones, too. Just by replacing your lights shades you can dramatically change the look and feel of a room.
Clear the clutter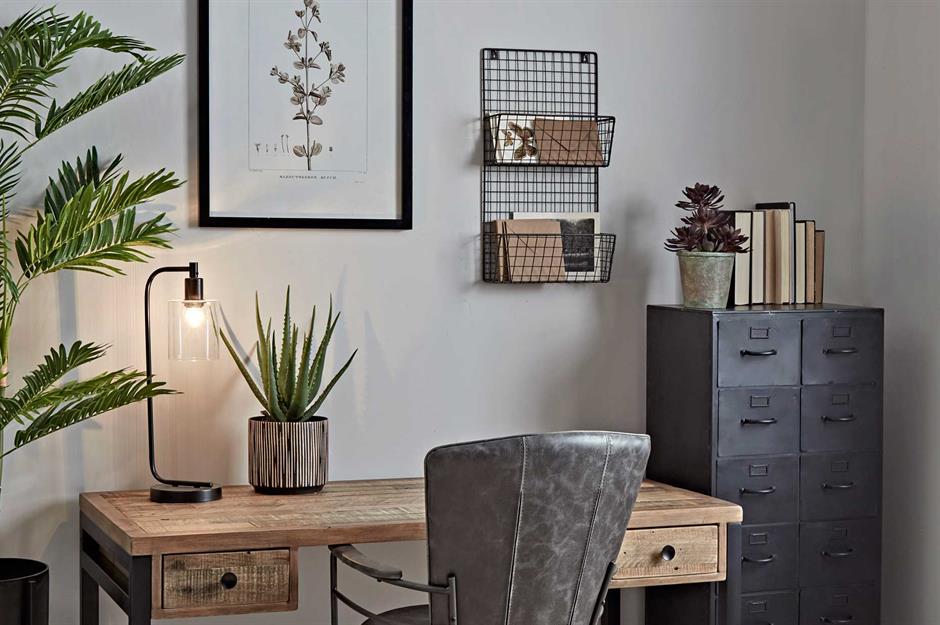 Cox and Cox
A new year means a new start so it's definitely a great time to declutter your home. Invest in attractive box files for paperwork and in-trays for post and keep these on your desk or hall table, choose some cool boxes for keeping toys in the playroom and kids bedrooms and select some funky baskets to store toiletries in in the bathroom. Choose storage with a lid for those less attractive items.
Fake an effect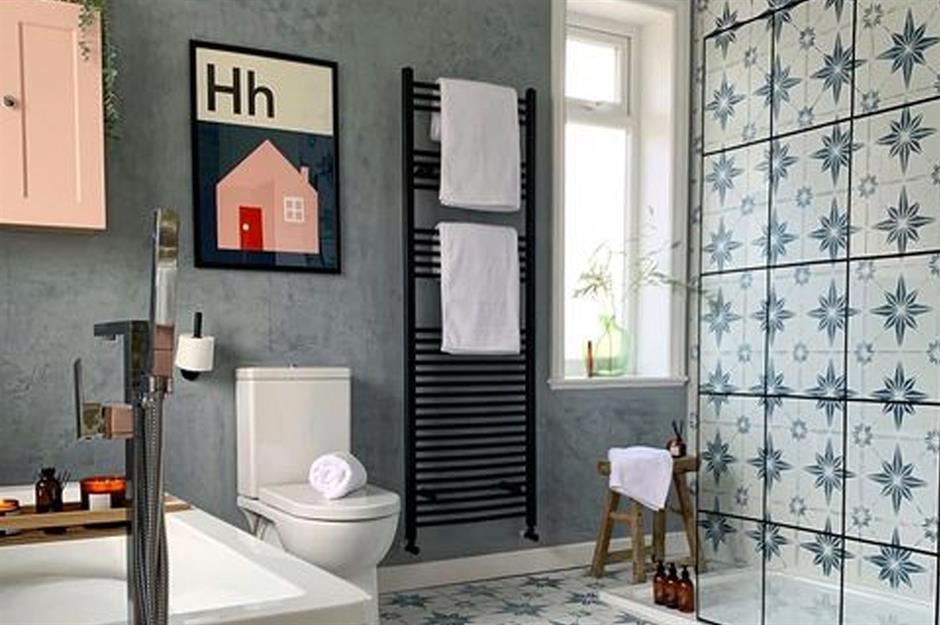 @crack_the_shutters / Instagram
Exposed walls look incredible but can be timely and costly to achieve. However, it's easy to fake the look with a wood or brick effect wallpaper. Or, Here, @crack_the_shutters has copied a concrete look in her bathroom using Craig & Rose Artisan Concrete Effect paint. A matt sealant protects the paint in this high-humidity room.
Warm up with a stove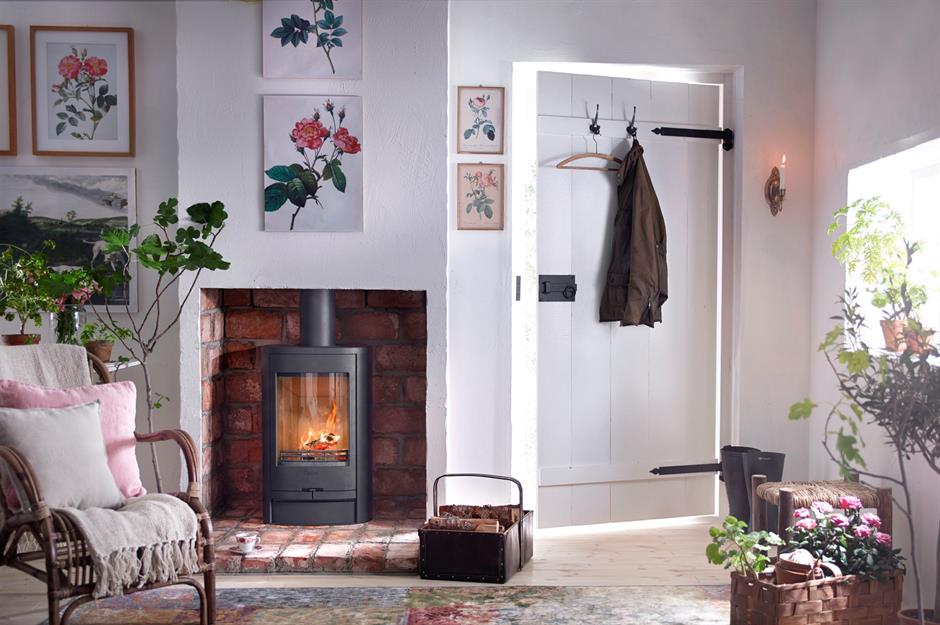 Contura
When it comes to heating, stoves are far more effective than traditional fireplaces. They look cottagecore cute, too, and are relatively easy to install. Not only do they work in the lounge, they will also throw a cosy glow over a kitchen diner or even bathroom. If you don't want the hassle involved in burning fuel, electric and gas fired stoves are realistic looking alternatives.
Get arty with old furniture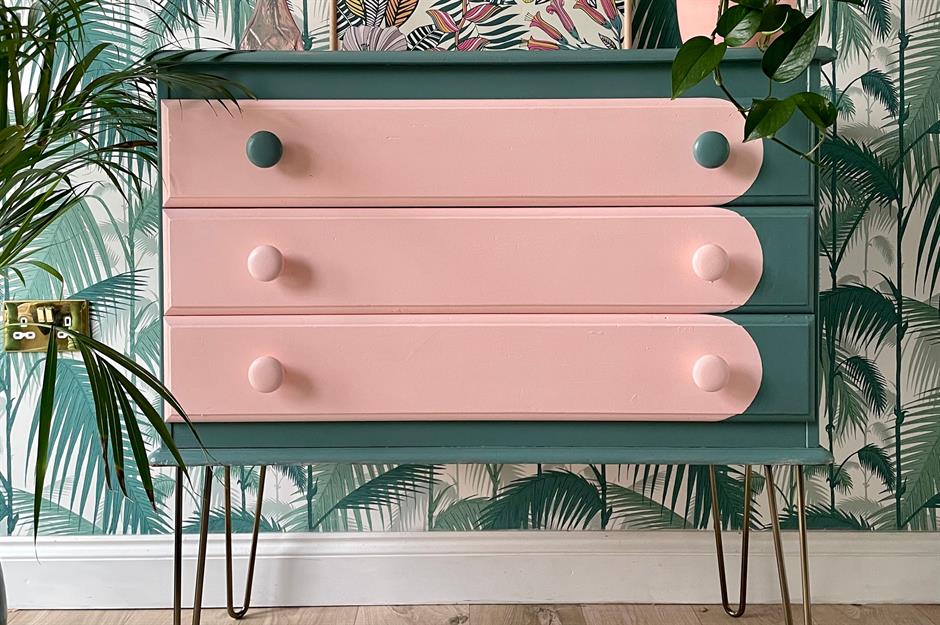 Rothley /@the_shoestring_home
Why not have a go at giving one of your old jaded pieces of furniture a new lease of life by painting it? Chalk paints give a vintage feel and brighter shades help you to achieve a more contemporary look. Interiors influencer Rachel Verney of @the_shoestring_home stamped her own style on this upcycled dresser with perky pink and teal paint. Change the knobs too and your wardrobe, chest of drawers or sideboard will be completely transformed.
Invest in a professional clean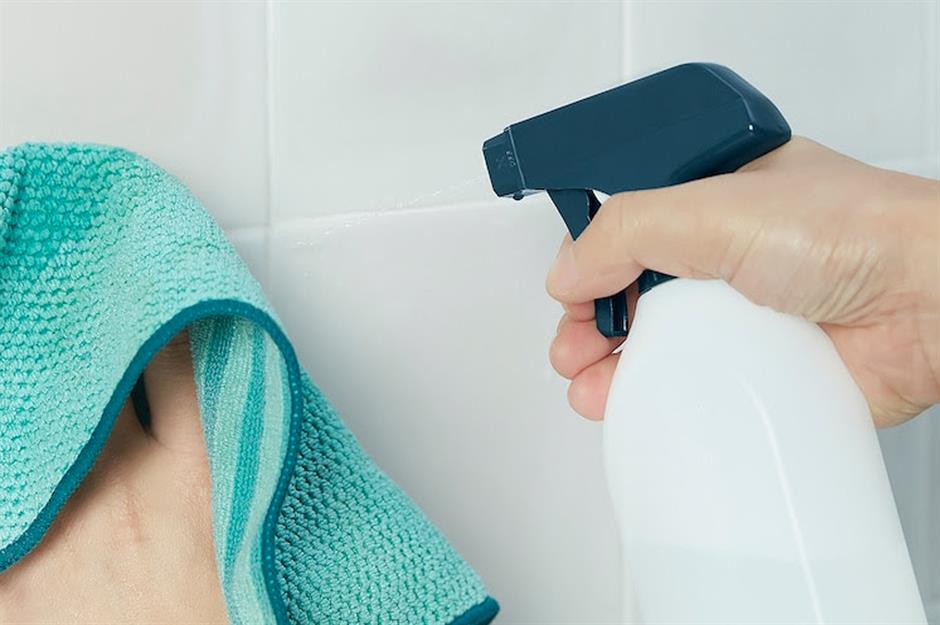 IKEA
It might be that you don't need to replace your carpets, curtains or upholstery, they just need an intense clean. However hard you scrub at those stains, sometimes only a professional with a heavy-duty carpet and upholstery cleaning machine can remove them. You won't believe how much newer everything looks after a deep clean. A dry-cleaner might be able to help with removable upholstery such as sofa covers, curtains and cushions.
Move artwork
Norsu Interiors
Just moving the painting you have in your bedroom into your lounge and the photos that adorn your hallway into the dining room can change the way your rooms look. If you have some spare cash you could also purchase a few new pieces. Charity shops are a good place to find great frames fit for an up cycling project.
Get sticking
Urban Walls
Wall stickers, or decals as they are often called to distinguish them from the glittery shapes that toddlers play with, come in all shapes, sizes and designs. They are reasonably priced, really easy to apply, and when you're ready for another change they should peel off without leaving a mark.
Put up panelling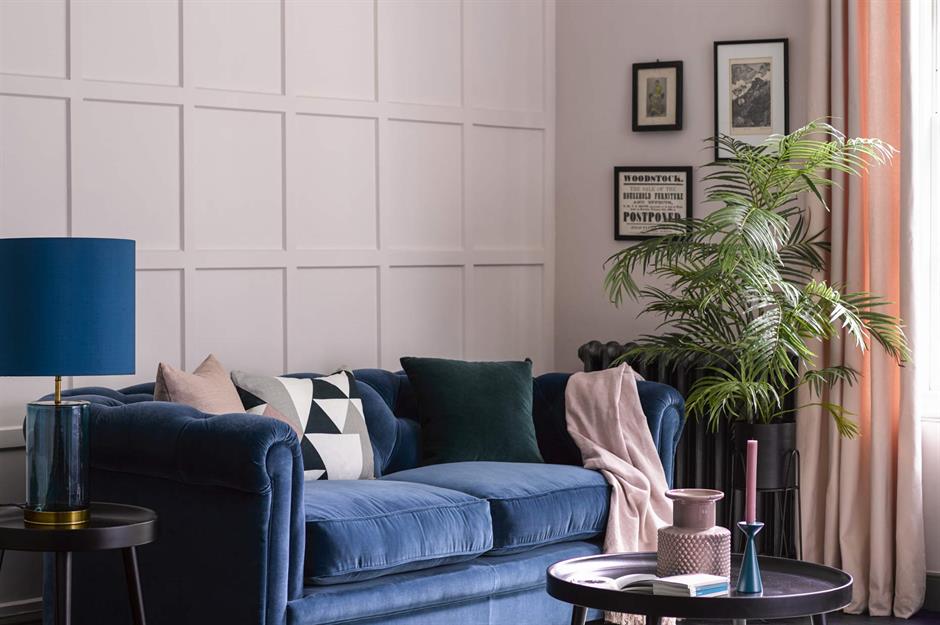 The addition of wall panels infuses a refined feel and they are super popular right now. You wont scroll down an interiors social media feed for long before a DIY version pops up so it's easy to find a tutorial. Use them to elevate a cosy living room or liven up a bedroom design.
Rearrange wardbrobes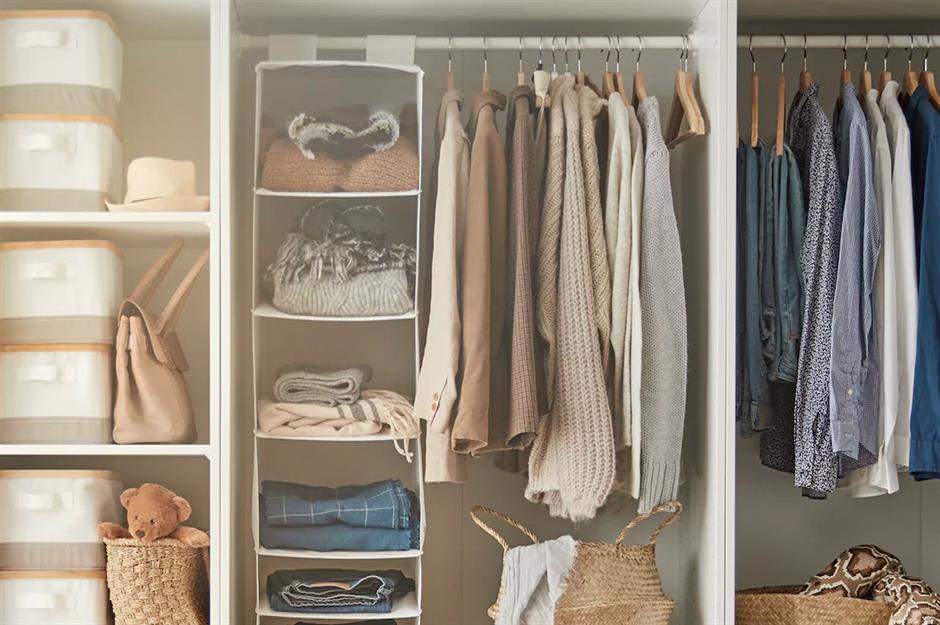 IKEA
If your wardrobes consist of hangers laden down with multiple clothes and shelves that are stuffed full of a jumble of clothes, it's time to organise it. If you have the space, put up a partition wall and give yourself the luxury of a walk-in wardrobe. If this isn't an option, refit the inside of your existing wardrobes with glazed drawers, pull-down hanging space and shoe racks so that you can seen where everything is instantly.
Update the stair treads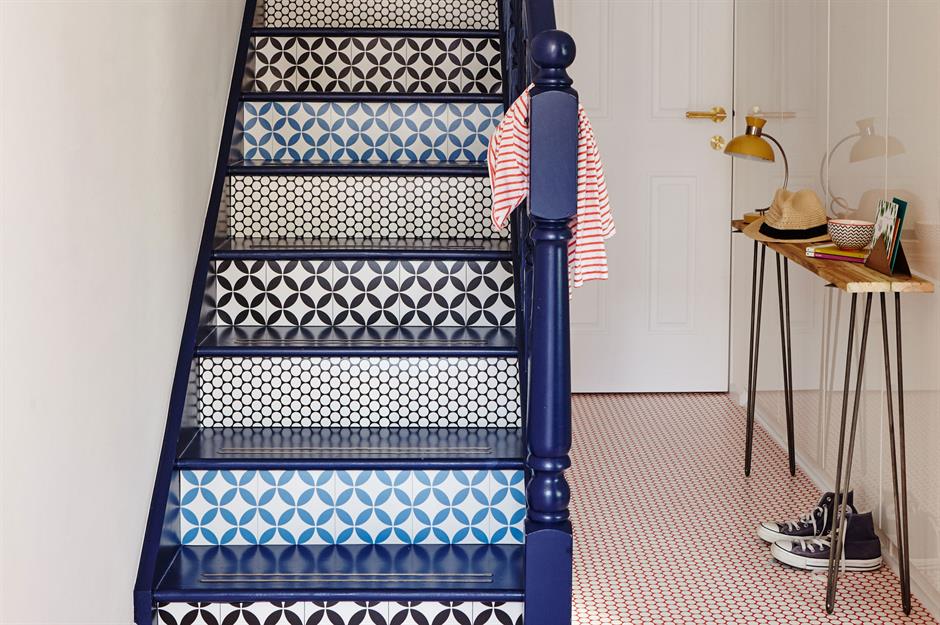 Lifestyle Floors
Stairs take a real pounding and over the years all that footfall starts to make its mark. Carpet gets thread bare, painted stair treads get scratched and polished wood becomes worn. You could re-carpet, perhaps with a fashionable stair runner; or strip off the old carpet and paint or varnish the bare wood. You can also create a striking feature by going for made to measure stickers on the stair risers.
Inject some scent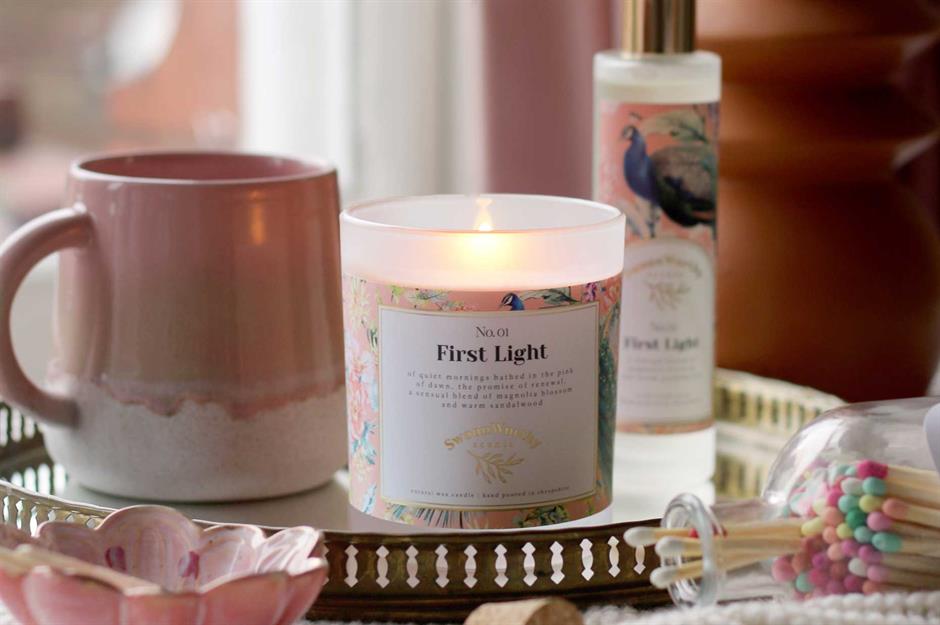 Swoon Worthy Scents
If your home is smelling a bit stale and musty, all you need to do to get it sweet smelling again is to open a few windows and light some scented candles. Choose candles that look pretty as well as smell great, so that they look attractive when sitting on the coffee table or mantlepiece when not in use.
Tidy up the hallway
IKEA
The hallway is all too often a dumping ground. Shoes are kicked off and left in a pile by the door, coats are thrown on the banisters and handbags and school gear are left pooled by the stairs. By adding a basket or rack for shoe storage and bags and hooks for coats, dog leads, hats and scarves this small area instantly becomes a much more functional and attractive space.
Paint the tiles
Wilko
Tile paint is one of those secrets that few people outside of the decorating trade know about. It's available in a rainbow of colours and will cover your inherited dated tiles in a matter of hours. You can also get tile stickers that can cover each tile with a new design, just make sure you choose a sticker that matches the size of your tiles exactly.
Get technical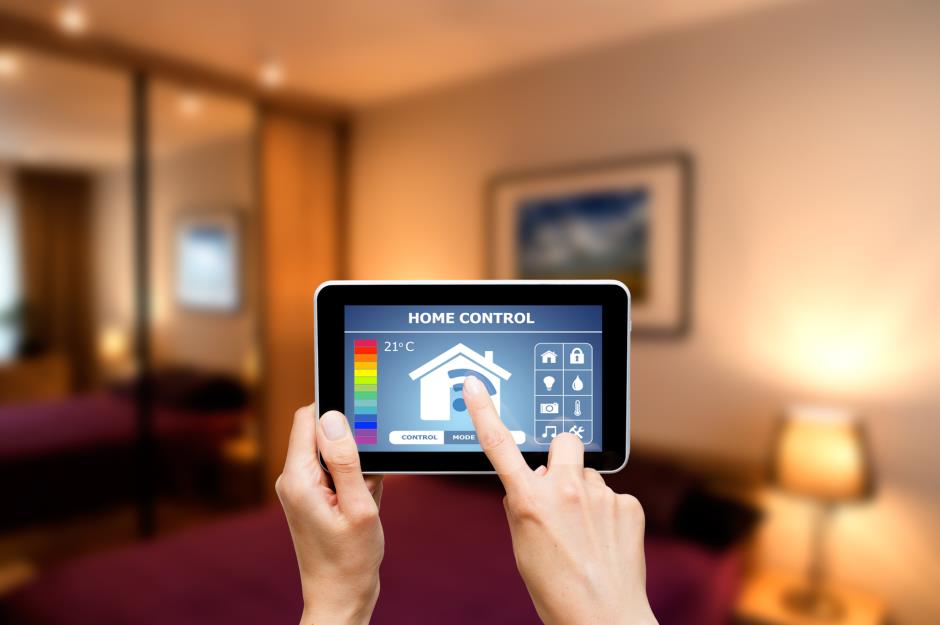 REDPIXEL.PL/Shutterstock
You can probably halve all the wires snaking around your home connecting speakers, sound systems, burglar alarms and printers just by moving over to smart wireless technology. You can control all the lights in your home, check in on your home when you're away from it, turn on music and even close the curtains or blinds, for example, all from your phone or tablet. Not only will it clean up the wires, it will make your whole home function more efficiently too.
Crockery update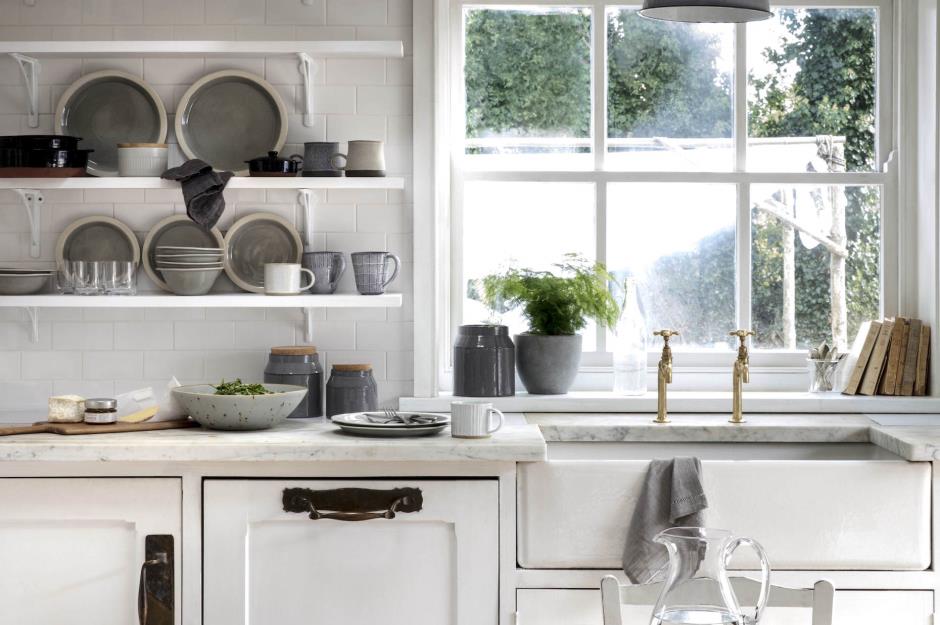 House of Fraser
Has your original twelve piece crockery set gradually been diminished by breakages, meaning that when people come around you're forced to bring out odds and ends? Why not spoil yourself and buy a whole new set? Maybe something completely different with a bit of colour or a fabulous pattern on this time around.
Turn the taps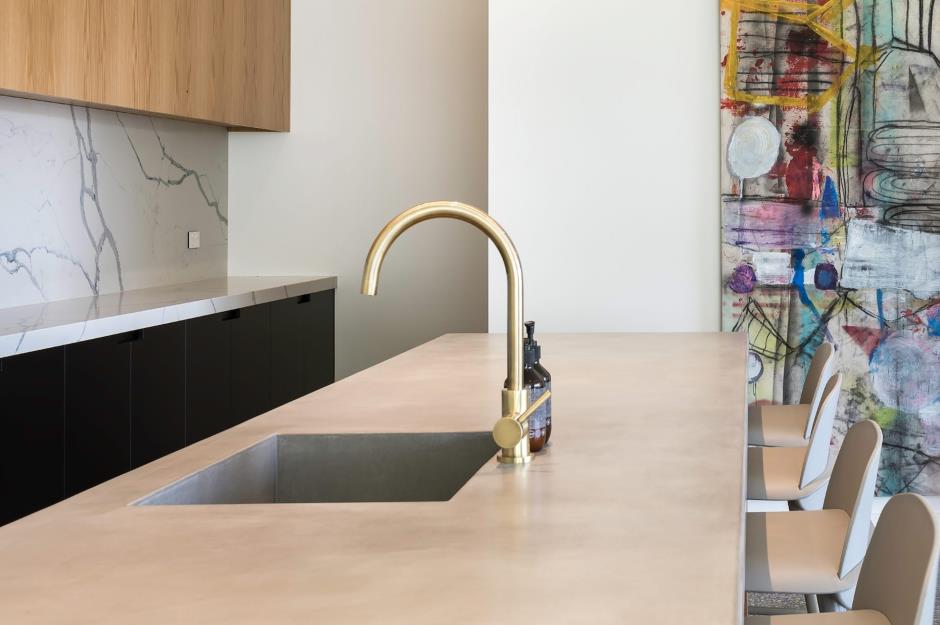 Meir Australia Pty Ltd
If your taps are a few years old, chances are that a few are starting to drip or the handles are looking worn. If this is the case, think of replacing them. You can completely alter the style of your kitchen or bathroom just by renewing the taps. To be at the height of style go for rose gold, copper or bronze taps. The latest models distribute water much more efficiently too, saving you money and reducing your water usage in the longterm.
Change your unit fronts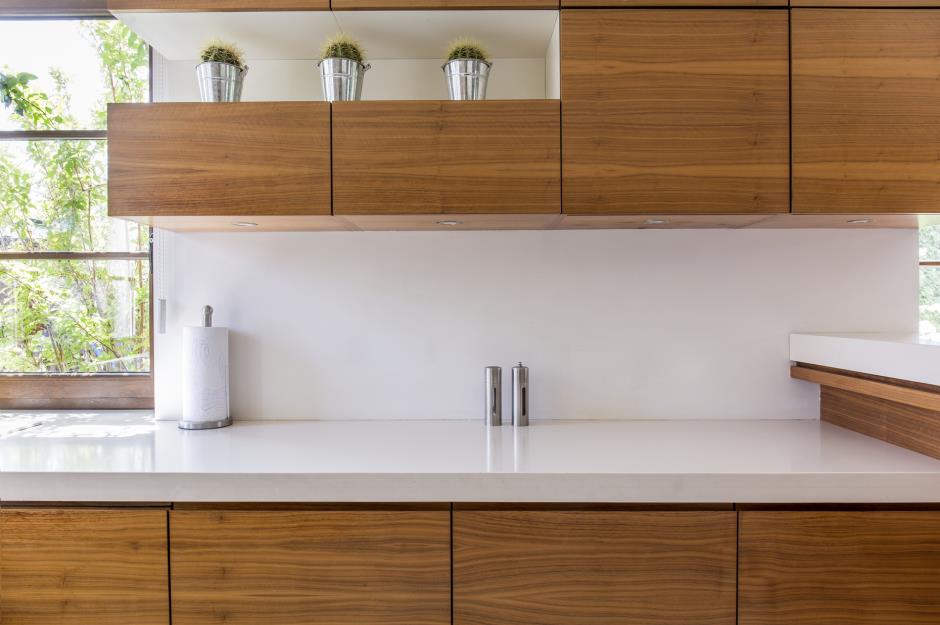 Photographee.eu / Shutterstock
Are your kitchen units starting to show signs of wear and tear? Maybe the drawers and doors are not shutting properly, they are scuffed and marked. You don't need to replace the entire kitchen, chances are the carcasses are still in pretty good shape. Just replace the unit fronts, there are many companies that specialise in just doors and drawers. Your kitchen can switch from traditional in style to contemporary or vice versa within a day.
Ditch the kettle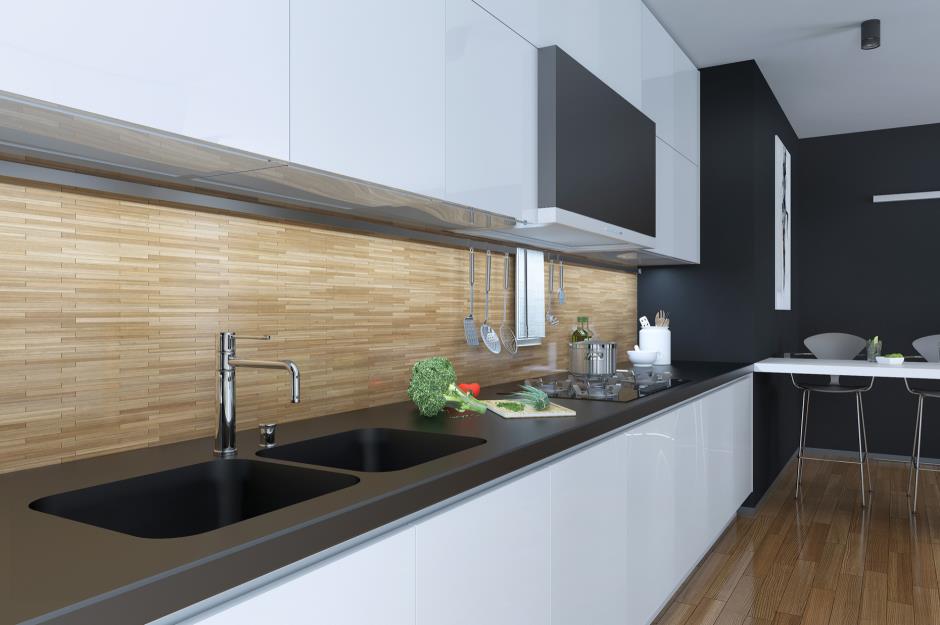 KUPRYNENKO ANDRII / Shutterstock
Make more room on your worktops and dump the kettle for a boiling water tap incorporated into your kitchen sink. This handy little gadget will mean you can make a cup of tea or coffee in seconds and have pans of boiling water ready for cooking almost instantly, plus it's relatively cheap and easy to install too.
Hang gallery walls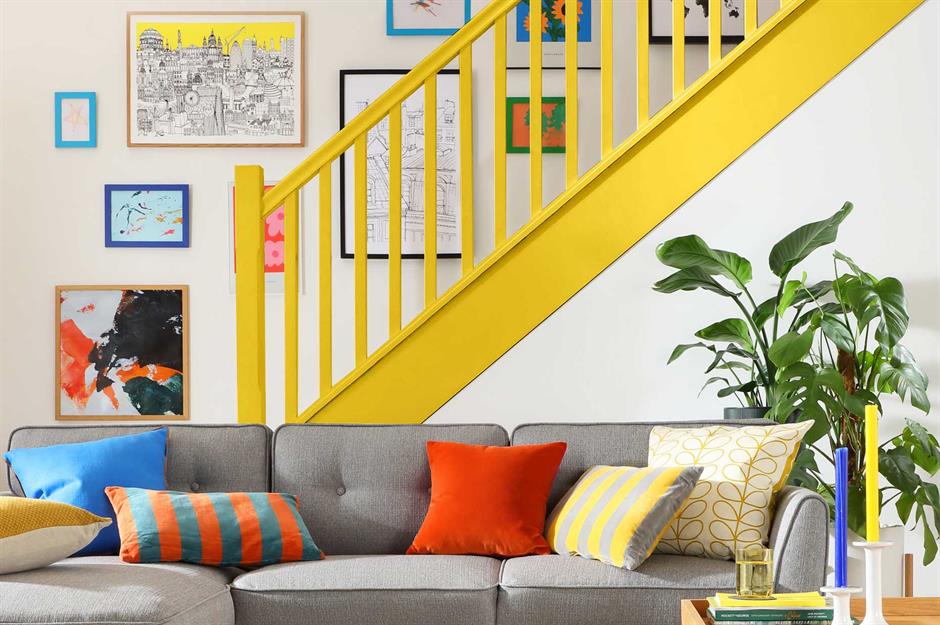 Furniture and Choice
These days no modern home is complete without a gallery wall featured in at least one room. Research online for a simple layout to follow and get filling that plain wall with artwork and photography to die for. It works especially well for filling wall space like this as you head upstairs.