Original Article – https://www.loveproperty.com/gallerylist/97161/fabulous-farmhouse-decorating-ideas-for-every-room
Update your interiors with modern farmhouse style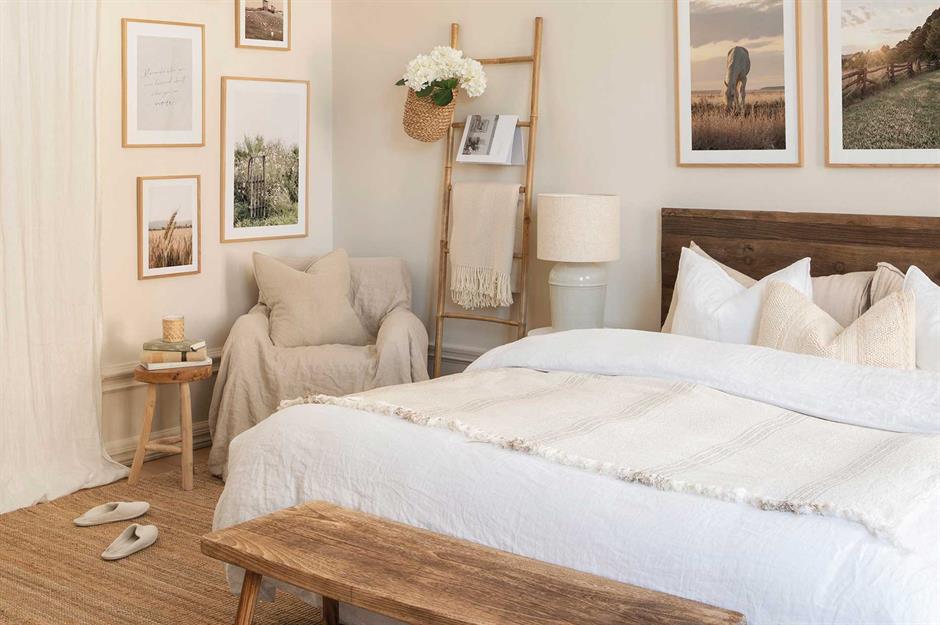 Poster Store
Farmhouse style is the perfect blend of modern and rustic that is clean and yet homely. More sophisticated than shabby, it takes traditional country style and adds contemporary touches. And, what's more, you don't have to live on a farm or even in the country to get the farm fresh look in your home. From pared-back colour palettes to modern typographical art displays click or scroll through and take a look at these fabulous farmhouse decorating ideas that you will never put out to pasture…
Display vintage signage
@rusticwildarrow / Instagram
Rustic signs and typography are crucial elements of farmhouse decorating. Look out for genuine vintage plaques at flea markets or stencil your own heartwarming quotes onto pieces of pallet wood. Hang the wall art in rooms that link to the wording, like Instagrammer @rusticwildarrow. For instance, a 'farmers' market' sign will look humorous mounted above a kitchen larder or framed 'family' and 'thankful' quotes will make a living room cosy.
Embrace small spaces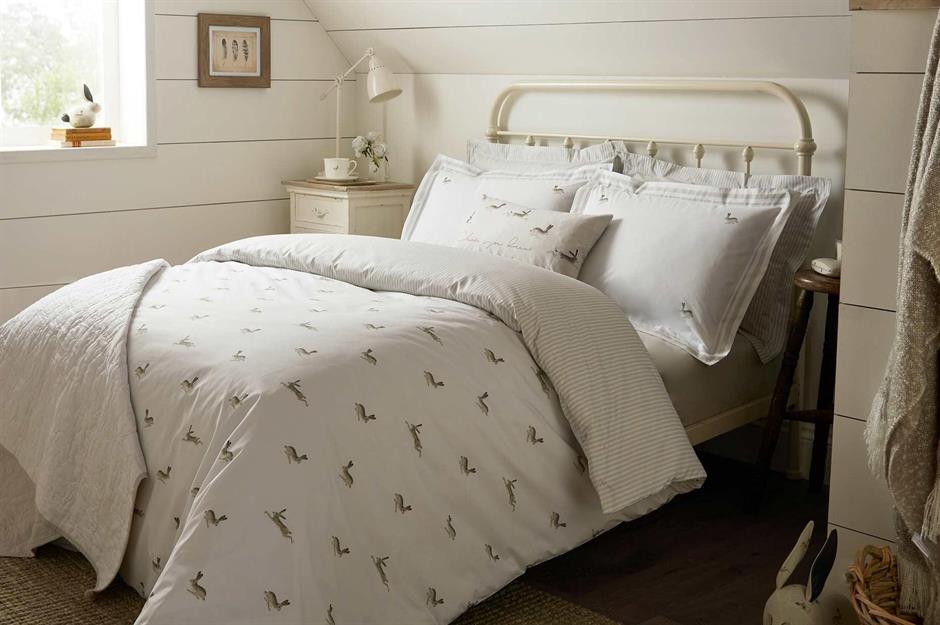 Sophie Allport
Farmhouses and cottages of yesteryear were typically built with small rooms so they were easier to heat. If your home is on the small side choosing a cosy farmhouse scheme is an ideal tiny home idea. Maximise the sense of space in the compact room with a pale colour palette but make the atmosphere warm and inviting with wood-panelled walls and plenty of texture.
Be inventive with reclaimed architecture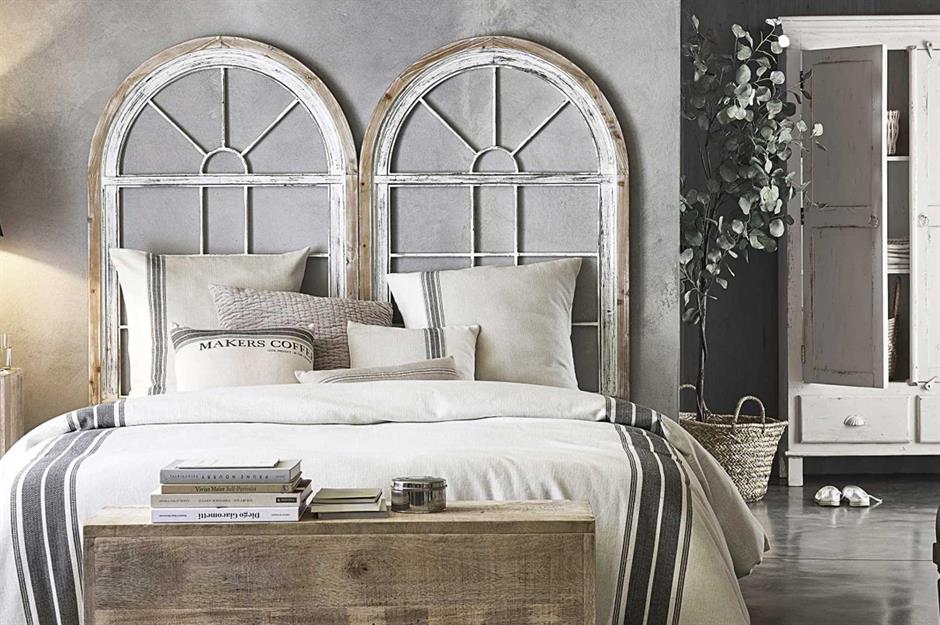 Maisons du Monde
Head out to flea markets and antique yards on the search for disused features typical of farmyard structures. Barn doors, old window frames even elements from farmyard machinery can make fabulous and factual decorative statements.
Choose authentic furniture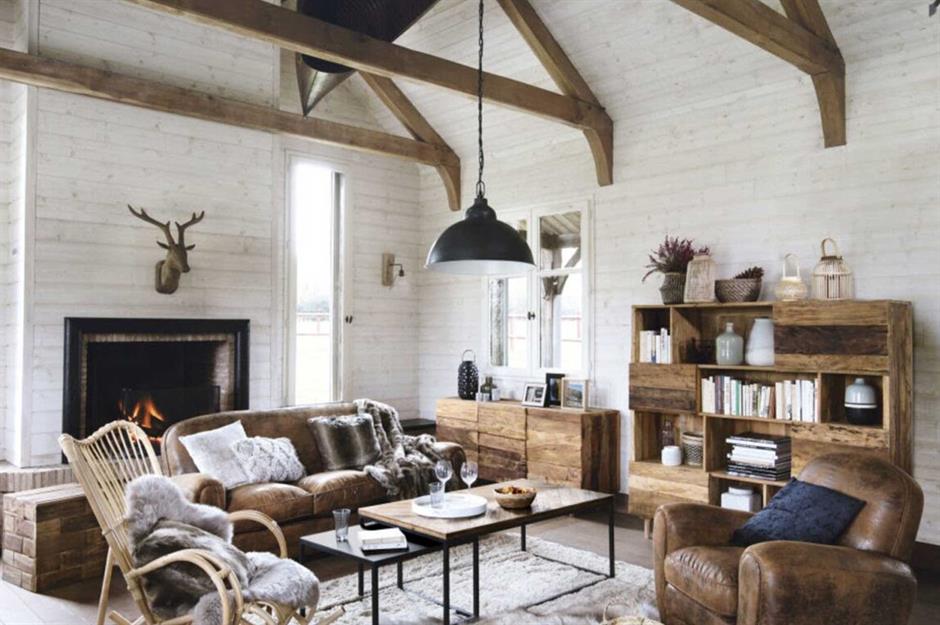 Maisons du Monde
Give a pale farmhouse palette depth and interest by adding furniture that is made of natural materials and has the authenticity of a bygone era. A well-loved leather sofa and armchair give this inviting living room a distinct industrial working farm vibe.
Consider floral wallpaper
Bring a hint of colour and pattern inspired by nature into the bedroom with a meadow print wallpaper. This light and airy botanical wallpaper adds interest behind this beautiful wooden bed painted soft grey. Navy and white bedlinen layered with a refreshing bedspread visually tie the scheme together.
Keep kitchen shelving open
LochAnna Kitchens
Open shelving works wonders in country schemes as the rustic style not only opens up small spaces but is practical and cost-effective too. It's also a great way to add colour to a muted palette by displaying all sorts of vibrant kitchenware.
Layer up vintage mirrors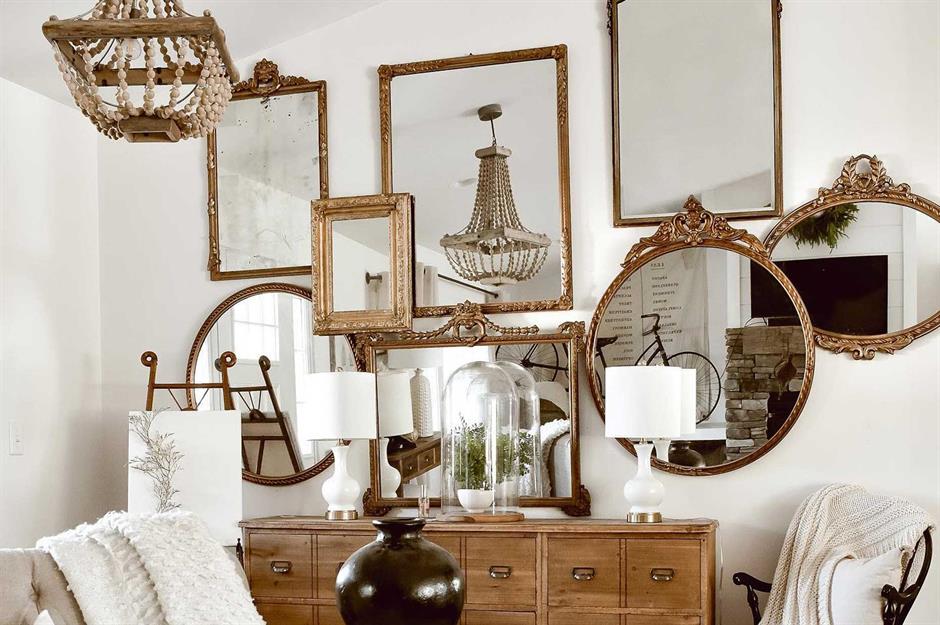 @rusticwildarrow / Instagram
A feature wall full of mirrors creates a striking farmhouse statement in the simplest of forms. Holly's #mirrorwall showcased on @rusticwildarrow overlaps antique mirrors on a plain white wall. The decorative effect is creative yet unpretentious—we love it.
Set up a laundry space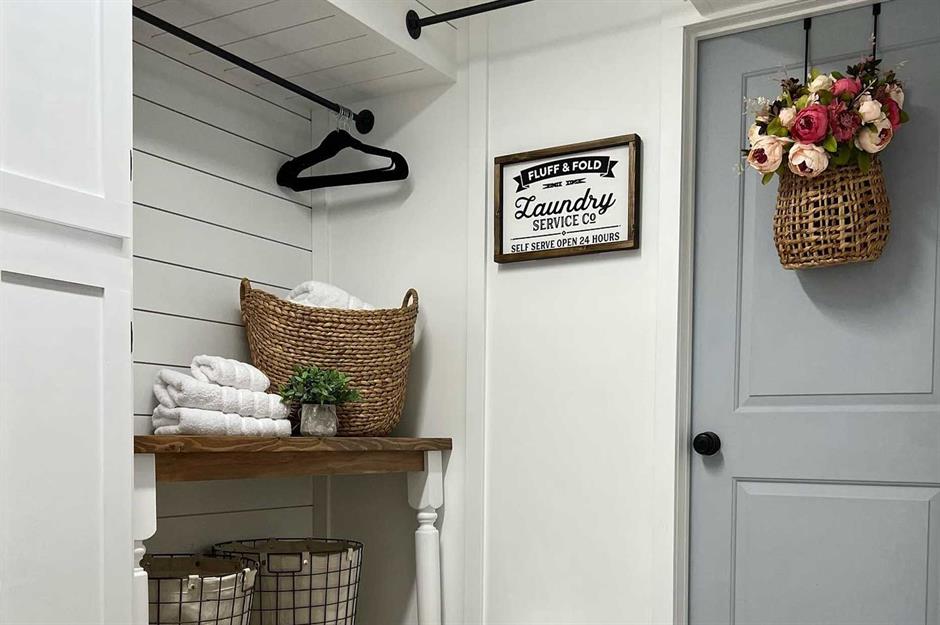 @lavenderbrookfarm / Instagram
Play on the 'working' aspect of farms by fashioning a laundry and utility area. Instagrammer @lavenderbrookfarm has maximised this corner with drying rails, a folding table and double-wire laundry baskets that fit the part. Attention to detail such as the basket of flowers and framed 'laundry' looks charming.
Fill your kitchen with copper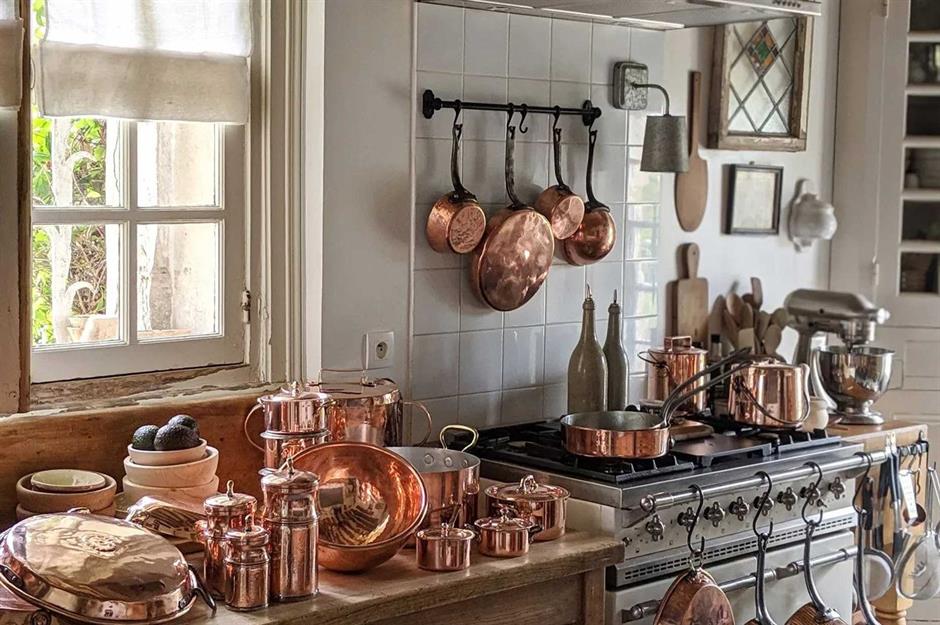 Rabbit Hill French Lifestyle
Create the feel of an old farmhouse with beautiful pieces from the past like Rabbit Hill French Lifestyle has done here. Copper kitchenware has a timeless style and gets better with age–group pots, pans or jars in threes to look put together rather than cluttered. Note that traditional copper pans do not work on induction hobs as they are not ferromagnetic.
MIx and match Furniture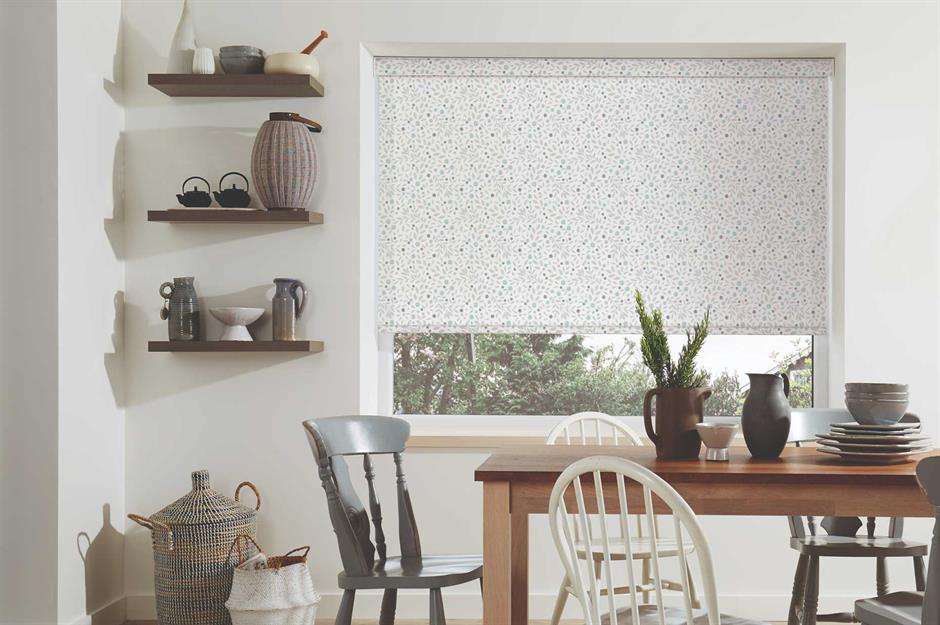 English Blinds
Furniture that doesn't come from the same place or even era is a farmhouse decorating formula that works every time. Simplicity is the standout style in this rustic dining room, but the grey and white painted wood chairs make the eclectic scheme calm, balanced and charming. Why not get the chalk paint out and revamp your own furniture?
Bring in farm animal motifs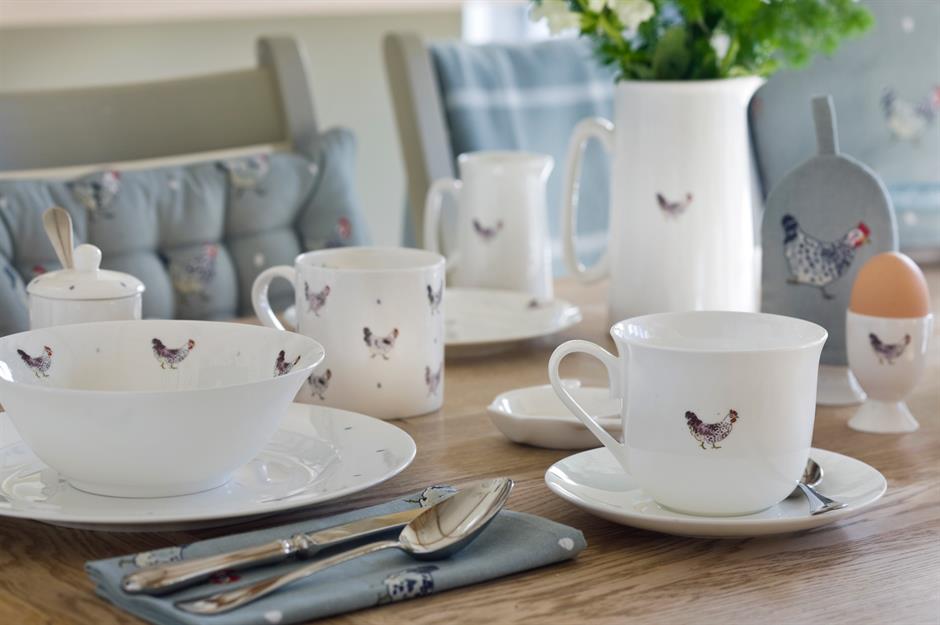 Sophie Allport
Enjoy a full farmhouse breakfast on a tablescape set up to celebrate rural life. Set a chunky wooden table with pale blue linens and then layer up classic white china embellished with delicate farm animal motifs.
Cook on a range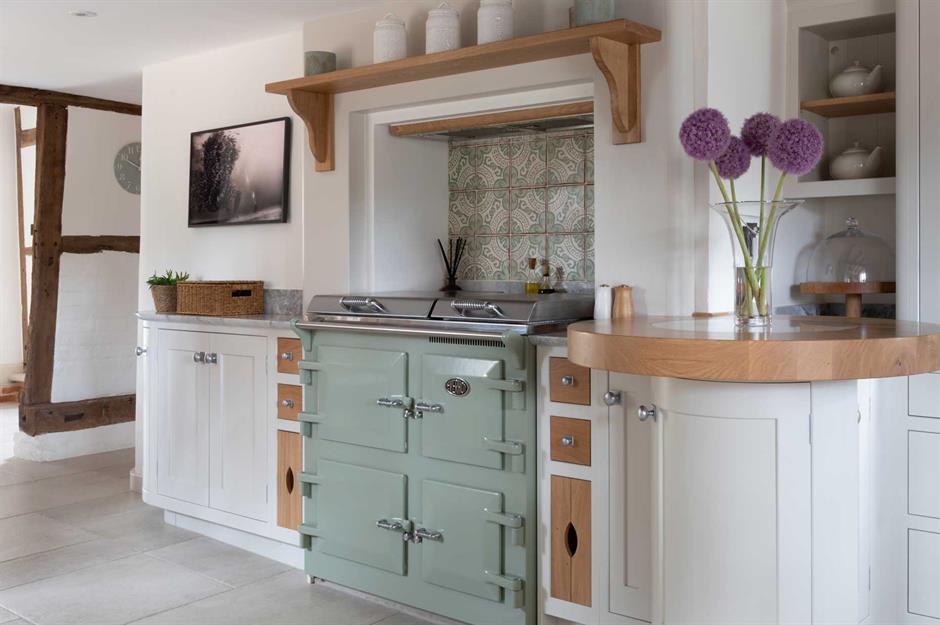 Searle Taylor Kitchens
An Aga or cast-iron range stove warms the whole house and is an iconic country kitchen feature. Placed in a disused fireplace they look stunning especially if the kitchen wall tiles pick out the range colour (in this case soft sage green) to make it the feature.
Frame farmland-inspired prints
Poster Store
Warm up a pared-back bedroom with a simple gallery wall dedicated to all things farmhouse. Choose photos and paintings of classic farmyard or rural pictures and mix up the media with wooden wording or craft pieces. Finish the fun by echoing tones using plenty of linen cushions bedlinen.
Install barn doors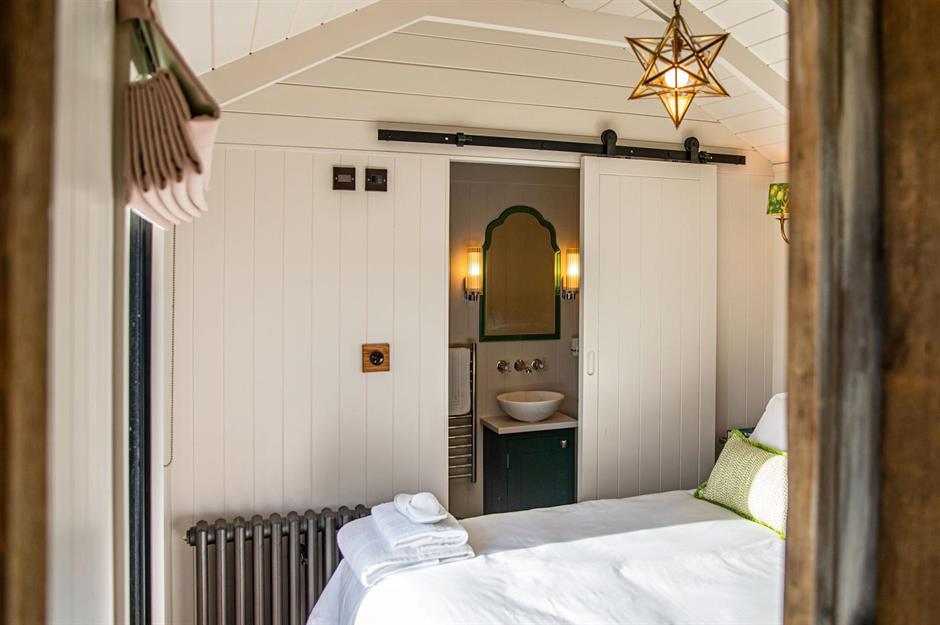 Plankbridge
Not just for the farm anymore, barn doors are sliding into farmhouse decorating schemes too. Not only do they cry out with rustic style, but they also look wonderfully organic and take up less foot space. This barn door looks the part of a charming shepherd's hut guest suite, but would also make an ideal solution in small bedrooms.
Choose a rustic splashback
Original Style
Frame a practical butler sink with an authentic splashback to ensure it's water-tight. Go for a bevelled finish to nail the rustic vibe, choose patchwork patterns or hand-painted farmhouse motifs for country-style interest or stay plain for minimalist charm.
Stick with stone flooring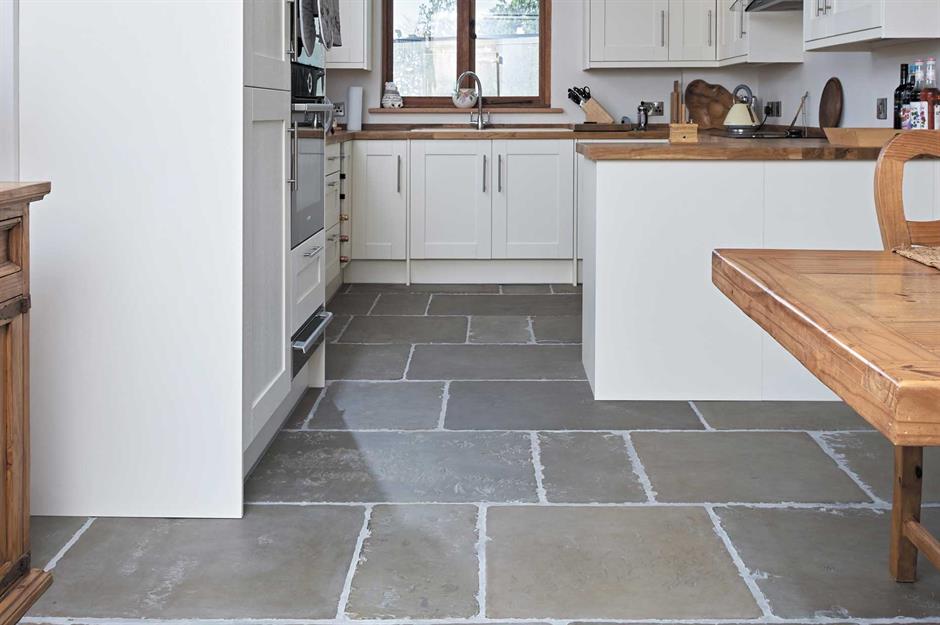 Hyperion Tiles
Stone flooring will give even a modern kitchen a farmhouse twist. The only downfall is natural stone flooring can feel cold so stay on the lookout for intriguing antique rugs to soften the hard surface. Add warmth to white units with well-oiled natural wood worktops.
Style up a shower curtain
Annie Sloane
Give a regular bathroom farmhouse appeal with a few simple additions. Mount wood panels on walls and the bath panel but protect the natural material from the humid environment by painting it with specialist paint. Then hang a pretty shower curtain that features striped ticking or gingham pattern. We love the scalloped edge of this country textile.
Sew a sink skirt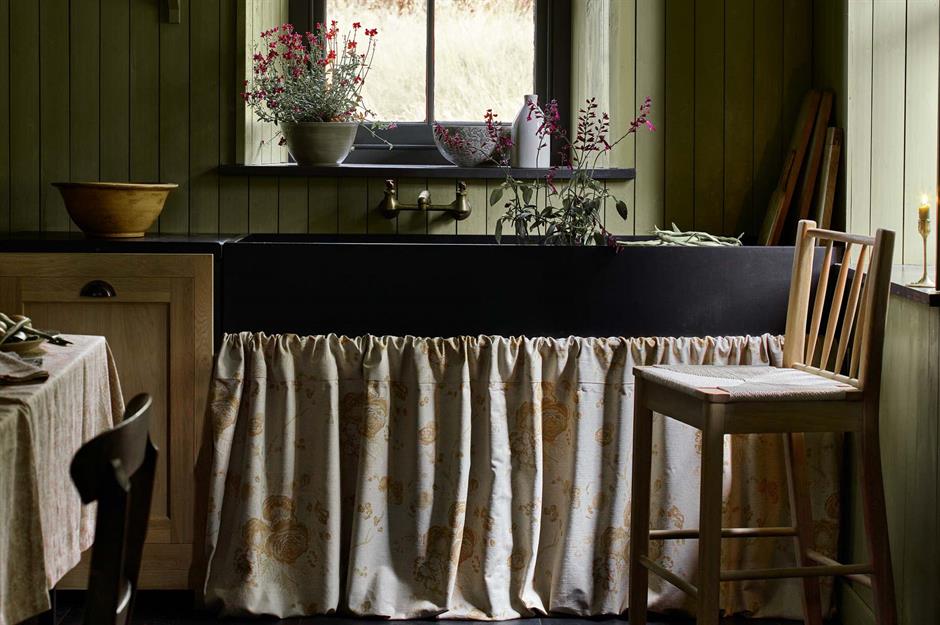 Neptune
Before fitted kitchens were invented sink skirts were common practice to cover up exposed pipes under kitchen and utility room sinks. The ruched fabric features have recently had a revival as they instantly pretty up spaces when on a budget. Due to their simple nature sink skirts make a fun and easy DIY craft project.
Hunt for Shaker-style furniture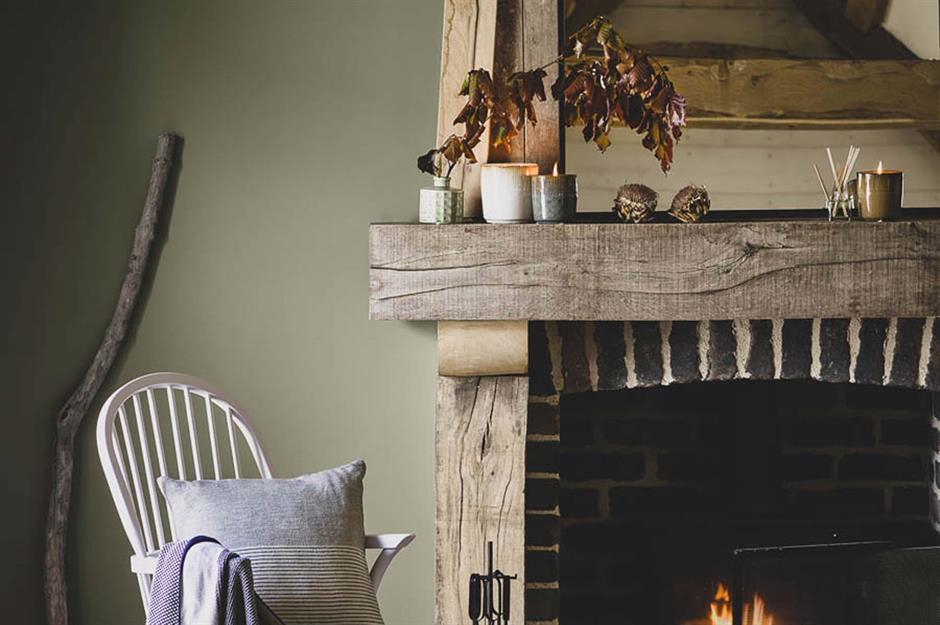 Garden Trading
Shaker-style furniture was American-born and fits the farmhouse trend like a gardening glove. The distinctive well-made (usually wooden) pieces are designed and crafted to be functional and long-lasting rather than ornamental and fashionable. Think curved spindle rocking chairs, timeless wooden kitchen cabinetry and ladder-back dining chairs. Why not personalise yours with a lick of chalk paint?
Whitewash and distress
Industville
The older and more vintage a piece of furniture looks the more suited it is to a farmhouse decorating home. If a chest of drawers, wooden floor or bathroom door looks a bit too shiny and new, it's time to give it some upcycling TLC. First clean and dry the furniture. Then sand off as much polish and lacquer finish as you can from its surfaces and clean off any sanding dust. Then, leave distressed or paint with chalk paint, stain or wax.
Make wooded beams the star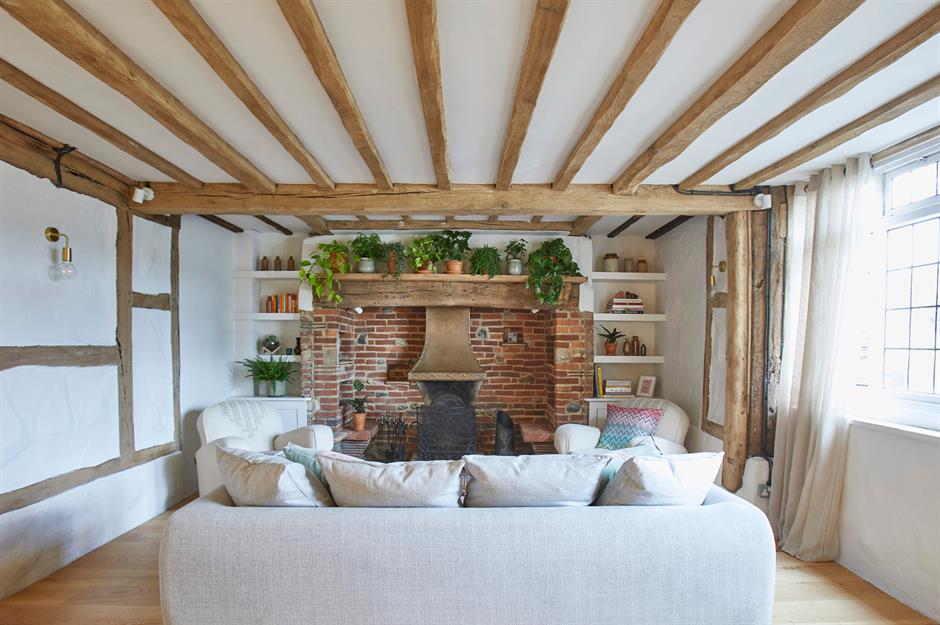 Industville
Exposed wooden beams are probably the most iconic architectural feature of farmhouse style. If you are not lucky enough to live in an original farmhouse or a converted barn there are plenty of budget-savvy ways to introduce this supreme rustic look. Manufactured faux beams made from polyurethane are most life-like. However, reclaimed wood, distressed pine beams and even batton and board painted crisp white can create the classic cottagecore vibe.
Furnish with stripes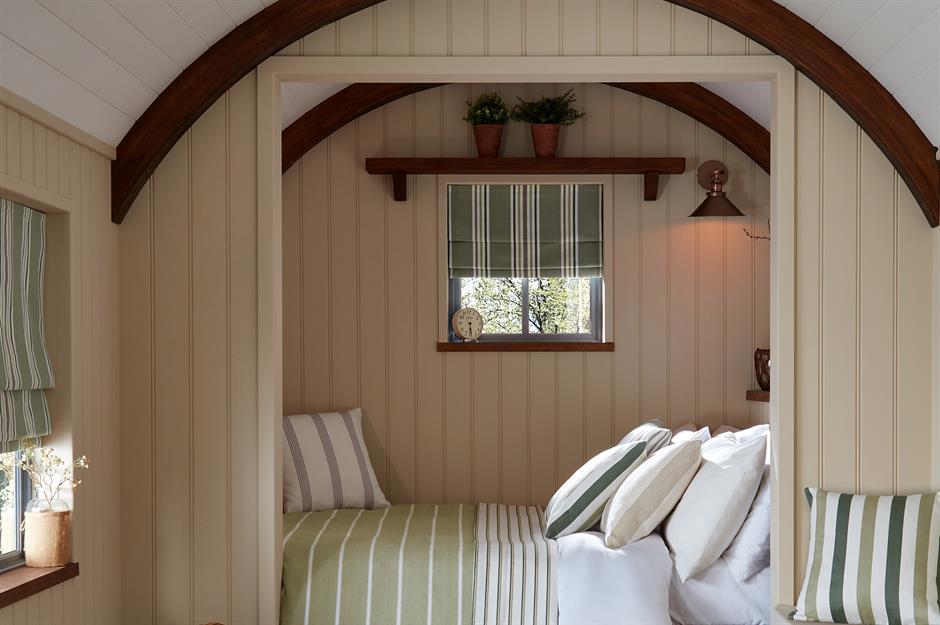 ILIV
Striped fabrics can add warmth and personality to farmhouse schemes. The cheerful, clean and uncomplicated lines echo the linear floor of panelled walls and pair nicely with natural wood furniture. Look for ticking stripes on textured flax materials or go for botanical tones layered with fresh whiten linens.
Install vintage lighting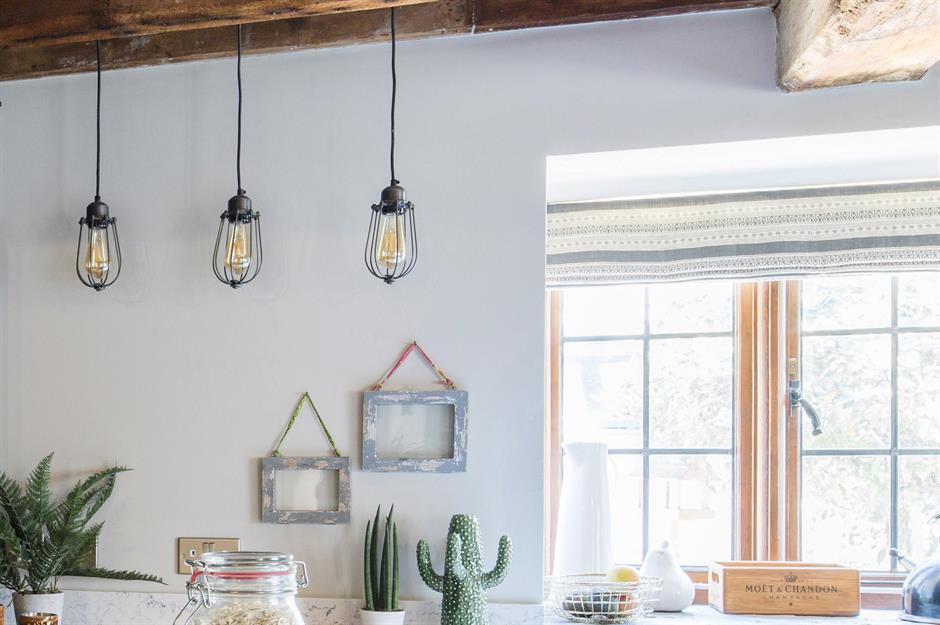 Industville
When looking for farmhouse lighting ideas think industrial style. Wire framed Edison light-bulbs, grey galvanised zinc lamp shades and glass pendant lanterns fit the simple yet practical look.
Use baskets as storage
Next
Give your home a rustic farmhouse feel by using baskets as creative storage containers wherever you can. This plain kitchen wall comes to rural life with textured baskets hung from a peg rail. This trio from Next come with labels already attached but sewing your own on would personalise low-budget versions too.
Work in floor-to-ceiling panelling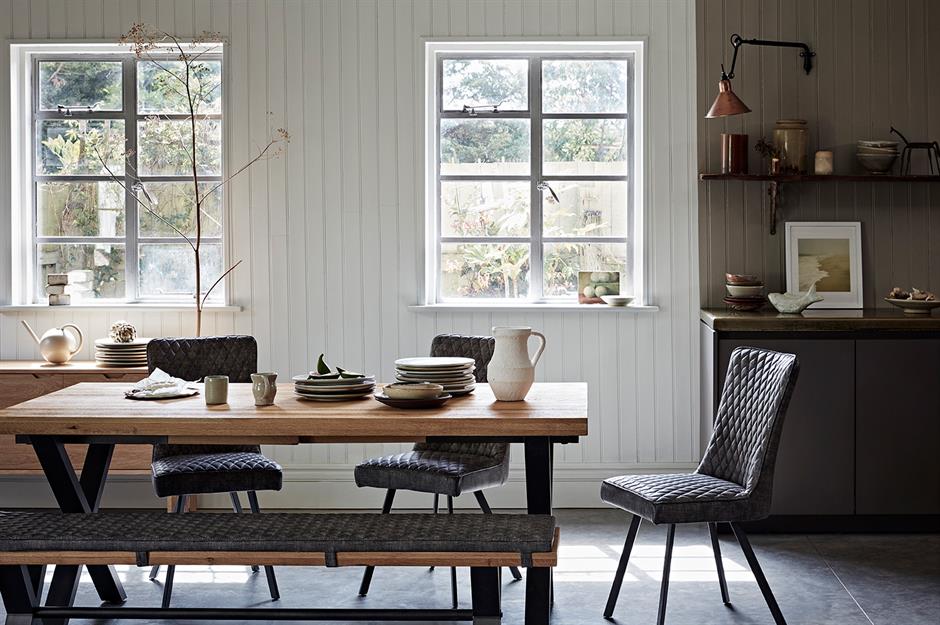 Furniture Village
Wood panelling is having somewhat of a moment in interiors. Country-look panelling creates a cosy 'cabin in the woods' feel that's lovely for an inviting dining room. Darker shades work when tongue and groove is added just halfway and balanced against chalky painted walls. Or, here fully covered walls are part of a cosy yet pared-back scheme where muted colours are layered and lovely.
Transform a cupboard into a pantry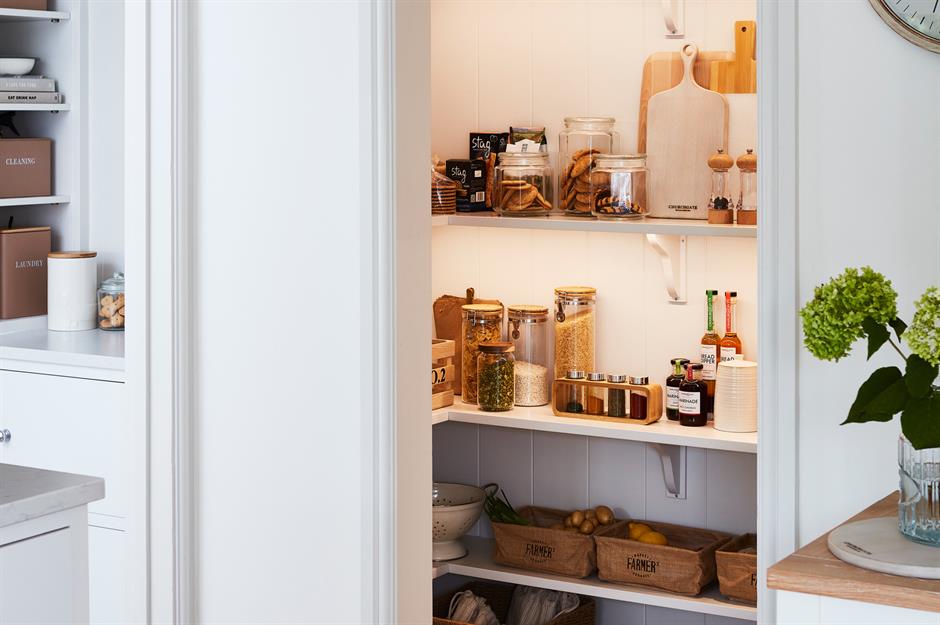 Dunelm
As well as farmhouse decorating, why not embrace a practical farmhouse way of life by curating a well-stocked larder or pantry? Remove the door of a storage cupboard and mount staggered shelves. Then fill up the space with dry goods dispensed into glass jars and store vegetables in baskets underneath.
Grow herbs in rustic pots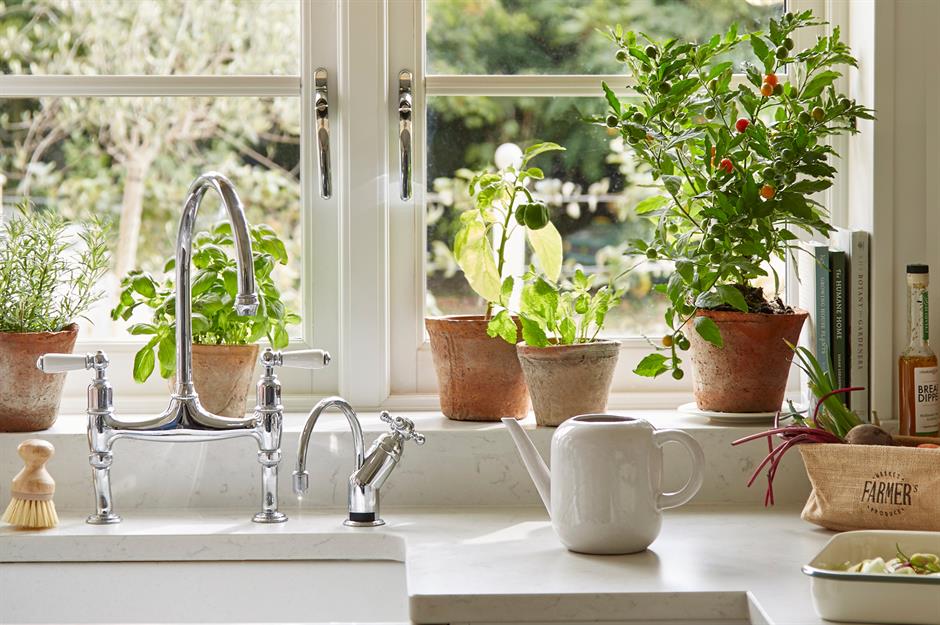 Dunelm
Pale farmhouse palettes can look bleached and stark without a touch of colour or texture to add character and depth. Well-loved terracotta pots are simple and rustic so are ideal to grow fresh herbs on windowsills in the kitchen.
Bring in chopped wood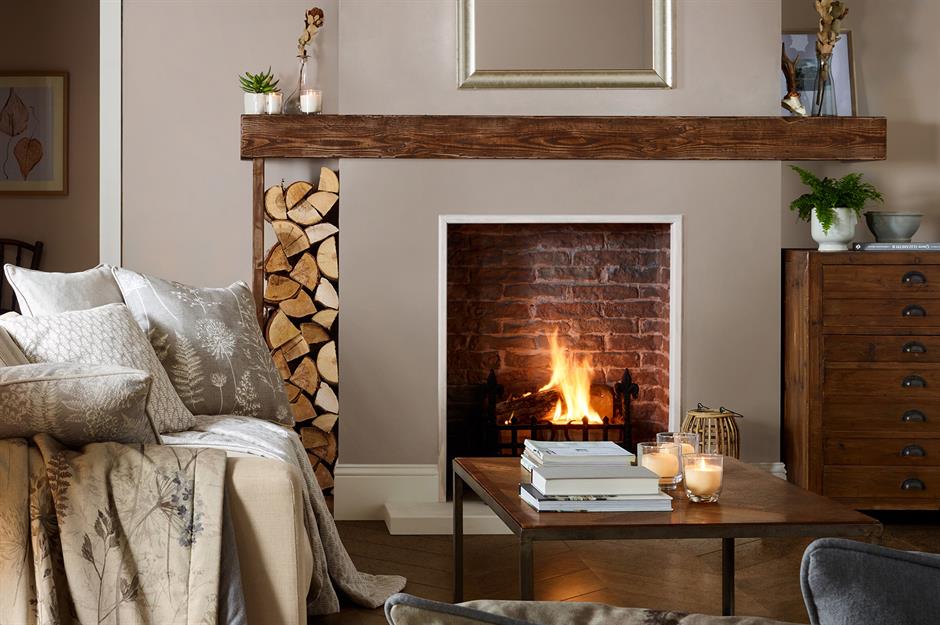 ILIV
Add colour and texture to a neutral living room by emptying the woodshed. Piled wood next to an open fire or wood-burning stove adds to the cosy atmosphere. Don't pile them too close though, for safety reasons. However, you don't have to have a real fire to get the look; piled wood looks just as effective in a disused fireplace or why not go faux with chopped wood effect wallpaper?
Go for a black and white colour scheme
Industville
For a contemporary twist, introduce black accents to your farmhouse décor. Set against a white backdrop a black chimney breast will become the main feature. Or, for less drama choose a few key pieces for a clean look. A Shaker chair, painted black or a round black framed mirror will add depth and interest.
Adorn corners with wreaths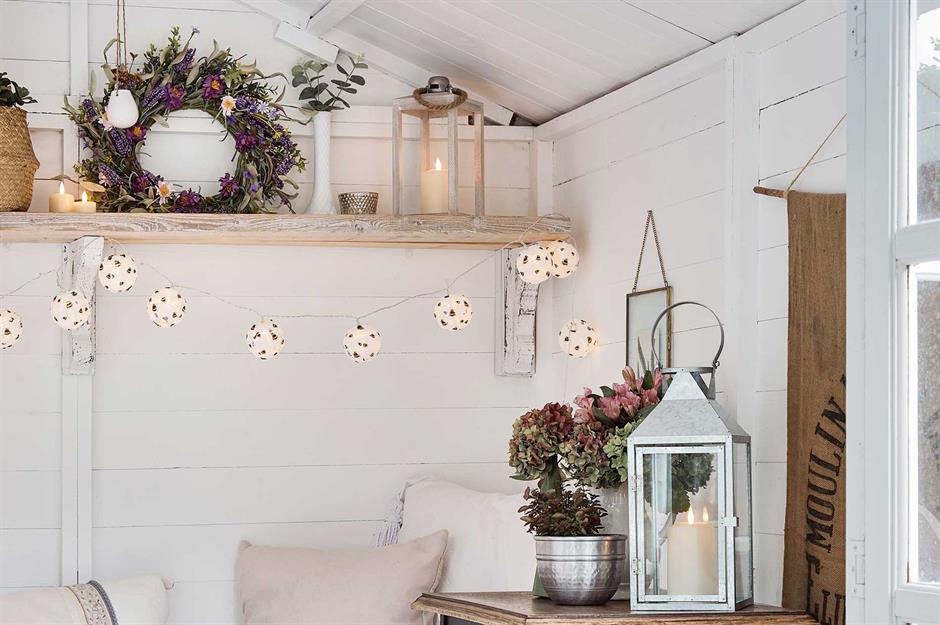 Light4fun
Displaying pretty wreaths all year round is a great way to add farmhouse foliage to your home. Oozing with rustic charm this wooden summerhouse has been transformed into a farmhouse haven with a pretty display shelf filled with decorative lanterns, greenery and a lavender wreath.
Repurpose rustic finds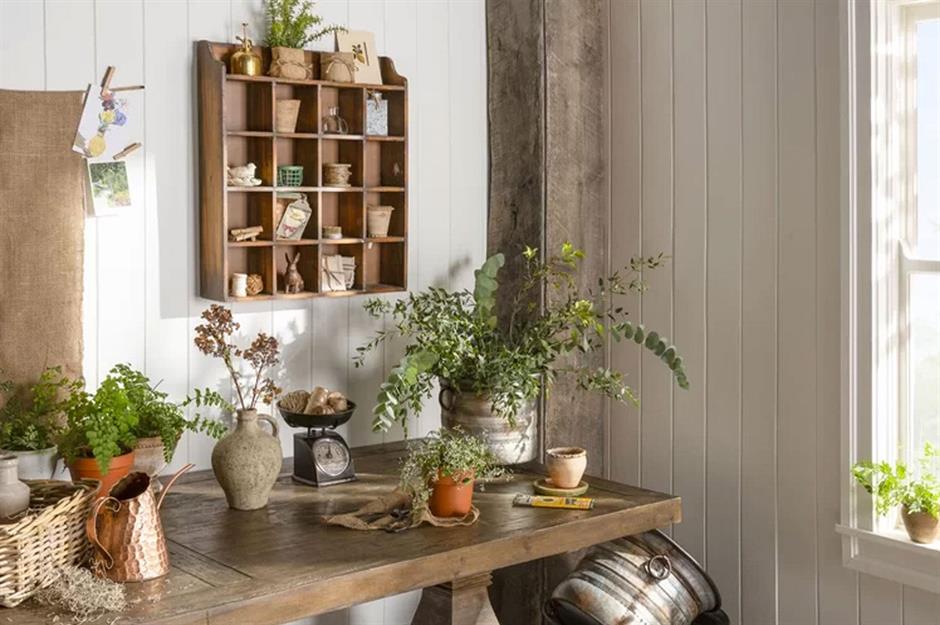 Wayfair
Eclectic details that tell a story sums up farmhouse decorating. Look out for shelving solutions to upcycle and display vintage homeware finds and rustic treasures in interesting ways. Remember it's the small and thoughtful touches that create that lived in and personal style.
Adorn a dresser
deVOL
A large dresser is a farmhouse style staple that can be passed down through generations yet always look the part. Add a floral freshen up by hand-painting illustrative flowers within the cupboards and finish the country garden feel by popping plenty of potted plants on the shelves too.
Hang a porch swing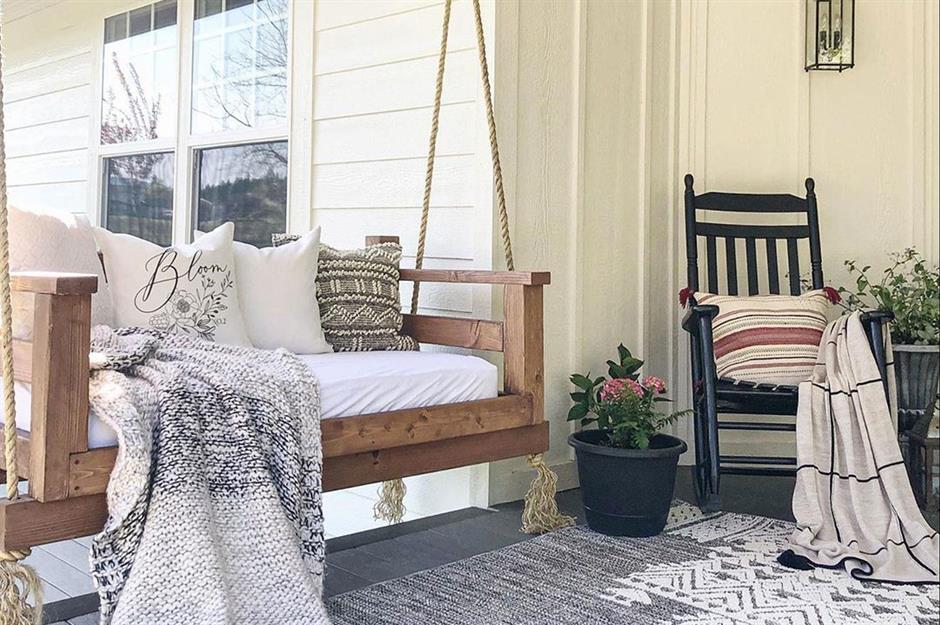 @lavenderbrookfarm / Instagram
No farmhouse is complete without a hanging swing chair on the front porch (if you have one). Stick to a rustic formula by keeping the seat natural wood and use a strong rope to secure the seat to the porch roof. Layer the swing seat up with plenty of cosy textures and cushions, like @lavenderbrookfarm. If you don't have a lot of space a wooden rocking chair will look the part too.
Pop peg rails everywhere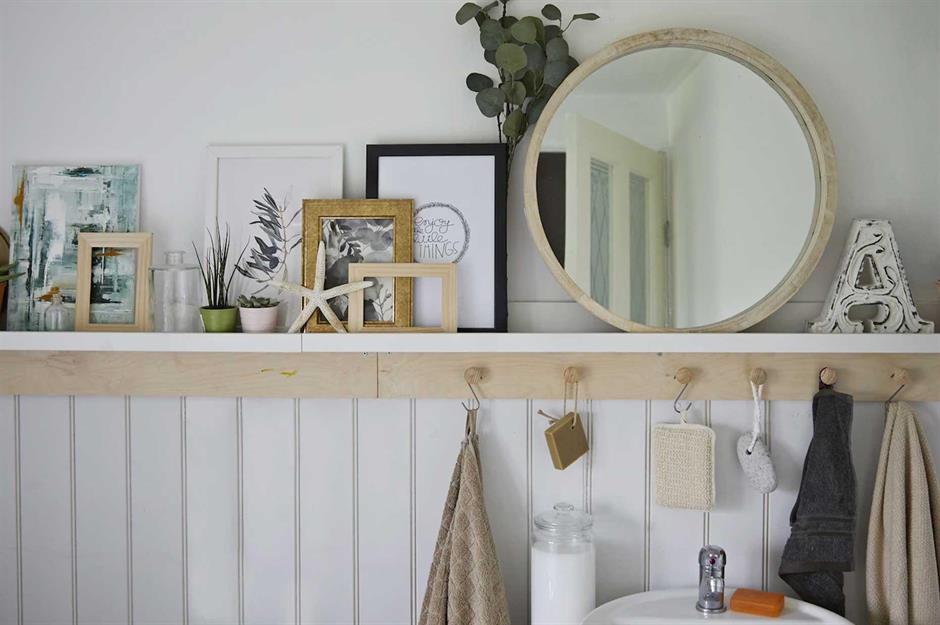 IKEA
Shaker-style peg rails are a farmhouse favourite as their simplicity and practical use means they are a joyful asset in any room, and most definitely a hardworking hallway. Use the sturdy pegs to hang almost anything and the narrow ledge above to display country art and accessories.
Feast at a farmhouse table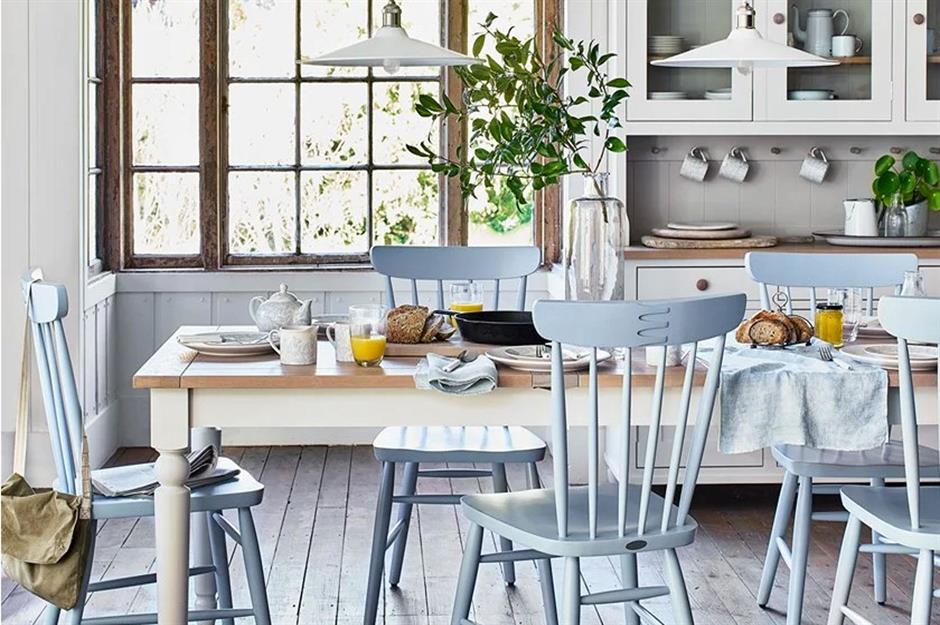 Neptune
A heavy, well-built farmhouse kitchen table will allow everyone to gather around together. Made with chunky wood, it will stand the test of time and look better with use. This is why a second-hand version is a good option as once the top has been re-sanded and legs given a fresh coat of pastel paint it will soon become part of the family.
Invest in a metal bed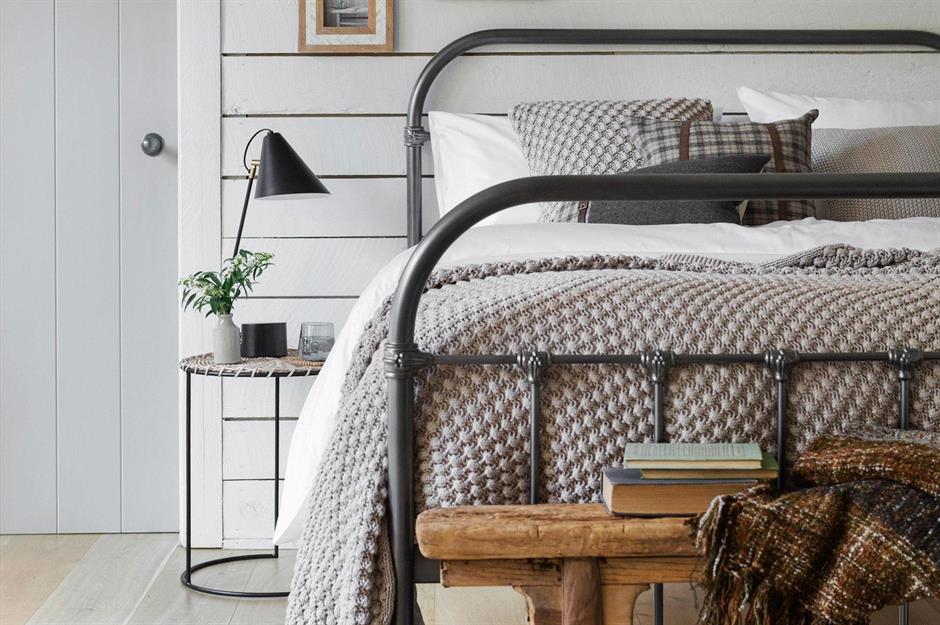 Amara
A metal bed is a farmhouse bedroom hero as its vintage simplicity is a country classic. For a touch of contemporary style choose a charcoal finish and combine with industrial-style furniture for a modern farmhouse scheme that's monochrome chic.
Draught-proof doors with fabric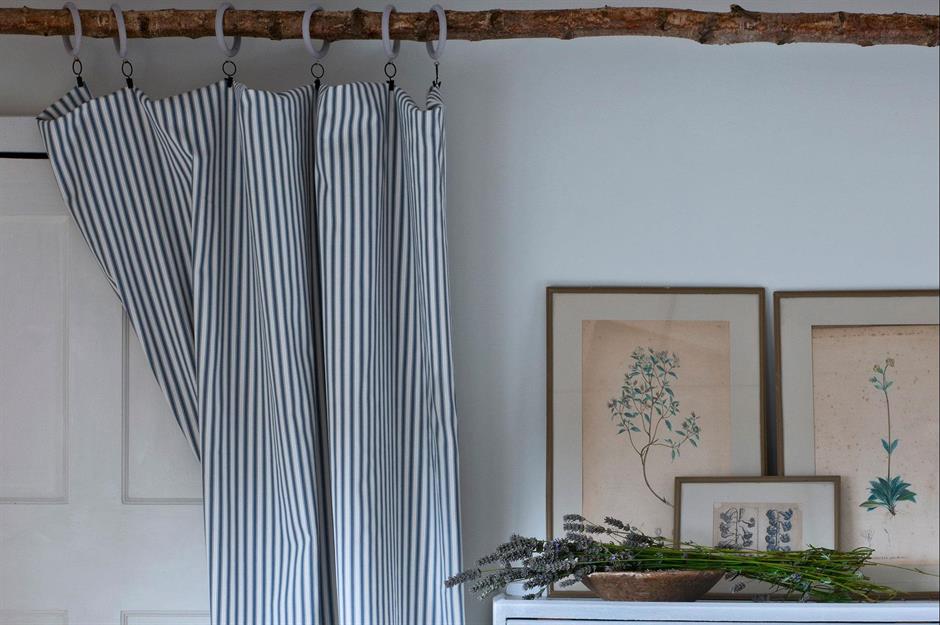 Annie Sloan
Here's a clever way to add simplistic country style. Keep the chill out with a classic blue-and-white striped ticking fabric curtain in front of the kitchen door but use a sturdy treated branch in place of a boring curtain rail for a rustic twist. Whitewashed walls and painted furniture are two classic country decorating tricks you can use to get the look.
Stick to a pale palette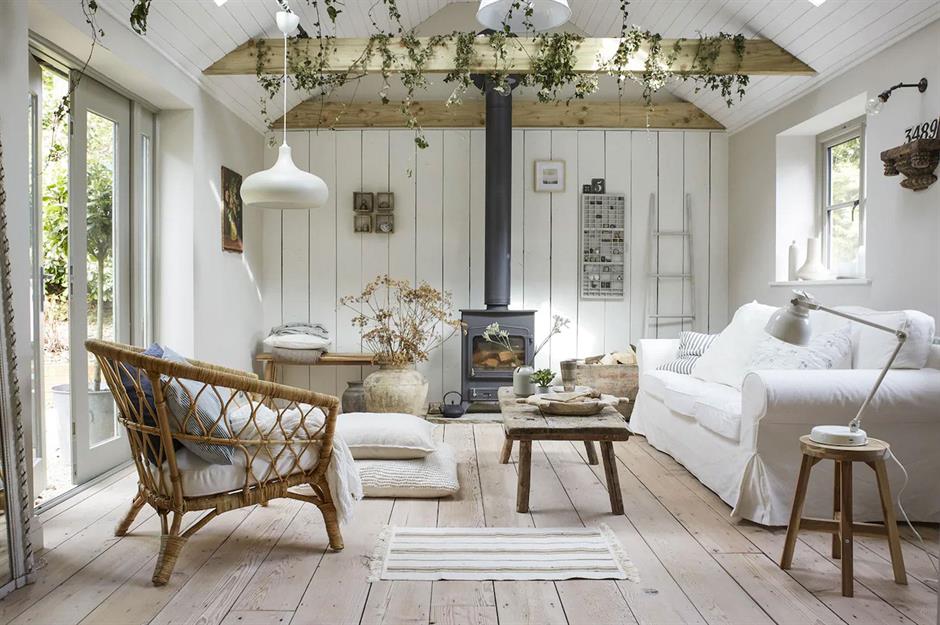 IKEA
Almost every farmhouse scheme has a clean and fresh colour palette. Start with a neutral or barely-there backdrop and then layer up natural textures with wood and wicker furniture. Weave in cosy textiles, again in muted and neutral tones, and create subtle and clean contrast with a few pops of black or grey accessories.
Go for a Shaker kitchen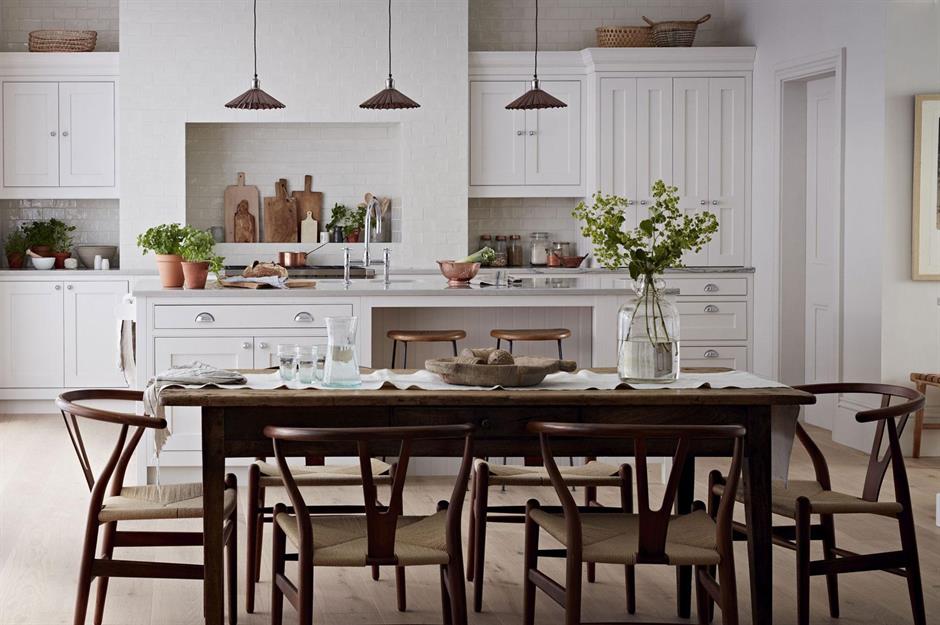 Kitchen Makers
Shaker-style kitchens are made predominately of wood so of course, make the perfect stylish and versatile kitchen choice for country homes. A sure-fire kitchen trend that won't go out of style, they've been around since the 18th century so have had a fair few updates since then—like this family-friendly version. The trio of pendant lights and contrasting kitchen table adds a contemporary twist.
Display your china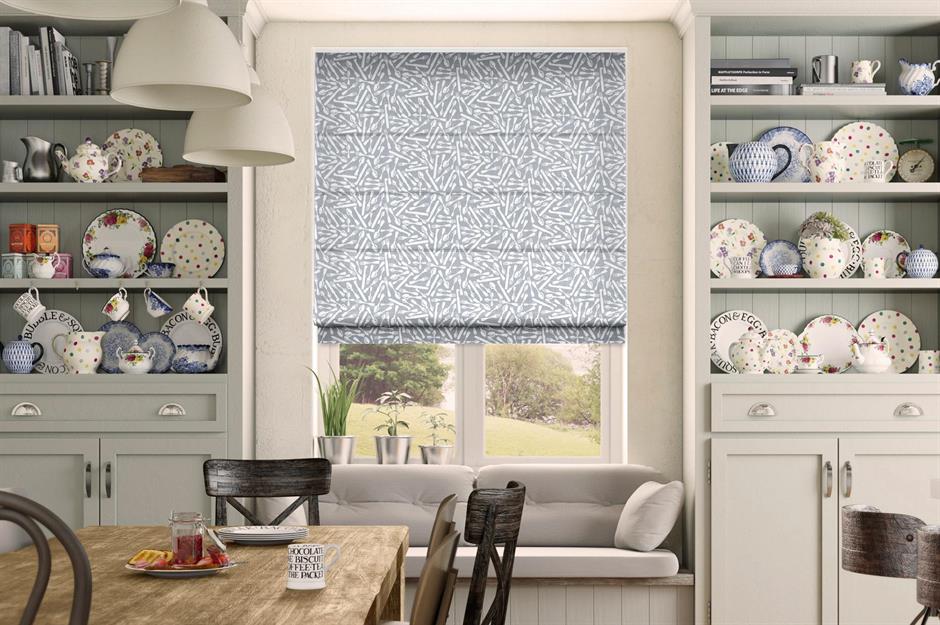 Blinds 2Go
Muted colours will make the perfect country backdrop to display pretty rustic-look china on shelves in a dining room or kitchen. Or if you can upcycle a dresser, that's even better. Choose a chalky colour for painted woodwork and add a pretty Roman blind for a coordinated country look.
Introduce powder blue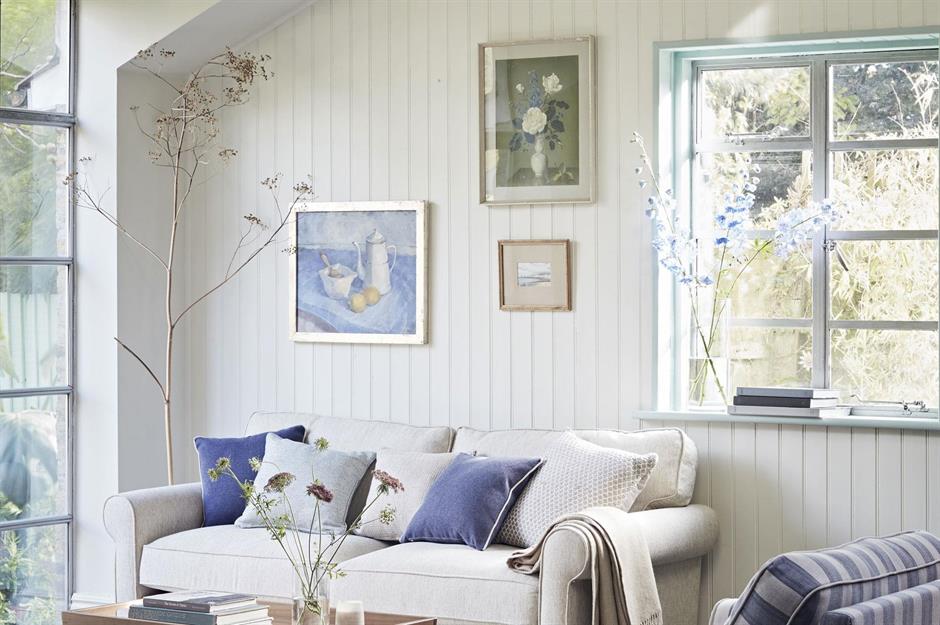 Argos
A chalky pale blue will set the scene for a pretty country look in any room of the house, particularly when paired with white painted woodwork. This lovely living room is light, airy and inviting with blue accents and a farmhouse-style classic stripe armchair.
Install a deep sink
deVOL
Looking to update your kitchen? A farmhouse kitchen is not complete without a deep butler, apron-front or Belfast sink. Made of sturdy white porcelain and with a simple rectangular shape, their depth make them as practical now as they ever were.
Expose the walls
Harrison Spinks
Stripping back walls to show off their original state whether it's stone or brick creates an organic feel. If you can, combine this with exposed beams for the ultimate country backdrop but be sure to warm the space with plenty of soft layered furnishings, especially in the bedroom.
Focus on the fireplace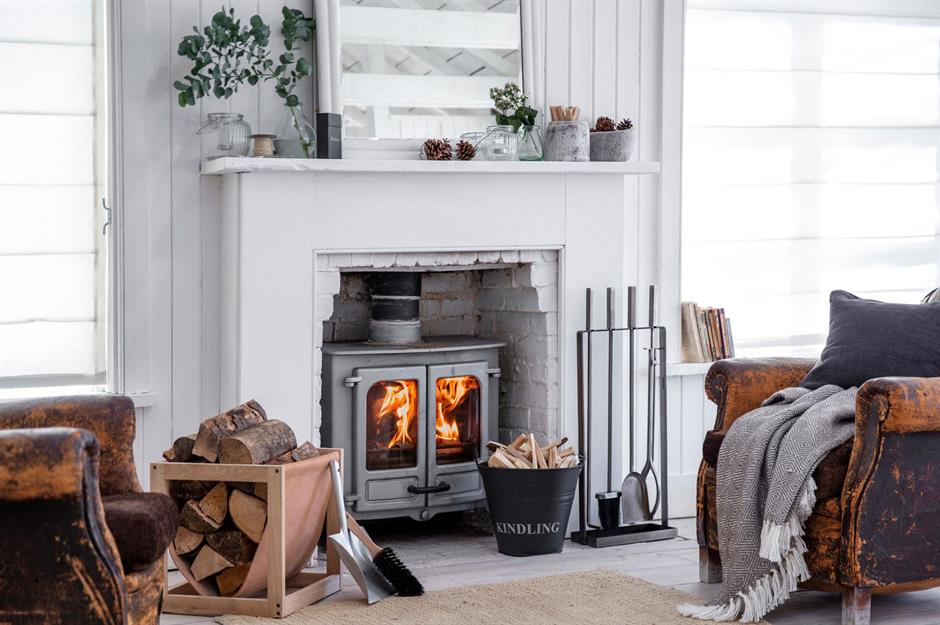 Garden Trading
There are plenty of ways to update an old fireplace. Turn the warmth into a feature by storing logs beside the mantelpiece in a log basket and add plenty of candles and votives on top to add to the ambience. Complete the cosy charm with inviting vintage armchairs to snuggle up in.
Add a nook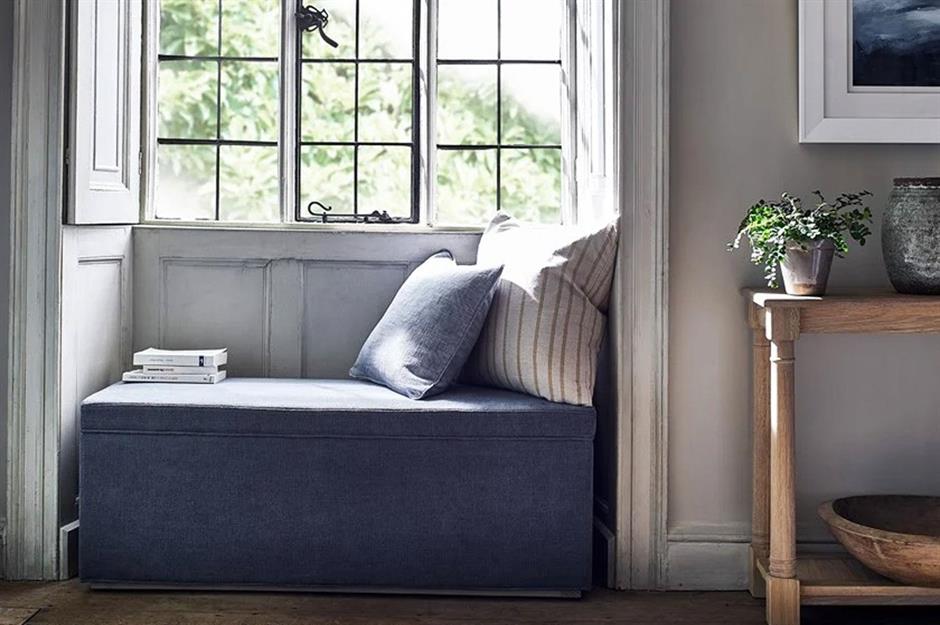 Neptune
Country homes are renowned for being full of small rooms and secret spaces full of intrigue so why not create the same illusion with an enchanting place to escape to? Fill a deep window with a storage bench and cushions to enjoy the outdoor country views.
Swap in a bench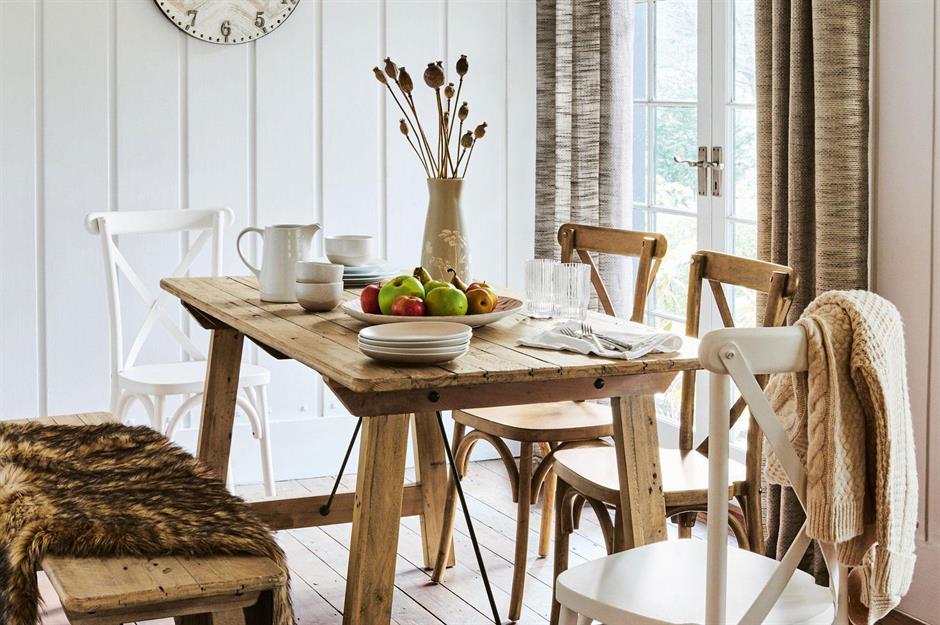 Next
Looking to squeeze in a dining space? Replacing dining chairs with benches and stools will create a rustic look dining space as well as make room for more bottoms if needed. Here, an uneven but hardwearing wooden table and bench adds an organic alternative to a classic farmhouse table. Pop a faux fur on top for a homespun finish.
Match pretty motifs
Sanderson Home
You don't necessarily need woodland creatures to create a country vibe, as this fresh bird-printed bed linen proves. Soft grey with a hint of yellow is pared-back and calm, which means the matching floor-to-ceiling curtains looks considered rather than corny. Team up with white wooden furniture for a simple, tasteful bedroom look.
Plump for a roll-top bath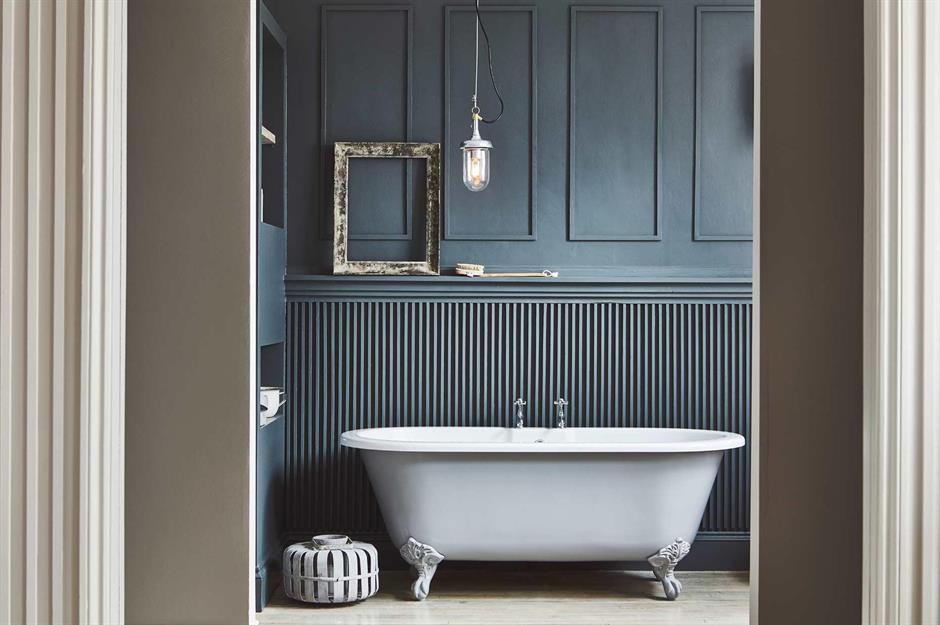 Garden Trading
A freestanding tub makes a great addition to a country bathroom as it is both rustic and showstopping, especially when positioned in front of wooden panelling. And it doesn't have to blow the bathroom budget. Add some wow-factor with a deeply toned backdrop like this stunning petrol blue shade; it will make the white traditional tub a standout feature.
Choose natural carpet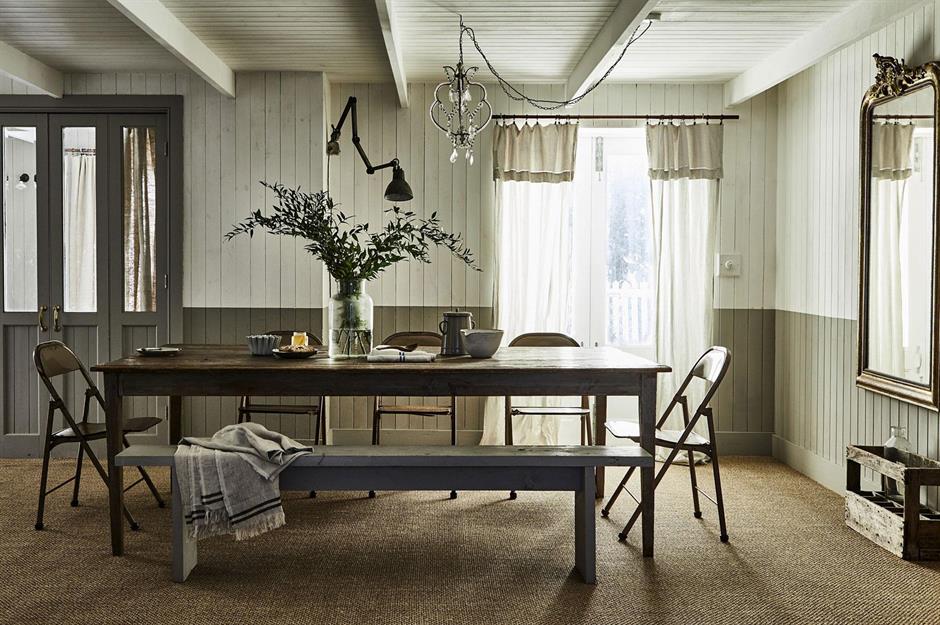 Carpetright
Tactile textures make a house warm and cosy so a durable carpet in sisal or seagrass is stylish, rustic and super practical for high traffic areas. Team with two-tone olive green and off-white walls to create a look that puts a modern spin on country chic.
Go for gingham
Golden Boys & Me
Everything in this gorgeous scheme by Golden Boys & Me blogger, Courtney Affrunti channels the comfort and joy of a cosy farmhouse kitchen. Cheerful green and white gingham fabric is a classic country choice for the café curtains and under-sink storage area. To get the look in a cream kitchen, hang copper cookware from a suspended pot rack, add cute vintage accessories like the enamel bread bin and egg bucket, and dress with bunches of bright flowers.