Original Article – https://www.loveproperty.com/gallerylist/91682/50-paint-decorating-ideas-youll-want-to-try
Transform your home with these ingenious painting projects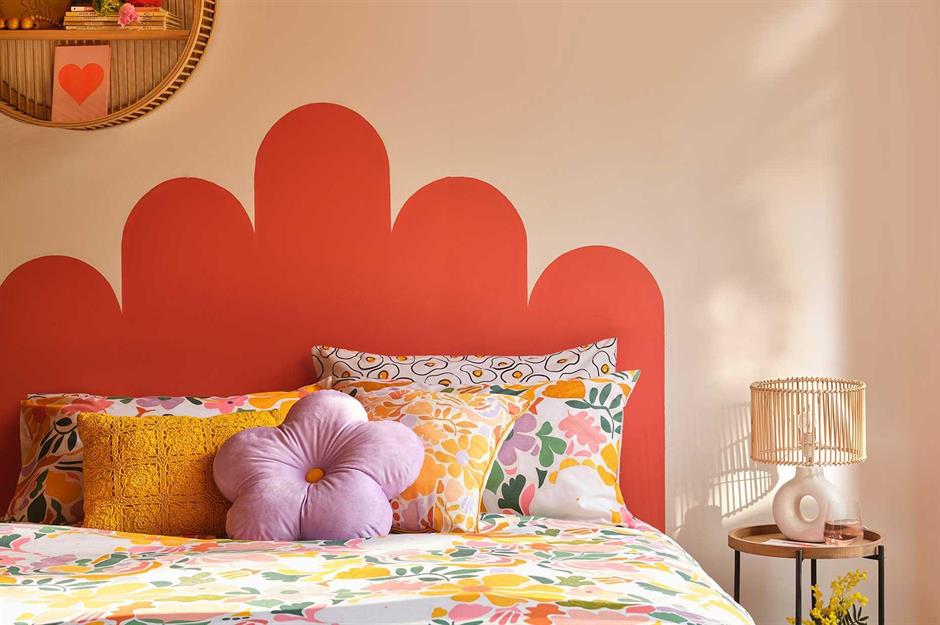 George Home
A fresh coat of paint is by far the easiest and cheapest way to breathe new life into a tired room. But you don't have to pick just one colour or even confine your creativity just to the walls. From soothing ombré to graphic murals and fabulous feature floors, we've rounded up the best paint techniques to transform your home. Click or scroll for more…
Dazzle with diamonds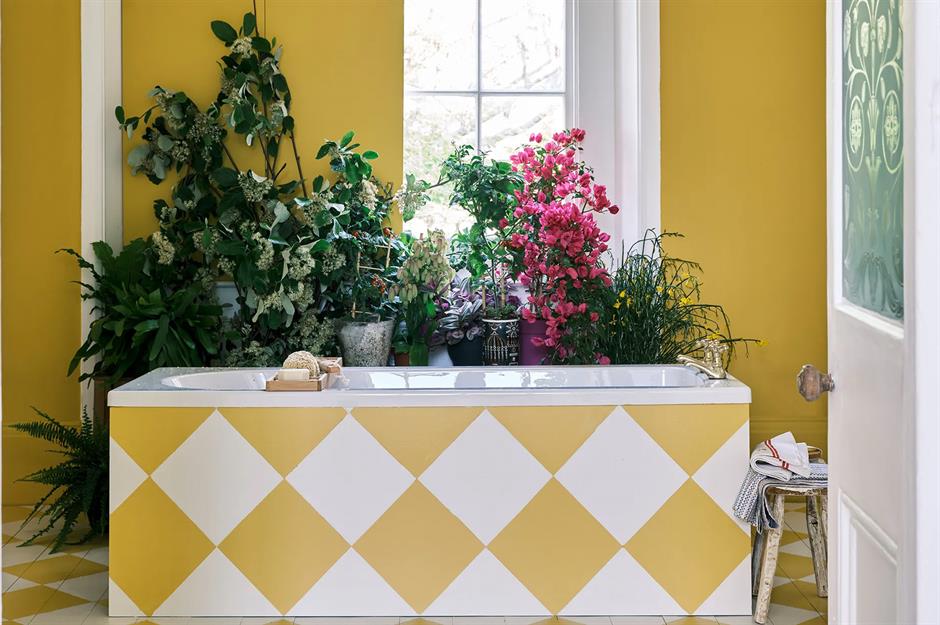 Farrow & Ball
A plain bath panel can be an ideal canvas to jazz up with paint. Here, the chequerboard floor tile pattern has been continued up onto the bath to create a continuous striking focal point of yellow and white diamond shapes.
Design an abstract mural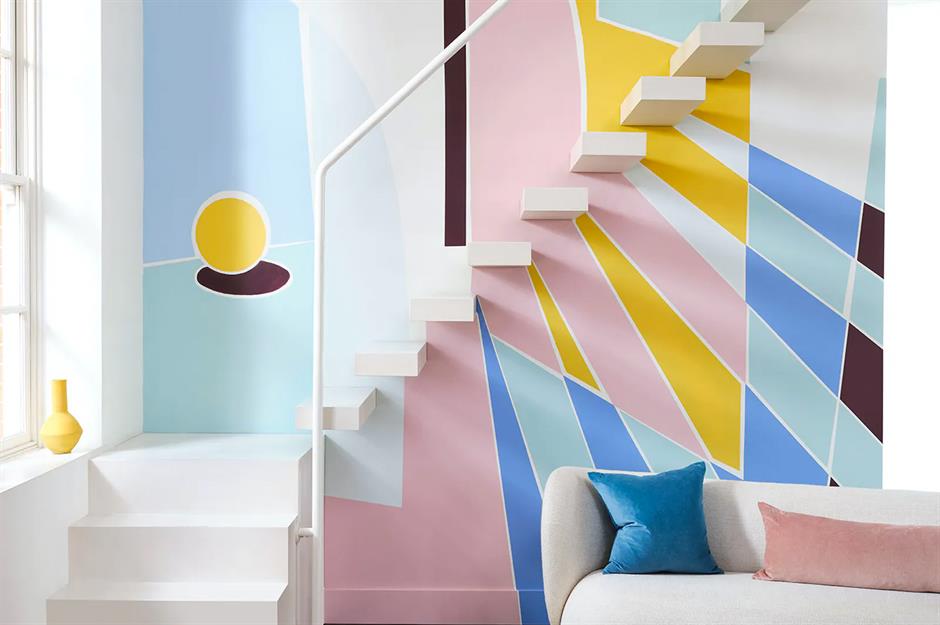 LICK
It's not just kids that love a mural. Get creative and turn a blank wall into a grown-up panorama. For a bold statement, try an abstract pattern with plenty of straight lines. First, mark out the pattern with a pencil and a ruler or metre stick. Apply painter's tape to its edges and paint, making sure to paint just over the edge of the painter's tape so the shape is filled. Alternate contrasting colours – ice-cream shades look great with a shot of black on a crisp white background.
Paint a home office noticeboard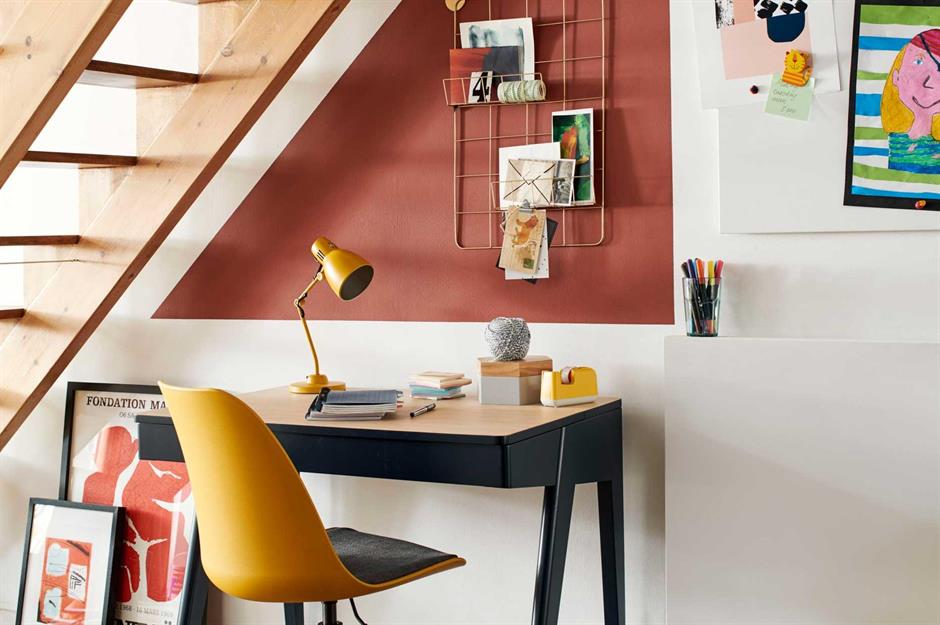 Turn your home-working desk into a defined and creative office by anchoring the area with a paint effect. This office nestled under the stairs has been given true purpose with a painted triangle of russet red set neatly under the staircase.
Compose an awning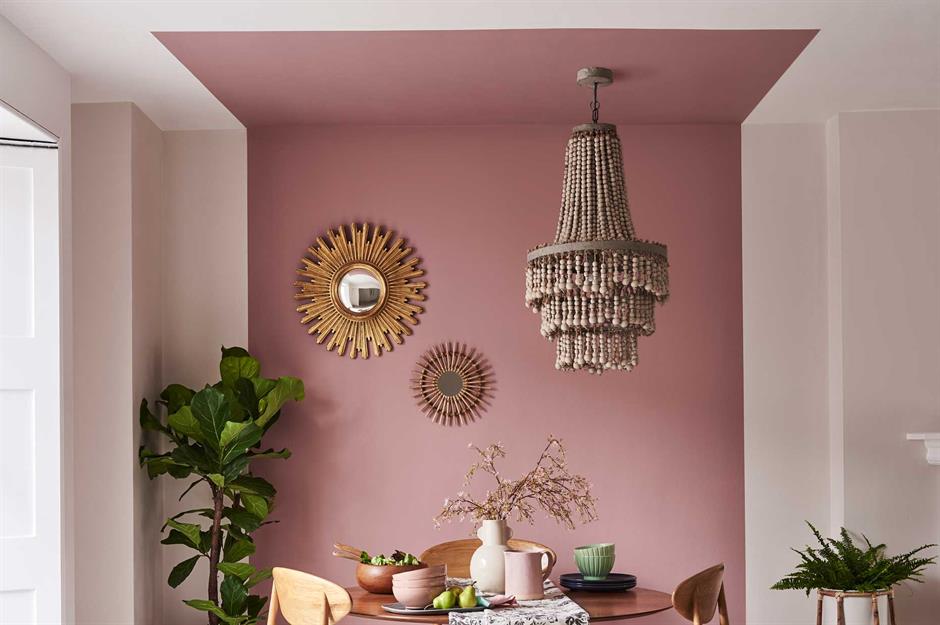 Crown Paints
Inject a nod to alfresco dining in the dining room by continuing a painted area up and over onto the ceiling. Here, a soft panel of colour creates a shaded and secluded effect ideal for intimate dining. This impression also works well over a bed or on a living room wall to highlight and feature a mounted TV.
Overlap squares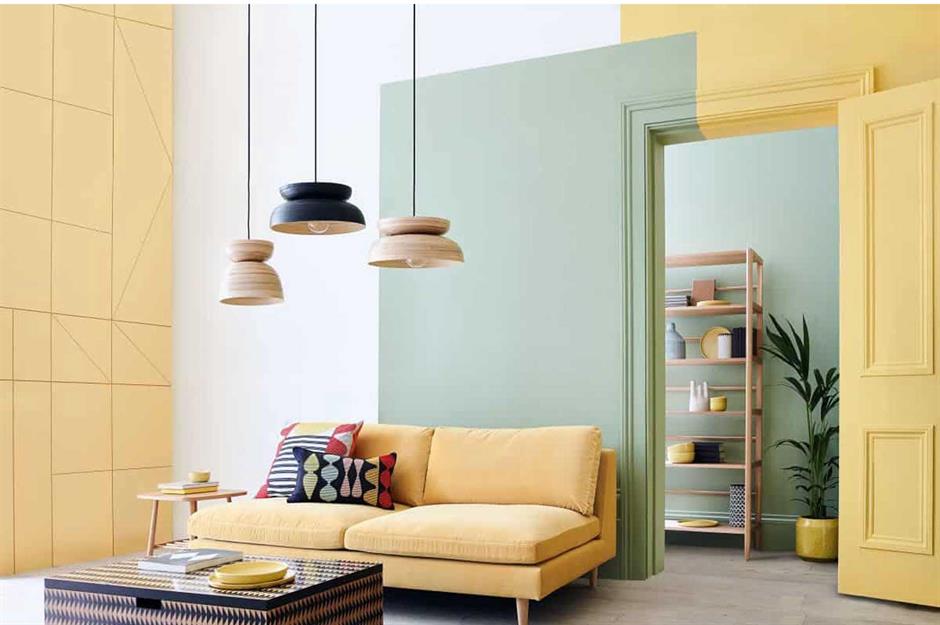 Habitat
Large squares look striking on a wall with high ceilings. This artistic design is even more effective when punctuated with the clever use of the internal door. Painting the frame and door in the same colours adds extra drama to the look.
Mimic a night sky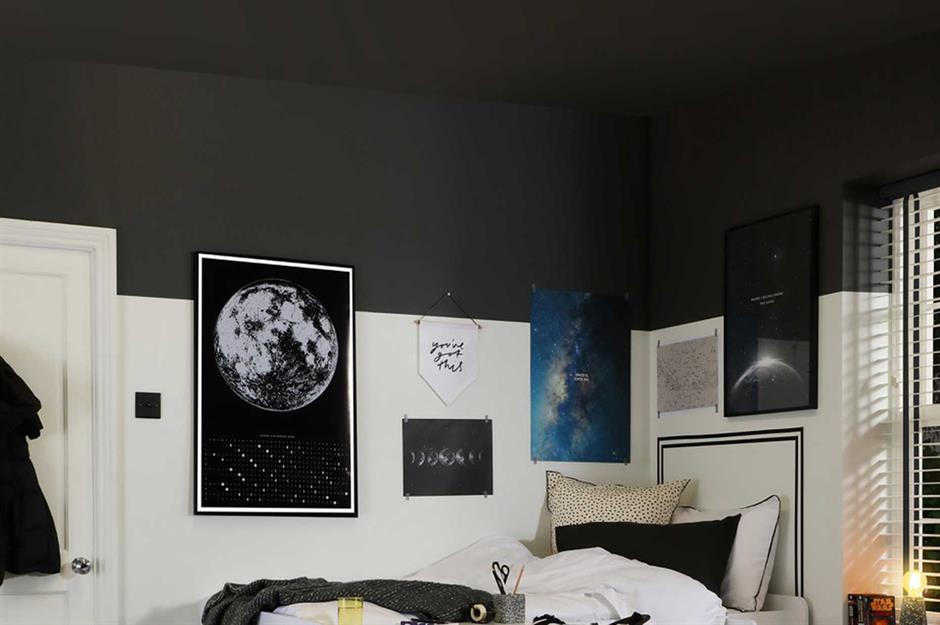 Furniture And Choice
This dramatic ceiling is ideal for teen bedroom schemes that focus on celestial décor. Be bold and opt for a navy or black tone for the ceilings and upper walls just like outer space but balance the darkness with contrasting chalky white over the remaining space. Intergalactic artwork will enhance the effect and younger occupiers may appreciate a scattering of luminous painted or sticker stars to gaze at.
Style up a staircase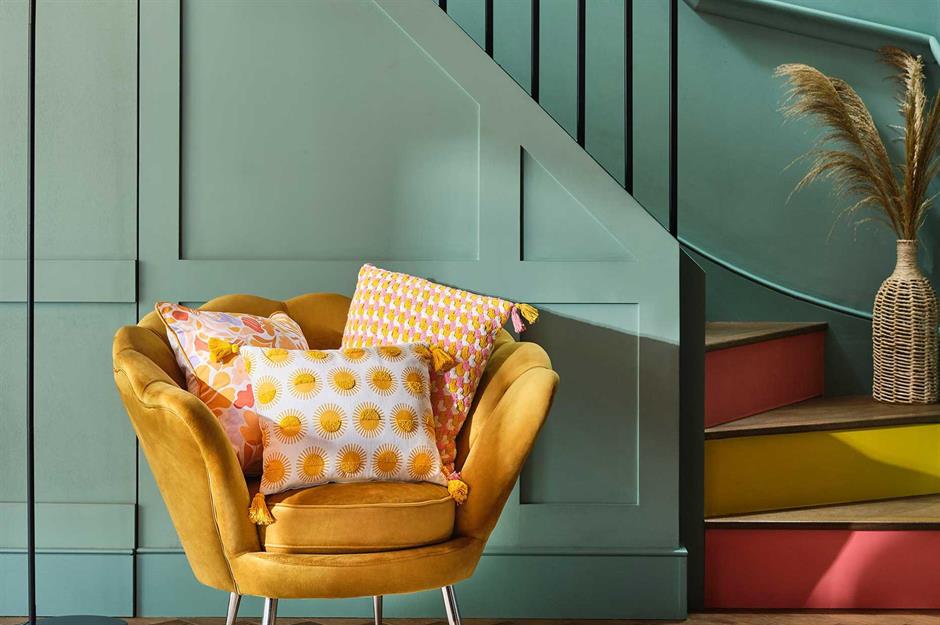 George Home
Get creative on the staircase by painting your stair treads in various colours. These vibrant tones stand out all the more with black edging. Other fun ideas can be using tonal colour, or adding numbers, words or patterns with stencils.
Paint pretty scallops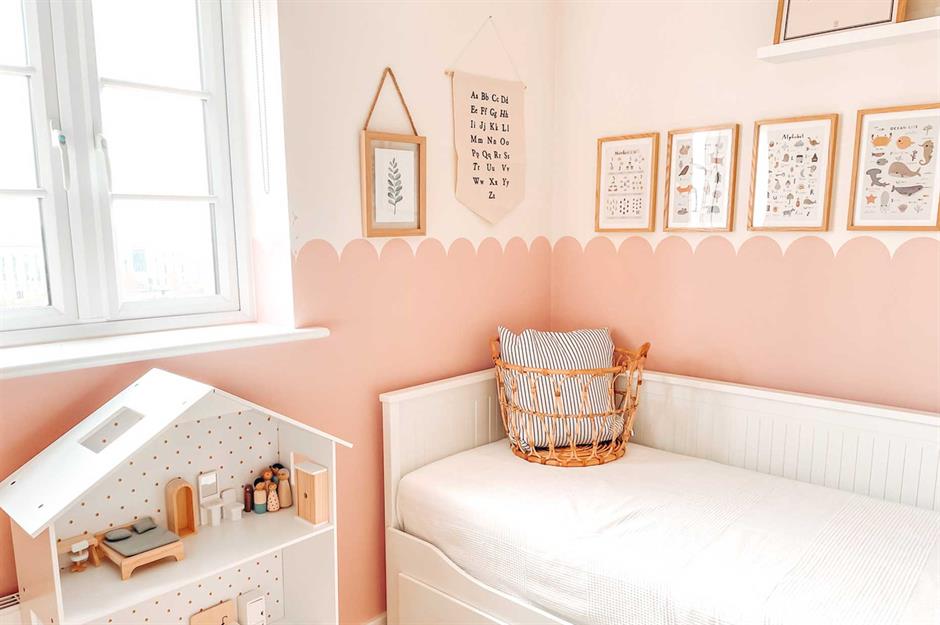 Eliza Doodle Designs
The popularity of curves and arches means painting a scalloped shape pattern along the length of a wall is a super hot trend right now. The motif lends itself particularly well to children's rooms. Start by painting a wall as you would two-tone but with a less refined edge. Then use a scallop stencil or paper plate to draw the curves along the top with a pencil and fill in.
Stencil a floor rug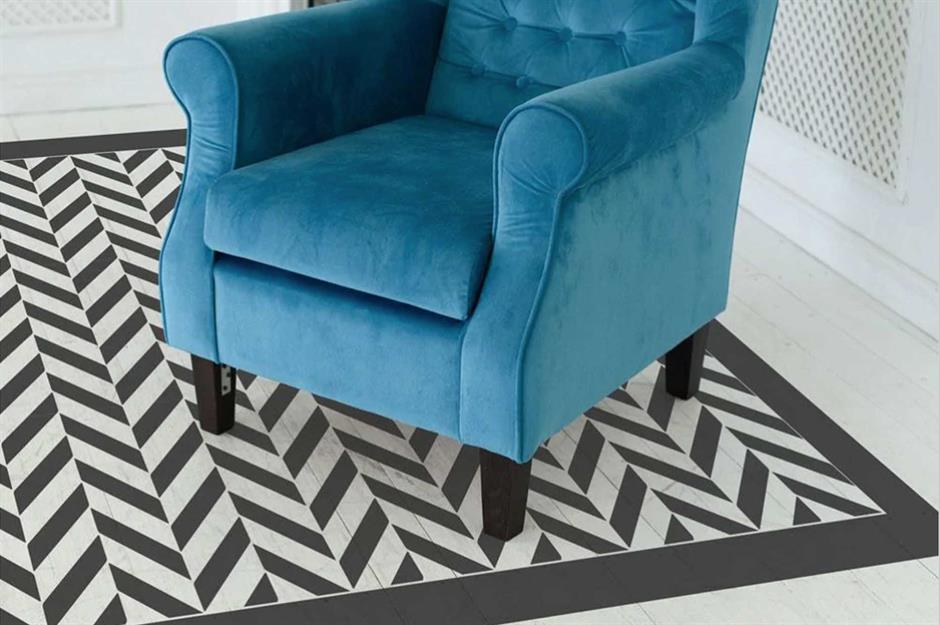 The Stencil Studio
Looking for a stain-resistant rug that cost little more than a can of paint? If you have wooden floors, look no further than a stencilled rug painted on the floor. Here a monochrome chevron design transforms a plain white wooden floor and there is no danger of slipping or tripping as you might on the real thing. Be sure to use the correct specialised floor paint and seal if necessary.
Define with vertical stripes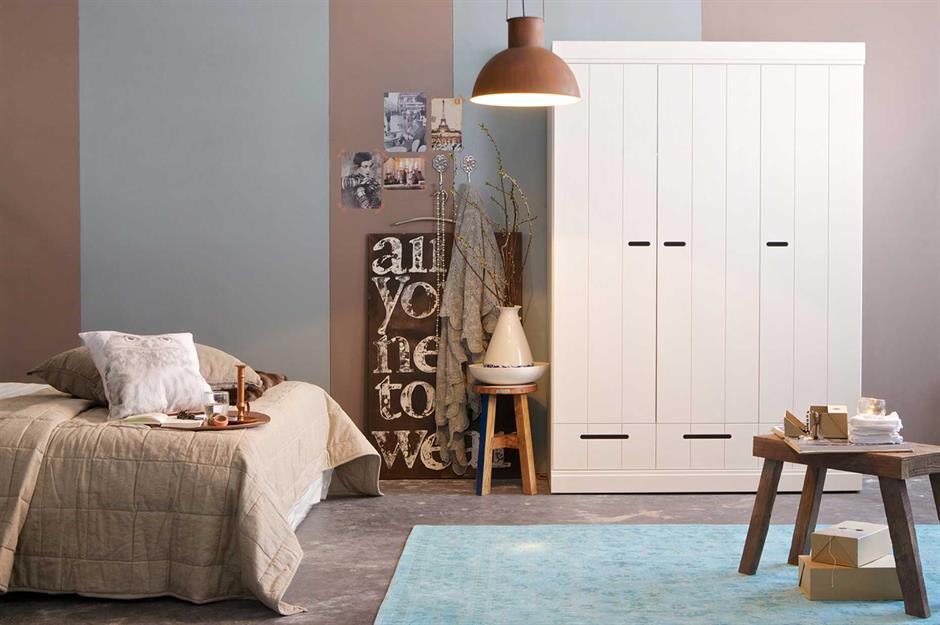 Cuckooland
Give a room with low ceilings more height by painting walls with vertical stripes. When painted with the right tone and thickness the effect will elongate the walls. Two tones in complementary colours will create a subtle look whereas many panels of contrasting colours will add drama.
Frame a dressing table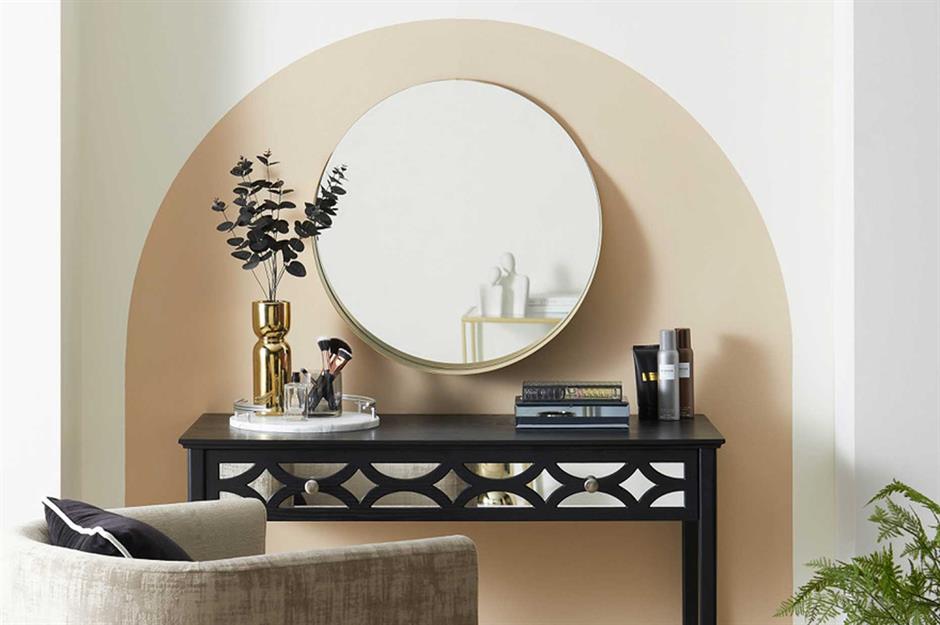 Dunelm
Make your vanity a focal area by creating an arched alcove impression. Use a painted arch to emphasise a circular mirror and dressing table. Choose a gentle tone to make a subtle but stylish statement fit for a boutique hotel.
Blend the ceiling in
Annie Sloan
Wrap a room in one colour to create a moody vibe. A room with crown moulding works best for this look as the three-dimension adds definition to the single tone. A soft but pretty shade will be less dramatic. Here, a pinkish terracotta shade warms the room making it inviting while a contrasting ochre breaks up the block colour in subtle contrast.
Outline horizontal stripes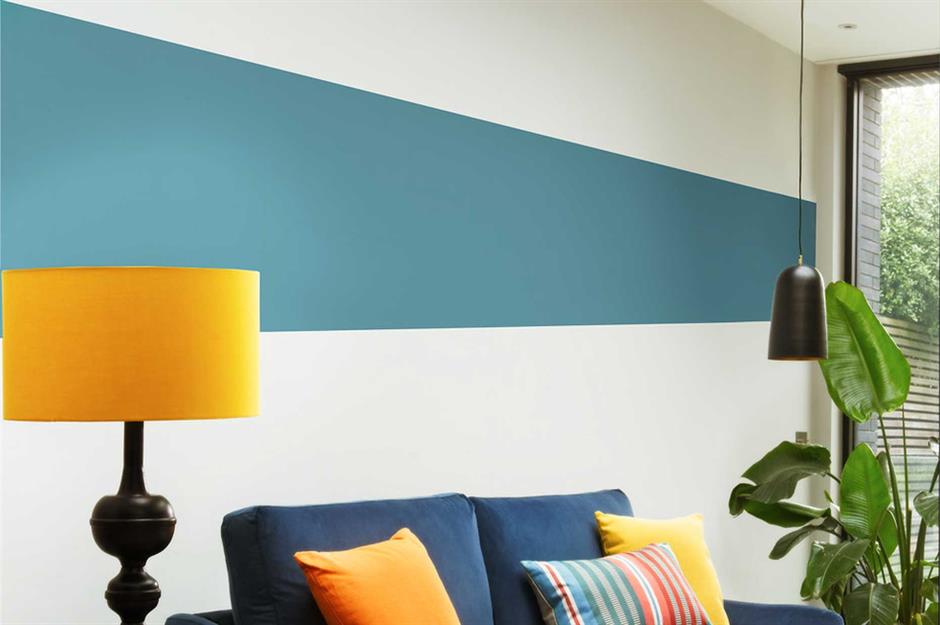 Iconic Lights
Give the classic feature wall a creative twist with a horizontal stripe. While this project doesn't require much paint, the results are dramatic, especially when using contrasting colours. For a crisp level line, measure the height of the wall and choose a width that can be easily divided. Using a spirit level draw a pencil guide along the wall and place frog tape just outside. Paint in between the masking tape. Allow to part dry and gently peel off.
Break up colour blocks with wallpaper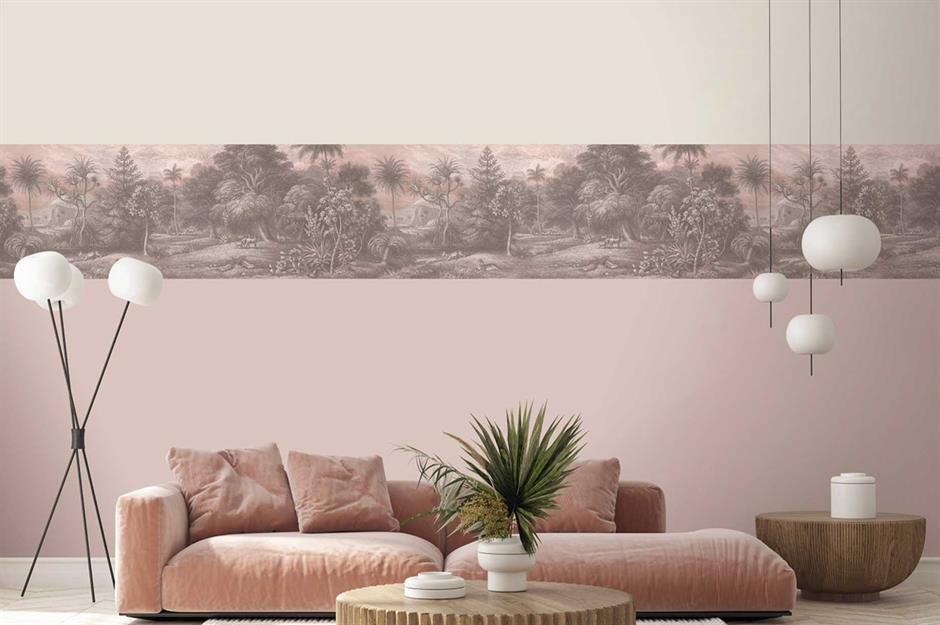 Woodchip & Magnolia
This is a really easy way to add decorative design to a painted wall that is instantly eye-catching. It's also a clever trick if you are not confident at crisp two-edging. Two-tone walls as normal and finish by adding a contemporary wallpaper border over the paint join. Choose colours that complement the wallpaper and be sure the feature is level by measuring up from the bottom of the wall.
Zone areas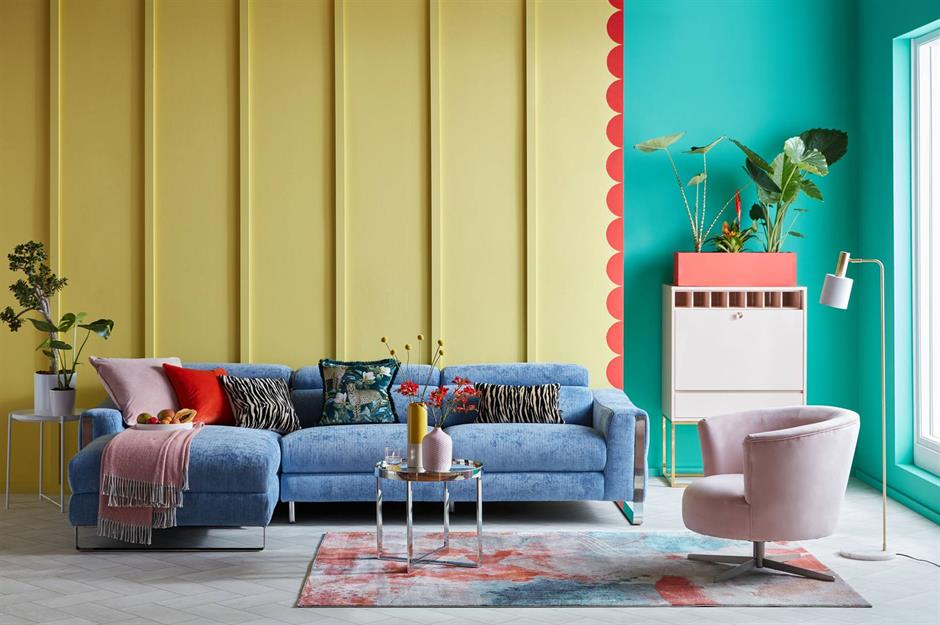 Sofology
This is a great way to section areas of an open-plan room. Mark out spaces and paint them energising colours and then add in some decorative dimension with wall panels and scalloped edges.
Make windows work harder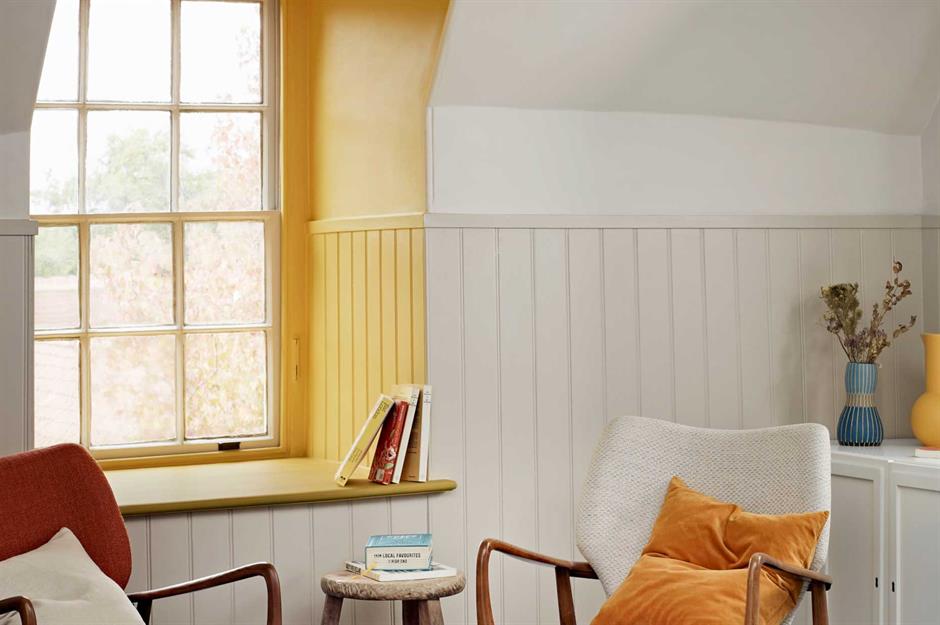 Crown Paints
Give a country property a contemporary twist by highlighting window frames. This neutral sitting room has been given a sunny update by painting the window recess a bright shade of yellow. We love how the frame has been painted too but only halfway up.
Go retro with a rainbow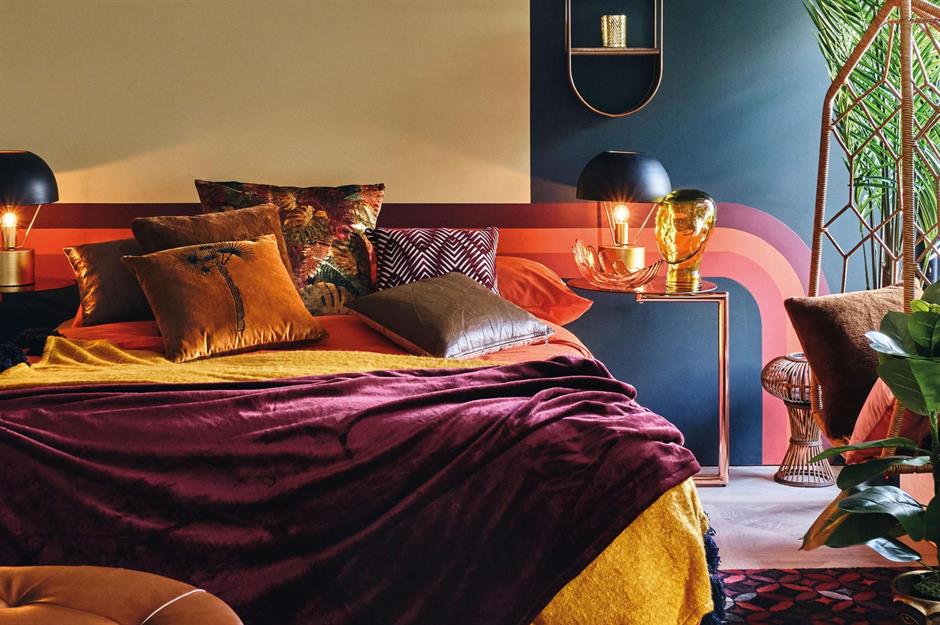 HomeSense
Give your bedroom a throwback vibe with blocks of saturated bold shades. Complete the retro look with a large and curvy rainbow design made famous by the dazzling decade.
Create soothing stripes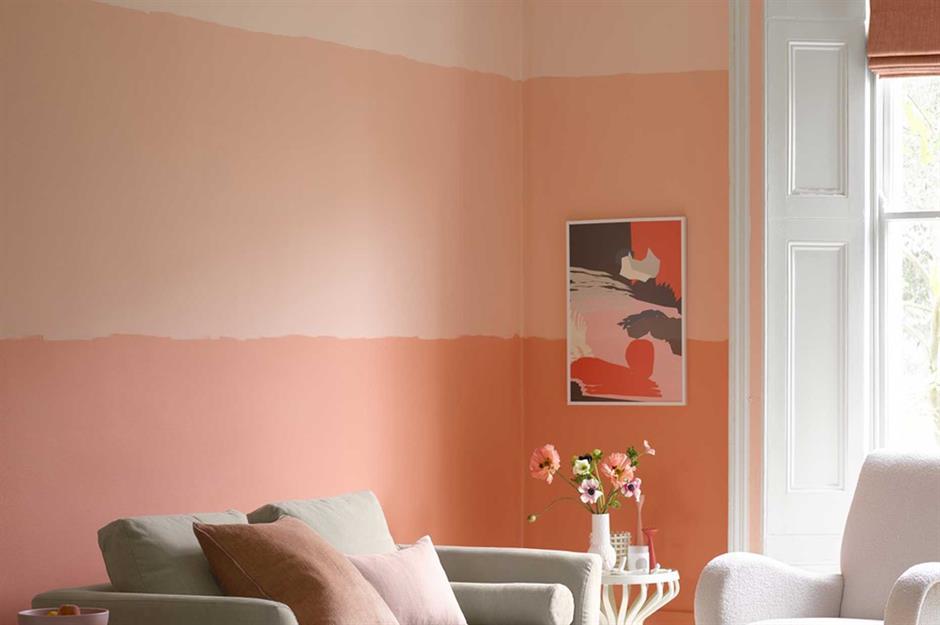 Benjamin Moore
A pretty border of watercolour paint looks amazing and works especially well in soothing pinks, blues or greens. To create this effect, roughly paint from the top of your wall in your chosen lightest colour. Let it dry and then move onto the next darker shade below overlapping slightly. For a softer look keep the edges uneven.
Contrast the ceiling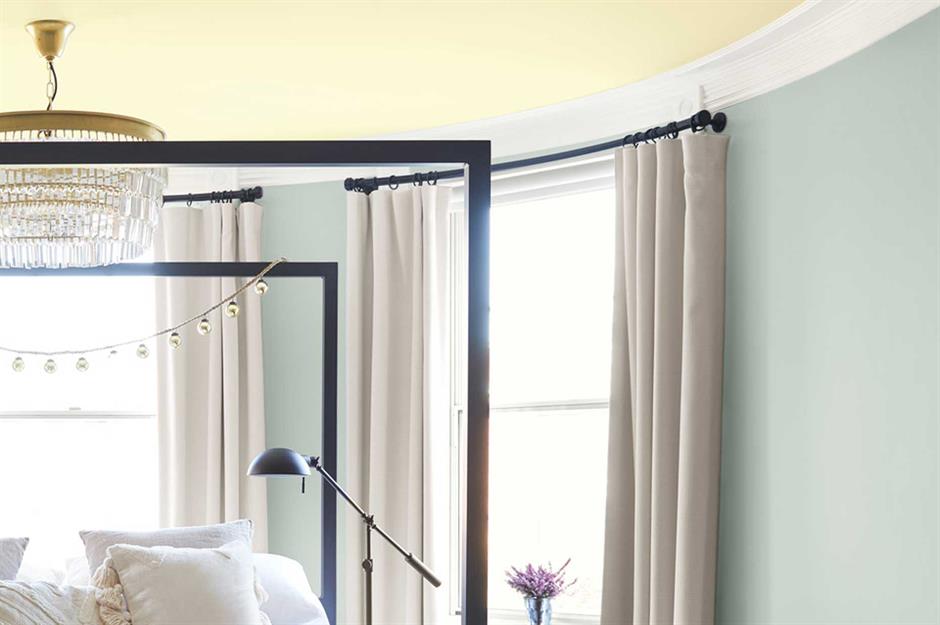 Benjamin Moore
Don't neglect your ceilings. Also known as the fifth wall, who says they always have to be brilliant white? Throw out the rulebook and go for a statement ceiling in a happy shade such as yellow or pink to brighten and lighten the space. Or, go dark with navy or black to create a dramatic cocooning feel. If you're not sure you can brave it, give it a go in your smallest space – the downstairs loo!
Use a repeat wall stencil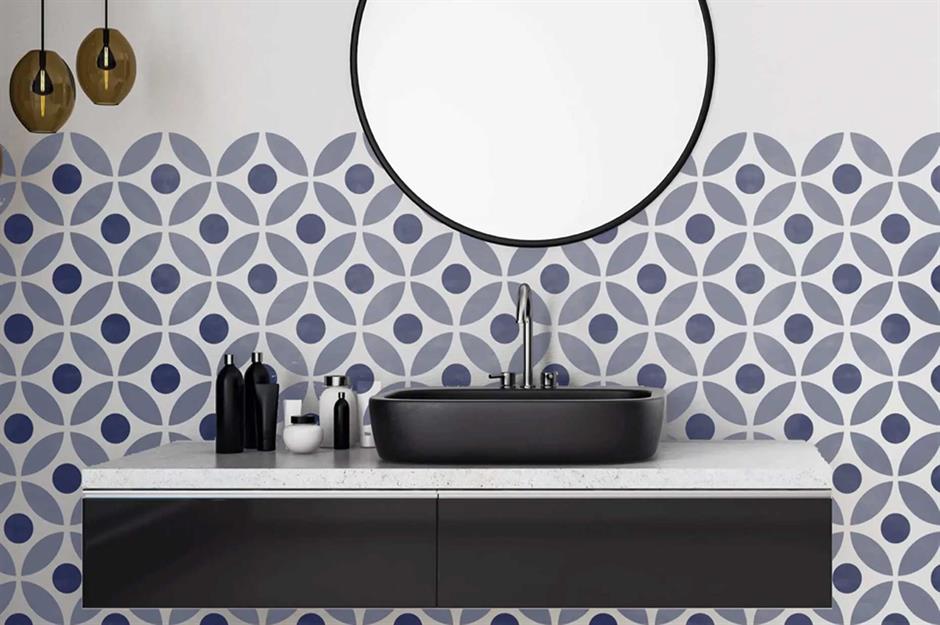 Dizzy Duck Designs
Walls stencils have come a long way since floral friezes were popular. Now there are literally thousands of modern stencil kits that create stylish wall paint effects. This Tsungi Spot wall stencil painted two-tone is an ideal alternative to expensive bathroom tiles.
Frame the door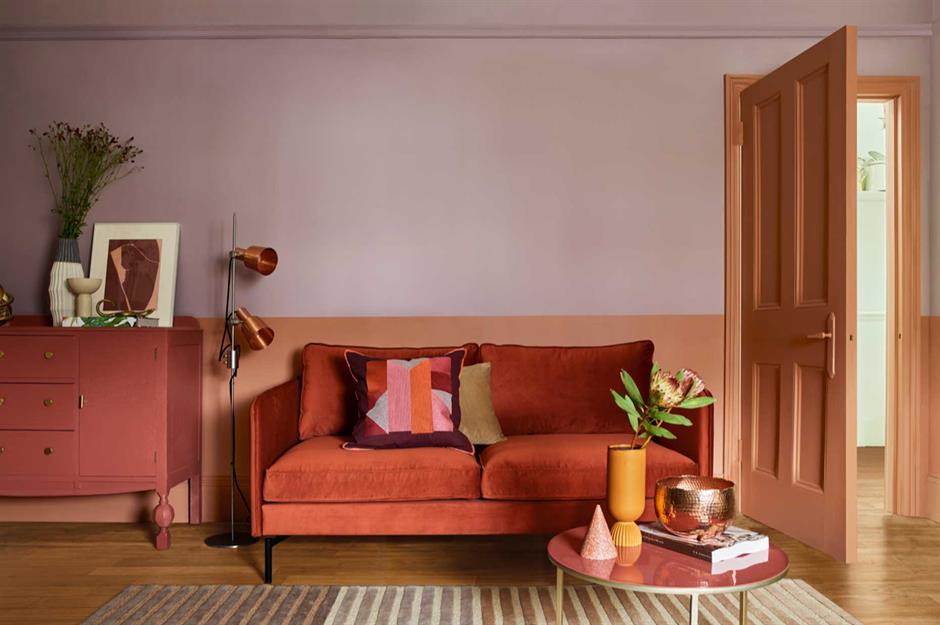 Dulux
Make a feature of a doorway by combining contrasting paint colours. Here, a terracotta tone has been used to paint the interior door and frame to make a focal point in the two-tone effect. For longevity, make sure you use a primer first and apply painter's tape around the frame for a crisp finish.
Get creative with circles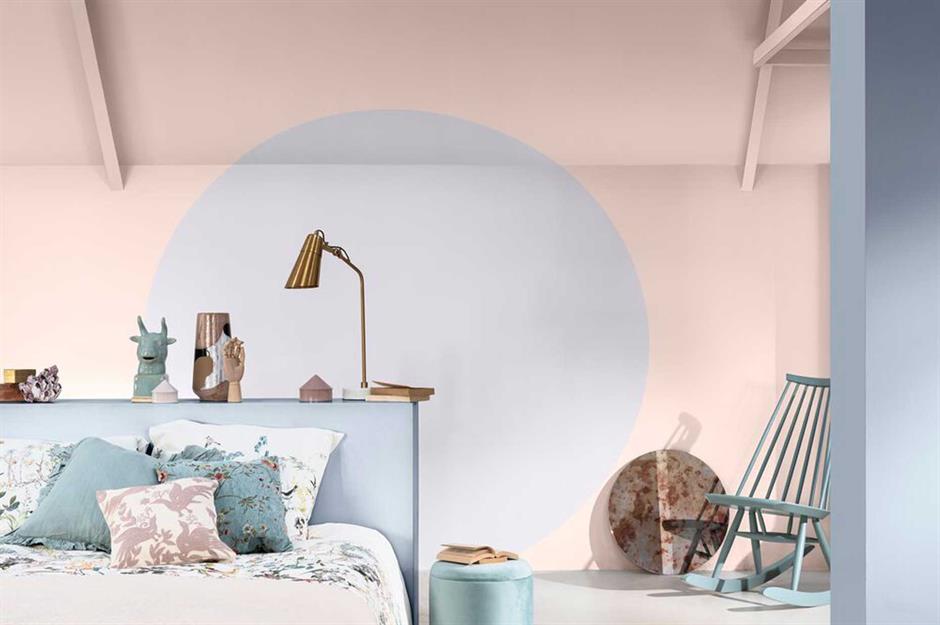 Dulux
Give the classic feature wall a creative twist with a circle. While this project doesn't require much paint, the results are dramatic. For a perfect circle, tie a piece of string to a pencil and the other end to a drawing pin – the length of the string will determine the outer diameter of your circle. Push the pin into the wall where you want the middle of your circle to be. Holding the string tight, draw a circle on your wall, then fill it in with your chosen paint shade.
Be bold with colour blocking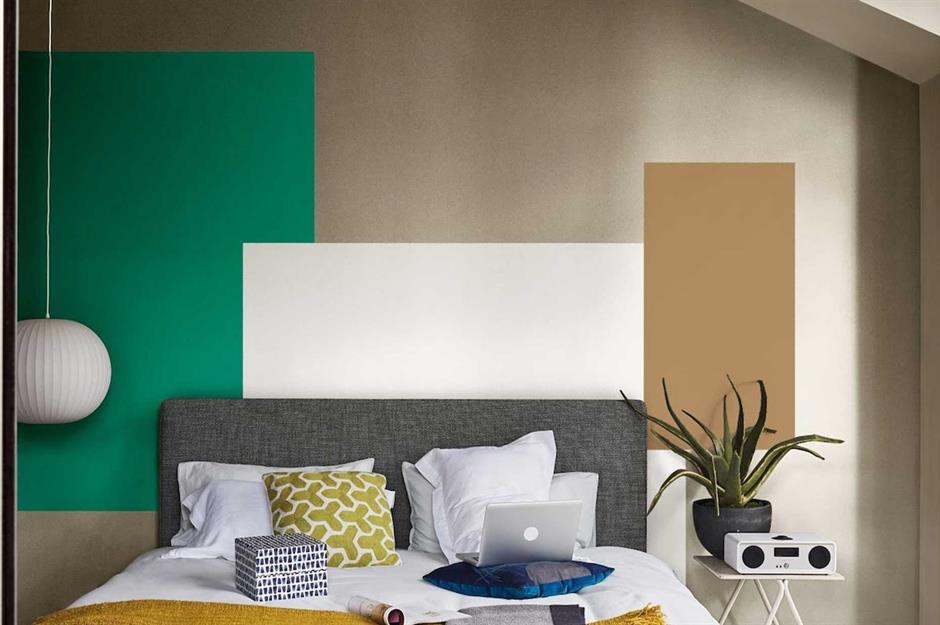 Dulux
Adding blocks of bold-coloured paint is one of the easiest ways to give your walls a bit of personality. With a metre stick, spirit level, chalk and painter's tape, simply section off the areas you want to paint and fill them in one by one, always making sure to paint just over the edge of the painter's tape so that the section is completely filled. A clearly defined colour palette is a must for this look – we love this quirky mix of chalky white, spiced honey and jade green.
Create faux wallpaper with stencils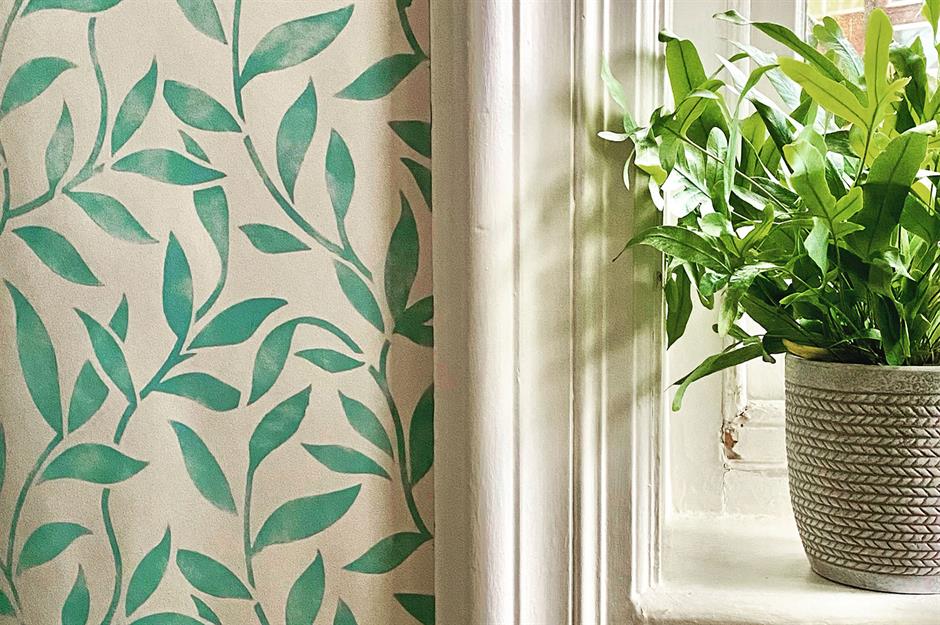 Nicolette Tabram Stencils
You can get the look of beautifully ornate wallpaper with stencils, they are easy to use, reusable and you can simply paint over the design when you fancy a change. This one is inspired by the Arts & Crafts movement and can be used on furniture and fabric as well as interior and exterior walls. Use the separate edging stencil to finish the design across the top of the wall.
Hone in on hexagons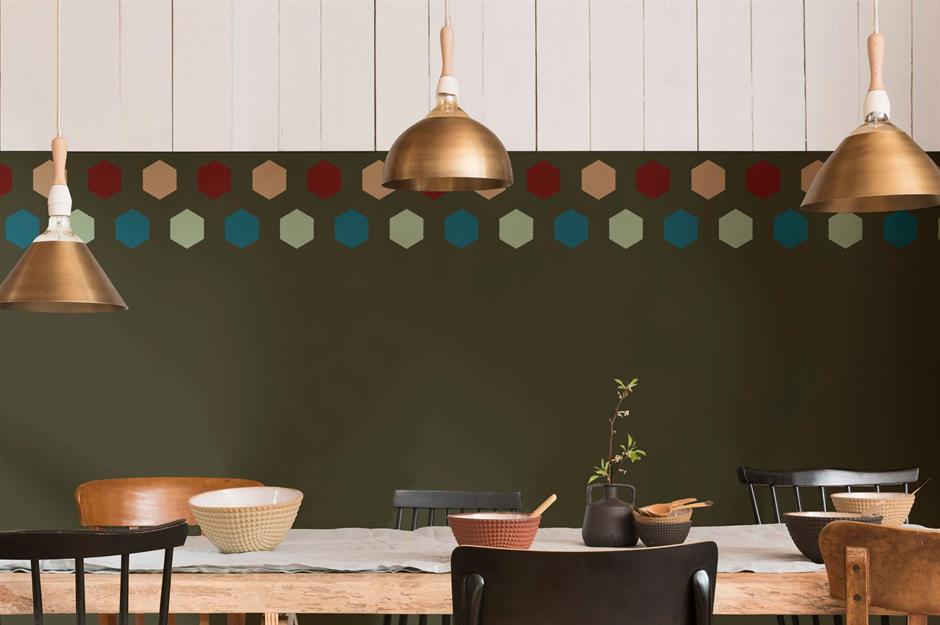 Dulux
Hexagon paint stencils are available to buy online, and are really easy to use to create a feature wall. This design will add interest to a dining room as shown here. Blend the pattern into the room by choosing shades that pick out the décor. Here the gold is perfectly colour matched to the brass pendant lights.
Set up a suede effect
Crown Paints
Create a soft, matt buff look to your walls with a specially formulated textured emulsion that will give your walls the same look as brushed suede. The uneven nature of the final effect is great for hiding imperfections and it's easy to apply as you almost work the brush at random to create darker and lighter spots on the wall. If you favour neutral schemes, we think this is just perfect for a feature wall.
Add texture with a metal effect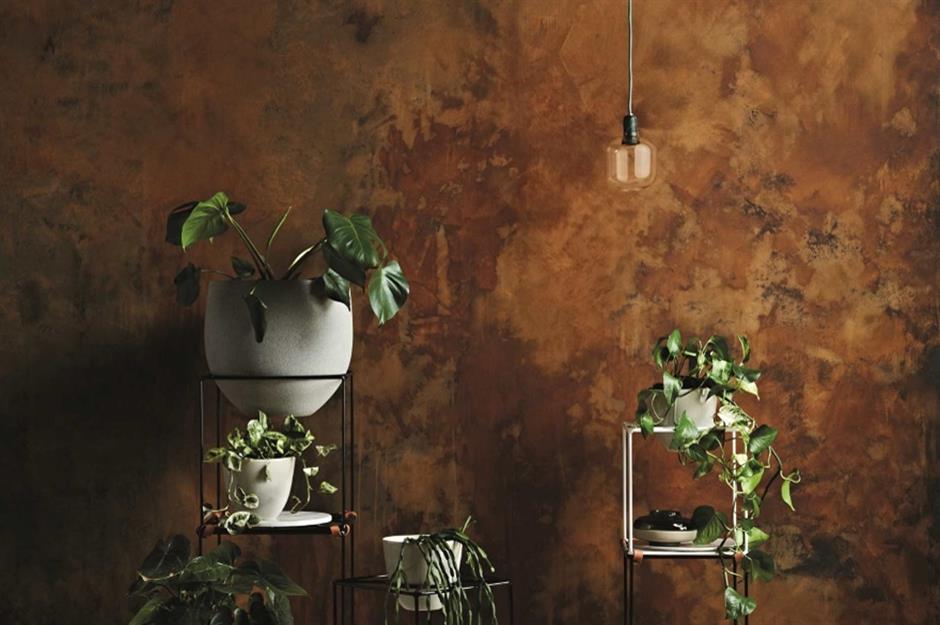 Craig & Rose
A feature wall in a copper patina effect lends a rustic, aged look to a scheme – perfect for a vintage or industrial-style home. To create this stunning finish, you'll need copper paint and patina-effect paint. Apply two coats of copper paint with a roller, then use the roller, a rag or a sponge to pat the wall, creating texture. Leave the paint to dry, then dab the patina paint over the top using a different sponge or brush.
Paint on a statement headboard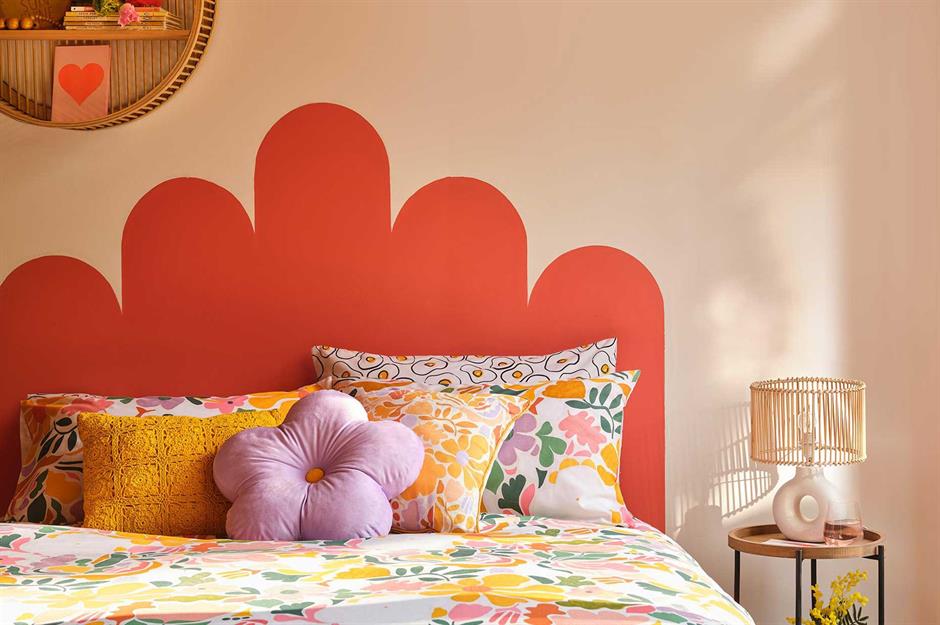 George Home
Give your bedroom an update with a faux headboard by applying a painted design on the wall behind your bed. Sketch out your design on paper first, then measure off an area slightly larger than the head of your bed and map out your faux headboard with a ruler, pencil and painter's tape before painting. For best results, choose a colour that strongly contrasts with the shade of your wall.
Expose a plaster style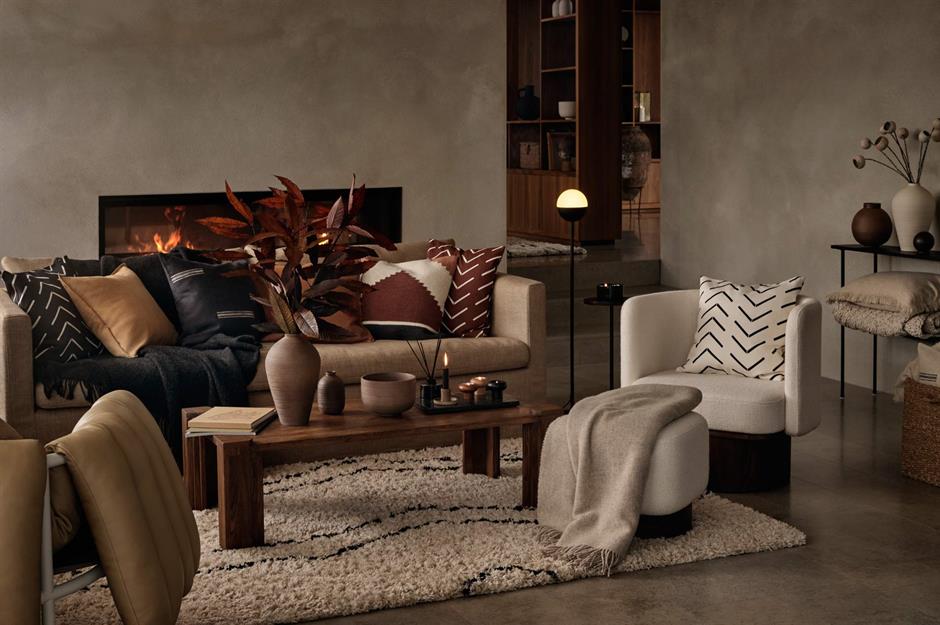 H&M
For a grown-up industrial feel, why not forgo paint altogether and let the natural beauty of your plastered walls speak for itself? If your wall has already been painted, you can create a faux-plaster look using two different shades of plaster toned paint – apply a lighter colour first, then daub a darker hue over it using a cloth, gently smoothing out any thick areas with a spatula.
Highlight a corner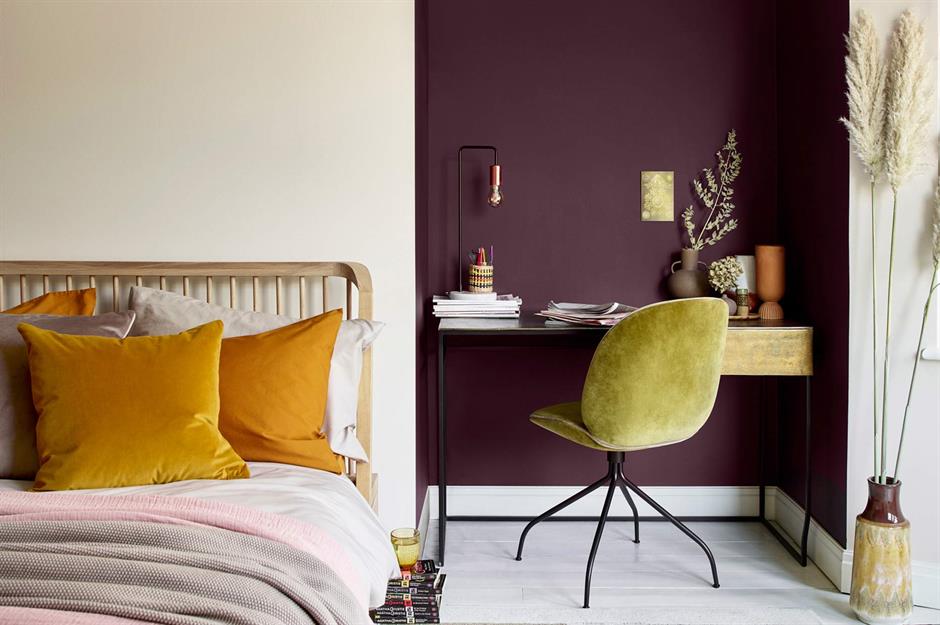 Dulux
If you don't want to commit to a full feature wall, why not highlight a corner of a room with paint instead? Use a metre stick, spirit level and chalk to mark the area you'd like to highlight, section it off with painter's tape and fill it in with your chosen colour. Bold, bright colours will look great here – if you're painting a smaller, overlooked area, it's best to avoid shades that are too similar to your original wall hue, as they may not be seen clearly.
Two-tone walls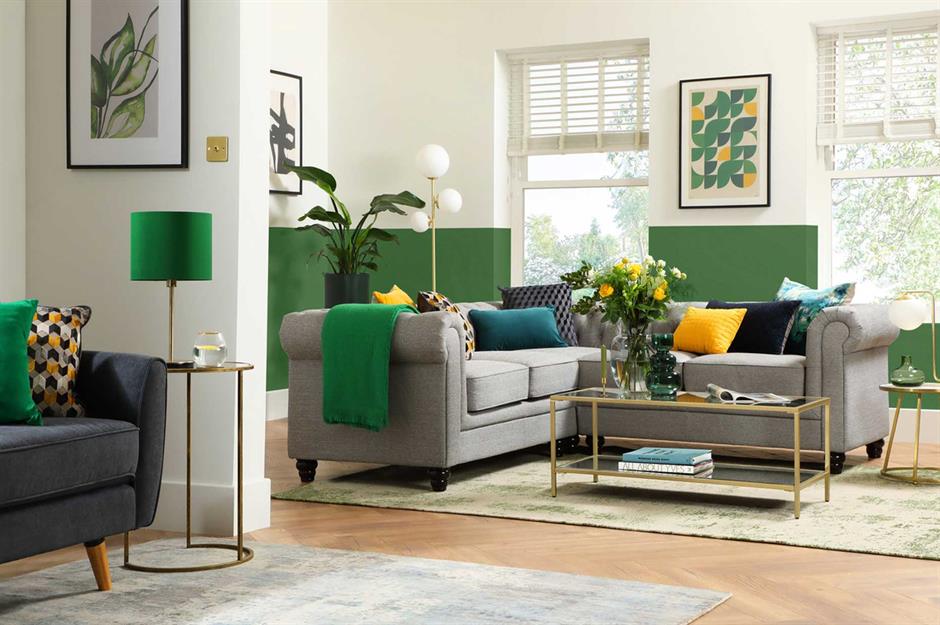 Furniture And Choice
Horizontally split two-tone walls are a fuss-free way to add drama and depth to a room. First, choose your colour combination. To create your dividing line, use a metre stick, a spirit level and some chalk. Apply a strip of painter's tape just below your chalk line and paint the top colour first. Remove the painter's tape, apply another strip just above the chalk line and apply your bottom colour.
Paint the door
Next
Take the two-tone wall effect a step further by painting doors to match. The continuity and trompe-l'oeil effect add a refined and striking finish. We love how even the bed has been brought in on the act in this invigorating blue and white bedroom.
Draw up diagonal stripes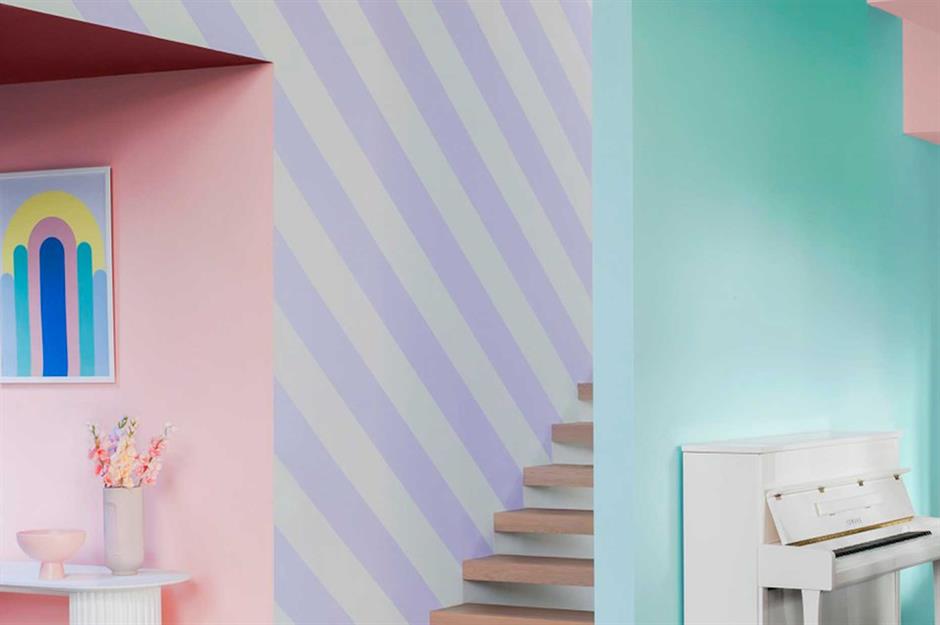 YES Colours
For a twist on the classic striped wall, position the stripes diagonally rather than horizontally or vertically. These violet stripes are a fun way of adding pattern to a staircase wall and are easy to create with your trusty metre stick, spirit level, pencil and painter's tape.
Brighten alcoves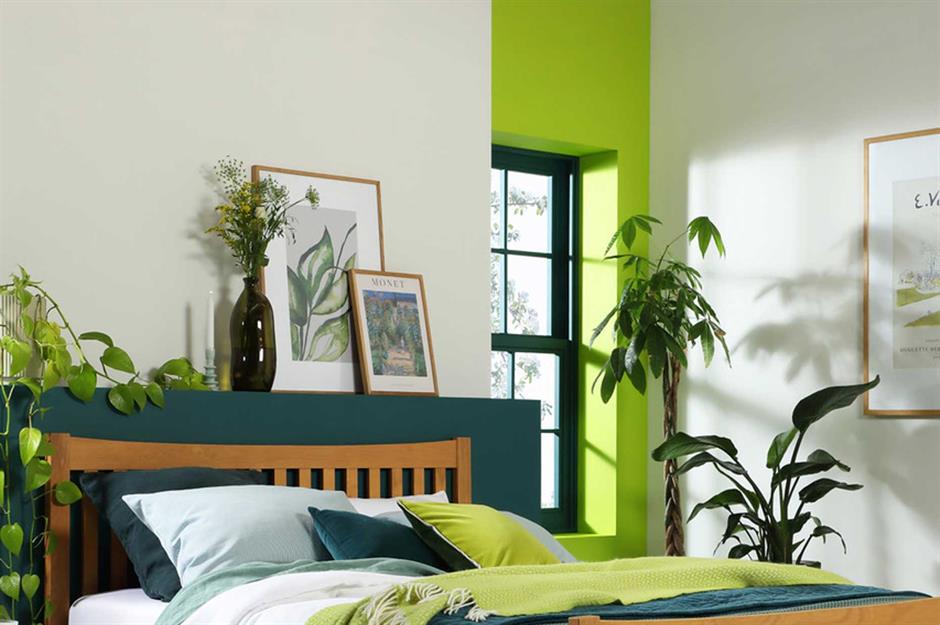 Furniture And Choice
Draw the eye to any interior alcoves and supporting beams by painting them a contrasting colour, creating a shadowing effect. This works best in bright shades such as this zesty green against crisp white, or for a more subtle take, give it a whirl on a window recess. A fresh yellow will bring instant sunshine to a kitchen window. For perfect edges, mask the painting area with a good quality painter's tape.
Paint the hallway floor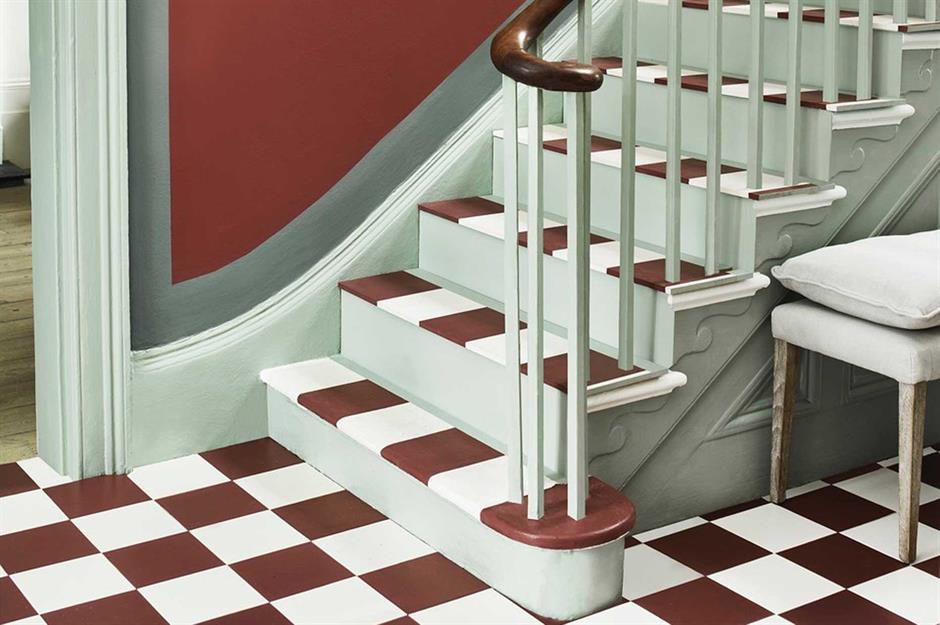 Annie Sloan
Painted original floorboards look particularly attractive. For a serene feel paint them a soft chalky cream or white. Or, if you're feeling daring go for brighter colours. Annie Sloan created this unique and impressive painted hallway floor using Primer Red, and the design continues up the stairs for a striking entrance. We love!
Compose an ombré wall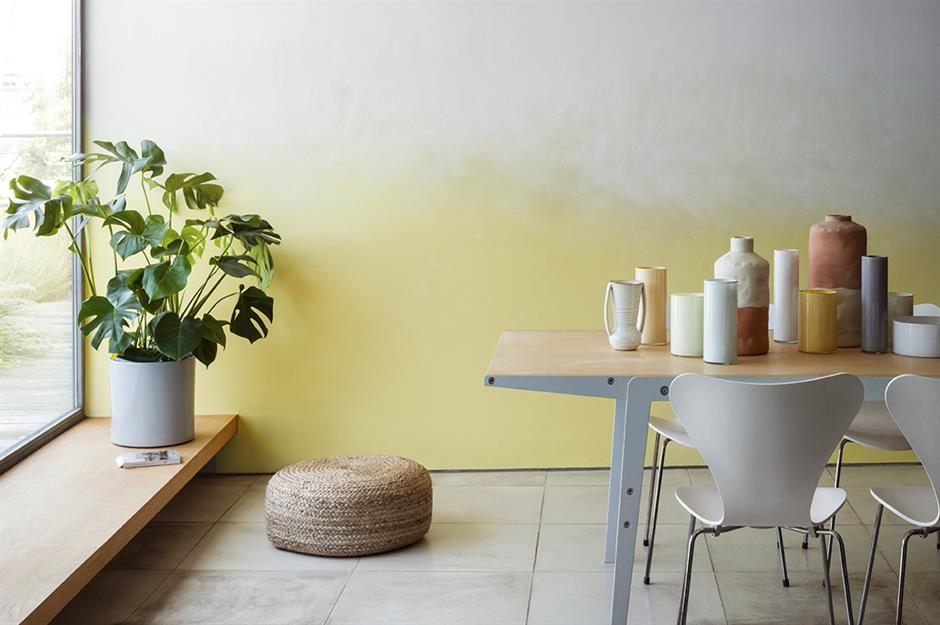 Crown Paints
This beautiful paint effect is easier to create than it looks. Paint the whole wall in the lighter colour first and let it dry fully, then apply the darker shade to the bottom part of the wall. On a board, mix the two colours and apply this mixed paint to the middle section of the wall. Blend and blur the colours together using a clean roller. This effect works with any colours, but pastel hues such as this lemon yellow create an instantly calming effect within a space.
Get a glitter glaze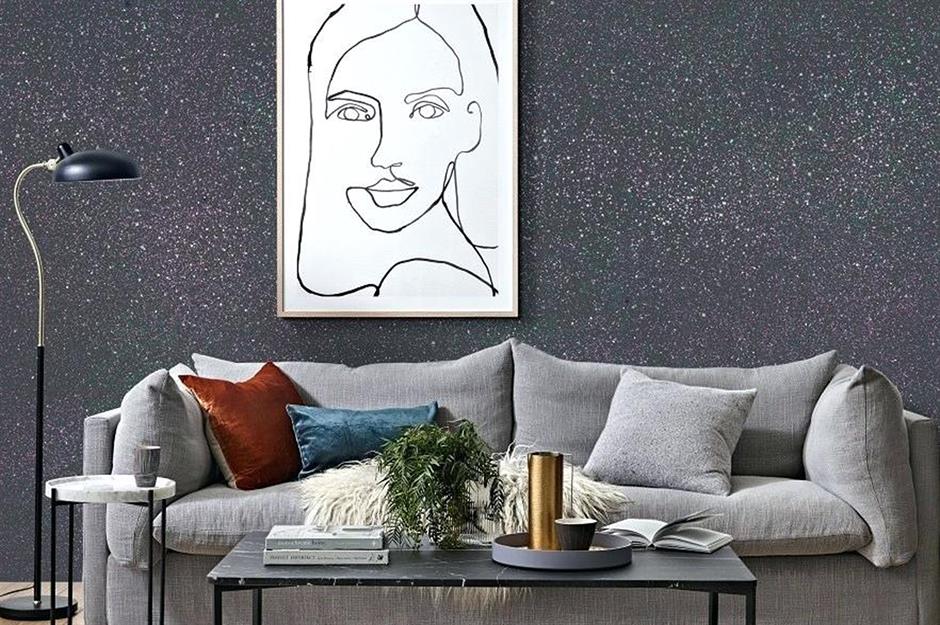 Craig & Rose
For full-on glamour, use a glitter glaze as a top coat over a matt emulsion. If the room doesn't have a source of natural light add a statement lamp to show off the sparkle. As the pieces of glitter are suspended in a clear varnish, it's best to try your brush technique first on a piece of card, applying liberally in a criss-cross motion or using a foam roller for bigger areas – but remember to wipe off the excess first.
Call on concrete-effect paint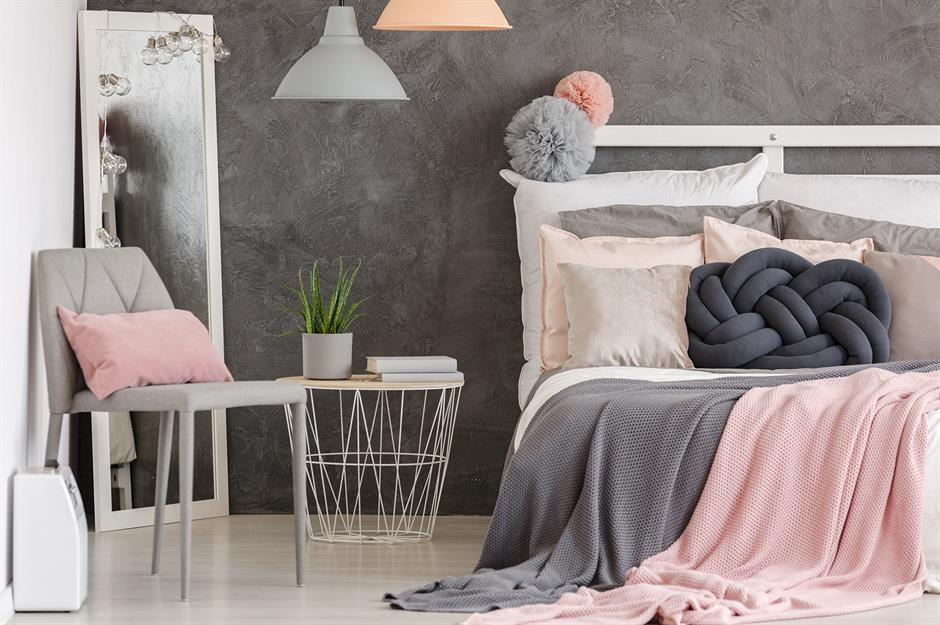 Photographee.eu / Shutterstock
For a stylish grey scheme, exposed concrete walls lend a space an ultra-contemporary industrial feel, but if this isn't doable in your home, you can create realistic faux-concrete using paint. Paint the wall in a medium grey, using sweeping, arched brushstrokes. Smooth out the brushstrokes using a wet cloth, then scrunch up the cloth and lightly dab it along the paint to add texture. Add vertical strokes of white paint using a block brush, then use a different wet cloth to blend it into the grey base.
Be brave with a dalmatian spot wall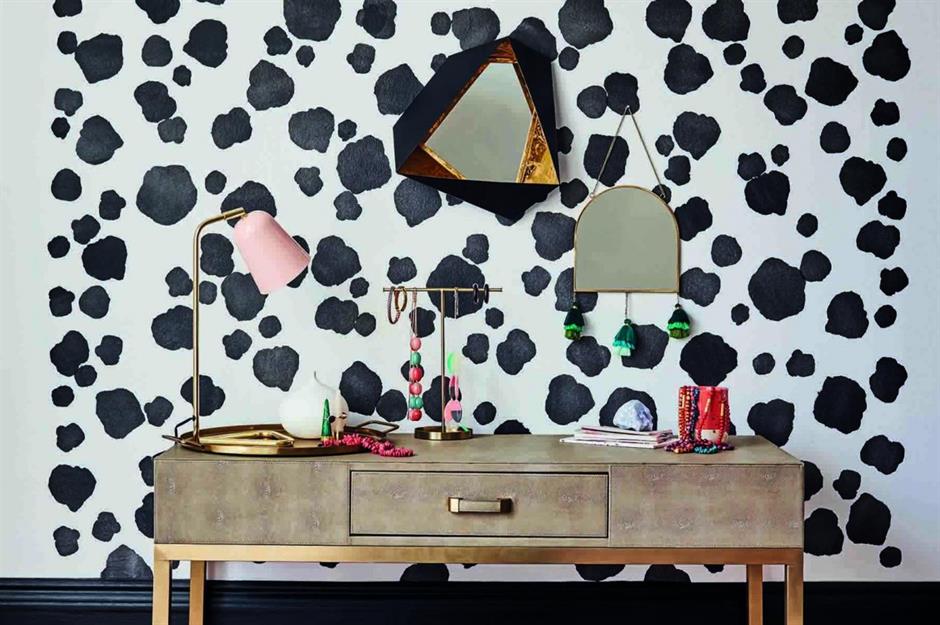 Dulux
For a truly unique, glamorous feature wall behind a dressing table, try this simple technique. Starting with a white wall, cut out holes in varying sizes from pieces of A3 paper to create a dalmatian spot stencil. Fix the stencil to the wall with painter's tape and fill the holes with black paint, repeating as many times as needed to fill the space.
Top up tile effects
Crown Paints
If you've always wanted a tiled splashback or border, but don't have the supplies to hand, why not recreate a tiled effect using paint? Using a pencil and a ruler, draw out the 'tiled' area. Use tape to mask it off from the rest of your wall and apply paint in the colour you want your 'tiles' to be. When this is dry, measure, mark and mask off your 'grout' lines and paint them in a contrasting colour using a small brush.
Commission a woodland mural
Annie Sloan
Kids love having some creative input into their bedrooms and a wall mural offers the ideal opportunity to work on a project together. Start by painting the wall a deep shade, so that the mural pops. Once dry, add trees, plants, little woodland houses and cute animals, beginning with the basic outlines and then adding details. This design by Lucy Tiffney uses chalk paint and is stunning, but you can, of course, make yours simpler.
Let monochrome drip down
Rebel Walls
This striking feature wall design is incredibly simple to recreate. Paint the wall black, let it dry fully, then apply two coats of white paint to a rough section at the top of the wall. Next, load up some large syringes with the same white paint, squeeze it out onto the edge of the white section, and let the paint drip down.
Fall in love with liquid gold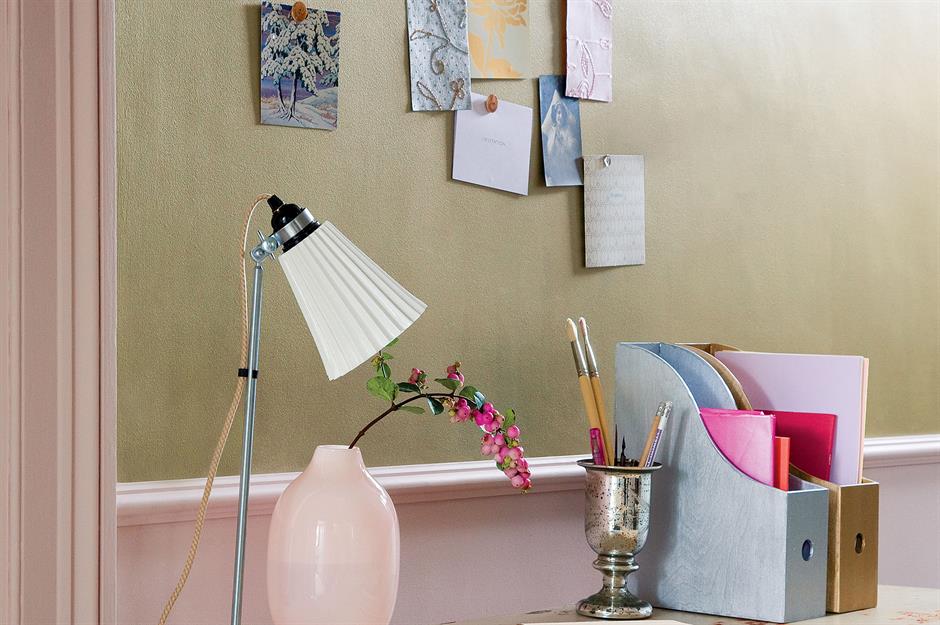 Crown Paints
A foolproof way to create an instantly striking accent wall is to paint it gold – try this in a bedroom, bathroom or dressing area for a luxurious, glamorous feel. When using a brush to apply metallic paint, it's likely that the brushstrokes will be visible. This can add a nice extra layer of texture, but if you'd prefer a smoother finish, use spray paint instead.
Design a geometric wall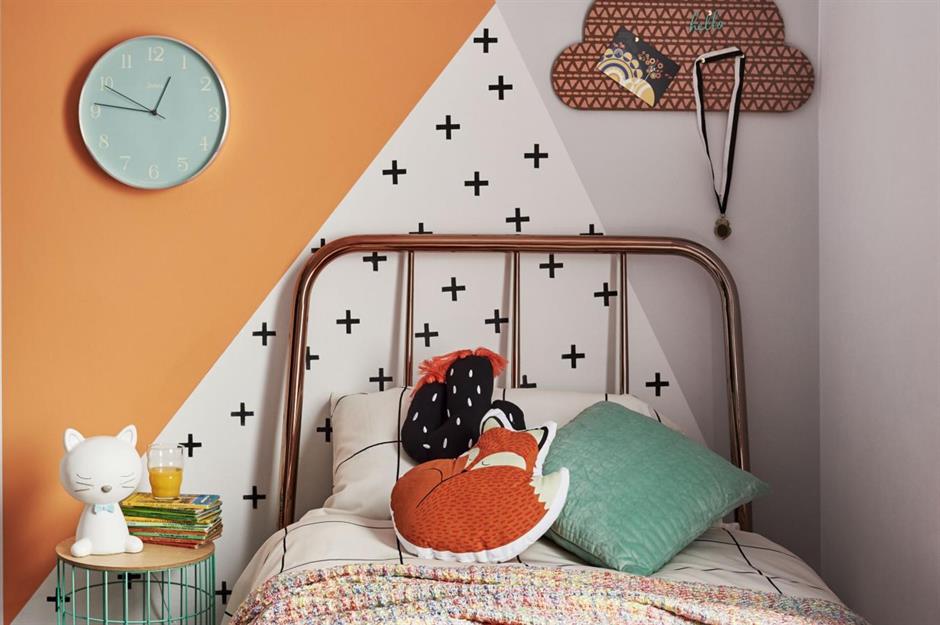 Dulux
Geometric shapes on walls look ultra-contemporary – in this children's bedroom, they're used to add a sense of fun and playfulness. Draw each shape using a metre stick and a pencil, then apply strips of painter's tape above and below your lines to paint your shapes evenly. To create the little cross shapes shown here, you can simply cut stencils out of A4 paper, tape around them and fill with a contrasting paint shade.
Brush on dashes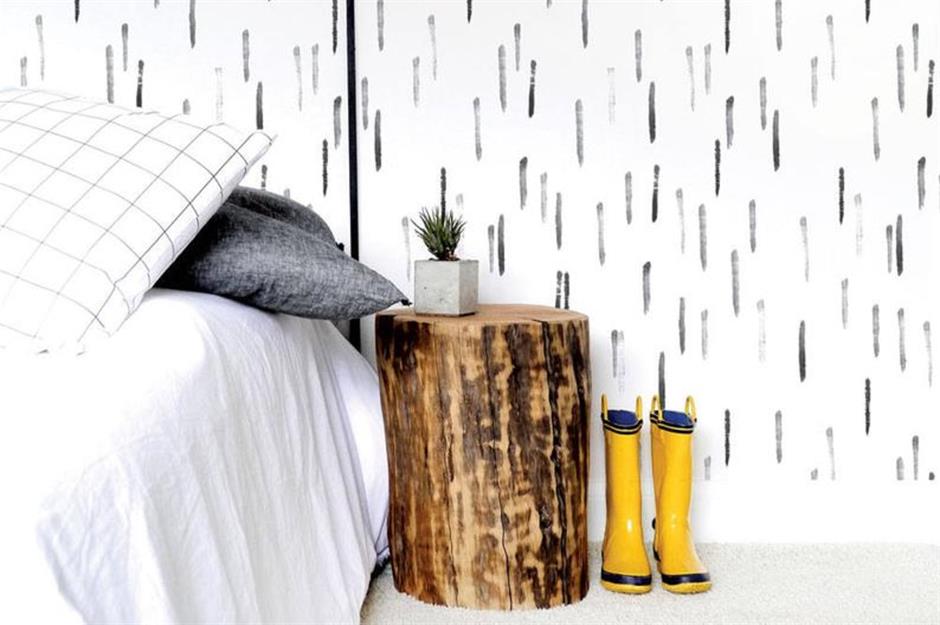 trendypeasdecals / Etsy
This look couldn't be simpler to create. Take a small paintbrush and add small dashes to your wall, in a contrasting shade to your base colour. You can make the dashes as thick or as thin as you like, and they look great painted either vertically or horizontally. This look works well in monochrome, but dashes in bright shades would also look fantastic against a white wall in a kids' bedroom.
Decorate a mountain mural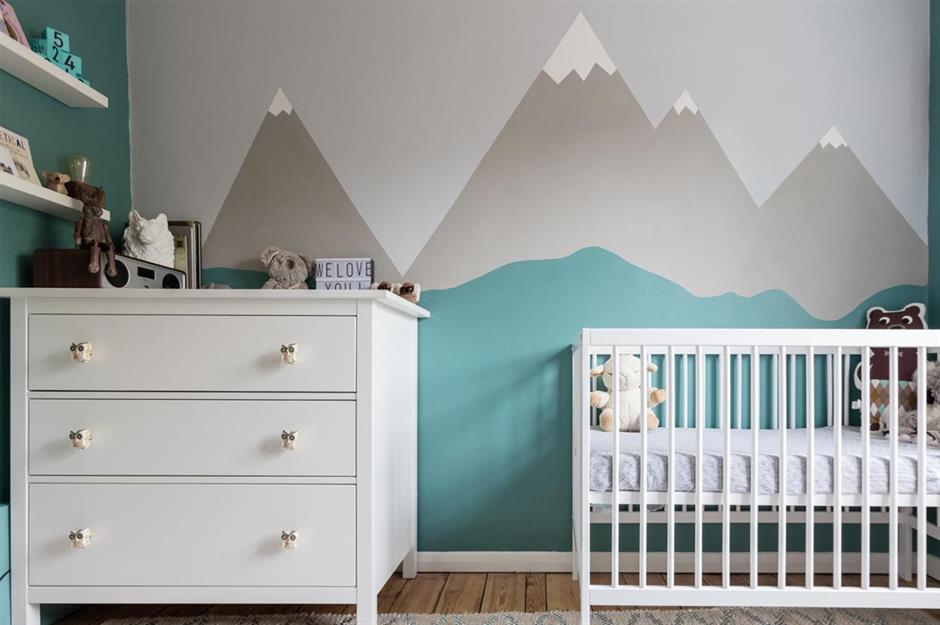 Dulux
To really flex your creative muscles, you could design a wall mural. This mountainscape scene in a nursery, painted in calming shades of blue, white and grey, is a stunning example. It's fairly easy to recreate, using a metre stick and pencil to mark out the simple triangular mountain shapes, painter's tape to section off each area before painting, and just four paint colours to fill them in. Remember to keep a little back in each colour to correct any mistakes!
Stick and peel with painter's tape stencils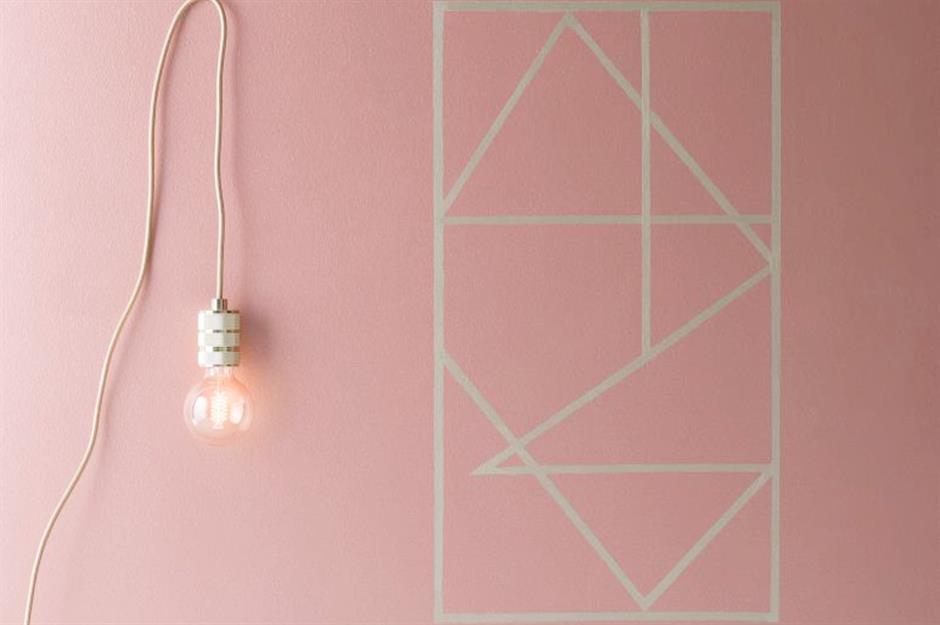 Crown Paints
If you want to jazz up a small section of your wall with a pattern, a stencil with painter's tape is a simple way to do it. A quick search online should help you find the right design for you – we love this geometric pattern, but you could choose anything from a floral motif to a baroque design.
Choose a different colour on each wall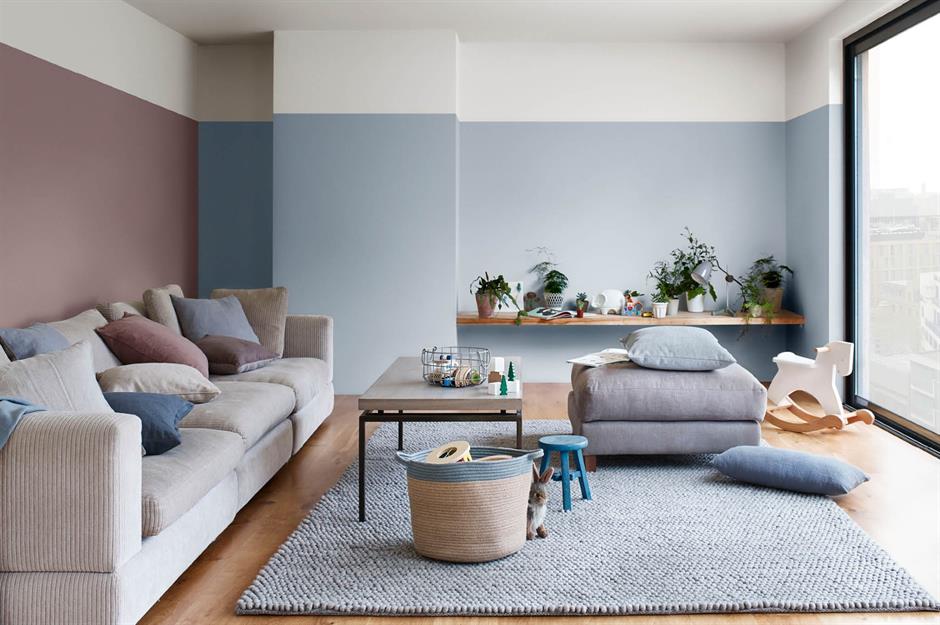 Dulux
For the more daring decorator, painting each wall in a room in a different shade is an easy way to make a space look striking. Avoid too many bold, bright shades – you don't want to give yourself a headache! Make sure that when you're painting, you mark off the edges of the walls with painter's tape so the paint colours don't bleed into each other.
Get practical with a chalkboard wall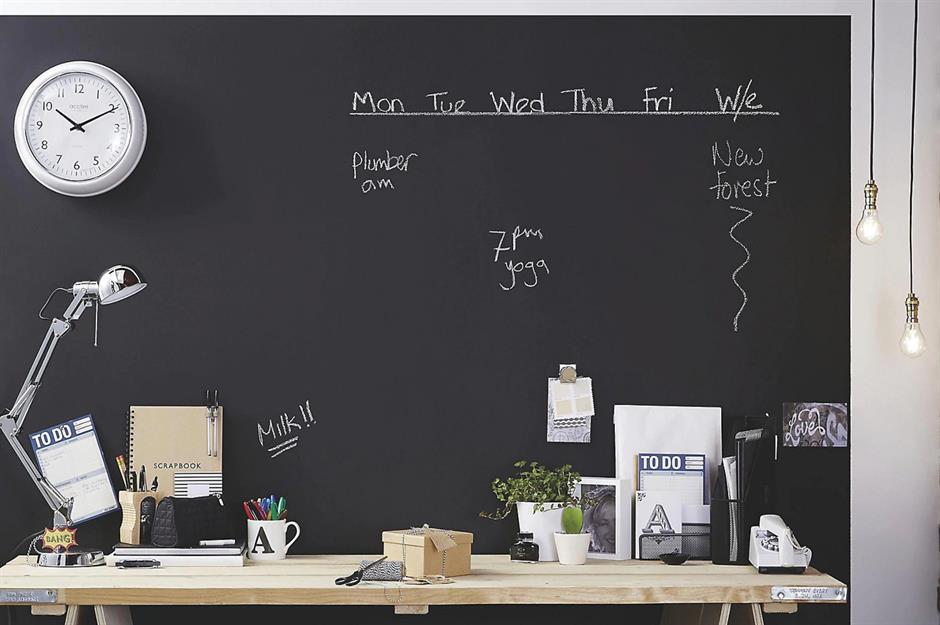 B&Q
If you need somewhere to display notes, reminders or family messages – or just somewhere for the kids to scribble on – a chalkboard wall could be the perfect solution. Lots of brands offer chalkboard paint, which allows you to create a fun, interactive space to write and doodle with chalk, and is easy to wipe clean. Try a chalkboard wall in the kitchen, your home office space, or a child's bedroom or playroom.
Catch a likeness to Venetian plaster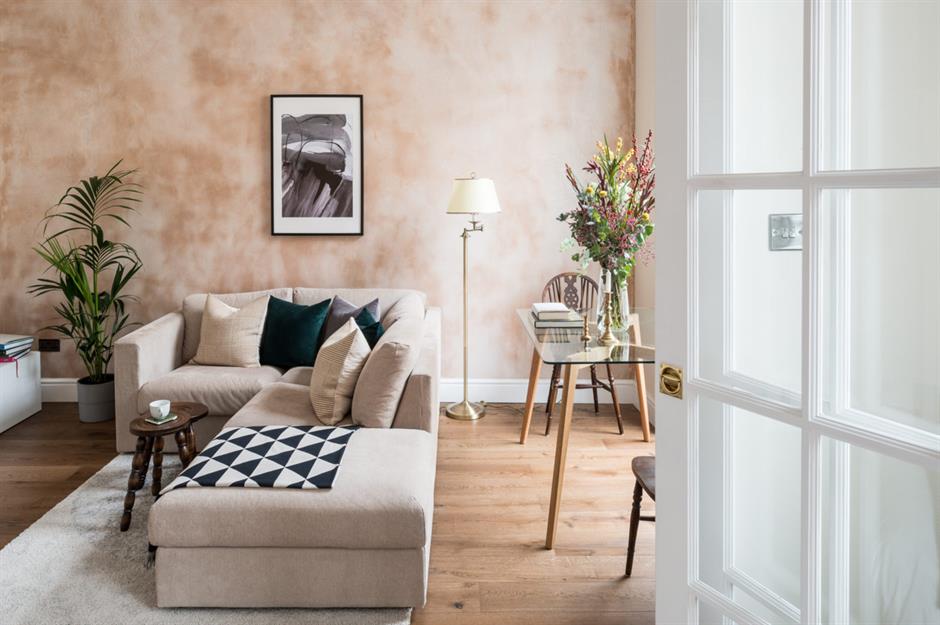 The Modern House
Anyone who lived through the 90s might remember the penchant for Tuscan-inspired terracotta plastered walls. Cut to 2022 and this beautifully soft, textured finish is making a comeback. Also known as lime-plaster, you can create the same tonal highlights with some clever products that are much more budget-friendly. The end result is somewhere between marble and a hand-skimmed effect.