original post: https://www.housebeautiful.com/home-remodeling/a35430444/easy-repairs-to-sell-your-house/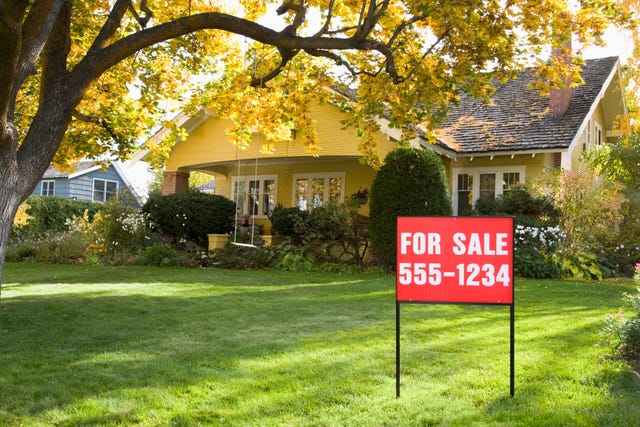 DON MASON
Thinking about moving? While the selling process can sometimes be long and complicated, there are ways to not only increase the speed at which your home sells, but also increase its value. And the best part? Most of these fixes are pretty simple! Things like painting the walls, pulling weeds out of the garden, and just giving your home an extra-thorough cleaning could actually make a difference in your sale.
But before you jump into repairs, determine how much you're willing to spend and where you want to spend that money. A good place to start is by looking at other local listings. Daryl Fairweather, chief economist at Redfin, suggests seeing what improvements neighbors have made and how much they were able to sell their homes for. She also points out that you want to be careful not to over-improve. "A luxury home in a normal neighborhood doesn't make sense," she says.
So how much should you spend? While this largely depends on your area, Brett Jennings, owner and founder of The Real Estate Experts, says that the average homeowner in California spends between $10,000 and $30,000 preparing their home for market, though some spend up to $100,000. (Bear in mind, however, that the price of real estate in California tends to trend higher than in most other areas of the country, so these averages are likely lower elsewhere.) Although this might seem like a lot of money, Jennings argues that it's worth it. "If you don't do home improvements, don't expect your home to sell at the price other homes are selling for," he says. "Most people think that if your home is worth $500,000 and you spend $10,000 on improvements, you'll really only be getting $490,000. The reality is that you'll likely double or triple your investment when you bring it to market." Fairweather adds, "People want move-in-ready homes, especially now."
Of course, it pays to be smart about where those investments are going. "Kitchens and bathrooms sell homes," states Karen Swanson of New England Design Works. "And with all the home improvement shows out there," she continues, "buyers are savvy about the work involved. So the nicer these spaces can look, the better." That's not to say you need a total gut renovation, but small swaps could make all the difference. From minor repairs to slightly more involved projects, read on for everything you should do to prepare your home to sell.
Paint
Painting your home before putting it on the market can undeniably help your sale. Jennings says it's actually the most important improvement you can make. Both Jennings and Dolly and Jenny Lenz of Dolly Lenz Real Estate agree that painting provides one of the best returns on your investment, since it's relatively low-cost, especially if you can do it yourself. "New paint can rid your home of old odors, cover all those dings and fingerprints, and provide a fresh canvas that piques the buyer's imagination," says the Dolly Lenz team.
And new paint isn't limited to the walls. Painting the home's cabinets could also have a positive impact on a sale, though Jennings recommends steering clear of daring colors and opting instead for a hue that's on-trend. Swanson adds that paint color preferences are often regional. "In terms of the Northeast, people love their white kitchens, so that's usually a safe bet," she suggests.
Replace Hardware and Light Fixtures
If paint is the outfit of a home, consider hardware and light fixtures the accessories. Both have the ability to dress up a home, and without them, a space can feel boring. Often, lighting and hardware can make the difference between a good and a great home for potential buyers, meaning it's worth your while to swap out dated pieces for more contemporary counterparts. Jennings even goes so far as to state that these seemingly minor repairs could get you double or even triple what you invested. After all, first impressions are major when it comes to making a sale, according to Jenny and Dolly Lenz, so it's important to invest in areas that might influence that impression.
As with paint, preferences for hardware and lighting fixtures vary, so it's useful to research what's trending in your area and what's most likely to sell. Need a suggestion? Swanson says, "Aged brass is very popular, so choosing this and perhaps adding an inexpensive pendant light also in aged brass would likely make a big impact."
Landscaping
Potential buyers want to be able to envision themselves living in the home they're looking at. Pulling up to a yard full of weeds risks clouding that vision. As Dolly and Jenny Lenz point out, "A lack of effort can kill your sales process before it begins." They add, "You want those people to stop and get out of their car, not keep driving by." Easy fixes like pulling out weeds in flower beds or putting down wood chips in muddy spots could make all the difference for a potential buyer who's imagining pulling up to the house every day.
Repair Anything That's Broken
While this might seem obvious, you'd be surprised at how much gets overlooked. Dolly and Jenny Lenz say, "No one wants to walk into a house with lights that don't turn on, shades that can't be opened, or doors that are stuck. As an owner, you may not even know that something is broken, but a discerning buyer will certainly zero in on your home's imperfections. Put yourself in the buyer's shoes and go room to room looking for issues. Fixing any obvious defects can pay dividends in the future."
Flooring
OK, so this one might not be as easy as getting out the paint roller or doing an afternoon of gardening, but it could make a pretty major difference in your sale, according to Jennings. Along with painting, flooring is another improvement that can maximize your return on your investment. Scratched, dated floors might not seem like a big deal to you, but for a buyer, it's just another thing they would need to fix upon moving in. At the very least, get an estimate for the work to pass along to your buyer if you can't do the repairs yourself.