Original Article – https://www.loveproperty.com/gallerylist/70160/easy-kitchen-updates-that-anyone-can-do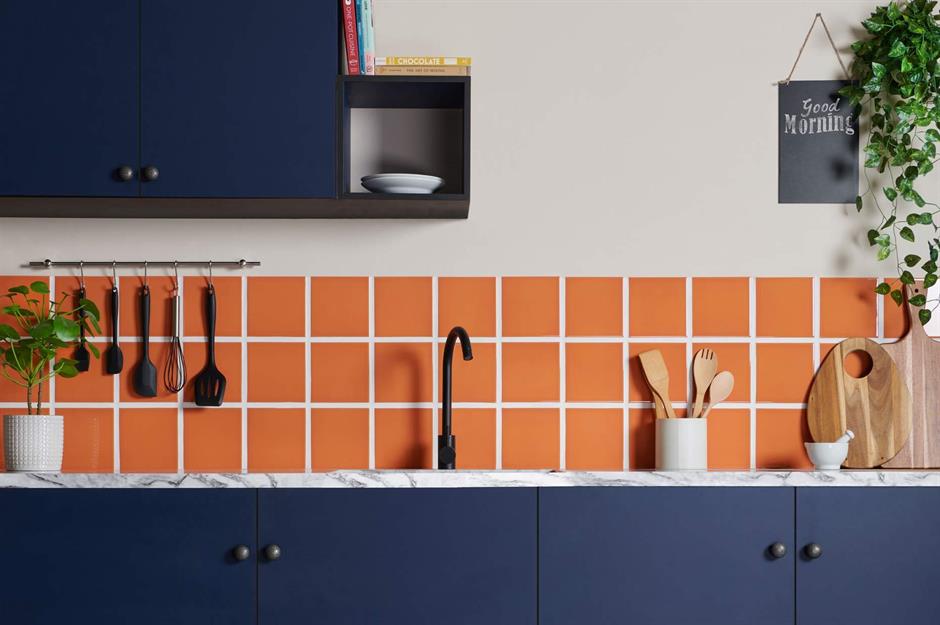 Walls and Floors
Looking for easy kitchen updates? You don't have to spend a fortune on a complete refit to give your kitchen a makeover. Whether it's a weekend decorating project or kitchen accessory refresh, these nifty and inspiring kitchen update ideas will transform the heart of your home without the hard work or huge costs.
Paint the ceiling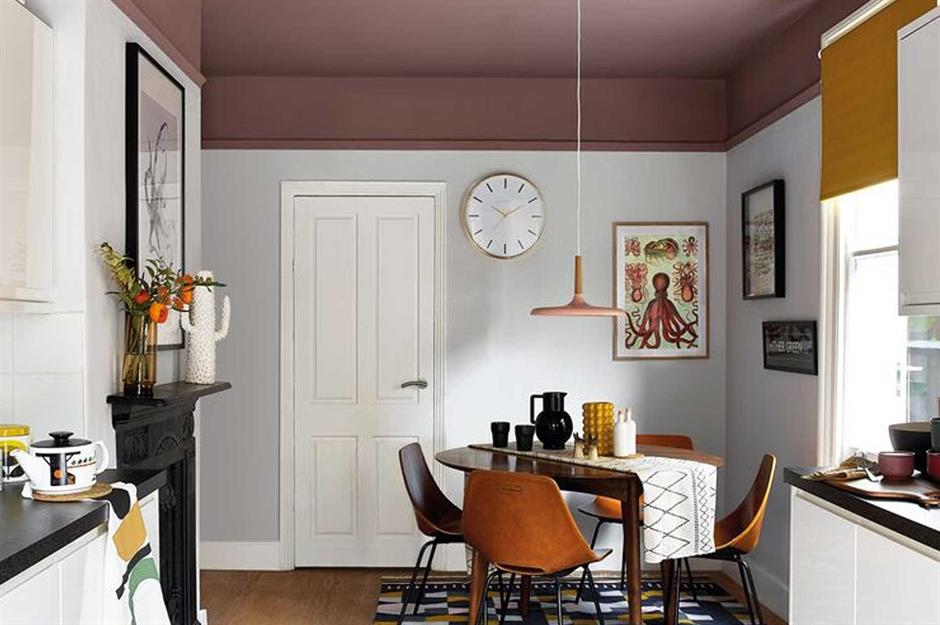 Dulux
Painting the 5th wall, AKA the ceiling, is a statement that is having a moment, so it would be a shame to leave the kitchen ceiling white! Not only can painting the kitchen roof a different colour add drama and character to the room, it can also increase the sense of space by drawing the eye up.
Stock up on glass jars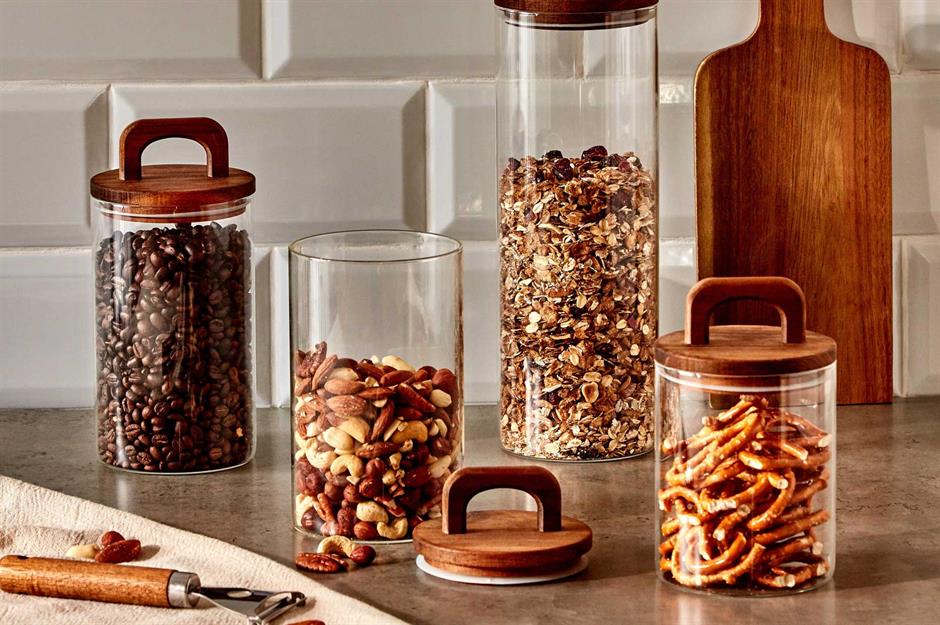 Primark
Budget-friendly high street stores have cottoned on to clear storage jars being stylish, functional and desirable. So now it couldn't be easier to store cereals, nuts, pulses or spices in a thrifty and satisfying display on kitchen shelves, complete with wooden tops and fancy labels.
Give greenery a go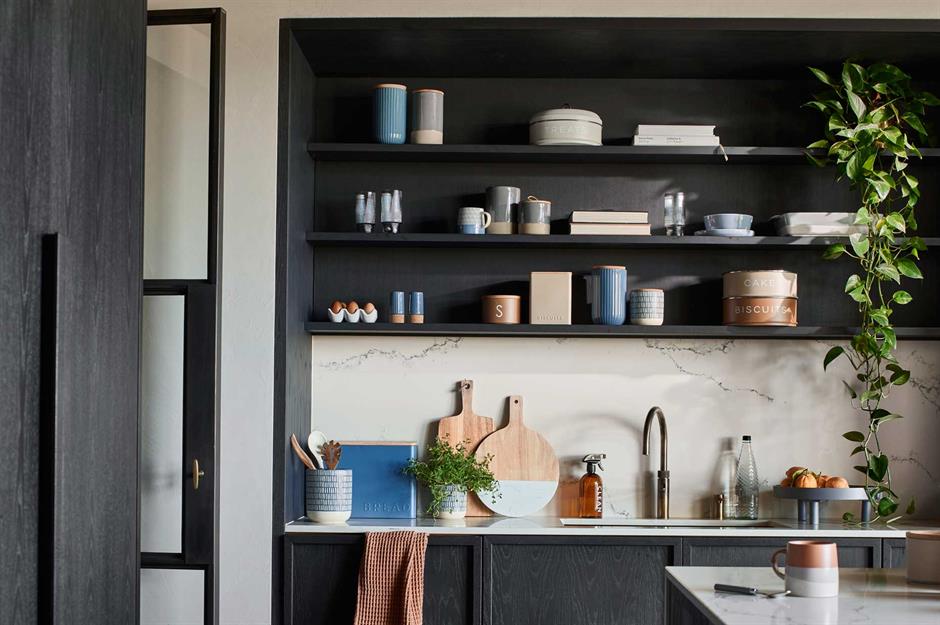 Matalan
Bring the outside in by decorating your kitchen with an array of plants. You could opt for a small tree in a corner spot, low-maintenance cacti for shelves, potted herbs on the windowsill, or a bold orchid on your kitchen island. Mix in a few faux versions for any spots that don't get much sunlight.
Paint cupboard doors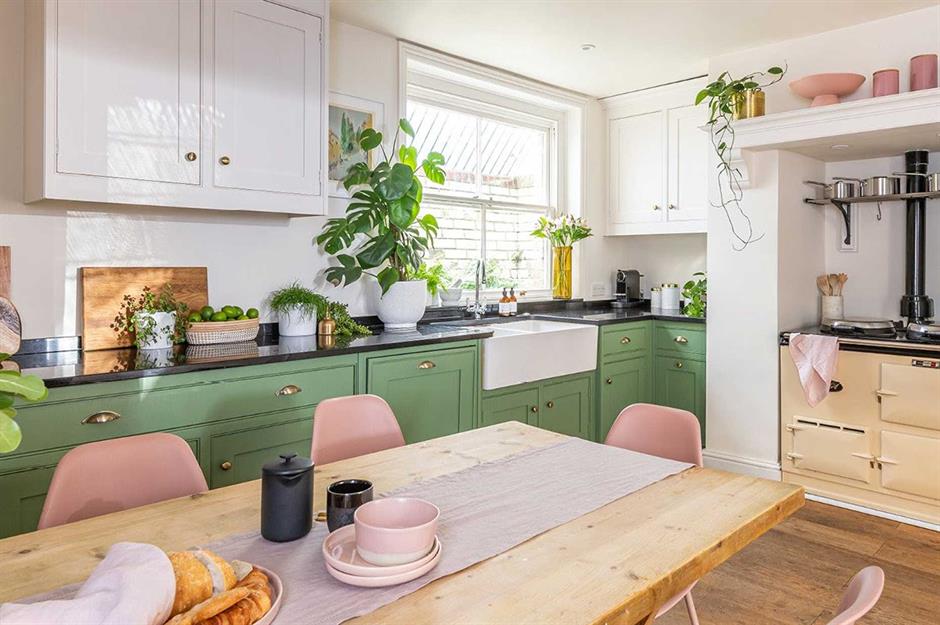 Rust-Oleum
It's the makeover trend taking over our Instagram feeds; if replacing cabinetry is too costly, painting your units could be a more frugal alternative. A lick of paint will totally transform dated but well-made pine doors into a new Shaker-style kitchen. Why not go for an on-trend dark shade? If this project seems daunting, there are kitchen upgrade companies that can transform your units in no time.
Add texture with baskets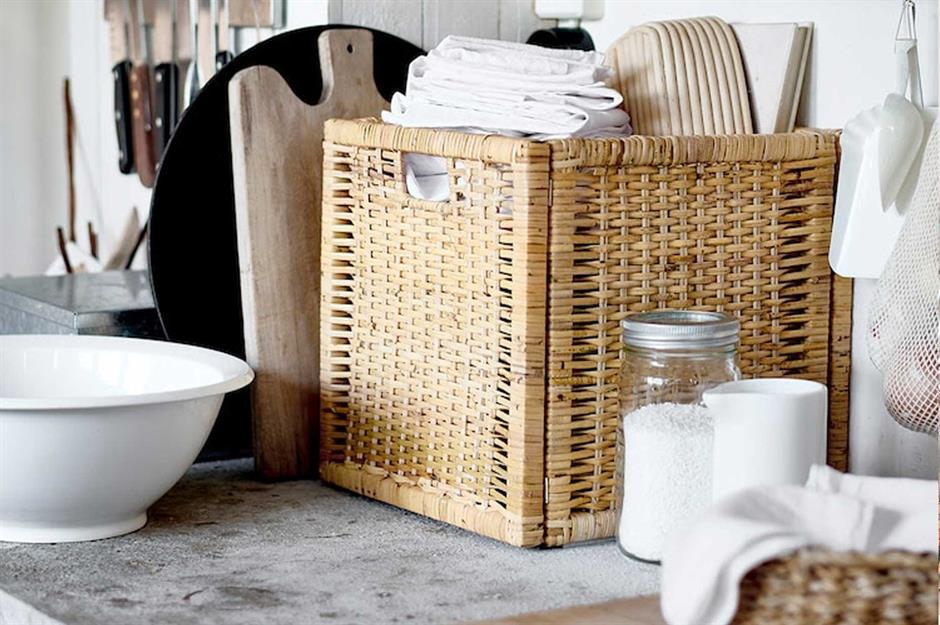 IKEA
Investing in basket storage will not only keep your kitchen organised but add an extra element of texture, colour and character to your kitchen scheme. With just one visit to IKEA or The Container Store you'll have an easy refresh of the space.
Tidy your table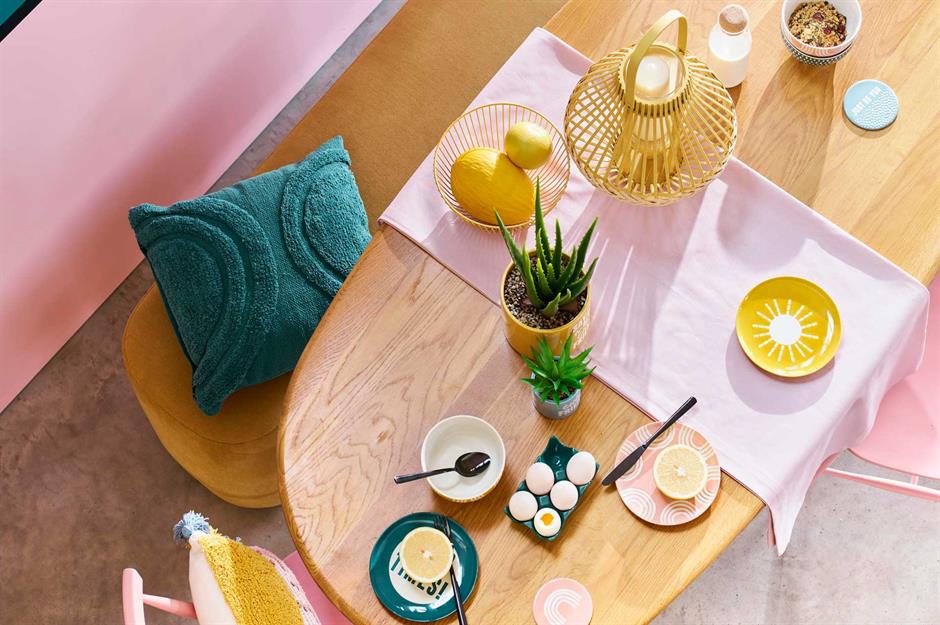 Matalan
A fresh table setting is a simple trick that can give a kitchen a new lease of life. An easy option is to buy a new tablecloth. A fun and colourful, waterproof version is practical and mess-free when little ones are about. Or, for something more sophisticated, lay a textured fabric table runner add a pretty centrepiece, then complement the look with homely bench cushions in matching tones.
Upgrade your window dressing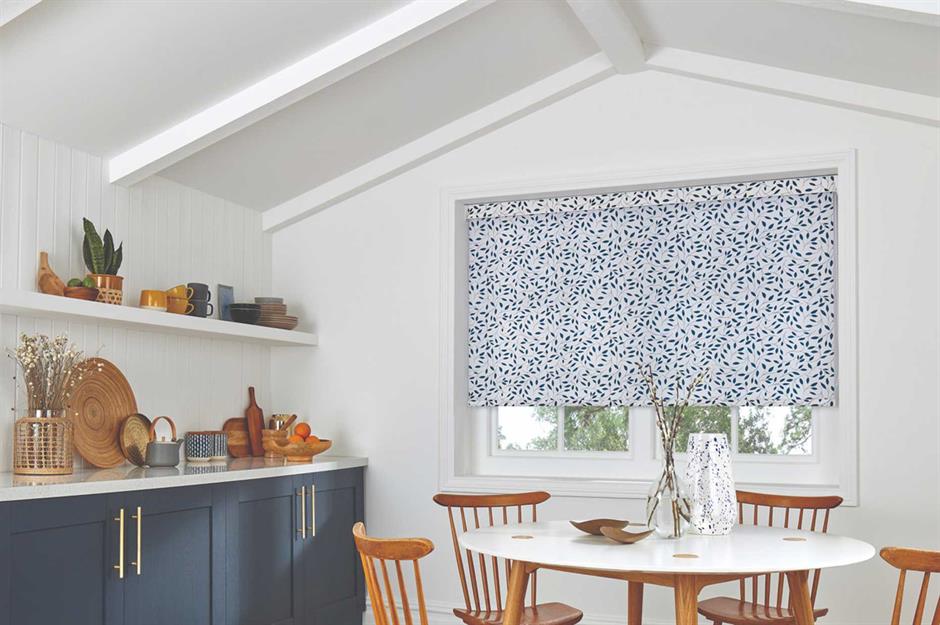 English Blinds
Whether you've got an amazing view to frame or not, carefully selected curtains or blinds will add an extra decorative element, as well as creating shade and privacy. If you have a neutral kitchen, a patterned textile could add a splash of personality, or if your kitchen is already full of colour, a neutral shade will look sleek.
Slot in a breakfast bar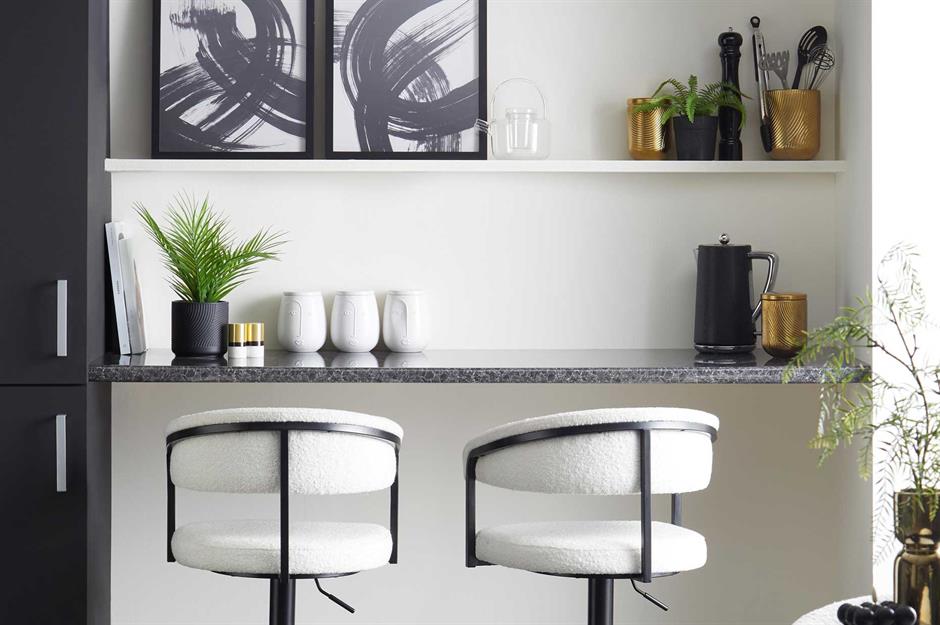 Dunelm
A handy breakfast bar shelf can add extra workspace in a tiny dining area with relatively little effort. Make use of spots you might not otherwise consider, like this small but perfectly formed work surface added to what could be an existing larder. Hooks for mugs add orderly style and decanting dry foods creates an endearing cook's atmosphere in the space.
Install a kitchen island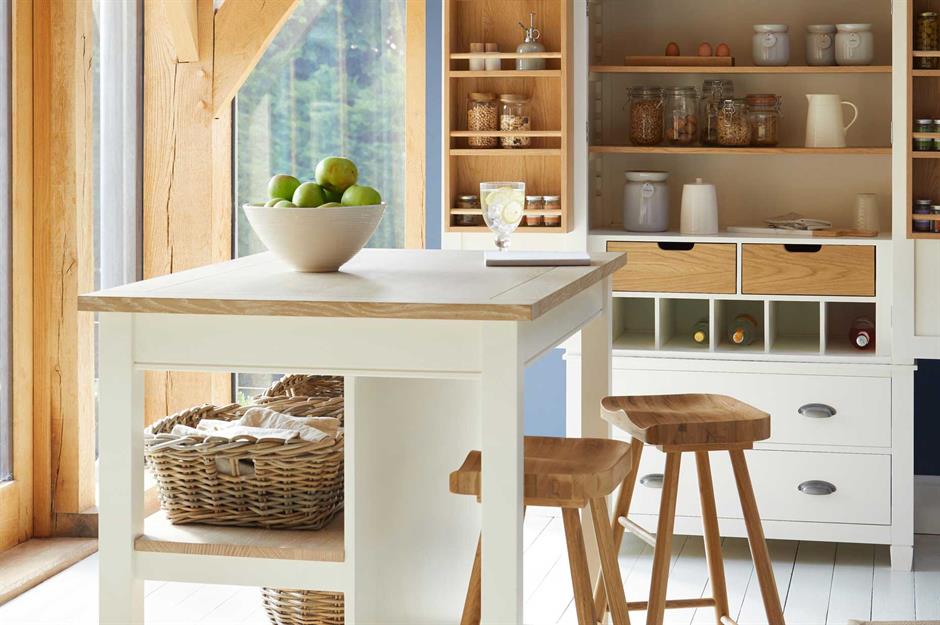 Dunelm
A kitchen island is often at the top of a new kitchen wish list and it's obvious why. Forgo the complete unit refit and simply purchase a freestanding island instead. A flat-pack model is affordable and makes great use of central space by creating an additional worktop, extra storage space and a small dining area. Plus, you can take it with you if you move too.
Choose chic small appliances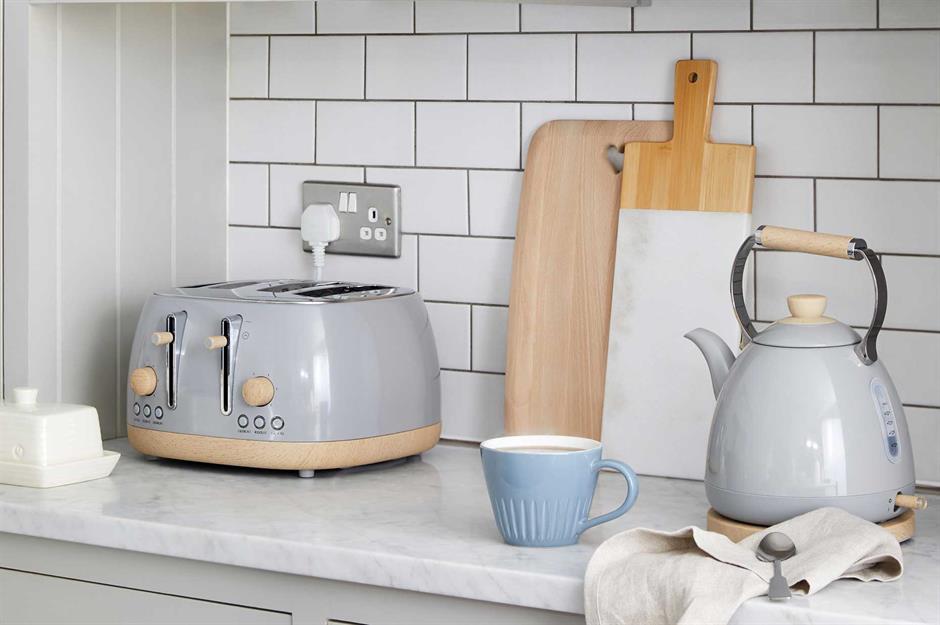 Dunelm
It's amazing how different a simple white or grey kitchen can feel once you add a few well chosen small appliances. Toasters, kettles and coffee machines in cool designs and colours will add personality to an otherwise bland kitchen. Look out for limited edition pieces for added interest.
Lay down a rug
Cult Furniture
Don't rule out rugs when revamping your kitchen. Adding soft furnishings to your space can really soften an industrial-style interior and create a cosy, homely aesthetic. Choose a colour that complements your cabinets and to avoid any accidents be sure to buy rug grips to prevent slipping.
Freshen up with metro tiles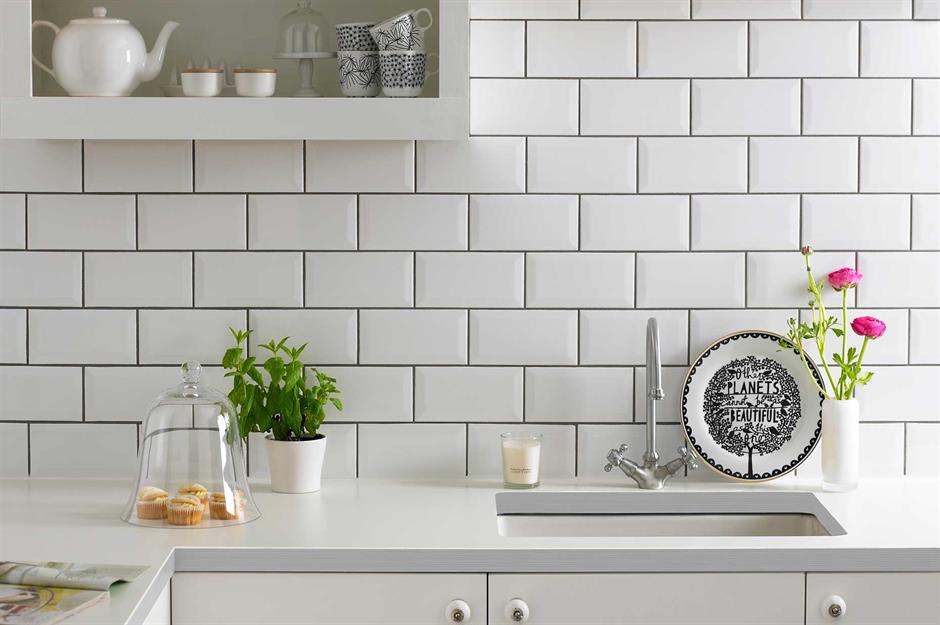 Topps Tiles
If you're looking for a timeless element, you can't go wrong with a metro tile. Harriet Goodacre, Brand Communications Manager and Tile Consultant at Topps Tiles, explains why: "It's a great choice for those looking for high style, but low cost. These versatile tiles can be used in a variety of laying patterns, from a classic brick bond to a bold double block herringbone, meaning you can truly stamp your creativity on your kitchen."
Label storage jars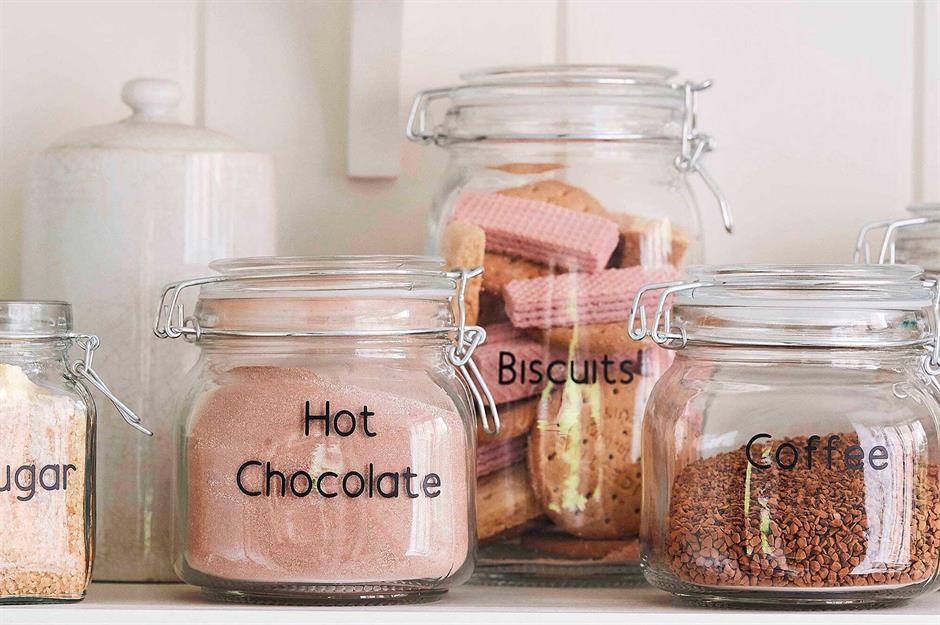 Hobbycraft
Dry goods decanted into clear storage jars look homely and stylish in equal measure. But, why not add order to your open-shelf display with easy homemade labels? A Cricut machine will give you a creative licence to design artistic versions that fit with your existing decor. Choose fonts and colours that complement your kitchen's style.
Paint up a butler table
Olive Barr
If you don't have the time or patience to re-paint a whole kitchen, choose one element for an easy update. Bar stools, a set of wooden kitchen steps or a chunky butler table will add a pop of contrasting or complementary colour to your kitchen scheme in a flash.
Stencil over an existing floor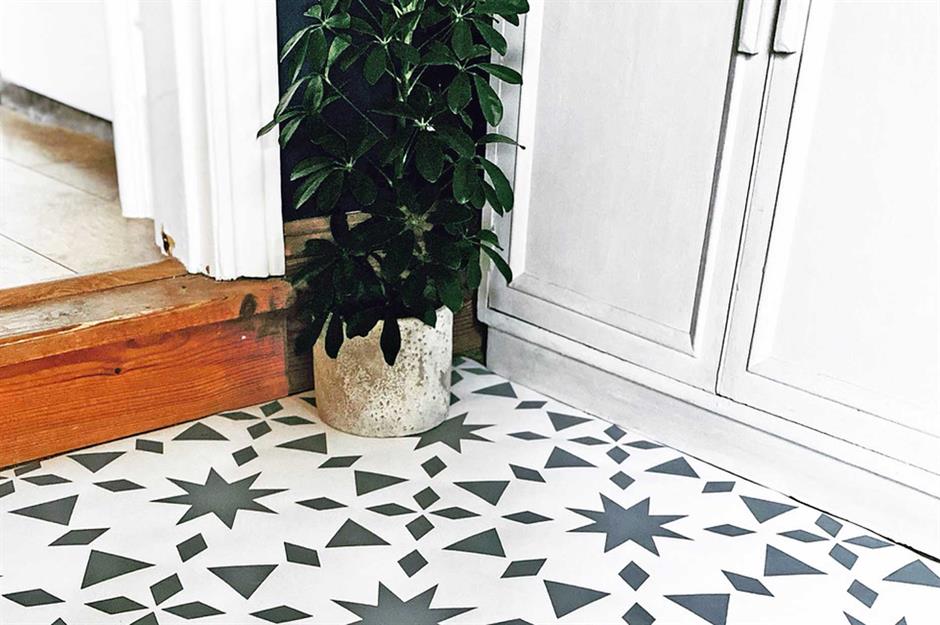 Nicolette Tabram Stencils
Floor stencilling is a hot trend hitting social media home feeds right now. It's a budget-friendly and easy move that can transform your kitchen floor in just a weekend. Interior influencers and floor stencil addicts such as @Iamhayleystuart and @Carlaelliman recommend using minimal paint while stencilling and always cleaning your stencil as you work.
Install and paint panelling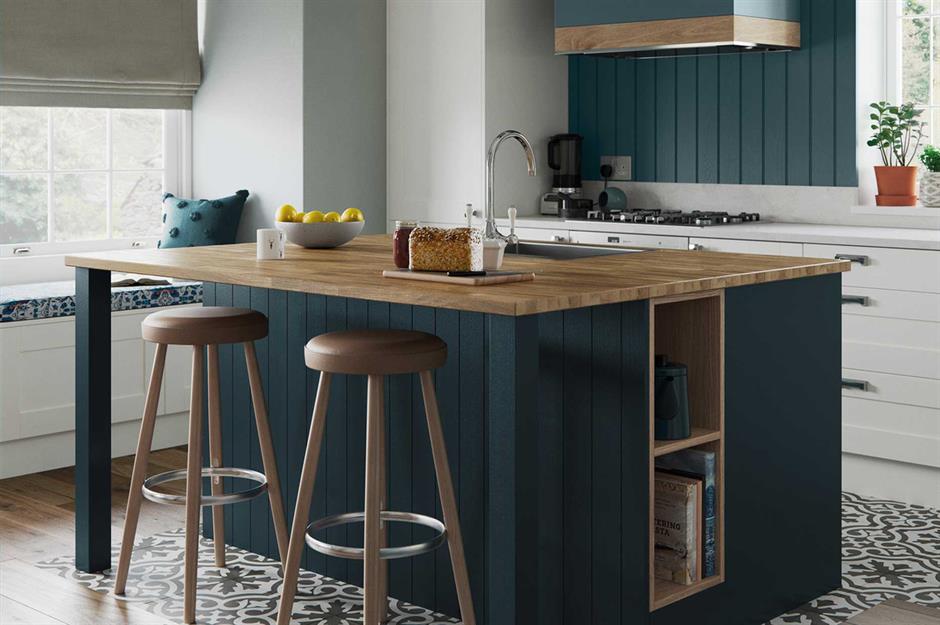 Aura Kitchens
Wall panels can make a rustic alternative to tiled splashbacks and look the part in farmhouse-style kitchens. EASipanel Tongue & Groove Wall panelling is water-resistant primed and can be easily cut down to size, minimising joins. The cladding can look stunning as a kitchen island feature too.
Pimp up the extractor hood
@girl&grey / Instagram
We are so in love with this easy kitchen update created by Girl&Grey! An otherwise unappealing kitchen extractor hood has been wrapped in organic-style sheets of slatted wood. The feature lends itself perfectly to the 'mountain cabin style' that owner Courtney was trying to achieve.
Grow a herb garden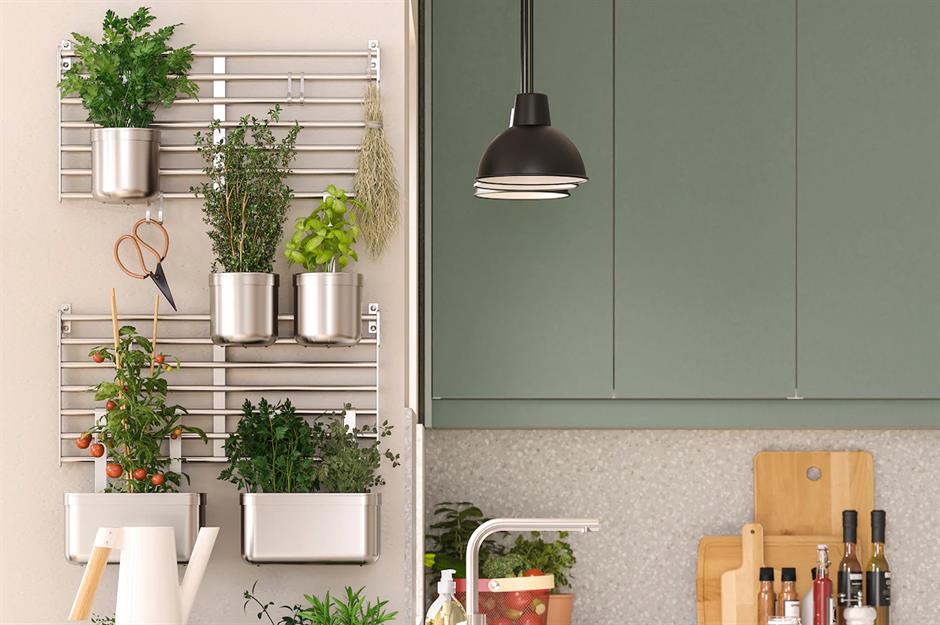 IKEA
Fancy growing your own? Introduce some greenery into your kitchen with an indoor herb garden. Not only will you have fresh herbs on hand to spruce up your dishes, but they'll fragrance your kitchen with their heavenly aromas too. If you don't have green fingers, fear not, some high-tech containers are even self watering.
Install LED lights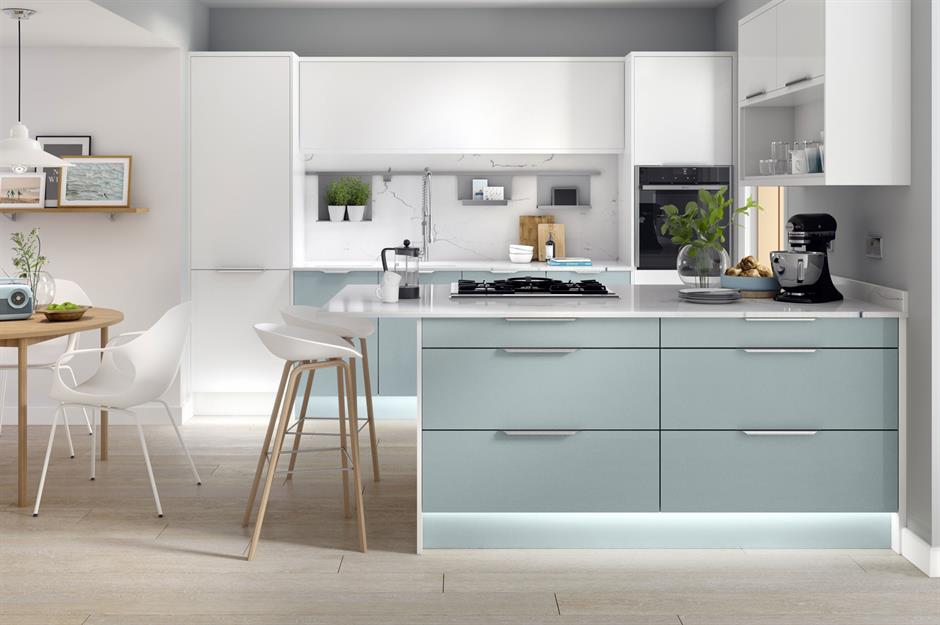 Second Nature
Installing LED strip lights under kitchen cabinets or plinths is an easy DIY method to illuminate your kitchen without having to enlist the services of an expensive and time-consuming electrician. The little strips of light-emitting diodes can be cut to size or connect for a seamless fit.
Freshen up the tile grout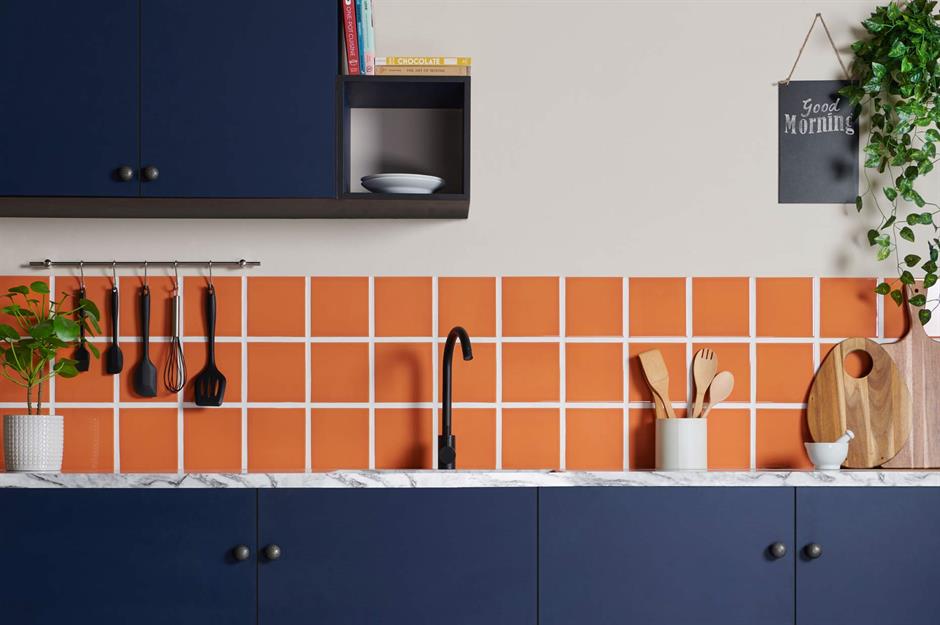 Walls and Floors
Give tired kitchen tiling a new lease of life by going for a grout makeover. If you are a dab hand at DIY, you can remove the old grout and replace it and there are plenty of tools to help with the labour-intensive task of removing the old filler. However, if that sounds like too much hard work, a grout pen can whiten existing grout and enliven the current tiles. Or, why not choose different colours for a completely new look?
Replace a door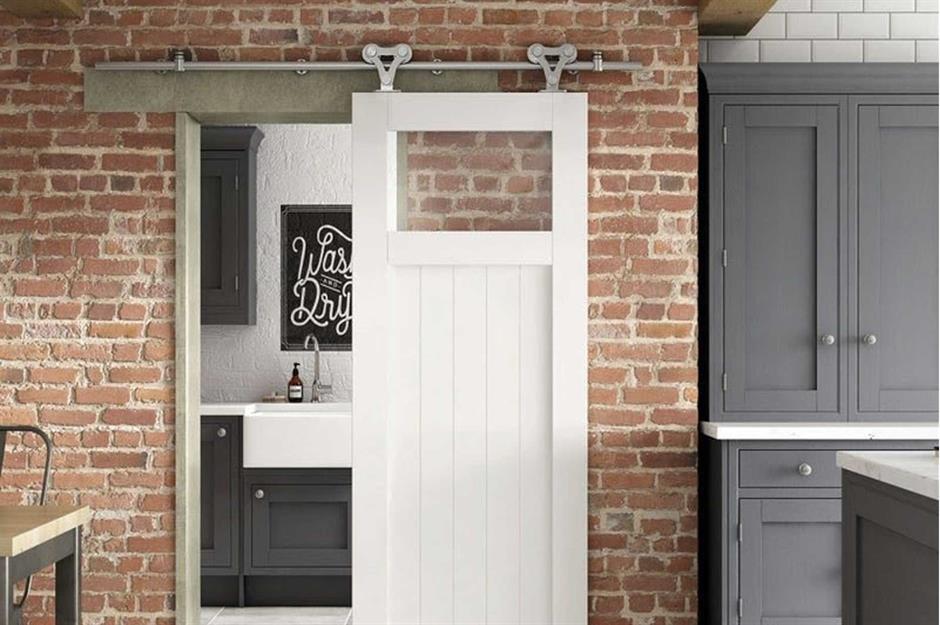 JELD-WEN
Whether it leads to a pantry, utility room or garden, transforming an old door with new look will give a kitchen a fresh twist. If you have room either-side, a sliding barn-door is rustic and fun. Or, why not jazz up a plain uPVC door with a lick of specialist paint in a bold colour?
Switch cupboard handles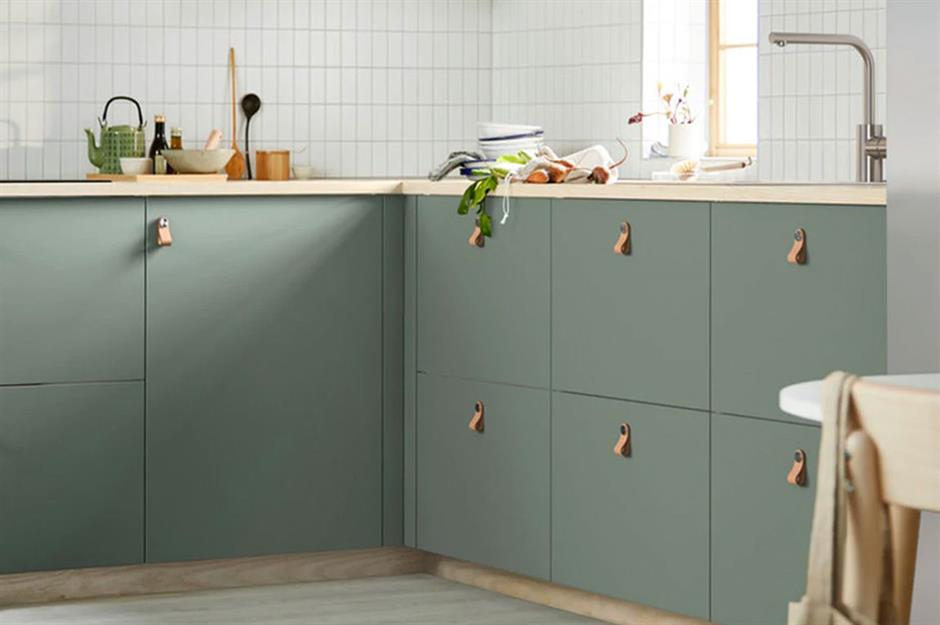 IKEA
Changing your kitchen cabinet handles, knobs, or pulls can be a simple way of refreshing dated kitchen cabinets. However, before you commit to a whole new set of hardware, remove one handle first and take note of the holes left behind. Any new handles will need to fit this gap or cover it up. Alternatively, you can use wood filler, but this will lengthen the project.
Highlight the kitchen island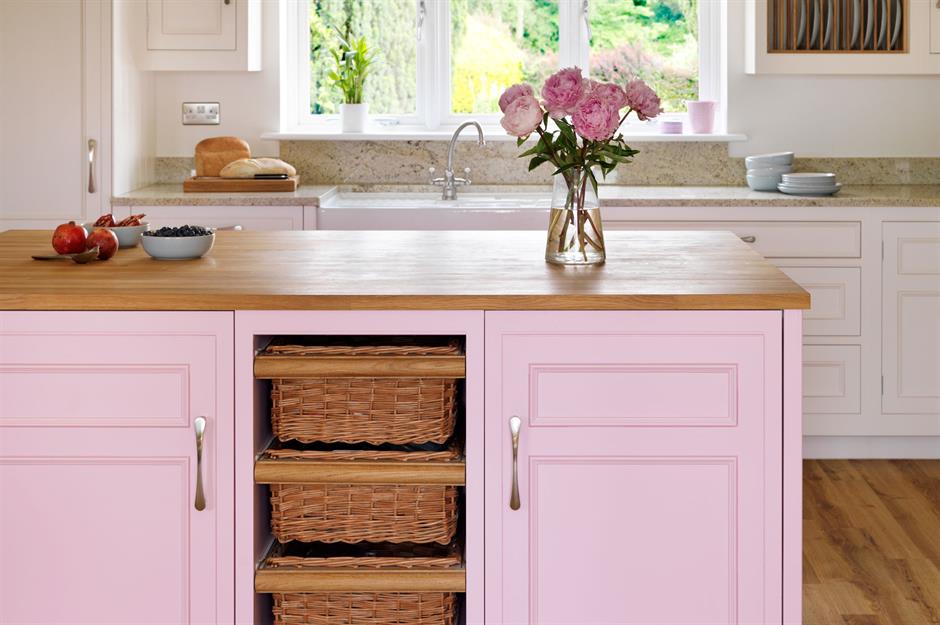 Harvey Jones
If you don't have the time or budget to repaint a whole kitchen go for an area that can be transformed into a focal point. This kitchen island creates a statement when painted a sugary pink. Tie the new hero piece into the kitchen scheme by adding a few choice accessories, in this case a vase of pink roses.
Swap out bar stools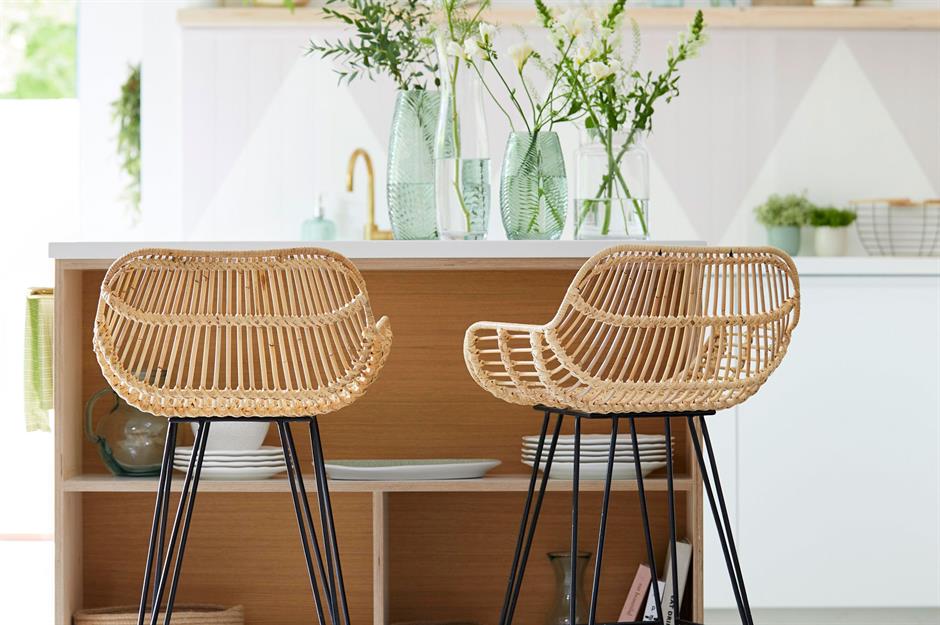 Dunelm
Want to keep your standard kitchen on trend? Choose affordable yet stylish furniture that can be easily switched as fashions or your tastes change. These wicker and metal bar stools inject an up-to-date natural tone and stylish texture but can easily be dressed up or down with soft furnishings in on-trend colours.
Add a paint effect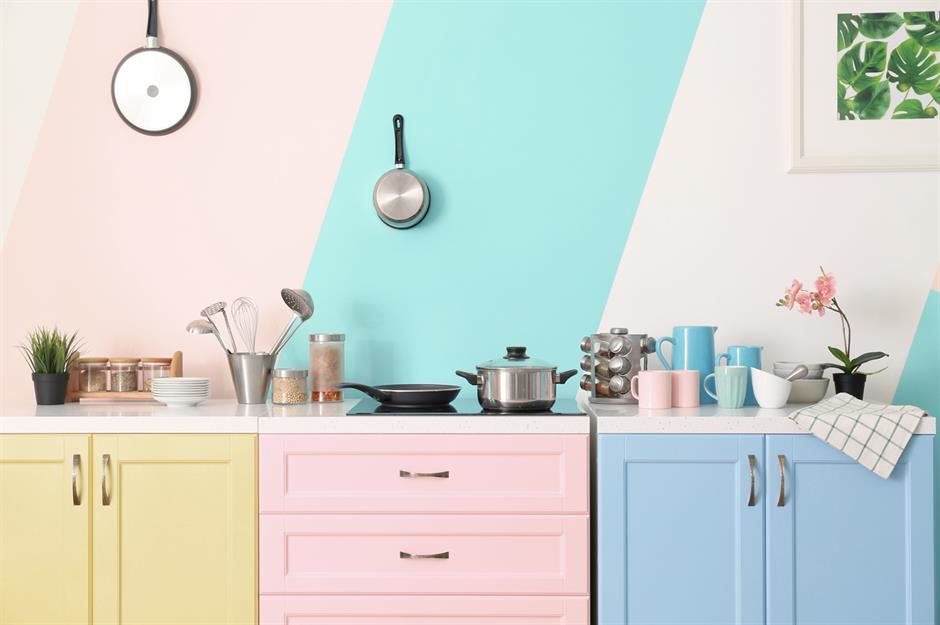 Africa Studio / Shutterstock
Creating a colourful paint feature on your walls can really elevate your existing kitchen. Opt for a tonal stripe just above the worktops to disguise any nuisance marks, or go big and bold with a geometric pattern. Use painter's tape to mark out your design to keep lines clean when you paint.
Replace cupboard doors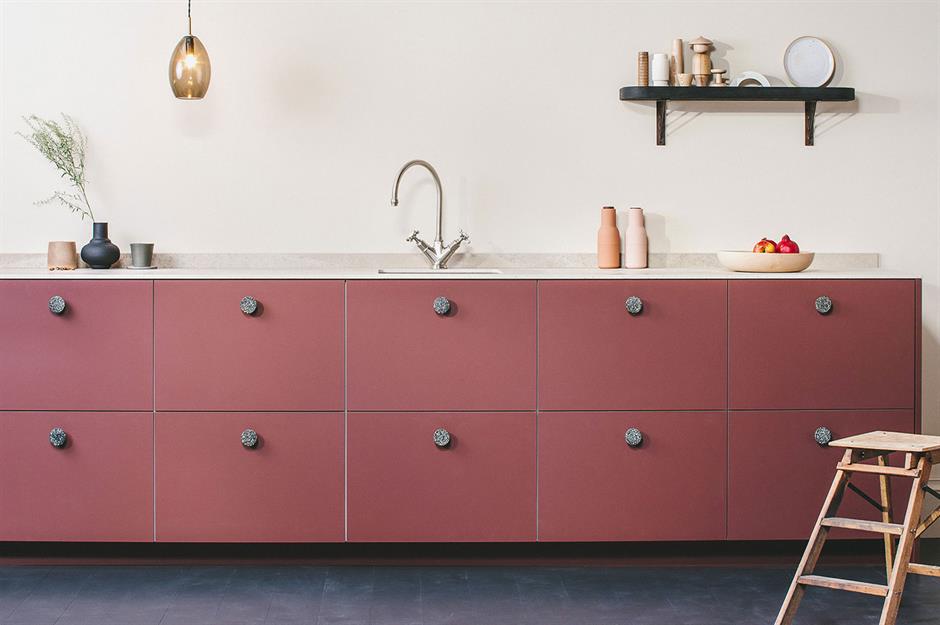 HUSK
You don't need to rip out a whole kitchen to transform your space. If you're still content with the existing layout, leave the kitchen carcasses as they are and install shiny new cupboard doors. You'll get the look of a brand new refit at a fraction of the cost. Do some research to find the correct fit — you could enlist the original kitchen fitters or go with a door replacement specialist like HUSK which transform IKEA or Howdens kitchens.
Install shutters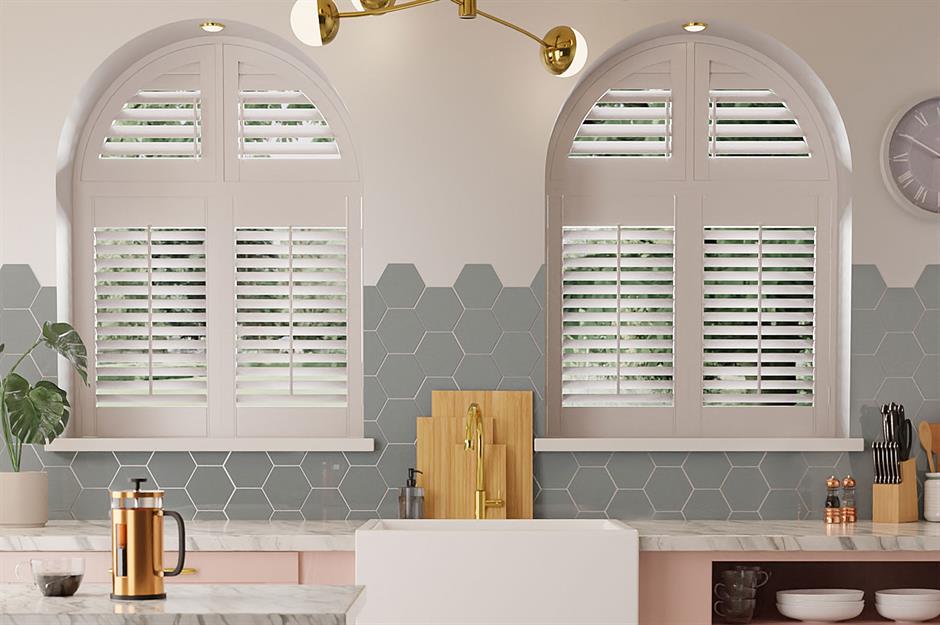 Dunelm
The correct window dressings can really make a room. Shutters are smart and practical in the kitchen and are an excellent choice as they take up less room than blinds, keeping windowsills clear. What's more, if food or water spills onto them they can be easily cleaned to look like new.
Fake a splashback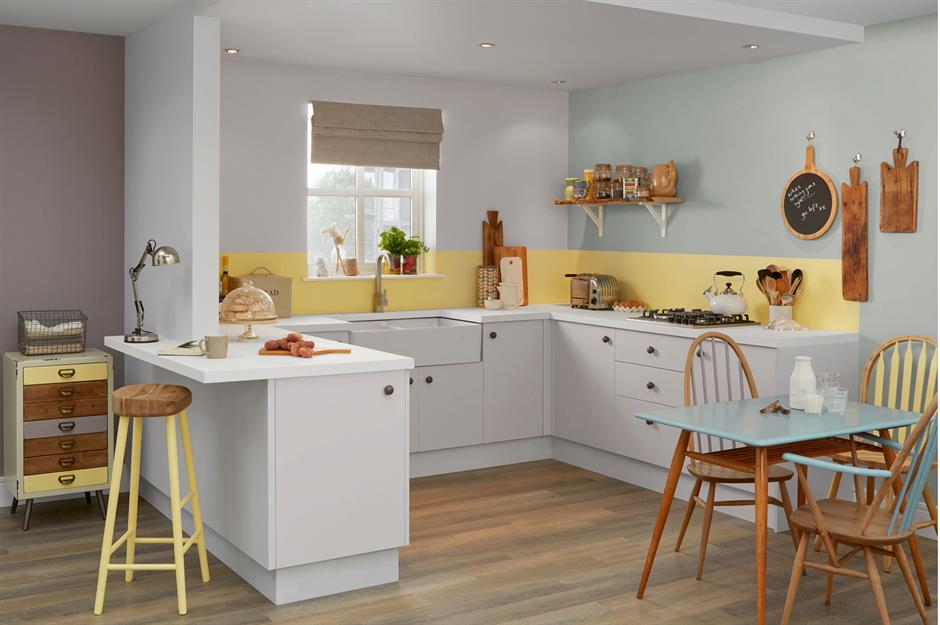 Crown Paints
An alternative to tiling a splashback, a coat of hardwearing paint can protect vulnerable areas. Paint a band of contrasting colour above worktops to create a splashback effect that can be scrubbed and wiped regularly. Here, a refreshing lemon tone brightens the look of this classic grey kitchen.
Create a tiled feature wall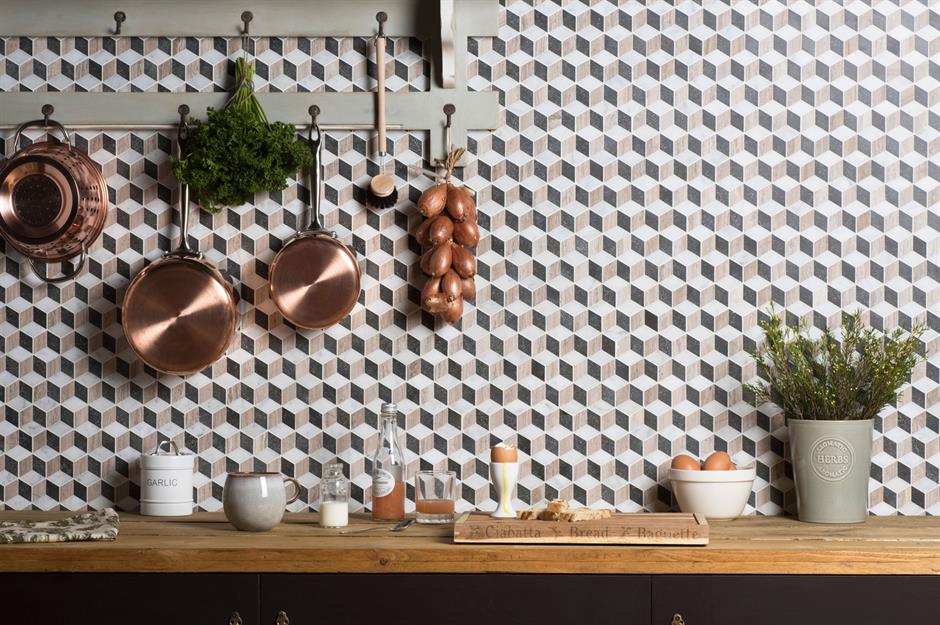 Original Style
Wall tiles can make a striking statement, especially if you opt for bold designs. And even classic metro tiles can look unique if you use a different tile pattern such as a herringbone layout. Luckily there's a tile for every budget. Here, three-dimensional tiles add geometric depth to this modern kitchen scheme.
Revamp with stickers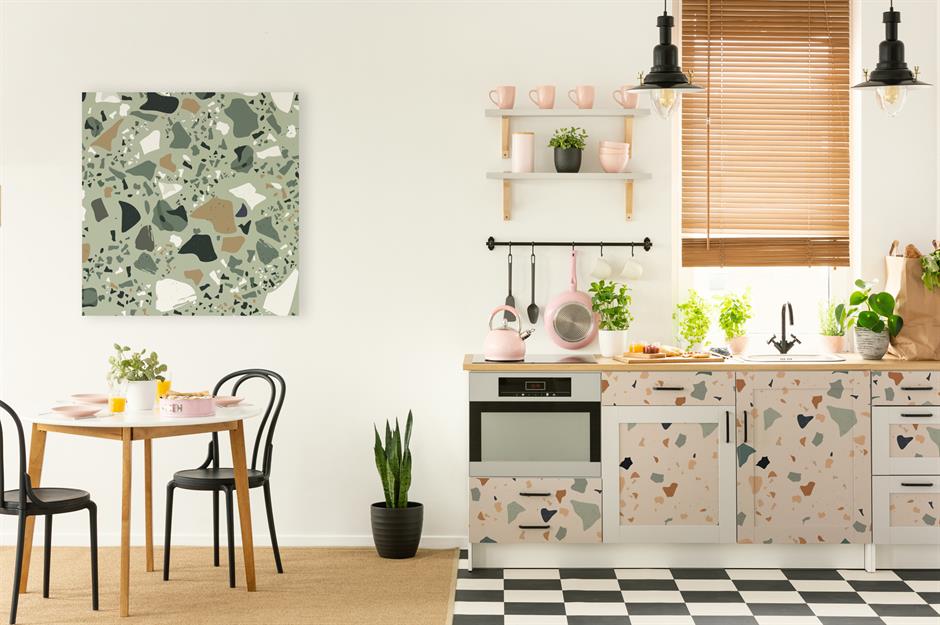 Pixers
For another easy way to revamp tired kitchen cupboards, opt for patterned self-adhesive vinyl or stickers. In this plain white kitchen, pink terrazzo adhesives impart bags of personality in a playful pastel print. For a final flourish, carry the pattern across to your dining area with a matching wall canvas.
Update your fixtures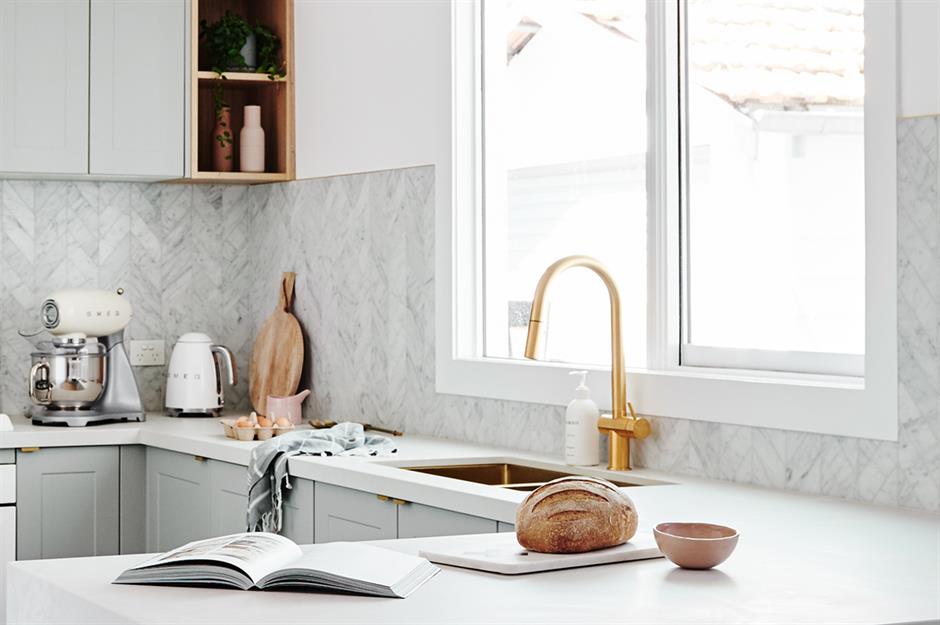 Norsu Interiors
If your chrome kitchen tap has seen better days, inject a touch of bling into your kitchen by replacing it with an ultra-modern gold mixer. Or for an edgier scheme, try a chic matt black tap instead. Whatever your choice, a simple fixtures update can make all the difference.
Go for opulent extras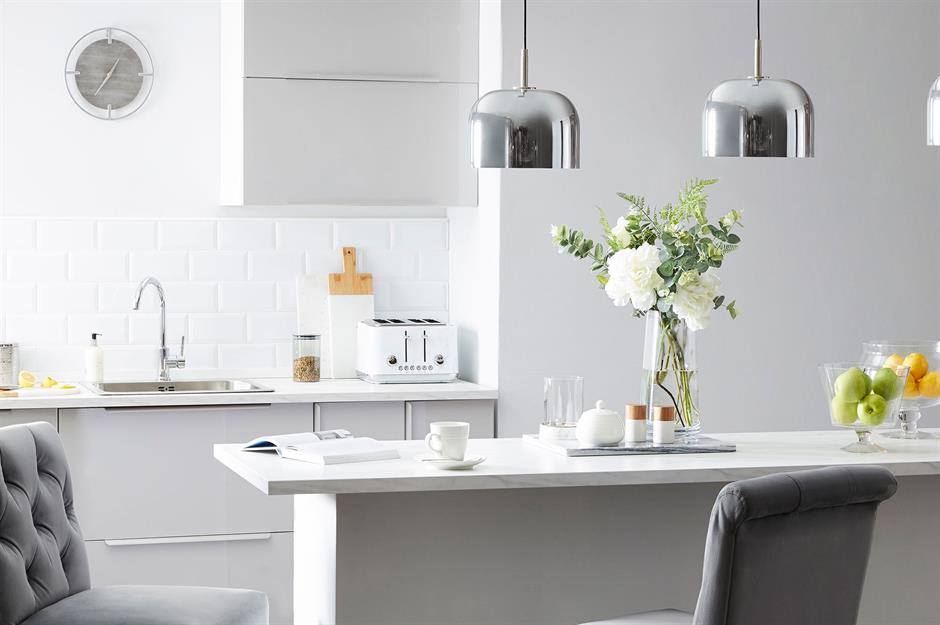 Dunelm
Rejuvenate the look of a neutral kitchen with a few luxurious additions. Highlight a kitchen island with a trio of chrome pendant lights that reflect light and finish the deluxe vibe with plush button cushioned seating.
Mount a peg rail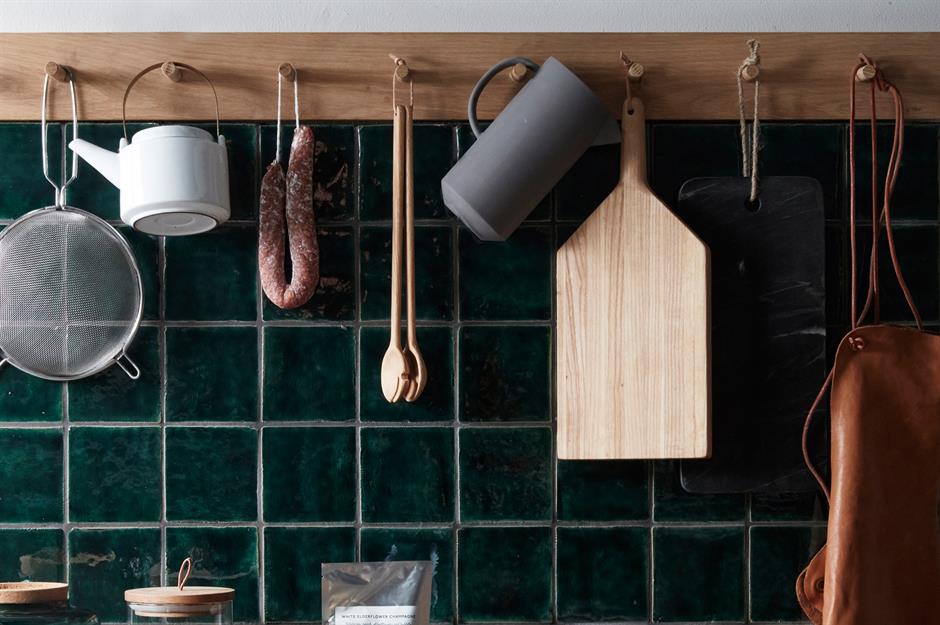 Printer + Tailor
A sturdy wooden peg rail will make a timeless and practical addition to any kitchen, whether traditional or contemporary. Hang utensils, cookware and storage baskets to instantly boost your kitchen's storage capacity and free up valuable worktop space.
Put your wine on display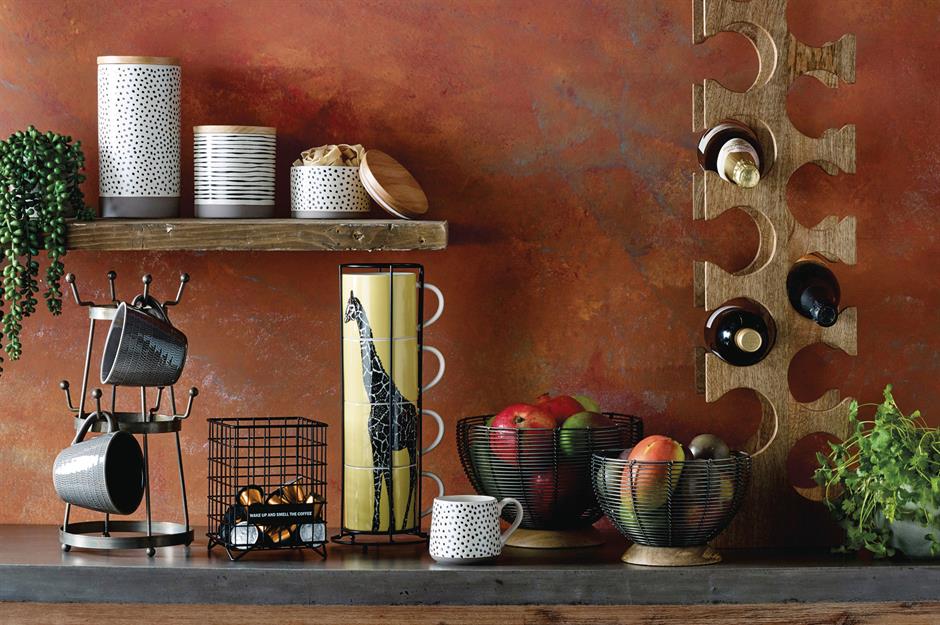 Next
Instead of piling up bottles or cases of wine in the corner, put them out on display in a wine rack. Whether it's wood, metal or even a crafty upcycle project, a statement storage solution will add interest to your kitchen, as well as making worktops more orderly.
Pick a standout feature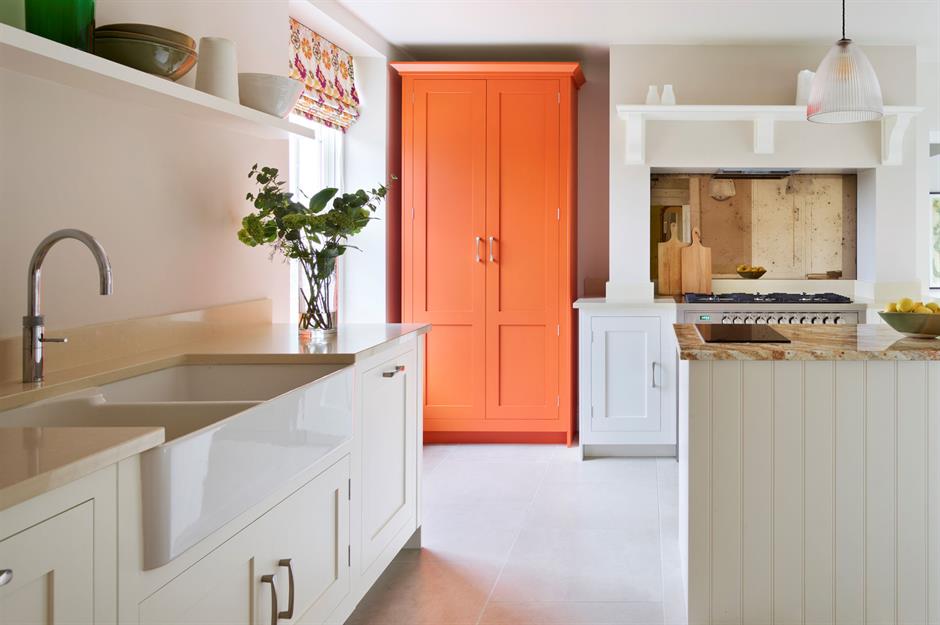 Harvey Jones
If you're not a fan of overly bright or colourful kitchens, keep it simple but add one standout feature to grab all the attention. A vibrant dresser, architectural lamp or enormous plant converts a previously traditional space into an interesting one in a flash. We love this unit painted in a zesty orange.
Switch up the splashback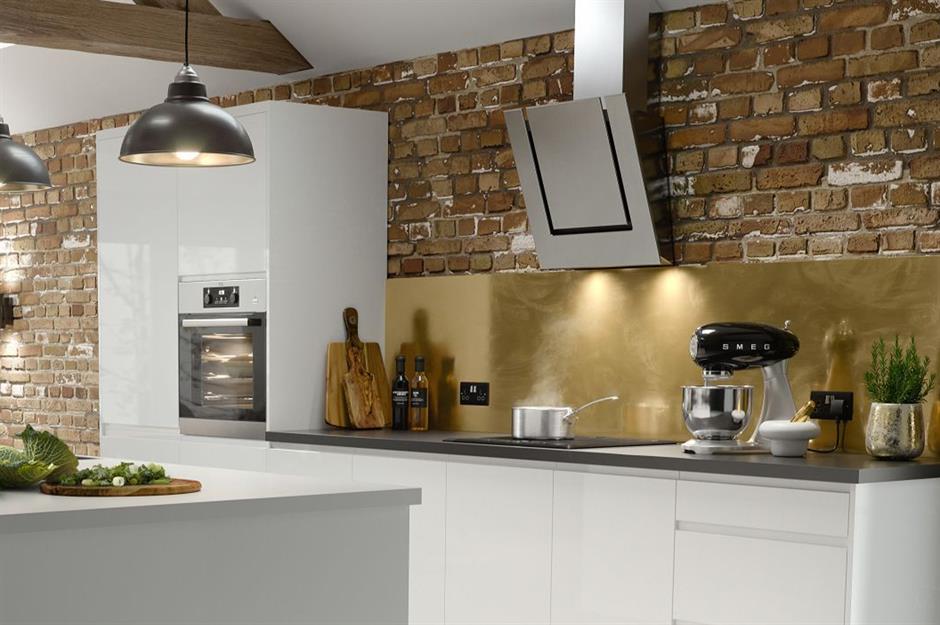 Wren Kitchens
To transform the look of your kitchen, you don't even have to touch the units. Installing a colourful splashback can add a fresh pop of colour and texture without overwhelming your existing design. From block colours to bold patterns and even opulent metallic finishes, there's no end of choices.
Keep storage cohesive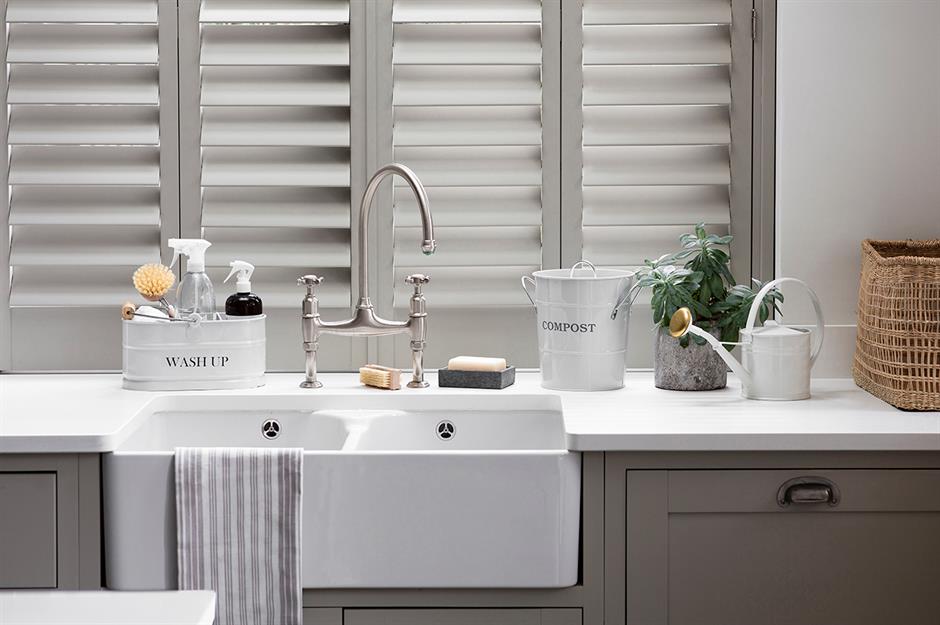 Garden Trading
Give a busy kitchen streamlined order with coordinated savvy storage units. Tidy cleaning bottles and brushes into a caddy and keep a row of matching seagrass baskets on the worktop for any stray bits and bobs. Bigger versions will look smart above kitchen cupboards to keep larger objects out of sight.
Revamp an old dresser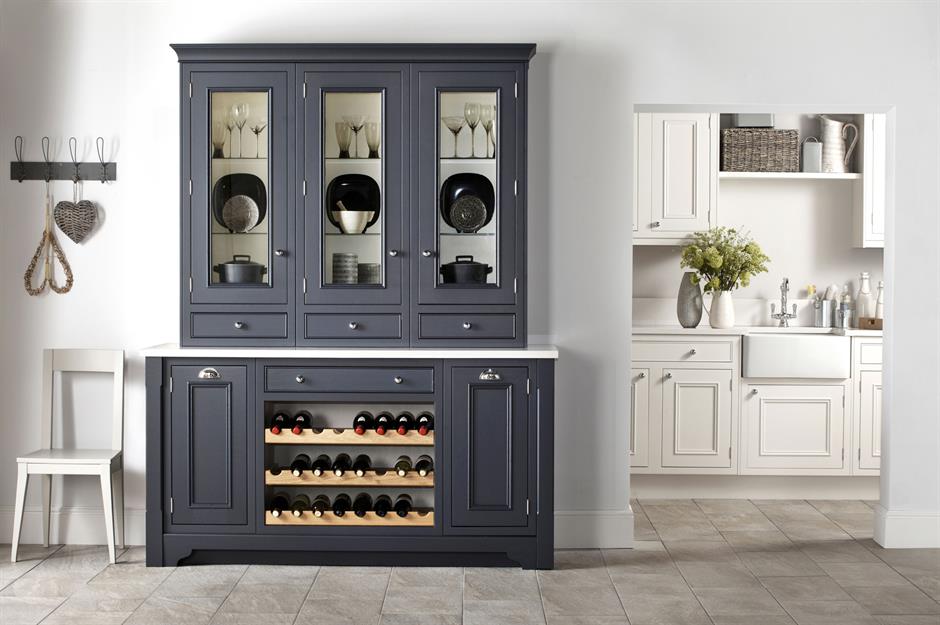 Burbidge Kitchens
A good quality kitchen dresser is the perfect kitchen storage solution and it needn't cost a fortune. Upcycle a worn-out model with a fresh coat of paint and new handles. If your dresser is fitted with glass doors, make sure you put your best crockery on show.
Add a statement clock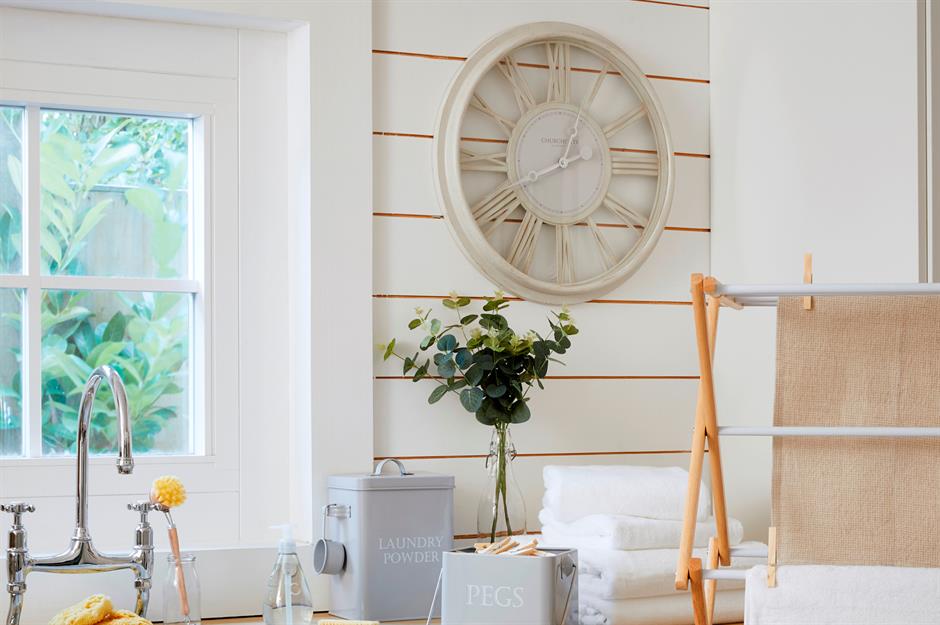 Dunelm
Bring some interest to a plain wall with an oversized statement clock that matches the style of your kitchen. It'll create a cool focal point and keeping track of time might prove useful when it comes to the cooking too…
Replace your worktops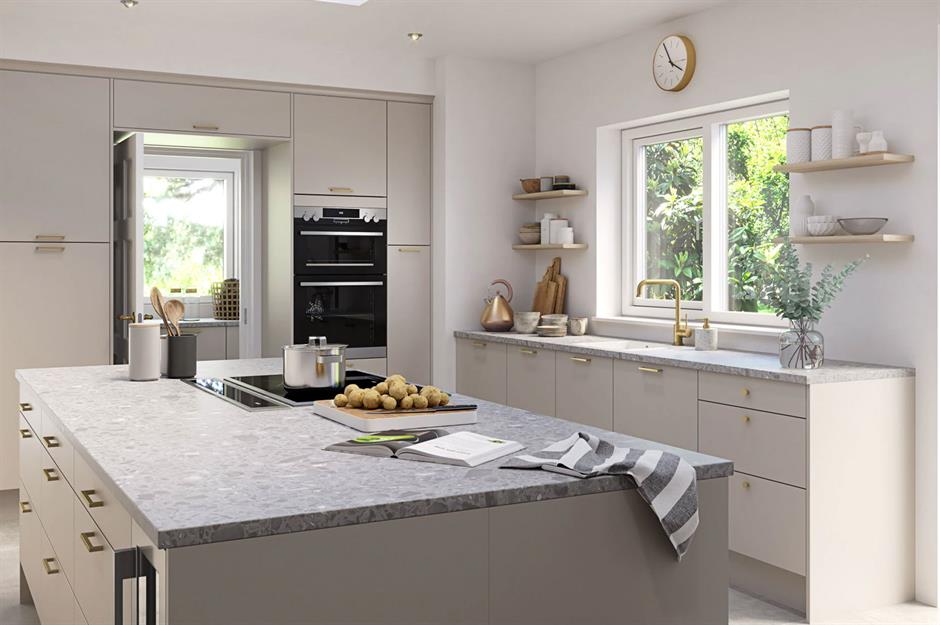 Magnet Kitchens
It might sound pricey, but replacing your kitchen worktops could be less expensive than you think. Opt for a new laminate, faux marble or wood finish and you'll be surprised by how much it updates the space.
Install a statement cooker hood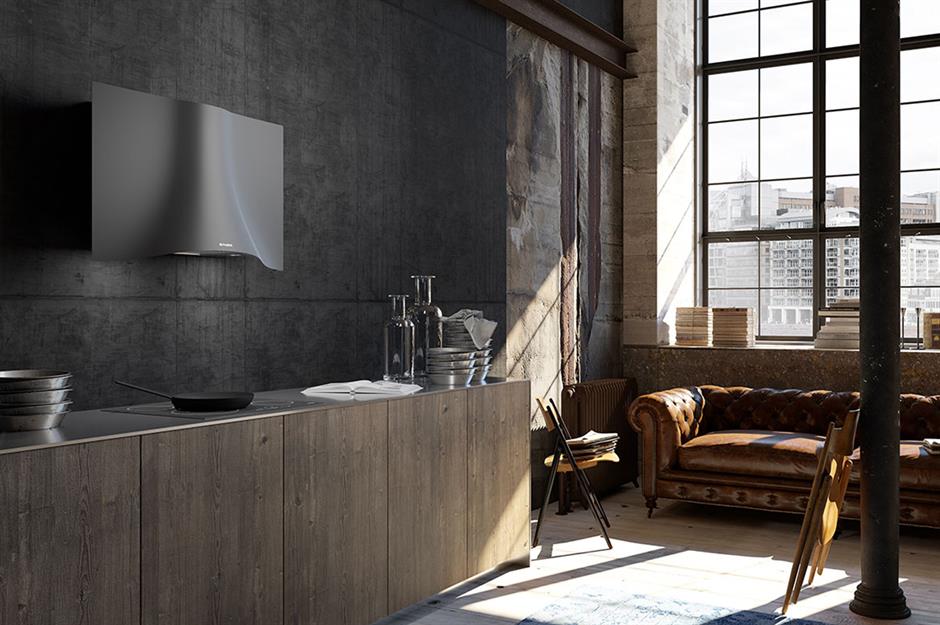 Angel Appliances
Update your cooker hood for a fast makeover. From sleek metallic models to stylish sculptural shapes, there's a whole array of quirky designs out there to choose from. Opt for something with real architectural impact, it'll instantly lift your existing units.
Have a reshuffle
Harvey Norman
If you usually keep books, spices or mugs on open shelves, consider moving things around to give your kitchen a fresh look. Start by decluttering — it's amazing how freeing up space can create the illusion of a bigger kitchen.
Show off elegant accessories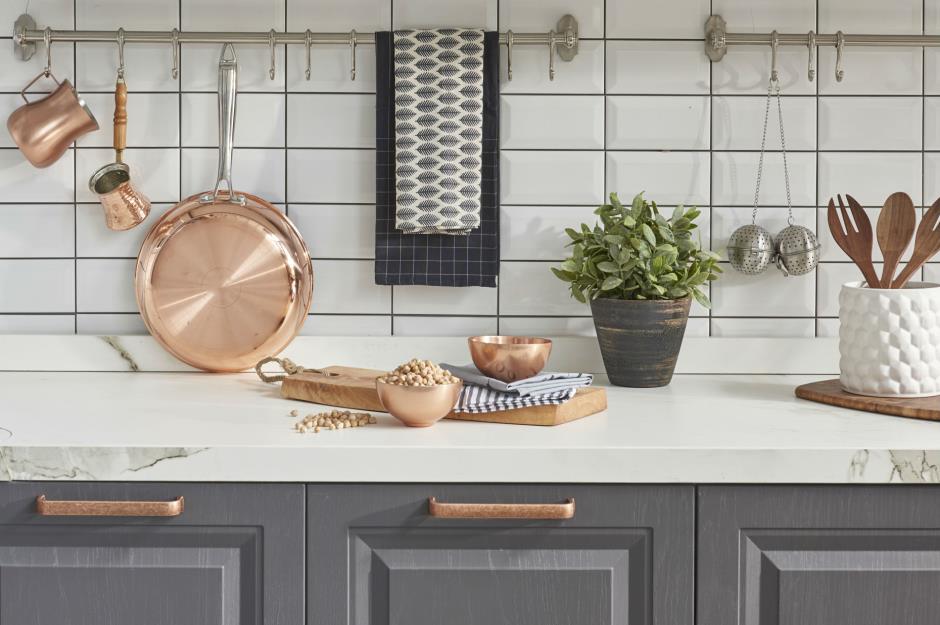 united photo studio / Shutterstock
Minimalism may be on trend, but displaying your prized kitchenware never goes out of style. Leave out some well-selected, beautiful accessories in complementary tones for a sophisticated vibe. Copper pots, pans and mugs mounted on a wall rail will work well when paired with tea towels and plant pots in darker shades.
Add an upstand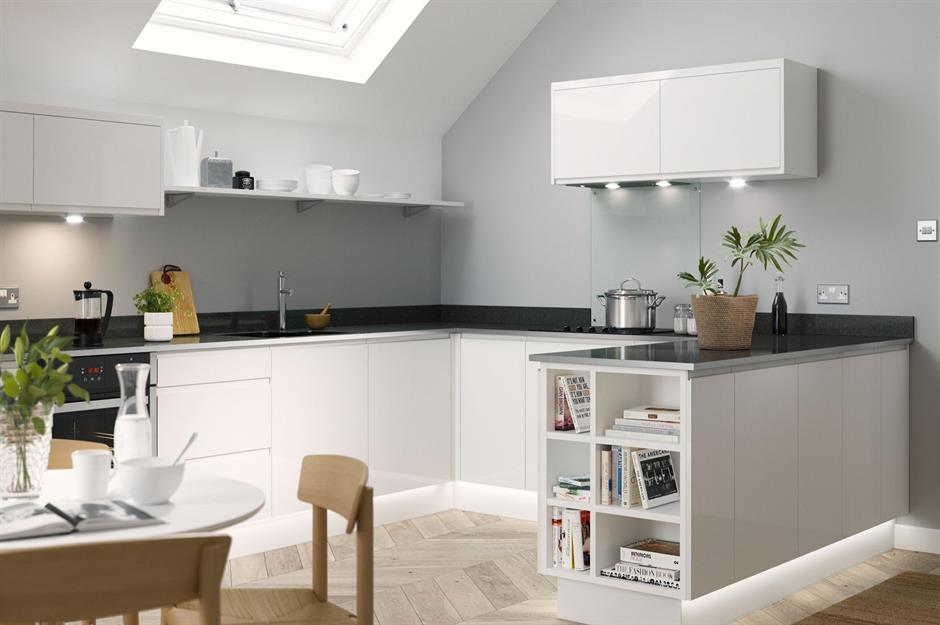 Wren Kitchens
If you're working with a tight budget and don't have the funds to splurge on an expensive splashback or lots of tiles, an upstand, an extension of the kitchen worktop which goes a short way up the wall behind the worksurface, will protect walls and give a polished finish at a fraction of the price.
Paint dining chairs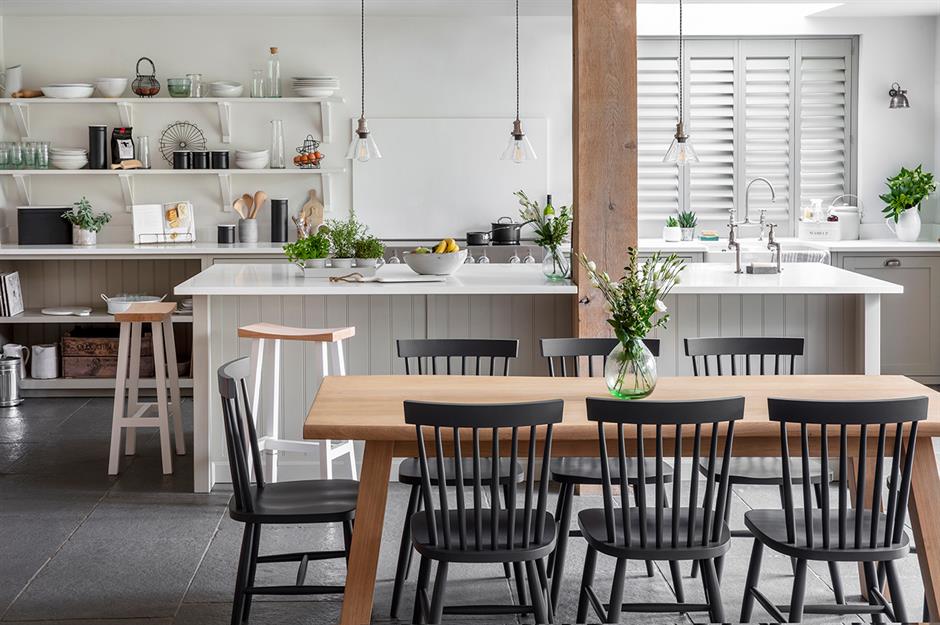 Garden Trading
We do love a quick furniture revamp. For an easy DIY idea, consider transforming existing kitchen dining chairs with a coat of furniture paint, it'll make the world of difference. For an on-trend look, embrace black, or for a softer feel try a two-tone finish in blush pink and white.
Lay fresh flooring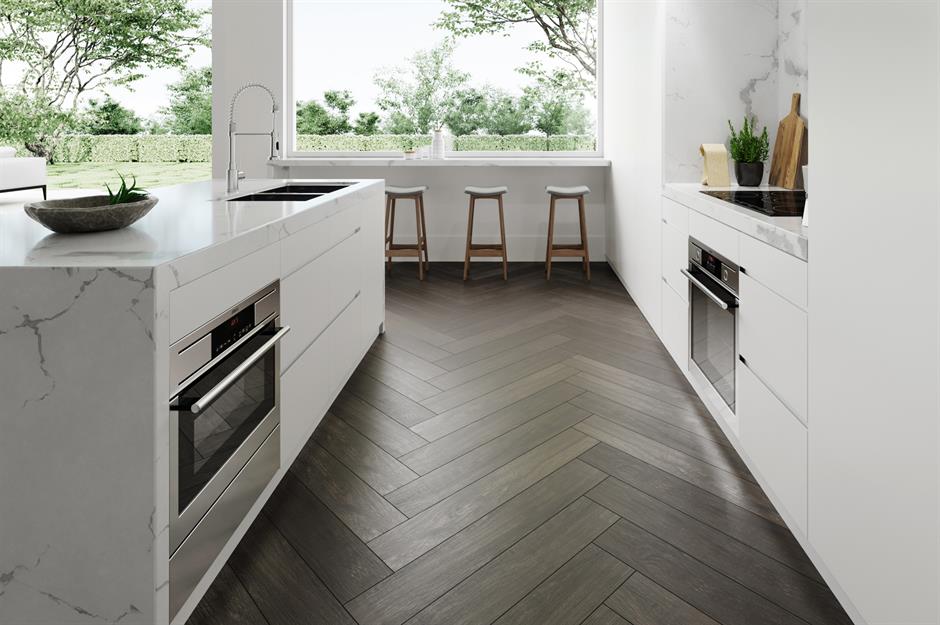 Tile Mountain
A new floor can spruce up a room no end. Herringbone designs are a stylish way to add refinement and elegance to your space. If you're not lucky enough to have original parquet floors, cheat the effect with lookalike tiles or laminate copies which can easily be laid.
Decorate with art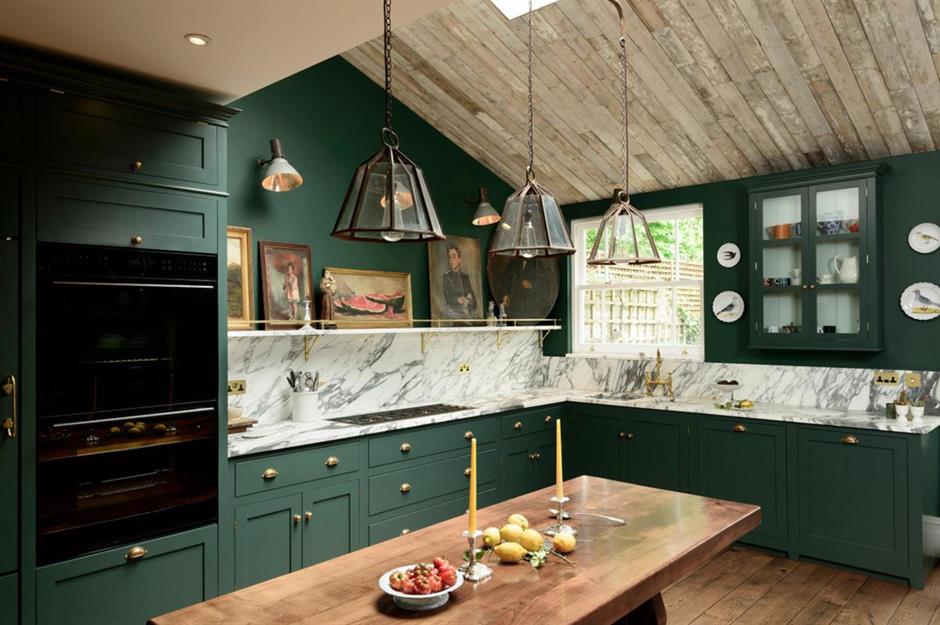 deVOL
Artwork isn't just for bedrooms and living rooms, so liven up your kitchen with paintings or prints. Whether you go for black and white photography or perhaps a food-related print in an interesting frame, it'll add a beautiful bohemian feel to your cooking space. Here, vintage pieces add to the heritage feel of this forest green kitchen by deVOL.
Replace doors with fabric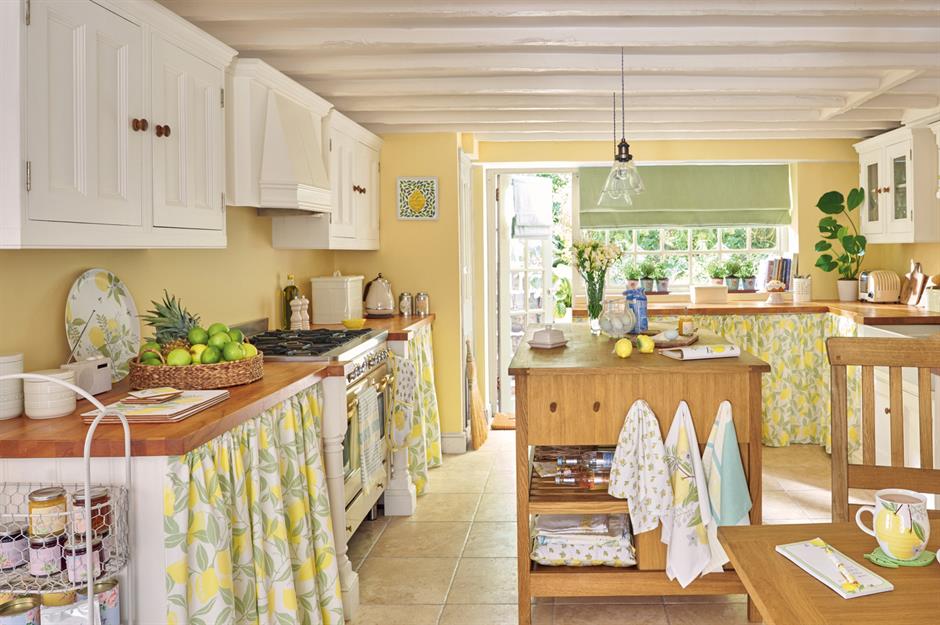 Laura Ashley
Fabric skirts have been used in place of kitchen doors for many years and seem to be making something of a comeback. Whether you choose just one skirt under a butler sink or go for a whole run of material, it can be an affordable way to introduce colour and texture into your kitchen. Plus, if you use fusible webbing, it's an ideal no-sew project.
Add a chalkboard wall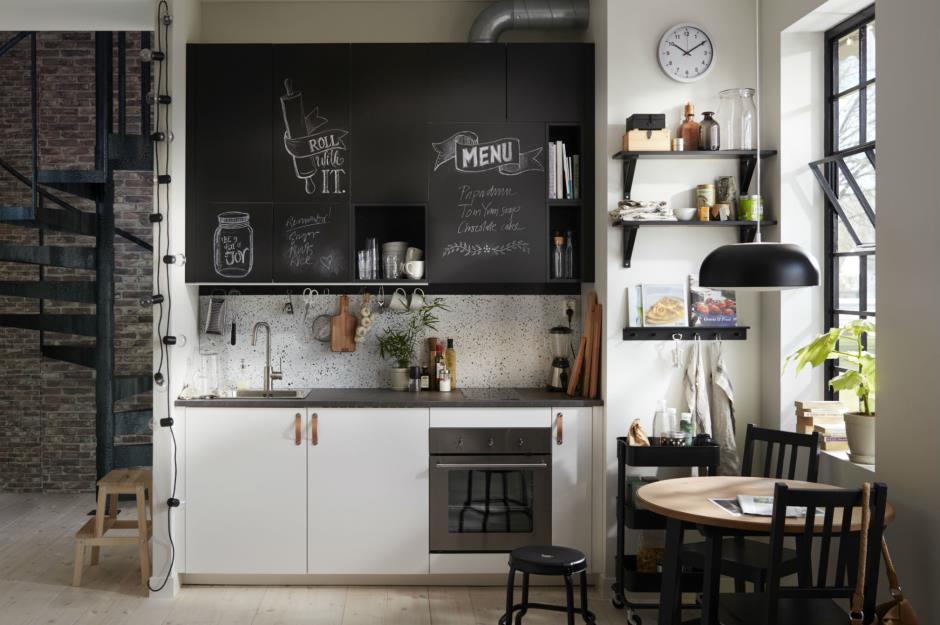 IKEA
Give your kitchen an instant modern update with a chalkboard painted wall. This fun feature will make organisation a breeze. You could scribble to-do lists, motivational quotes or simple notes to other members of the family or housemates.
Roll in storage space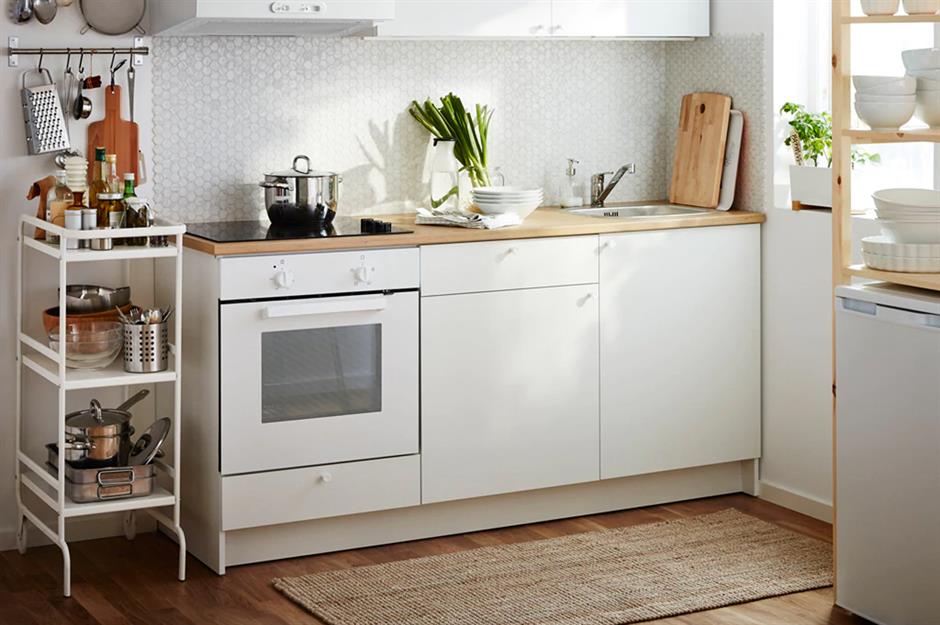 IKEA
If you're after extra storage space, buy a kitchen trolley that will fit seamlessly into your scheme. It can even double up as a serving unit for food and drinks, as well as providing an extra workspace for when you're cooking up a storm.
Display chopping boards
Dulux
Bring natural textures into your kitchen by displaying simple wooden chopping boards and serving platters. Hang an assortment of grains and sizes from a peg rail for a rustic flourish that keeps the worktops clean and uncluttered.
Complement with colour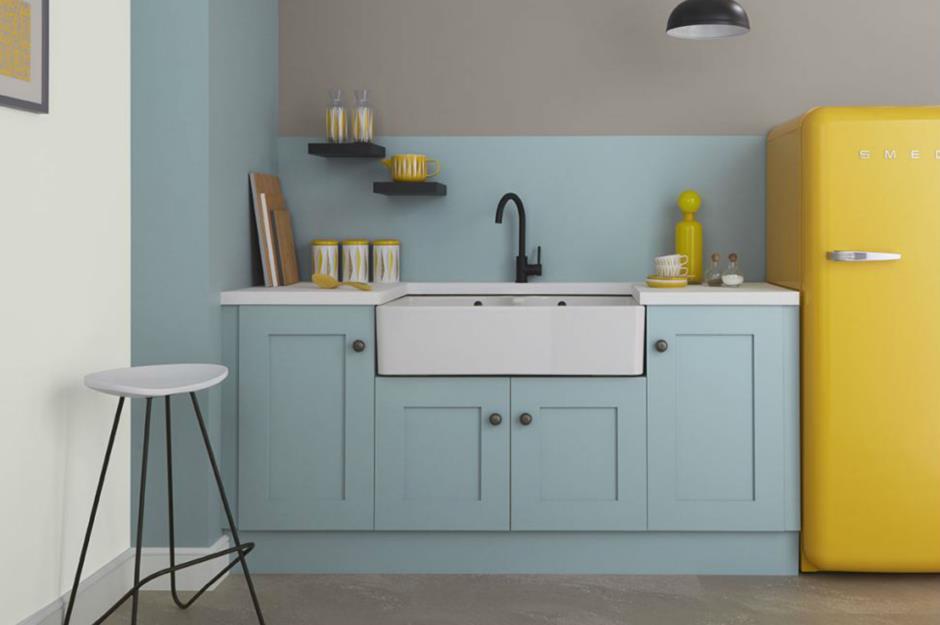 Crown Paints
If you can't repaint your kitchen, find accessories that will accentuate its existing colour. With a neutral or monochrome colour scheme, add in some bright accessories. You could be extra daring and opt for a canary yellow fridge, or go for gentle splashes of colour across storage jars and artwork. If your kitchen is already bright, accessorise with items in a complementary or contrasting colour combo.
Create whimsy with wallpaper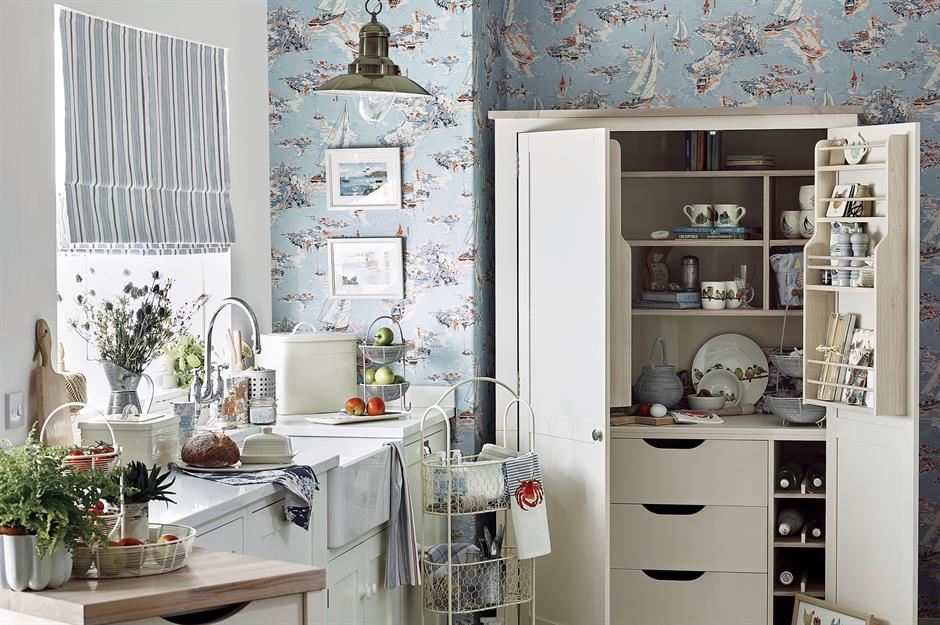 Laura Ashley
Wow-factor wallpaper might not seem like the natural choice for a kitchen but hear us out. It's a great way to add personality to a room, plus there are lots of hardworking wipeable versions if you're worried about splashes and stains. It can define an open-plan area or be the starting point for a theme, like this whimsical blue coastal motif which is carried throughout the room with nautical accessories and a fisherman-style pendant light.
Update kitchen linen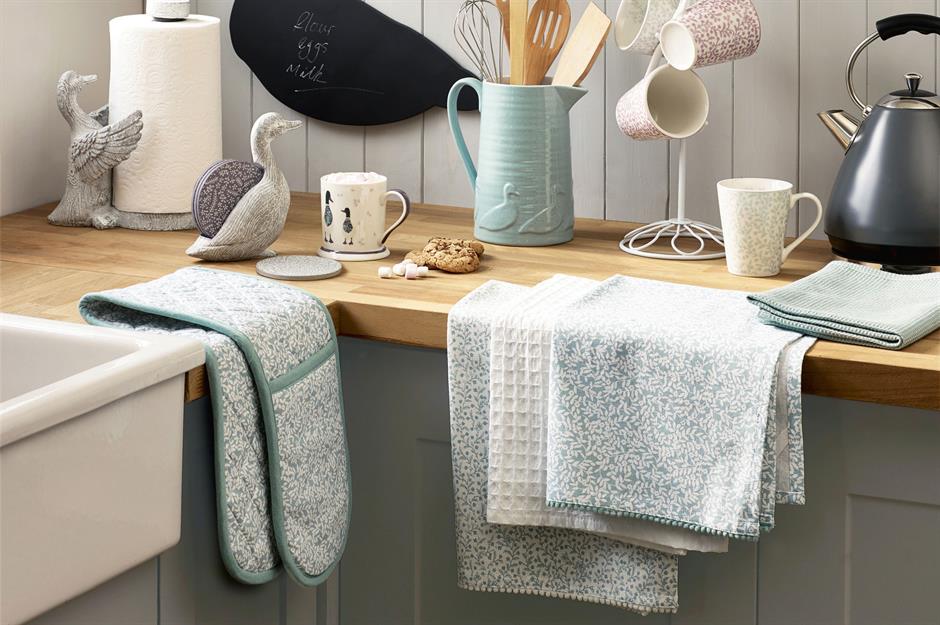 Next
A fresh set of tea towels, cloths and perhaps oven gloves is probably the easiest and most budget-friendly way to add a touch of newness to a kitchen. Choose shades and patterns that work with the seasons for instance, these aqua tones are suitably uplifting for summer.
Showcase your tea towels
Helen Russell Creations
Whether you're a budding chef or struggle to make toast, bring the gourmet feeling into your kitchen by hanging up bright aprons and tea towels. If you have space, a wooden ladder propped against a wall can act as an apron holder, but otherwise a few hooks will do the job just as well.
Make a feature of your cookbooks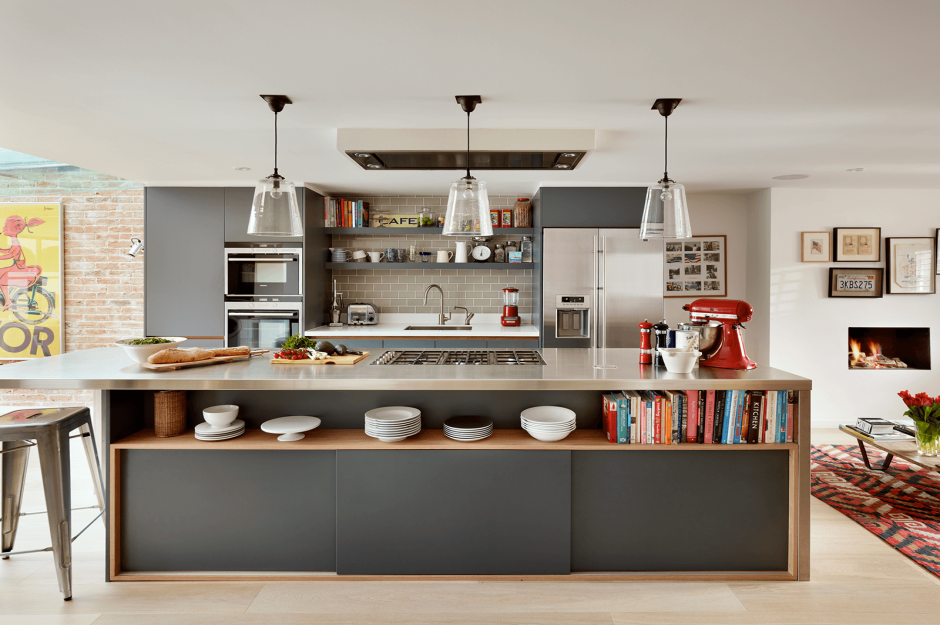 Roundhouse
No kitchen would be complete without a great cookbook collection. Arrange them on a picture rail to display each cover individually, stack them on top of each other on the worktop or, as in this example, place them vertically on open shelves. Don't forget to bookmark your favourite recipes.
Layer open shelving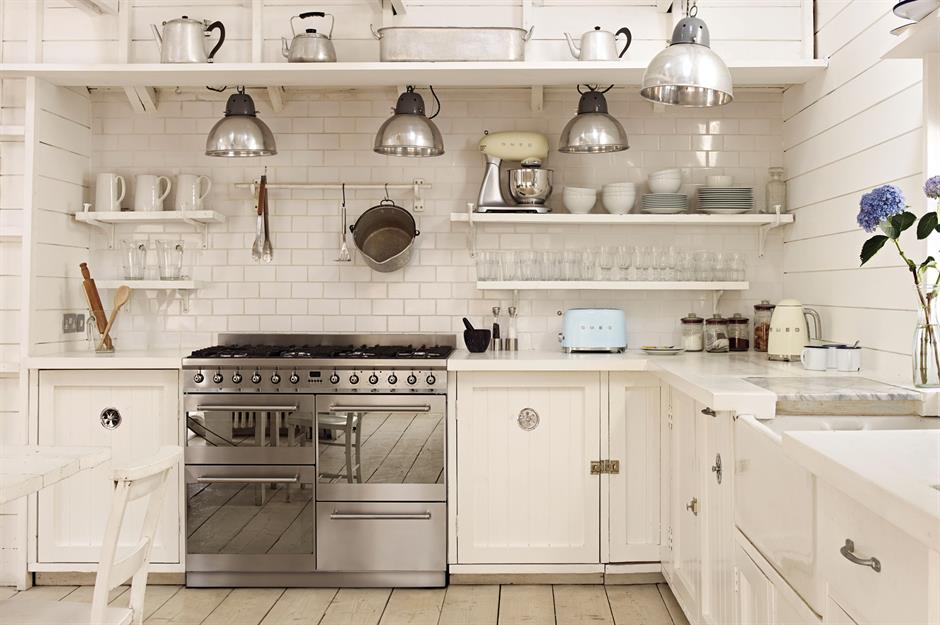 Harvey Norman
There's no need to hide all your fabulous kitchenware behind cupboard doors. Keeping everything in the open allows for easy access to your things and makes your homeware work double-time as décor too. Layer up your shelving to create a cool feature wall with plenty of storage spaces.
Make crockery a feature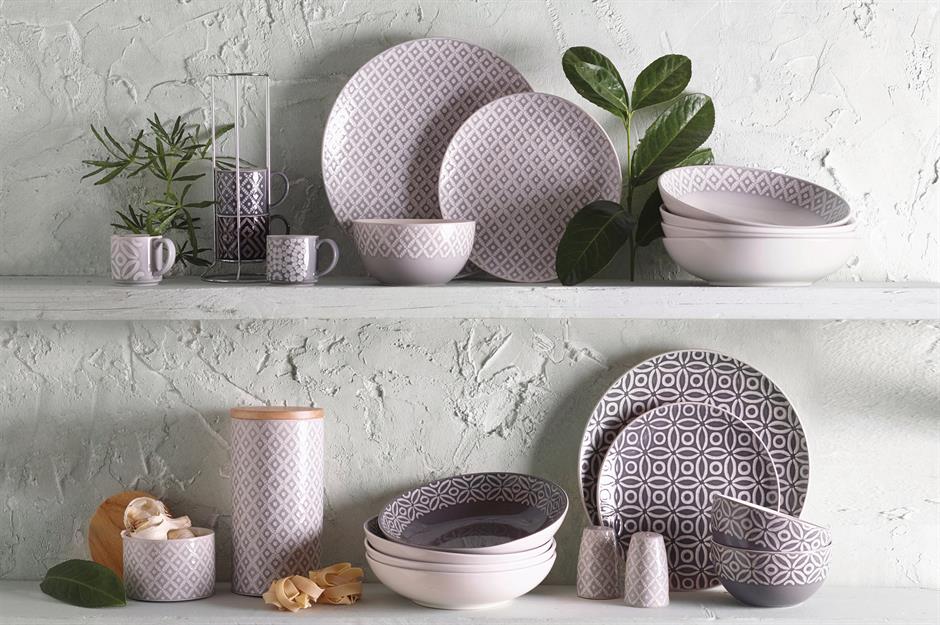 Next
For a coherent and stylish look, display your best plates, dishes and jugs on open shelving or inside glass cupboards. This works best if your crockery is in complementary colours and patterns. Add some big books, candlesticks or plants to create a focal point with a rustic vibe.
Install pendant lights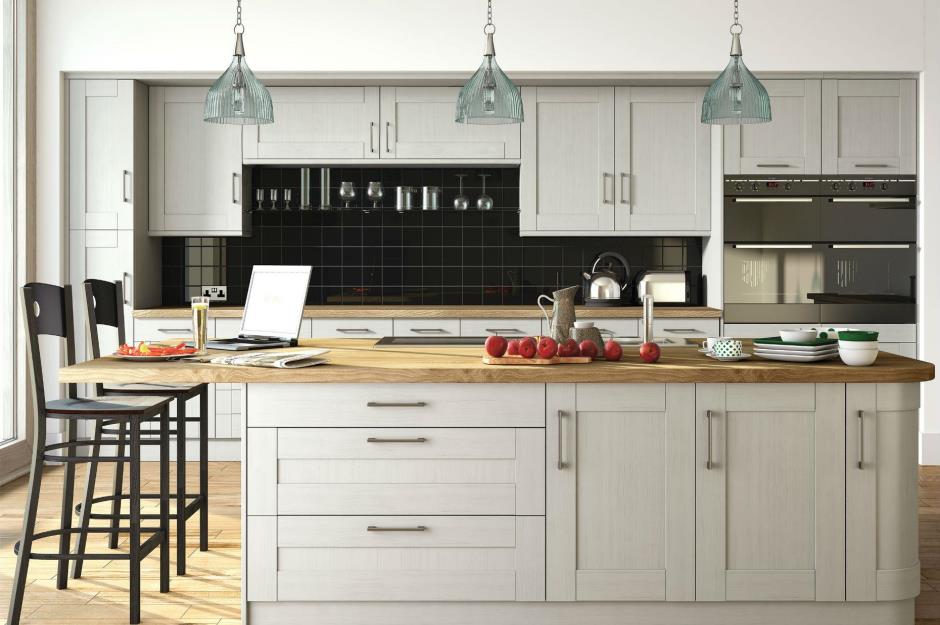 Alex Jane
Brighten up your kitchen in more ways than one with well-placed lighting. Opt for three pendant fixtures in metal or glass to give the room a cool industrial feel, as well as introducing balance and extra light into the space.
Free up the work surface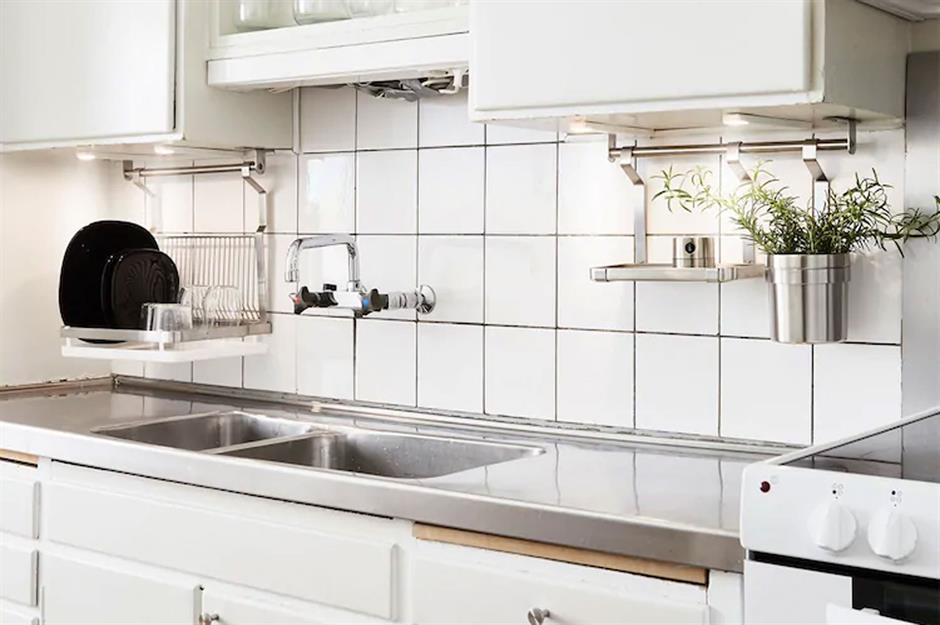 IKEA
Keep worktops clutter free by hanging rails from wall units to hold utensils and condiments, thus keeping them within easy reach. Chrome looks chic in an all white kitchen while a matching plant pot with lush green herbs will add a touch of colour.
Remove wall cupboards
Tile Giant
Extracting existing wall cupboards will not only give your kitchen a whole new look it will also make the room appear much bigger and brighter. Replace the bulky storage with a single run of open shelving set against country-style wood cladding for a minimalist yet homely look.