Dramatic room renovations with a big reveal
Original Article – https://www.loveproperty.com/gallerylist/86643/amazing-real-home-makeovers-before-and-after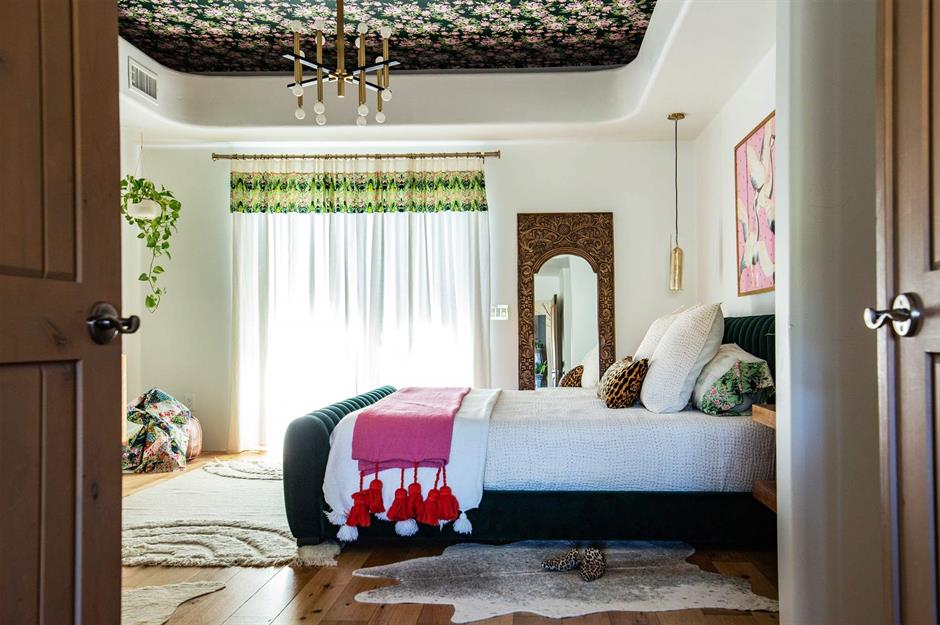 Bari J. Designs
The internet is awash with blogs that show step-by-step renovation journeys in real homes across the world. These inspiring DIY junkies undertake much of the hard work themselves, often on a shoestring, and are a goldmine of ideas you can use in your own projects. From pink kitchen makeovers to budget bathroom remodels, these before-and-after room makeover photographs should get you reaching for the paintbrush…
Before: A stark U-shaped kitchen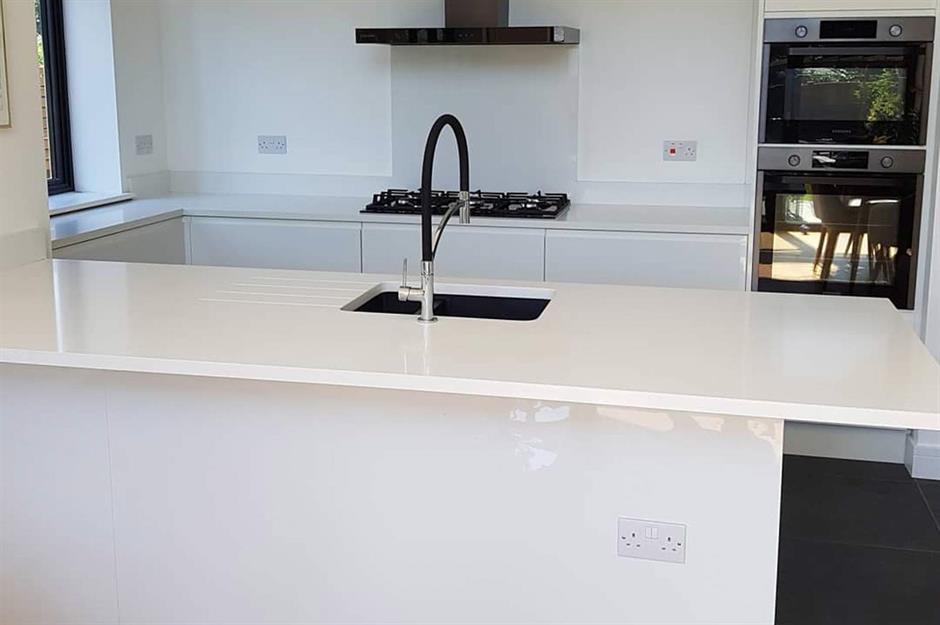 Cassie Pryce
UK stylist Cassie Pryce has been in the interiors business for a while, so she knows what it takes to transform a room. Her original kitchen – all-white, with black appliances – was modern and fresh, but too plain for her creative eye.
After: An on-trend open kitchen with character
Cassie Pryce
She replaced the old peninsula with a chic kitchen island wrapped in pale stone, making the space flow perfectly into the open-plan area. New cabinetry in soft matt green injects some subtle colour to complement the tones in the textured faux brickwork and contemporary leather bar stools.
Before : A dated mismatch of bedroom colour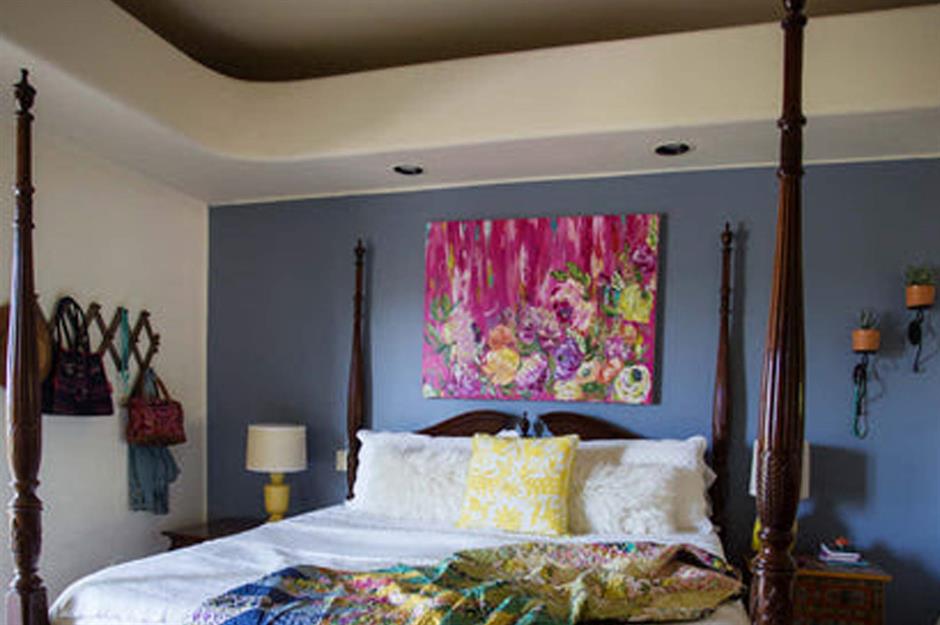 Bari J. Designs
Artist and designer Bari Ackerman of Bari J. Designs took part in a 'One Room Challenge' project to transform the bedroom she shares with her husband. A large, over-dominating bed and blue feature wall shrank the space and made it seem out of date.
After: A modern maximalist master bedroom
Bari J. Designs
Now, however, an emerald green velvet bed described by Bari as "utterly delicious" sits beneath an incredible ceiling wallpapered with floral print and vibrant colour. A faux stud wall accommodates the twin floating shelves that sit on either side of some flamboyant bubblegum pink artwork. The gold chandelier and bedside pendant lights, meanwhile, nail the luxe look Bari was going for.
Before: An impractical long and narrow space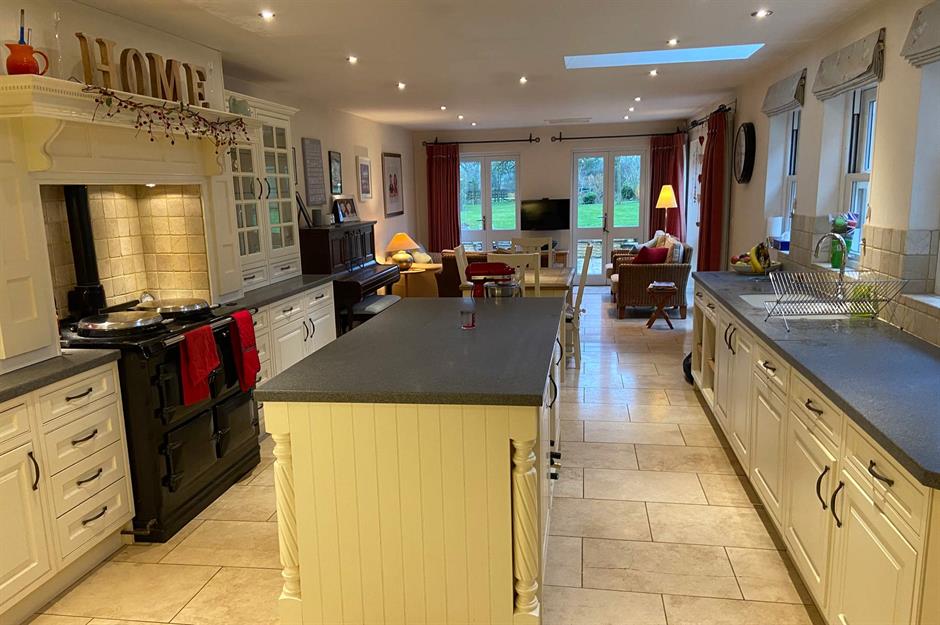 Christopher Peters
The kitchen design company, Christopher Peters, worked with a couple in Leicestershire who had grown tired of their long and narrow kitchen and living room. The owners wanted to re-imagine the space, as the dynamics no longer worked for their busy family, and it lacked storage and natural light.
After: A fluid and functional space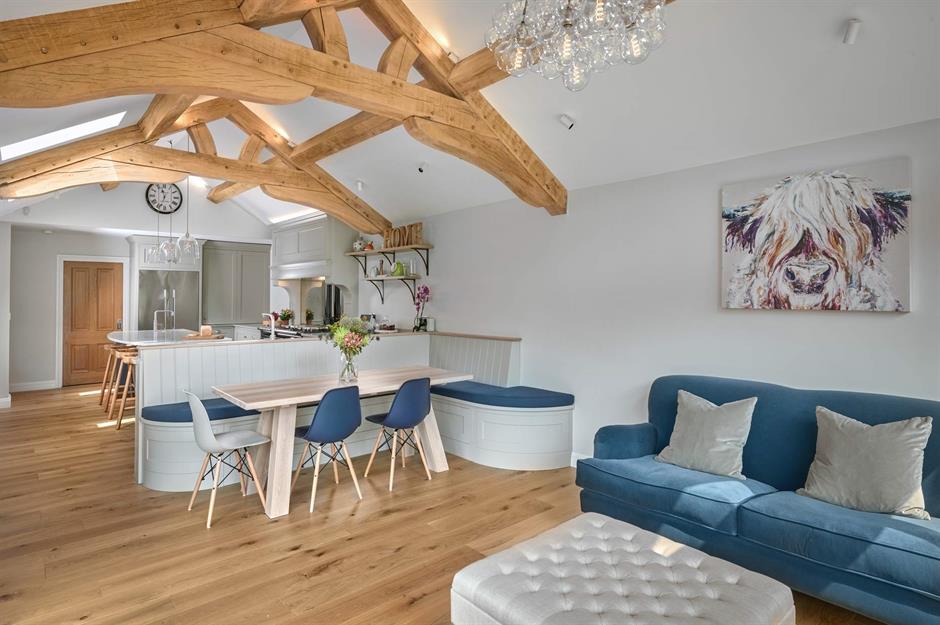 Christopher Peters
The new arched ceiling with feature wooden beams increased the height by a few feet. Bi-folding doors allowed the newly planned space to flow into the garden. Thanks to the skylights, natural light now floods the room. A new grey kitchen with built-in larder offers plenty of storage, while the eye-catching dining nook is a perfect addition for long leisurely mealtimes.
Before: A dull, worn-out space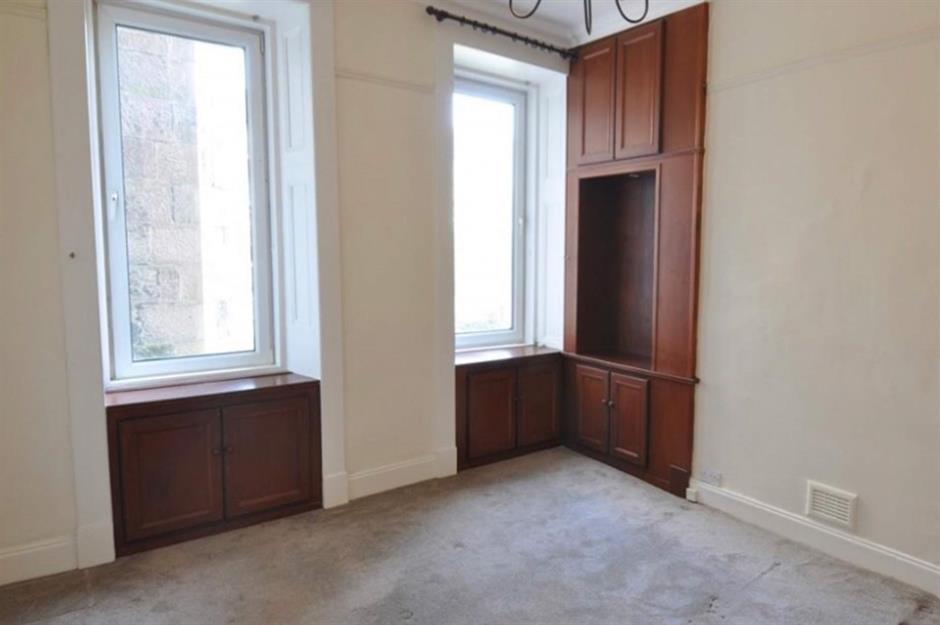 Swyft / @feel_wright_at_home
Interior-savvy first-time homeowner Kirsty Wright has built up a large following under her handle, @feel_wright_at _home, thanks to her decorating skills and quirky ideas. When Kirsty moved into her home in Glasgow, her bedroom was a soul-destroying scheme of deflating magnolia and dated mahogany woodwork, which is typical of properties that were formerly rented out.
After: A bold and beautiful bedroom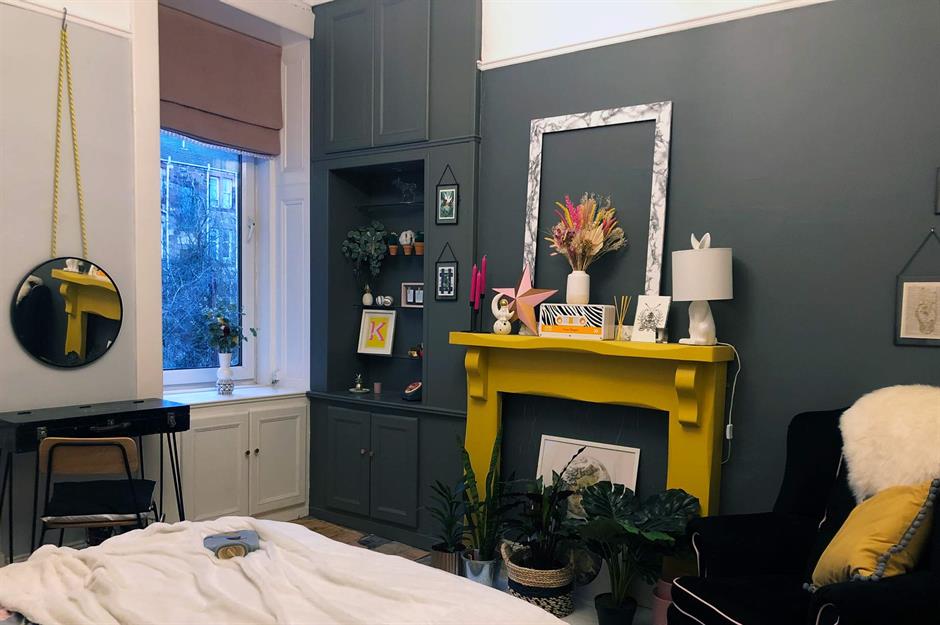 Swyft Home
Kirsty described her new bedroom to Swyft Home as "an eclectic mix with bursts of colour". Despite the bedroom's expensive look, the project cost under £100 to achieve. The bright yellow fireplace, armchair and dressing table were all salvaged and upcycled.
Before: A lived-in living room
stylebyemilyhenderson.com
This boring box-shaped living room was crying out for help from the team at Style By Emily Henderson. The small room with spoiled carpet was certainly well-used and lived-in, as you might expect with a family with four children under 16!
After: A fresh and funky family room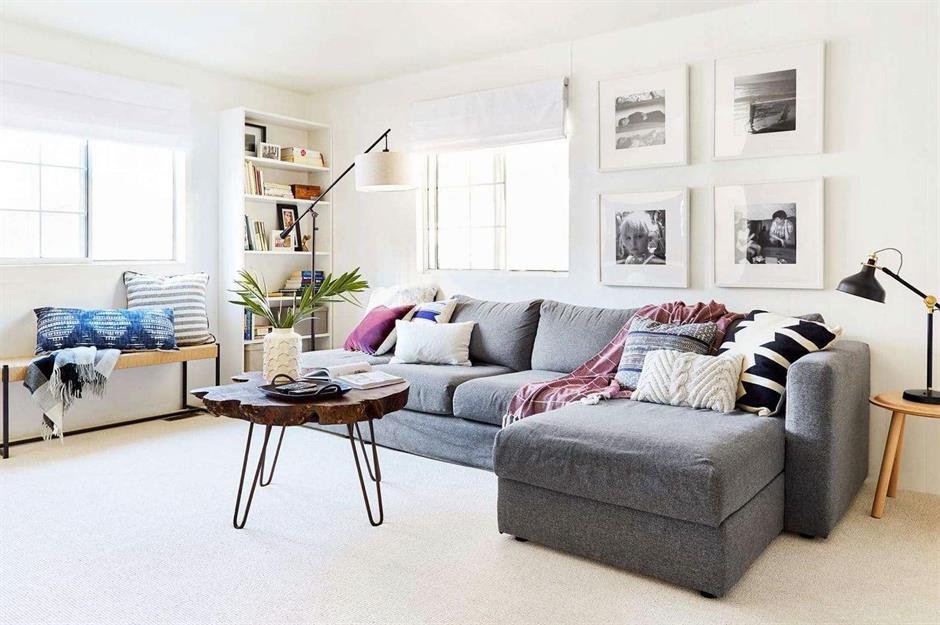 stylebyemilyhenderson.com
It took Emily and her team just seven hours to transform the dark and cramped space into a bright new room. The fresh new carpet makes the biggest difference and creates a neutral foundation for the muted and calm colour palette. Vintage wood pieces add warmth, while family photos above the comfy sofa make the space homely and relaxed.
Before: A neutral rental bedroom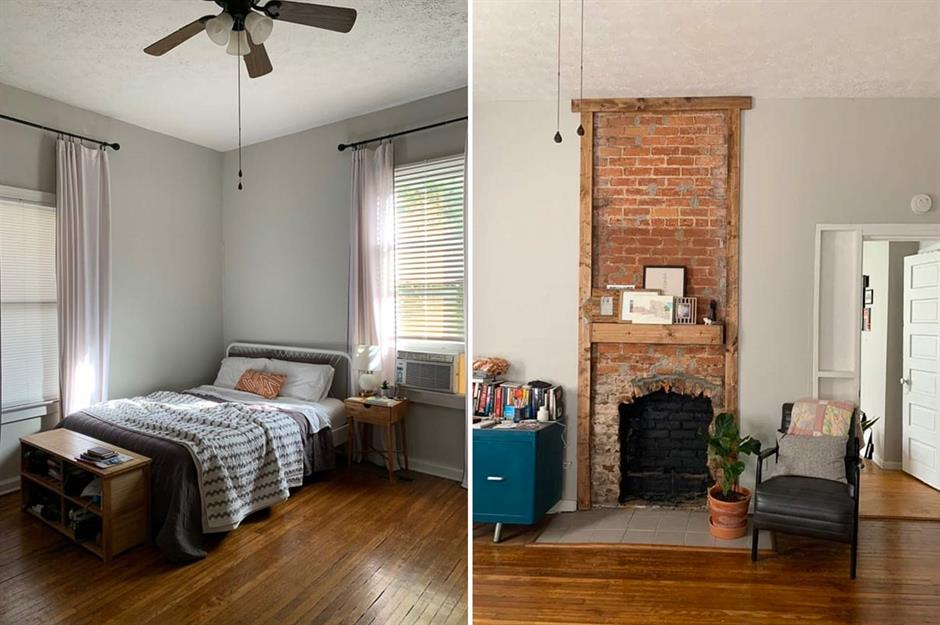 Paper & Stitch
Britni Mehloff, founding editor of Paper & Stitch, transformed this bland rented bedroom to make it more useful. It lacked inspiration and function, although the existing fireplace offered a great feature to work with.
After: A book lover's room with Boho style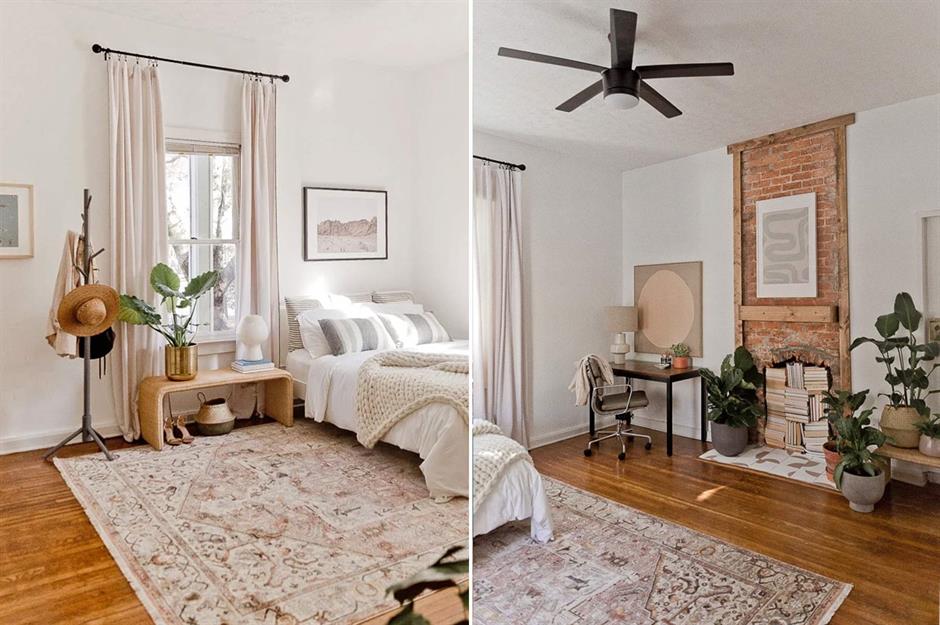 Paper & Stitch
Newly painted walls instantly brighten the bedroom, while a slimmed-down desk allows it to double as a multifunctional home office. The fireplace goals were scored: it's now a textured focal point, thanks to the eye-catching floor tile stickers. A collection of old books fill the unused hearth, while muted pastels and tasselled soft-furnishings finish the relaxed Bohemian vibe.
Before: A clash of outdated patterns and prints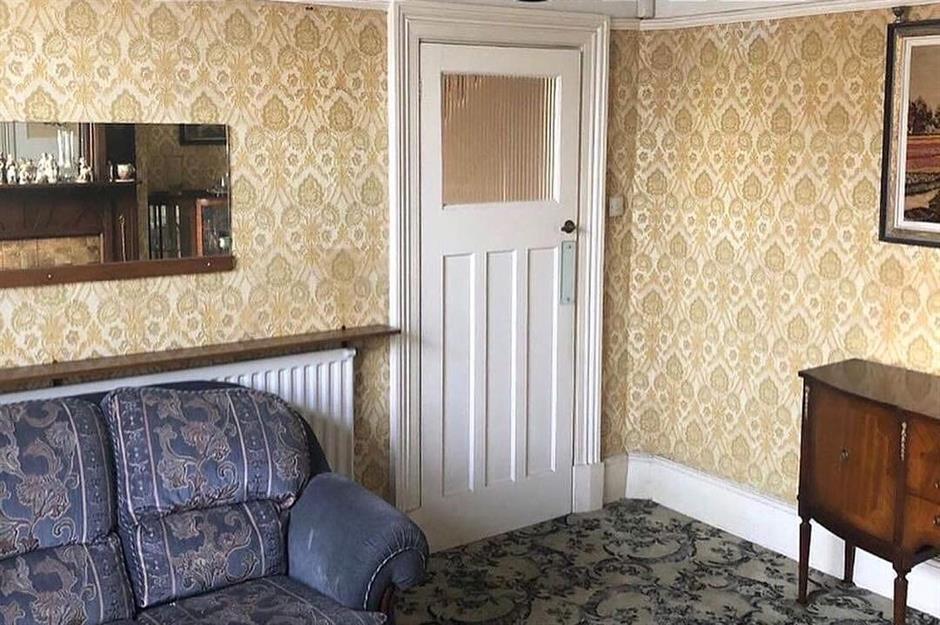 Instagram / @Renovating_Love_lane
Talk about a retro living room! Instagrammer @renovating_love_lane had a lounge that looked like it had been frozen in time, with its overload of jazzy vintage patterns and prints. The box design, meanwhile, made the room feel small and cut off from the rest of the house.
After: A chic, period-style space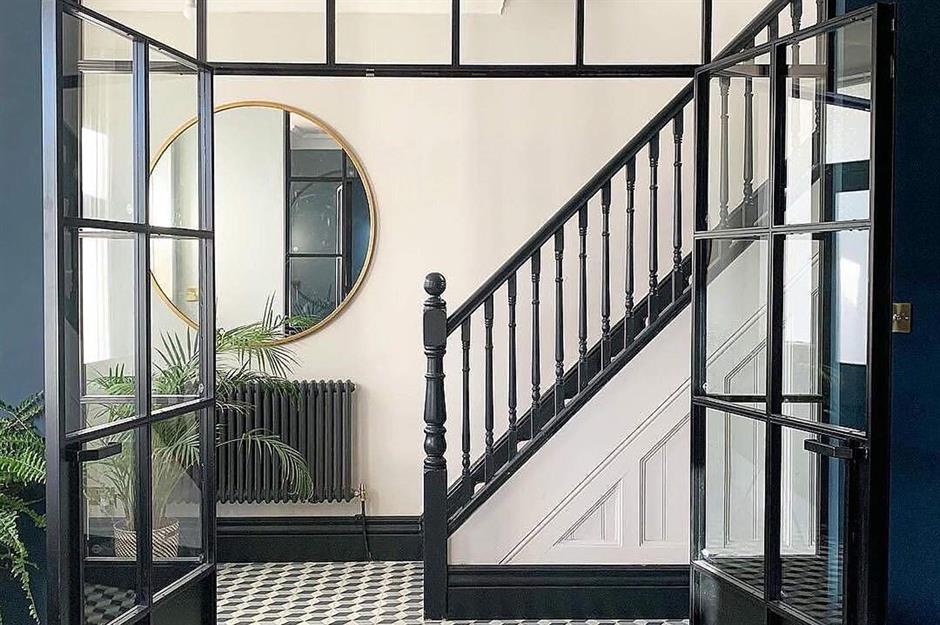 Love Lane
An incredible renovation opens up the living room into a chic, period-style hallway with a statement tiled floor. Beautiful Crittal doors offer the best of both worlds as the glass panels let in plenty of light. And, when the doors are closed the living room get cosy as the plan is to add a log burner later.
Before: A cramped and dingy bathroom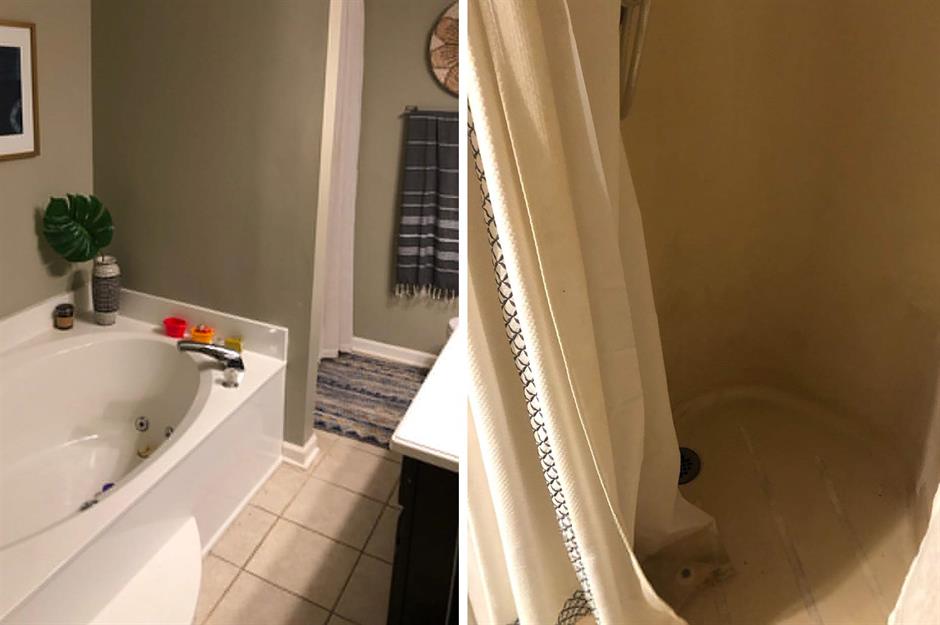 designingvibes.com
Interior designer and DIY-er Erica Van Slyke from Designing Vibes had to wait five years to transform her 1980s bathroom, which she felt was the "antithesis" of her style. The absence of natural light, along with a tiny shower, made it feel more like a dingy cave.
After: A boho farmhouse bathroom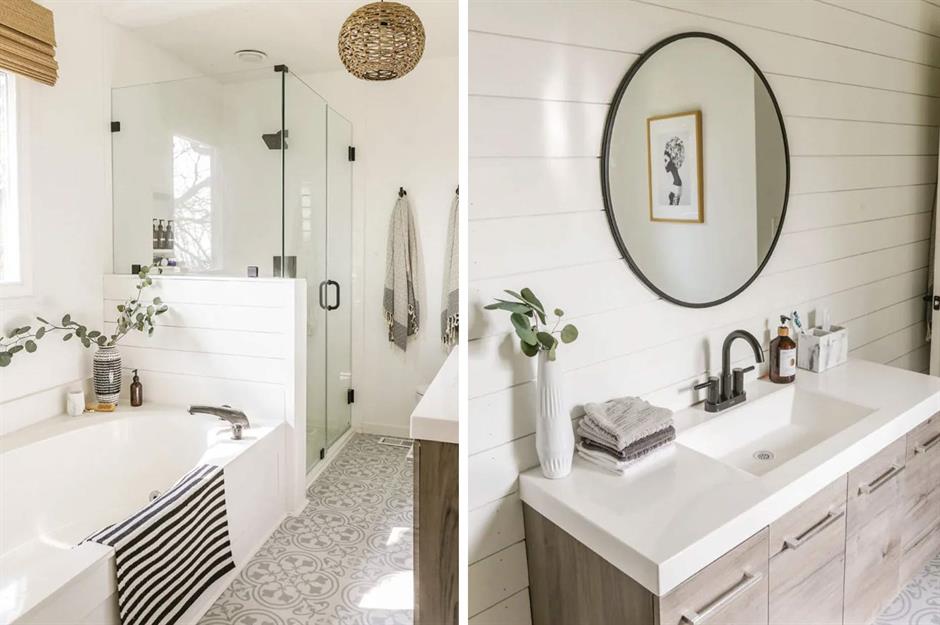 designingvibes.com
The reveal was worth the wait. The bathroom is now a "spa-like retreat that every woman deserves," says Erica. Demolition of the wall between the bath and shower opened the space up, so the shower now feels lighter and brighter, with glass panels. A shiplap feature wall and wooden vanity ooze Erica's signature farmhouse style, while the pretty Victorian-style tile flooring is actually click-and-lock vinyl plank, simply installed over the top of the old floor.
Before: An ugly narrow kitchen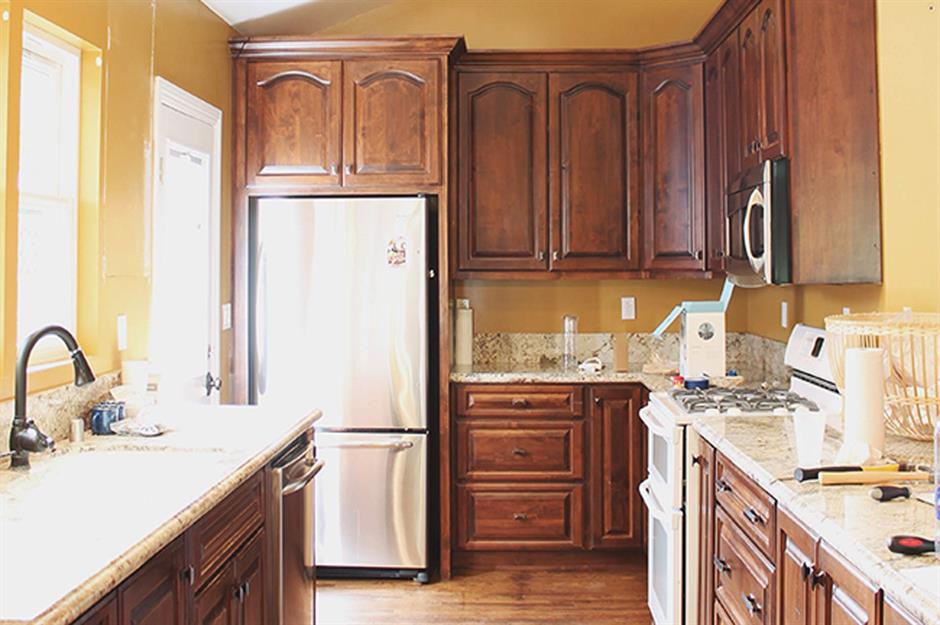 Almost Makes Perfect
Molly Madfis of Almost Makes Perfect owns a kitchen that is part of an open-plan layout. This meant that the dark wood cabinets and murky yellow walls affected the whole ground floor, and she could see them as soon as she walked through the front door. Her plan was to brighten the room and lighten it up as soon as possible.
After: A Scandi-cool galley kitchen
Almost Makes Perfect
The 'less is more' kitchen reveal doesn't disappoint. The only change to the layout of the floorplan was moving the fridge slightly to the right. IKEA cabinets and (used) semi-handmade doors and drawer-fronts kept costs down without sacrificing individuality. Two-tone natural wood and white cabinets open up the space up and create warmth by working together in Nordic-style harmony.
Before: An empty brown space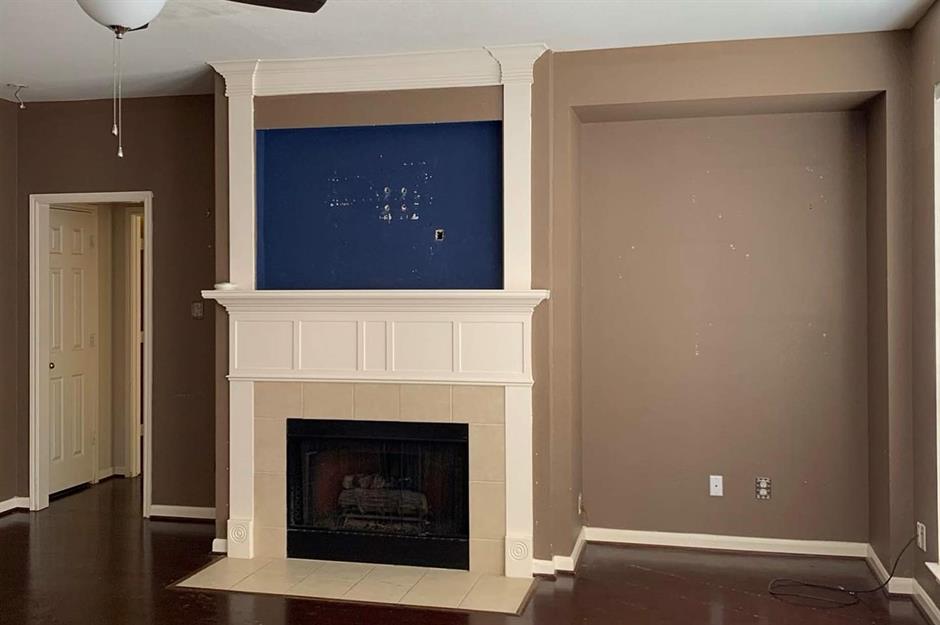 @angiestithdesigns
This typical US condo-style space was dark and unloved before @angiestithdesigns and her team got their hands on it. The combination of brown-on-brown and a fireplace that had seen better days made it very one-dimensional and rather depressing.
After: A cool and light family room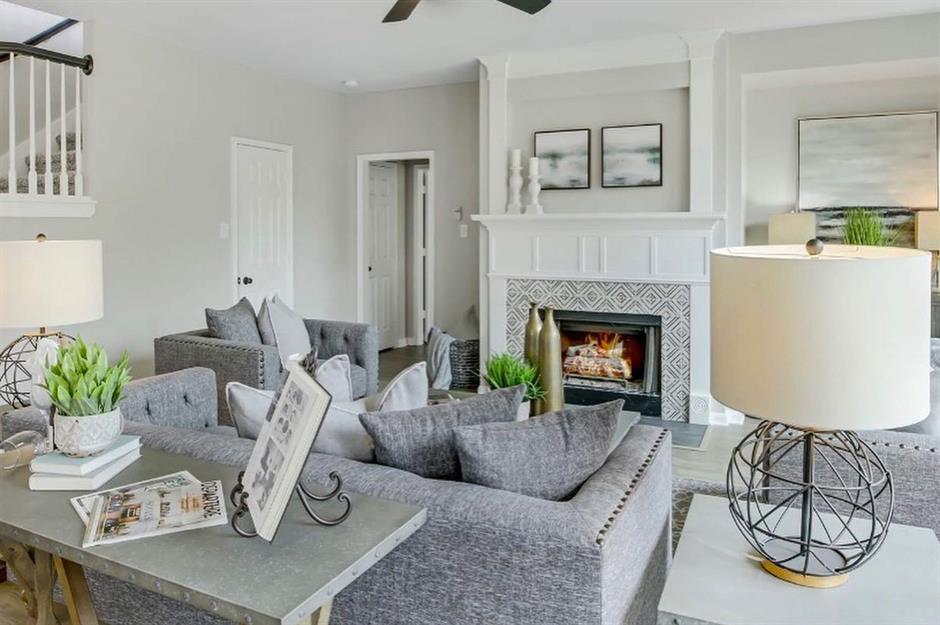 @angiestithdesigns
The family room is now light, fresh and furnished. Large, soft grey sofas and armchairs are arranged socially to make the space inviting. The 'born again' feature fireplace now hosts eye-catching grey geometric tiles and calming coastal artwork.
Before: A drab, beige living room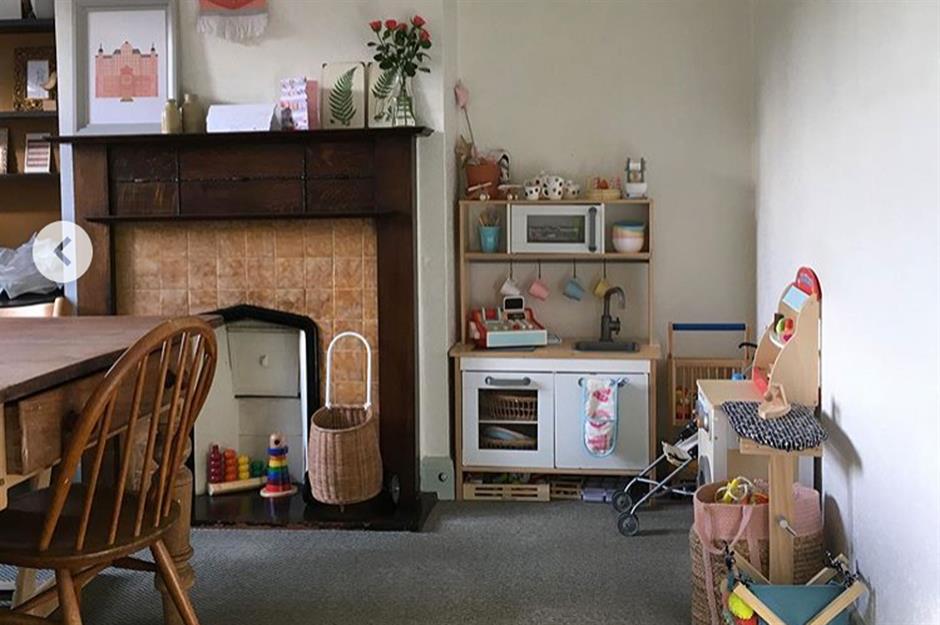 The Otto House
Hannah Otto beautifully documented the renovation of her charming Victorian terrace with the yellow door (yes, there is a post on that makeover) and is now onto her next home, The Otto House. Part of the overhaul included tackling this lacklustre living room and converting it into a bright and beautiful space for the whole family…
After: A nude living room with period features
The Otto House
The open-plan living room has been transformed! The brown fireplace, dirty dishwater walls and grey carpet have all been stripped out. Painting the room in apricot white, she's highlighted the ceiling and section above the picture rails with buff nude tone. Best of all is the fireplace: painted in baby pink with geometric tiles, it's a super-simple idea that makes a huge impact. By working with the period features in the room, she's kept enough of the old to work with the furniture, updating a quality wooden table with a modern chair.
Before: An average neutral bathroom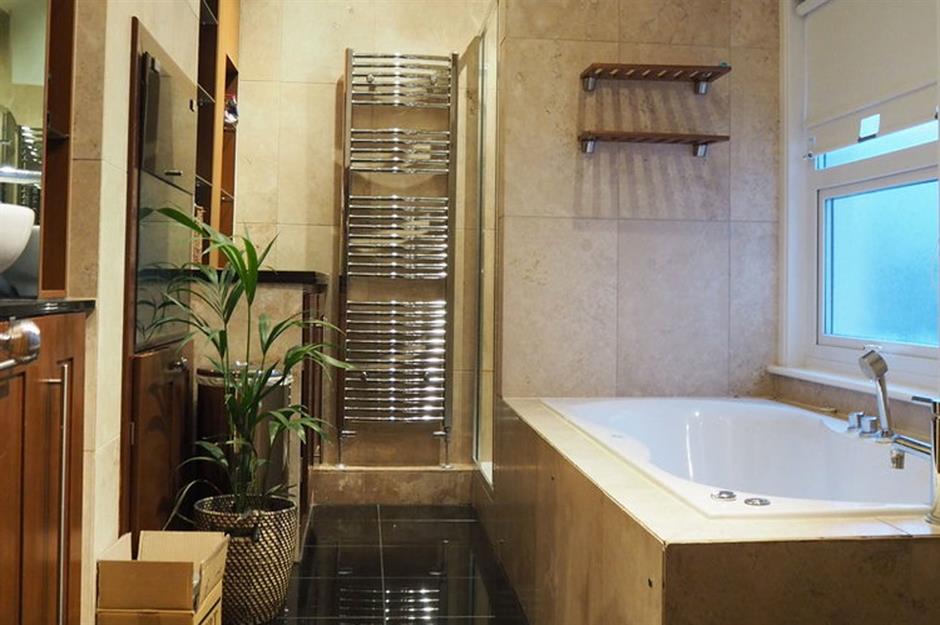 Gold is a Neutral
The creator of Gold is a Neutral, Jessica Hurrell, is a showbiz journalist turned interiors writer who now channels her love of decorating into a successful blog about the ongoing renovations of her London home. She had her hands full when she decided to tackle her bathroom makeover, having to work around some of the expensive luxe elements that were already in place, like the heated towel rail, cabinetry and plumbing for a bath and shower cubicle.
After: A glam black and white bathroom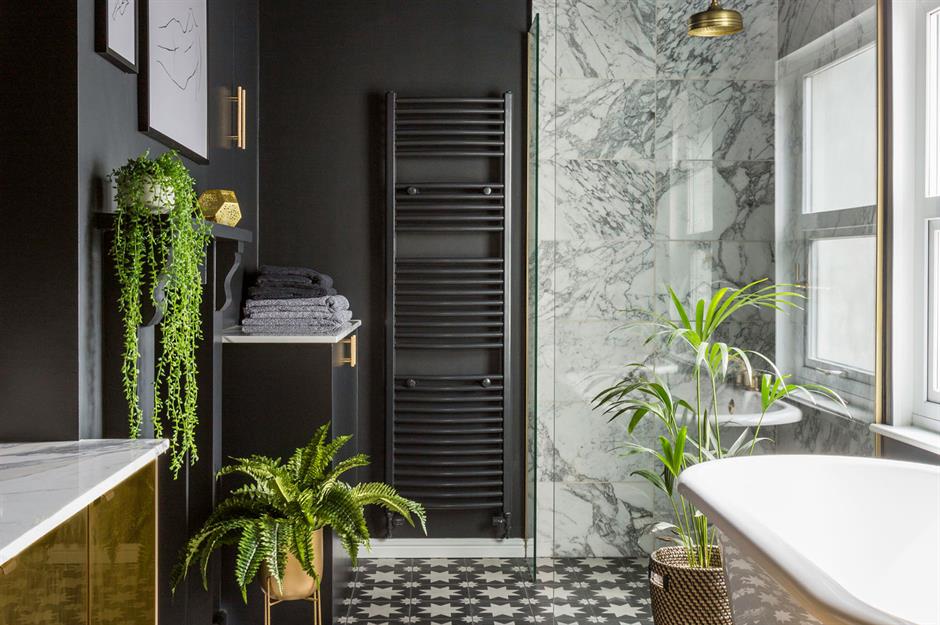 Gold is a Neutral
Jess admits this incredible bathroom makeover was a challenge, but she describes it as "the bathroom of my dreams." Black walls, a brass basin cabinet and statement tiled flooring, while that Victoria & Albert roll-top bath is luxe and dramatic. She cleverly got rid of the bulky tiled shower cubicle and bath surround without moving the fixtures, replacing them with a glass walk-in shower, while the radiator has been painted to match the walls. Genius!
Before: A lacklustre living room
At Charlotte's House
Connecticut-based Charlotte Smith has been described as a 'DIY Diva'. The mum-of-five has gone from self-confessed DIY amateur to a well-known TV personality offering home renovation advice. She documented her living room makeover on her blog, At Charlotte's House, applying her "fun, frugal repurposed and eclectic" approach to great effect. In this picture, we can see that although the room is large, bright and in good shape, it's cluttered and feels cramped, with mismatched furniture and no real over-arching design.
After: A spring-ready sitting room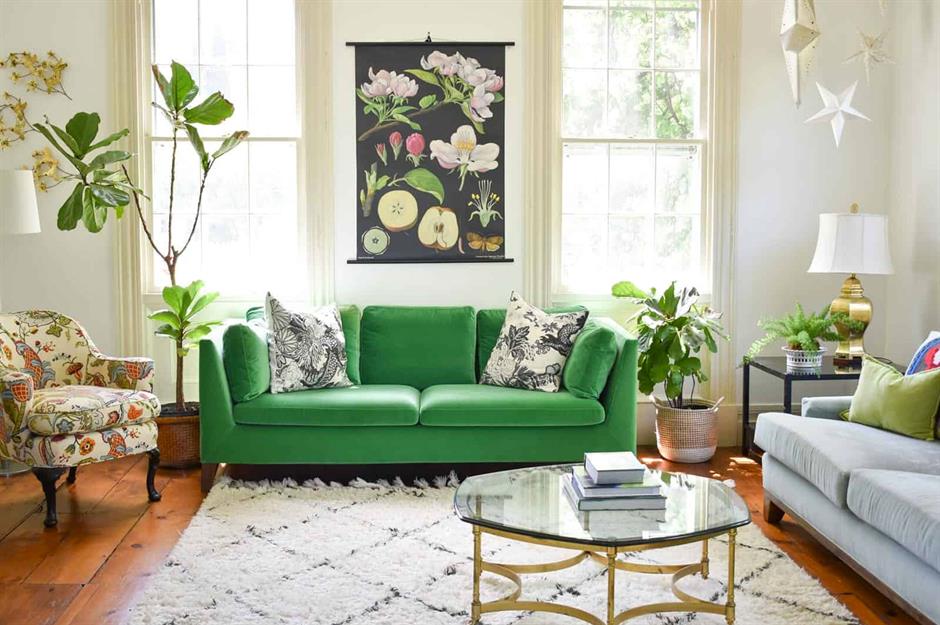 At Charlotte's House
Designed around a fabulous green feature sofa, the theme of this new living room update is clearly botanical. Large fig plants and a vintage-look illustrative wall hanging create a lush and refined vibe, made inviting by a soft tufty rug and mix-and-match cushions.
Before: An uninspiring grey living room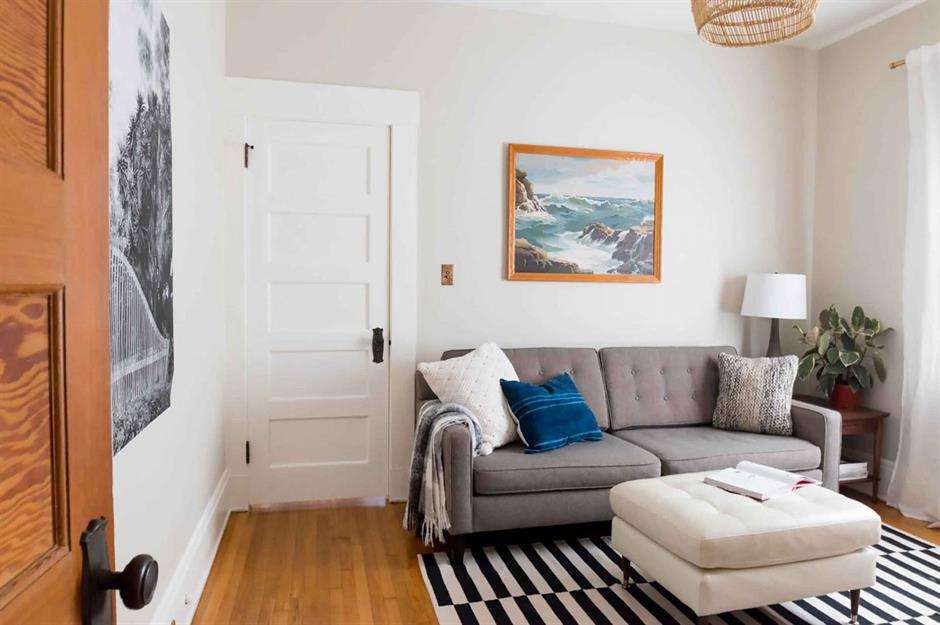 The Gold Hive
The Gold Hive is an interior and design blog that chronicles the restoration of a craftsman's bungalow in San Diego, California. With a background in art, Ashley Goldman shares her home DIY projects, specialising in historic preservation and restoration with modern style. She used her skills to tackle an inoffensive but bland living room scheme. With its neutral white walls, tired furniture and thrown-together look, it had the feel of a rented space.
After: A moody den makeover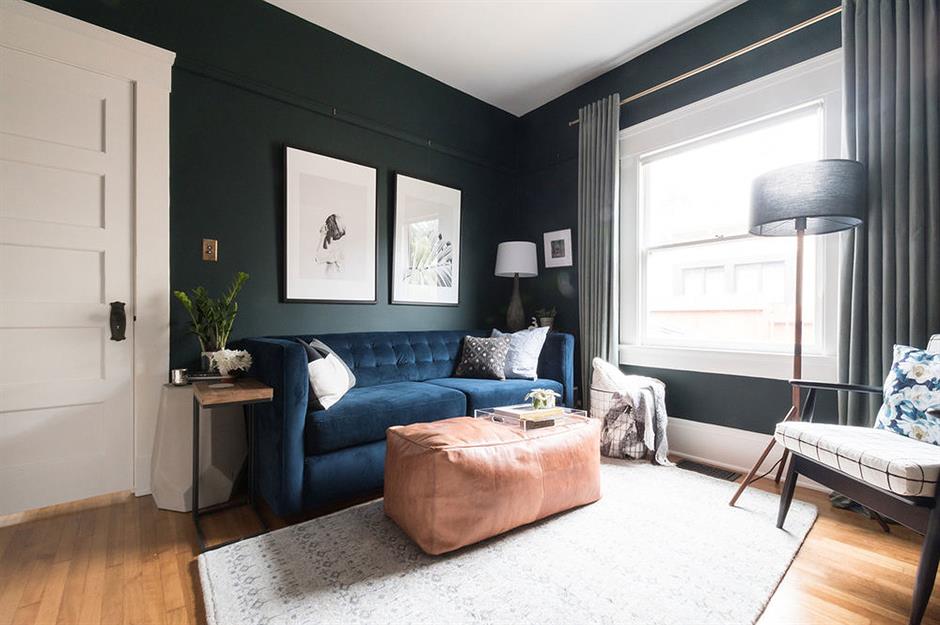 The Gold Hive
The plain and unloved room has been transformed into a cosy TV den with walls that change hue from almost black to a rich, dark green over the course of the day. Fresh white woodwork balances out the dark scheme, while a statement velvet sofa and an unusual double pouffe in contrasting soft leather stand out against the dramatic backdrop.
Before: An ordinary brown kitchen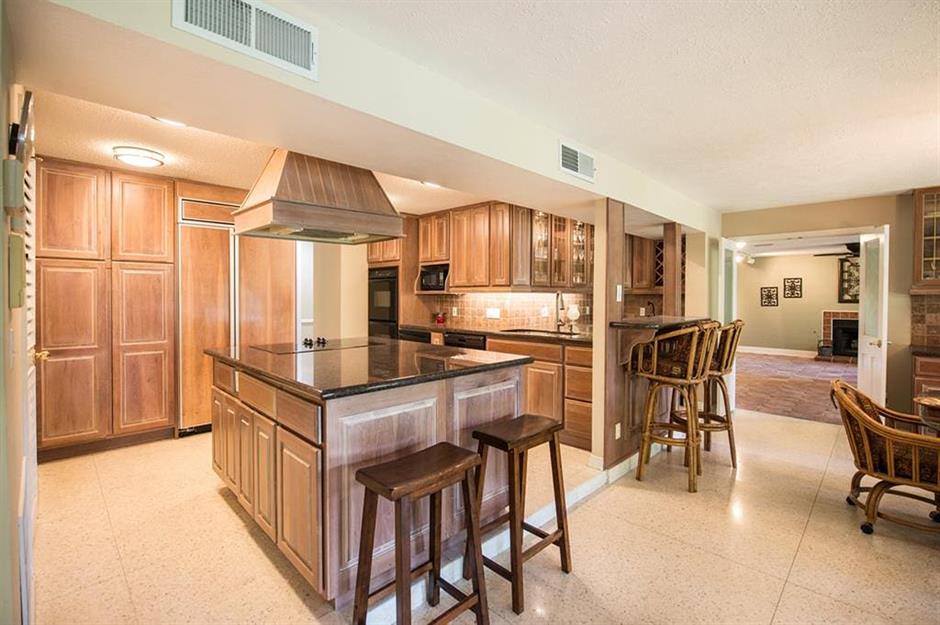 Sugar & Cloth
This kitchen will look familiar to many of us. Wooden cabinets – as popular and practical as they still are today – give the room a colour scheme of dull brown. Home renovator Ashley Rose tackled this dated decor and documented it on her blog, Sugar & Cloth. "By far, this was our most-hated space from the original house listing photos. When we bought the house, the kitchen was really sectioned off, had an awkward layout, and generally just very dreary."
After: A perfect pink kitchen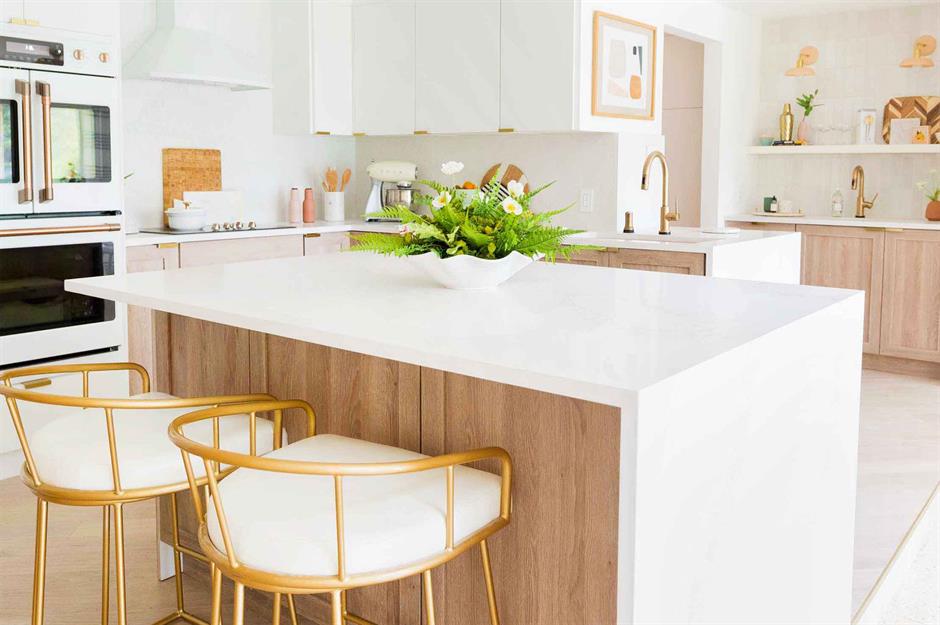 Sugar & Cloth
Pale shaker cabinets are complemented by pink painted woodwork and gold fixtures, creating a luxe and light modern kitchen renovation reveal. Teamed with light floors, the white upper cabinets and splashback create a bright and serene space that looks divine. The curvaceous metallic bar stools set against a Caesarstone waterfall island finish the room with a touch of 1950s Hollywood glamour. See the full Sugar & Cloth kitchen makeover here.
Before: A humdrum hallway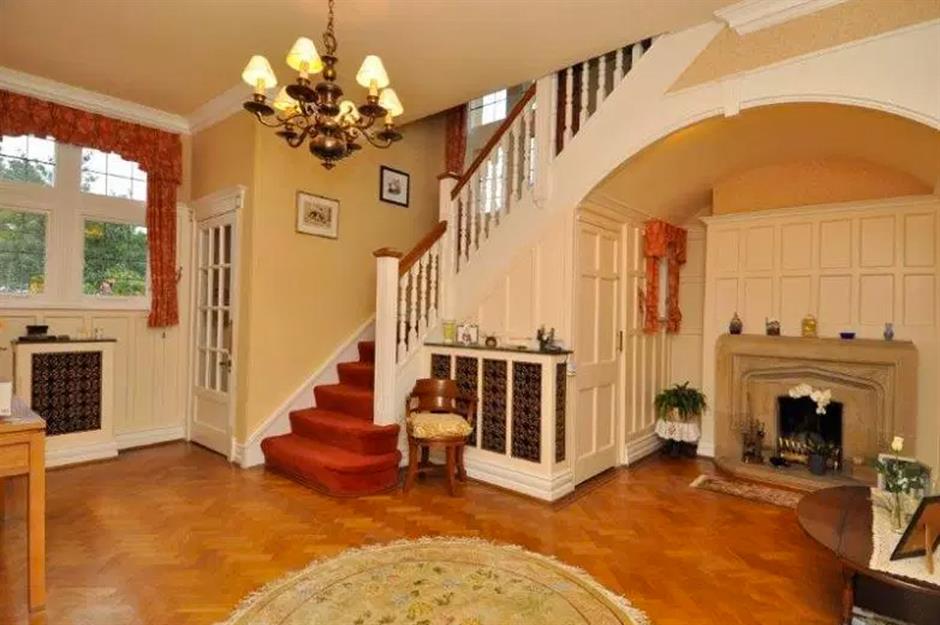 Come Down into the Woods
Kate Woods of Come Down into the Woods and co-founder of No. House Rules has transformed her home from what she jokingly describes as "a peach palace" into a quirky space with a "kitsch cool" touch. This hallway could be in almost anyone's house; it's not unpleasant, but it lacks style and was ripe for a makeover…
After: An eclectic entrance
Come Down into the Woods
Beautiful period features like the polished herringbone floor and stone fireplace remain (though we think the floor may have benefited from sanding down), but everything else has been completely changed. The wood-panelled walls are painted in a mid-tone grey, the perfect choice for updating traditional features, but it's the black staircase with that striped runner that really makes the space sing. Fun features like a gold radiator cover, fringed floor lamp and art deco velvet occasional chair finish the look perfectly. Take a look at Come Down into the Wood full list of before and afters here.
Before: A featureless white kitchen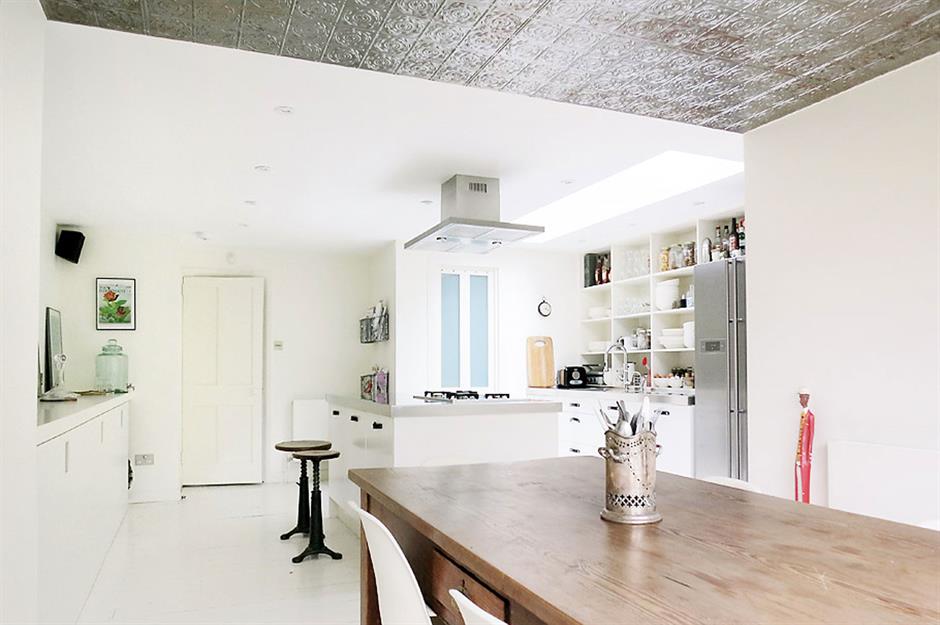 Mad About The House
Mad About the House is an award-winning website by author and interiors journalist Kate Watson-Smyth. Her stylish home was created from two dingy rental flats and is now so beautiful it is even used as a location house for homewares and fashion brands. Her kitchen update (we can't really call it a makeover as it was already darn nice) makes a key colour shift from glaring whiteout to a cool and sophisticated space.
After: An elegant contemporary kitchen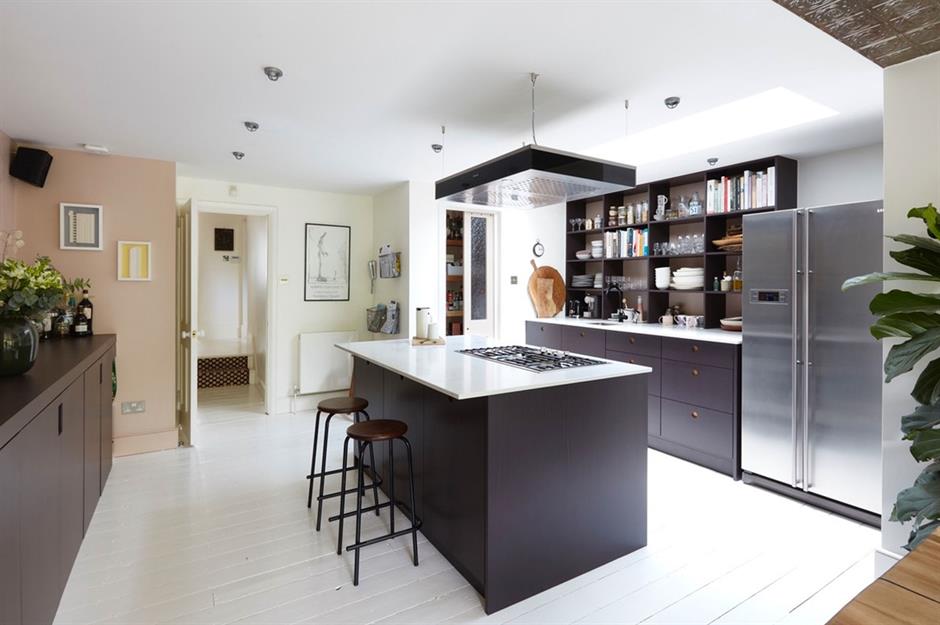 Mad About The House
Kate collaborated with her favourite kitchen companies to transform her open-plan kitchen. From the sleek dark cabinets by Naked Kitchens to the elegant worktop by Ceaserstone, this multifunctional cooking, dining and socialising space now has new depth and character. By keeping the layout the same she will have kept costs down, and the four-tone colour scheme is perfectly balanced.
Before: A dull guest bedroom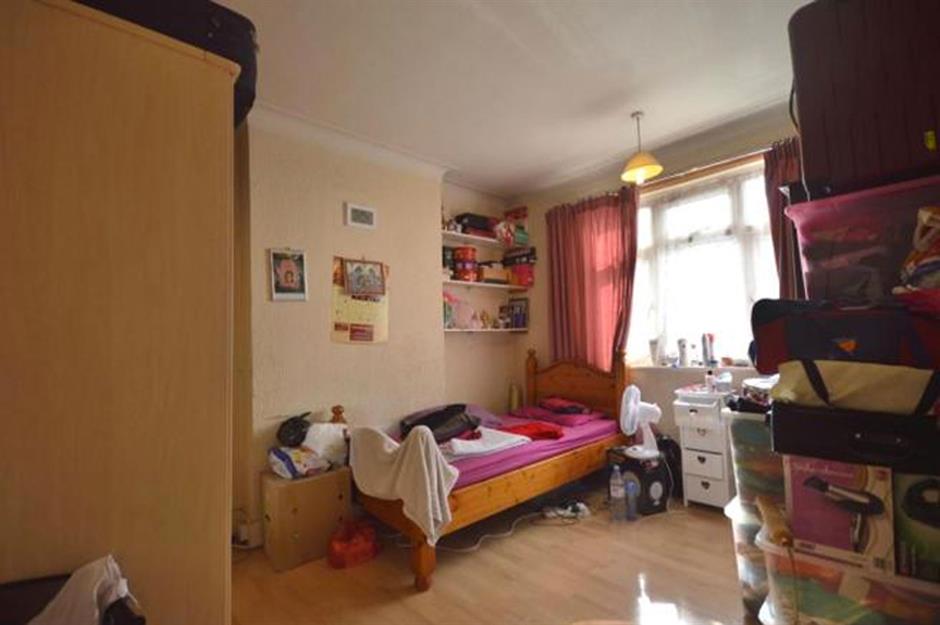 Apartment Apothecary
Katie Orme has turned her blog Apartment Apothecary into a full-time career, and she is full of ideas about how to make your home look and feel better. Katie's look is minimal and bright with a vintage twist, so we couldn't wait to see what magic she had worked on her cluttered and plain spare bedroom…
After: A stylish second bedroom
Apartment Apothecary
Kate gutted the room to create a new smooth finish for her chosen colours of soothing grey and white. In addition to a new picture rail and radiator, she also installed a slim black iron fireplace into the chimney breast to create a new focal point and accentuate the period style of the room. A vintage mirror and upcycled chest of drawers are all that is needed to give this room an uncluttered and soothing vibe that's the complete opposite of what it was.
Before: A wasted outdoor space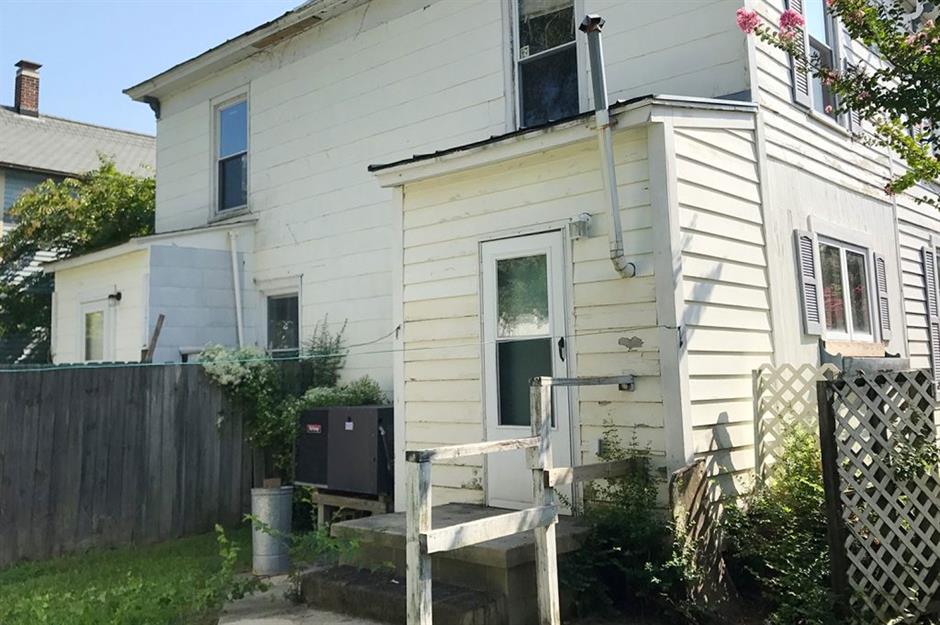 Young House Love
Blogging couple Sherry and John from Richmond, Virginia have renovated three homes together, sharing countless DIY projects on Young House Love. Besides writing a few best-selling books in the process, they've posted about the wonderful backyard renovation of their latest project, a clapboard duplex in the historic old town of Cape Charles.
After: A smart summer terrace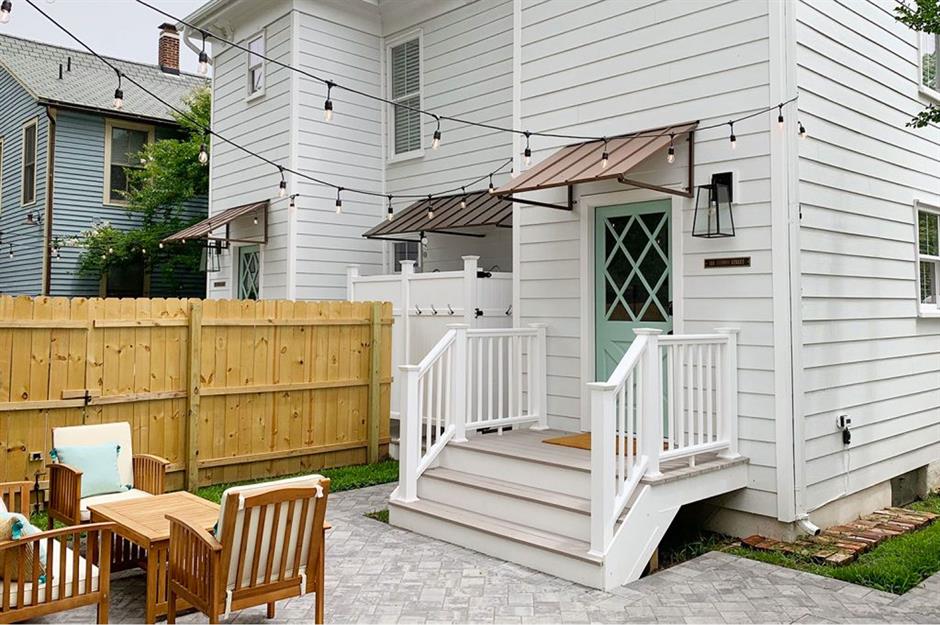 Young House Love
Sherry and John have turned this run-down building into an immaculate outdoor living space with lots of practical features. A smart set of wooden steps lead down to a paved patio area, surrounded by easy-to-maintain grass borders. A cute mint green door, festoon lights and even outdoor showers make this a homely and welcoming beachside backyard.
Before: A dingy, dated bathroom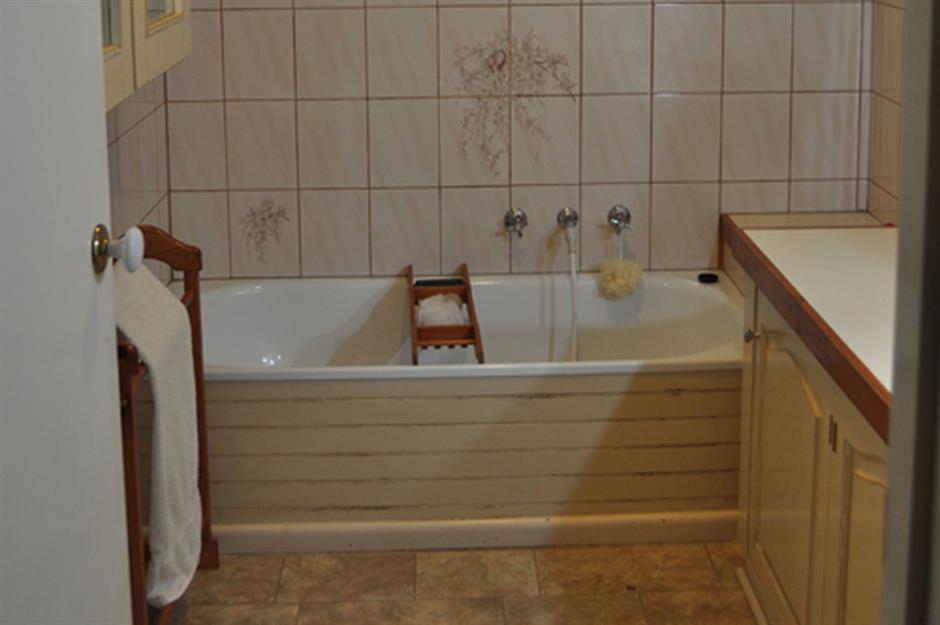 The Painted Hive
Kristine with a 'K' runs The Painted Hive blog from Melbourne, Australia. A mother and self-taught interior decorator, she is proud to champion brilliant budget decorating ideas that look like a million bucks. Consider this amazing bathroom makeover as prioof of her awesome skill…
After: The perfect white bathroom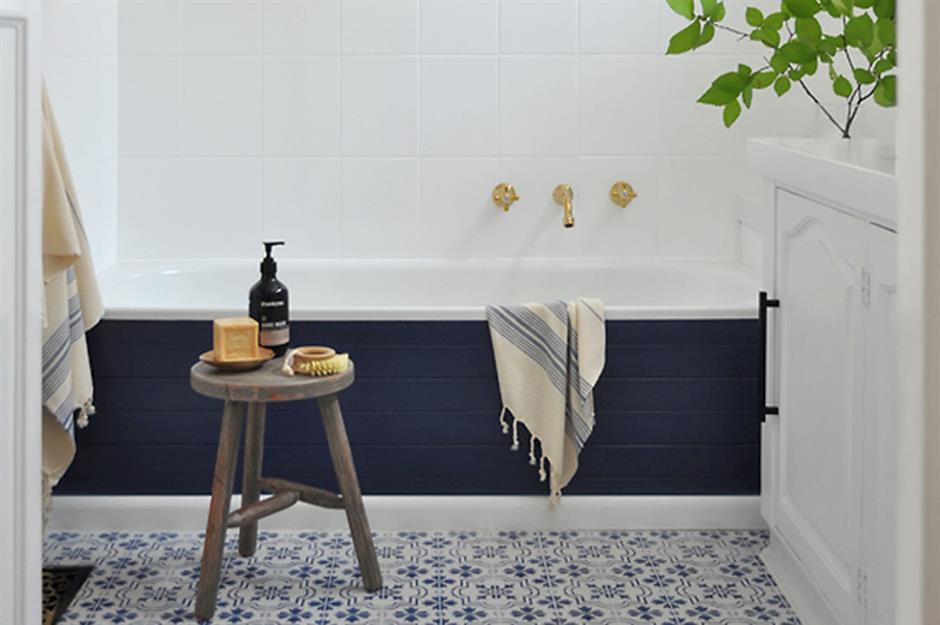 The Painted Hive
Her dated beige bathroom has been transformed into something fresh and bright via a navy bath panel and statement (hand-painted) stencilled vinyl flooring. Gold taps add a touch of luxurious sophistication; you'd never guess that the entire bathroom revamp cost less than AUS$2000 ($1.5k/£1.1k).
Before: An empty shell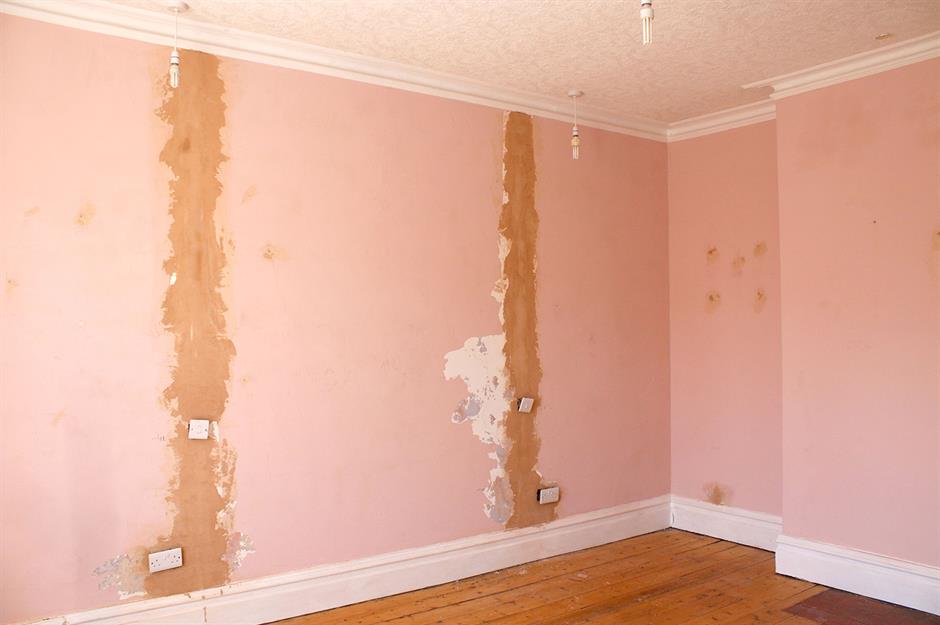 Swoon Worthy
Kimberly Duran of the award-winning blog Swoon Worthy calls it her 'virtual home'. Lucky for us she's shared her real-life home renovations, as you need to see how she turns an empty shell into a glamorous bedroom to really believe it…
After: A beautiful grey boudoir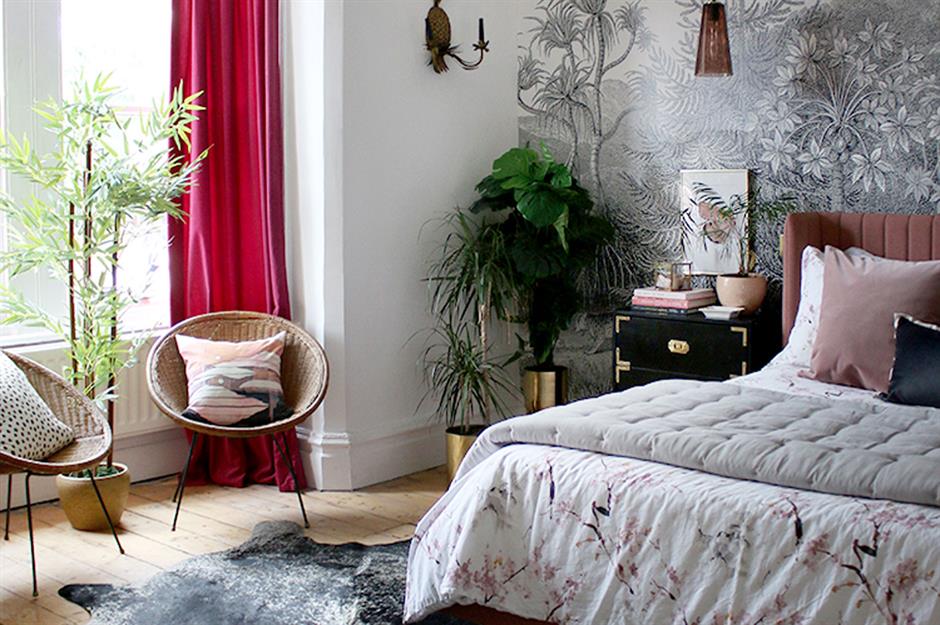 Swoon Worthy
Kimberly loves the maximalist approach and so knows how to add a lot of different patterns, textures and accessories to a room without throwing the whole look off-balance. Here, a monochrome jungle wall mural teamed with a dusky pink headboard makes this busy but beautiful bedroom an oasis of kitsch. The cowhide rug contrasts with hot pink curtains and adds the perfect finishing touch to add texture to a large floor space.
Before: An old-fashioned bathroom
The Pink House
The Pink House blog, founded by Emily Murray, started after she became a mum and is about her love of decorating. Fast forward seven years and the one-woman website has now expanded to a team of four who post regularly about interiors, travel and shopping, with plenty of homes and makeover inspiration along the way. Murray turned her hand to sorting out this dull bathroom, which suffered from awkward sloping ceilings and a lack of light.
After: A modern metro-tiled bathroom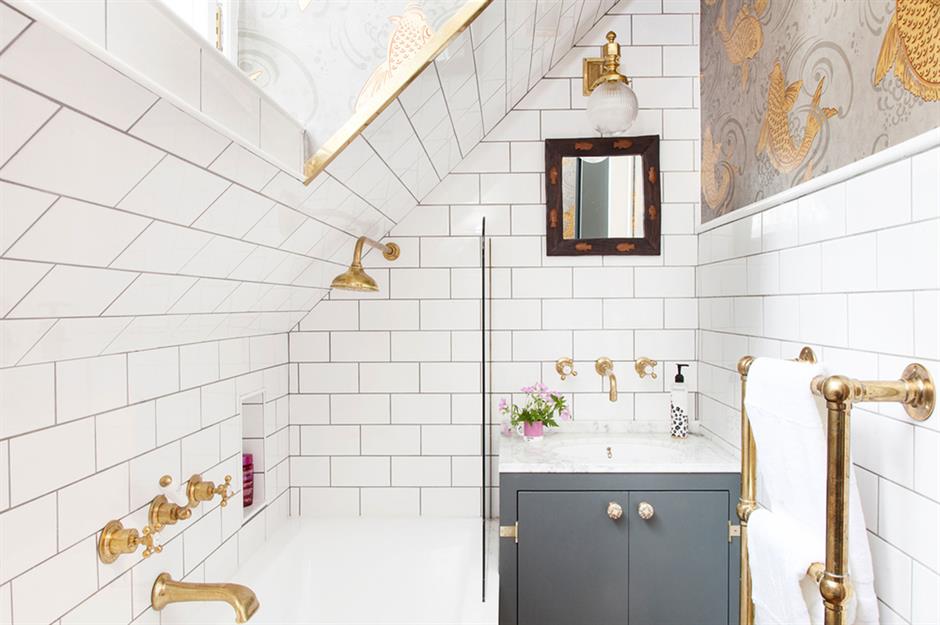 The Pink House
The tiny bathroom has been transformed from an uninspiring and dark problem room into a luxurious, hotel-style sanctuary. By covering the entirety of the angled wall with gleaming white metro tiles, Emily managed to bounce light into every corner and made the space feel much more uniform. To amp up the glamour, luxurious gold fixtures and that Osborne & Little Derwent Wallpaper in Charcoal are perfectly positioned.
Before: An orange wood cabin
Deuce Cities Henhouse
Alison Allen has been blogging about her small property portfolio on Deuce Cities Henhouse since 2009. Her long-established blog has featured some loving fix-up journeys, including a 110-year-old Minneapolis house, her current home and, more recently, this amazing but old-fashioned A-frame style cabin in the heart of Western Wisconsin.
After: A modern holiday cabin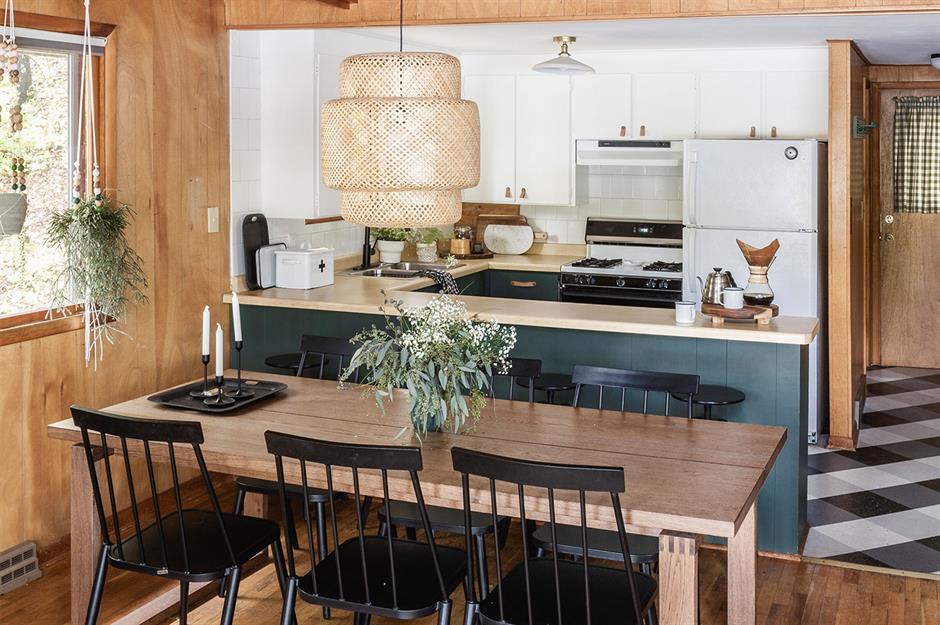 Deuce Cities Henhouse
Now, this is what you call a kitchen makeover! Gone is the orange pine wood, and in its place we have a small but perfectly formed two-tone scheme. With its brilliant white cupboards, the forest green cabinetry looks fresh and makes the whole open-plan room look brighter and more modern. Using a statement floor with a monochrome gingham pattern, Alison hasn't played it safe, but the look works flawlessly.
Before: A drab and dark hallway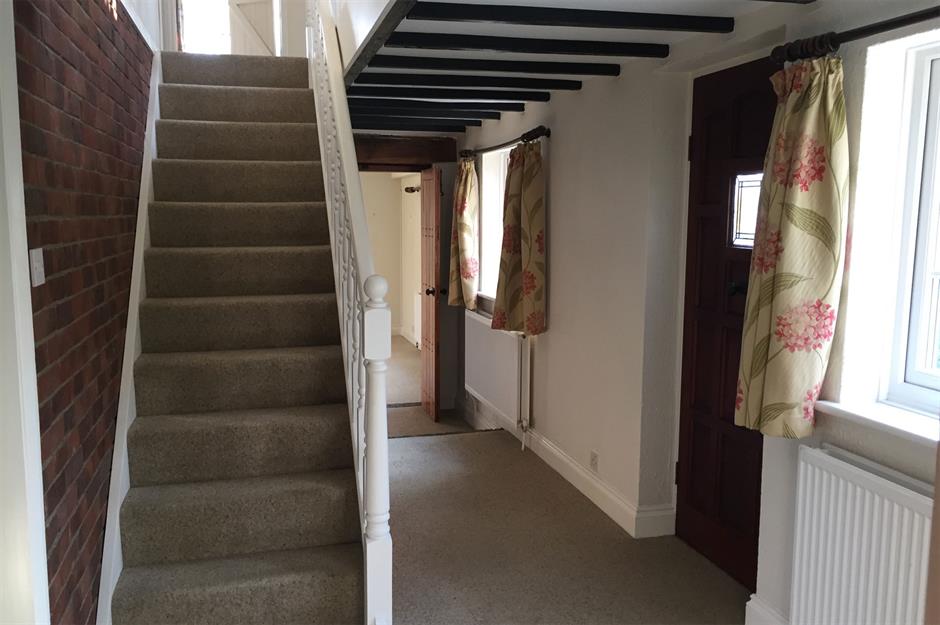 Sophie Robinson
The lauded interior designer Sophie Robinson loves to inject colour and personality into every space she touches, and those are qualities this plain and dimly-lit hallway could clearly benefit from. With a low-beamed ceiling and tiny windows buffeted by heavy curtains, there were some quick wins to be had, but no one could have anticipated just how different the end result would be…
After: A vibrant, violet modern hallway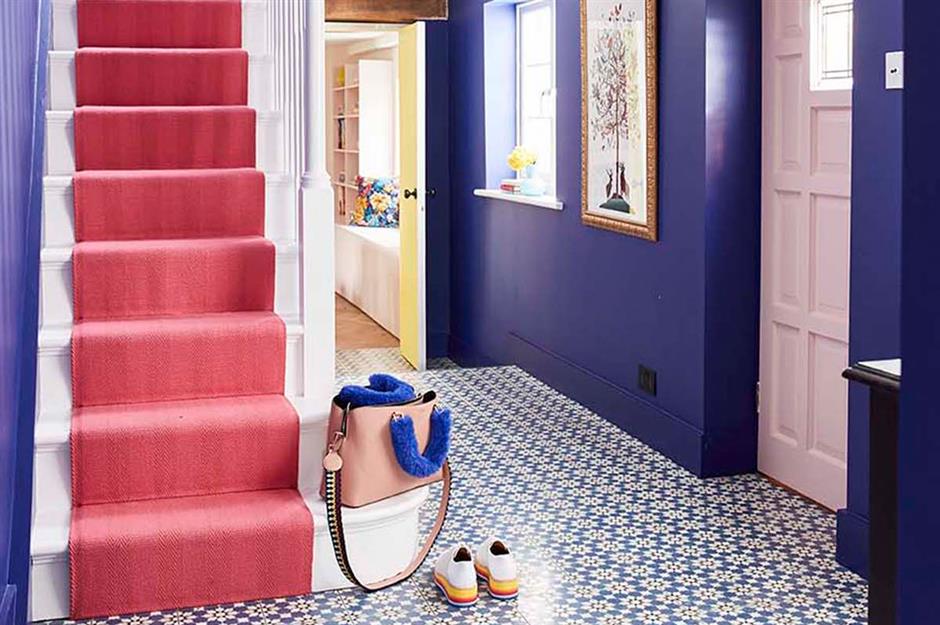 Sophie Robinson
Sophie's entrance hall has been transformed into an uplifting kaleidoscope of bright colour that most of us wouldn't dare to use. With a deep amethyst purple shade for the walls, a pink front door and a patterned tile floor, the space has real visual impact. Painting the woodwork a brilliant white balances the stronger elements. If you're brave enough to take the plunge and try a look like this, we bet you'll absolutely love it!