Original Article – https://www.loveproperty.com/gallerylist/69774/67-stylish-lighting-ideas-to-brighten-your-home
Bright ideas and new trends to light your home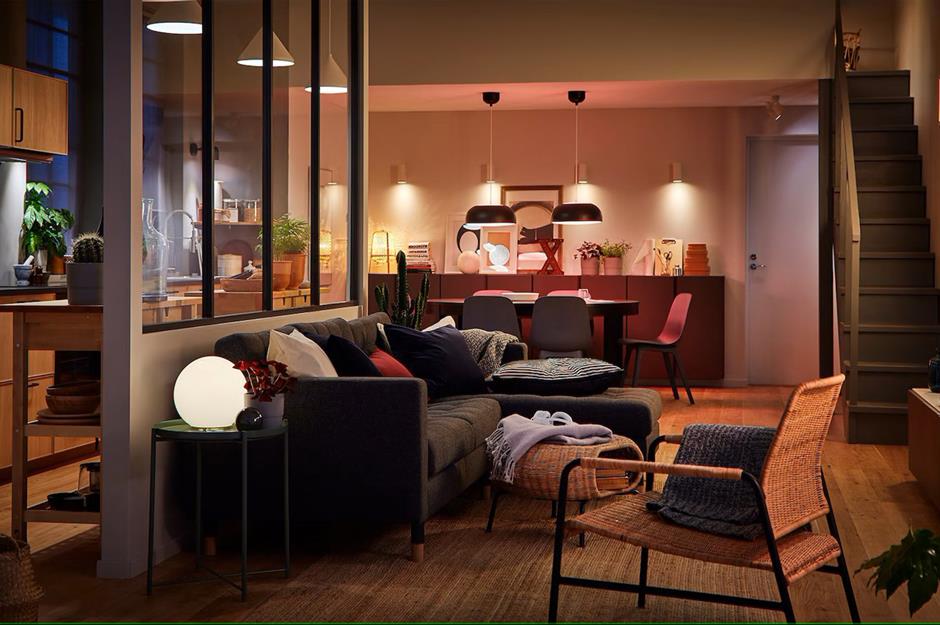 IKEA
An essential element of any room, the right lighting can take a scheme from dark and dingy to cosy and welcoming with the flick of a switch. From glamorous Art Deco lamps to neon signs and whimsical moon lamps, we've rounded up the best ideas and new trends to bring light into your home. Click or scroll on for plenty of illuminating ideas…
Install bedroom pendant lights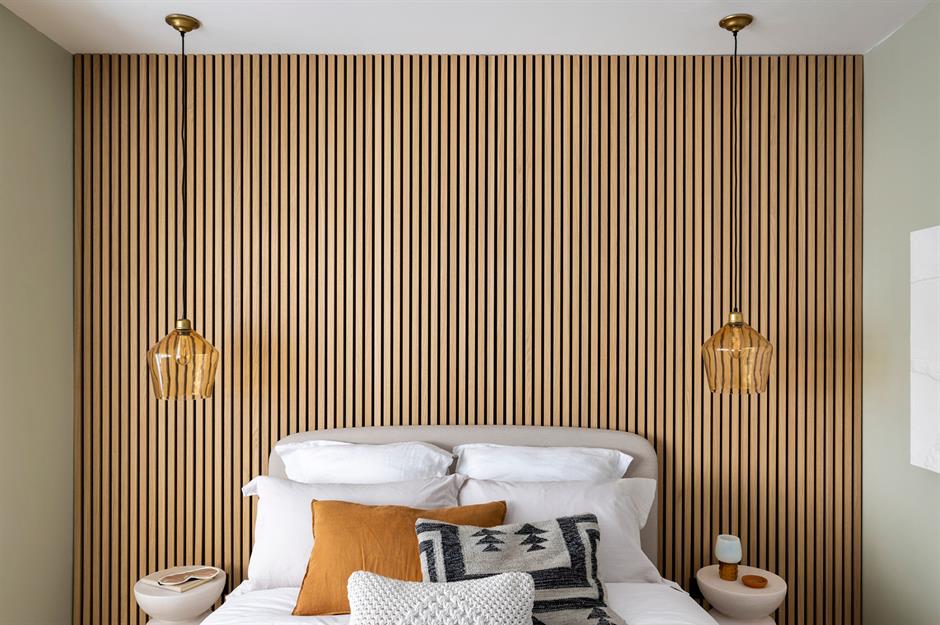 Industville / davidgilesphototgraphy / @lifeofaninteriorstylist
At present, you can't flick over to a bedroom makeover page in an interiors magazine that hasn't installed a fabulous pair of bedroom pendant lights on either side of the bed. The symmetrical suspended lighting option frees up space on the nightstand and creates an incredible focal statement that highlights the bed. Of course, it also means you can forgo the furniture altogether—so makes the perfect small bedroom idea. And best of all? You don't have to get out of bed to turn them off.
Larger than life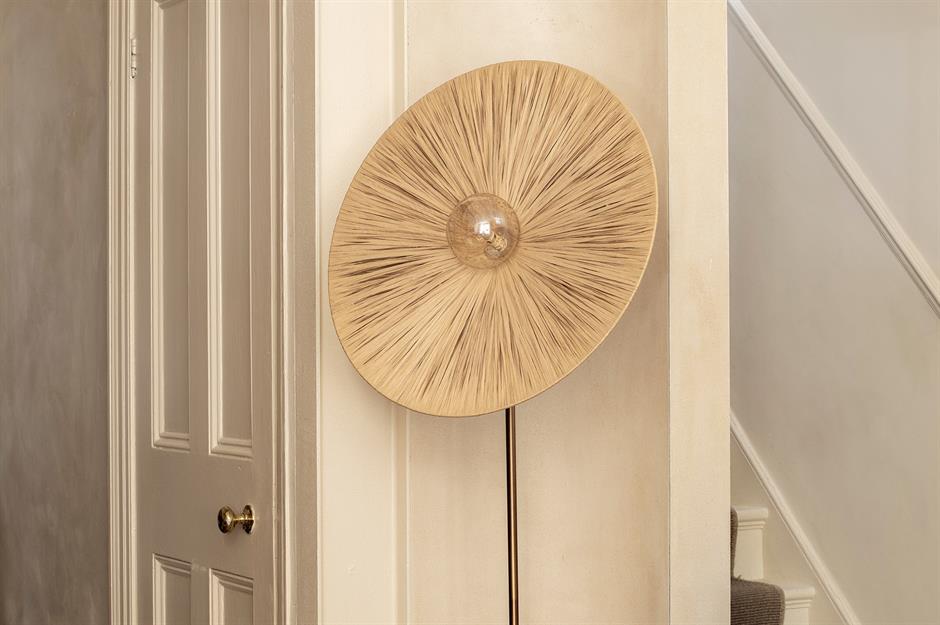 Lightsandlamps.com
Over-blown lighting statements make interesting focal points in rooms without structural features to show off. Super-sized ceiling drums, dominating floor lamps or decorative wall lights are set to be the centre of attention in living rooms and large open-plan living spaces.
Make it monochrome
Dulux
Monochrome decorating schemes that wrap rooms in one colour or tone create a stylish and contemporary vibe. Blending lighting into the scheme adds a three-dimensional element without upsetting the balance. We love this take on the trend where a copper-toned floor lamp peeps out from Dulux's soft Dusted Heather tone of the upper walls but blends in perfectly below with a shade of Inca Orange below.
Scalloped edges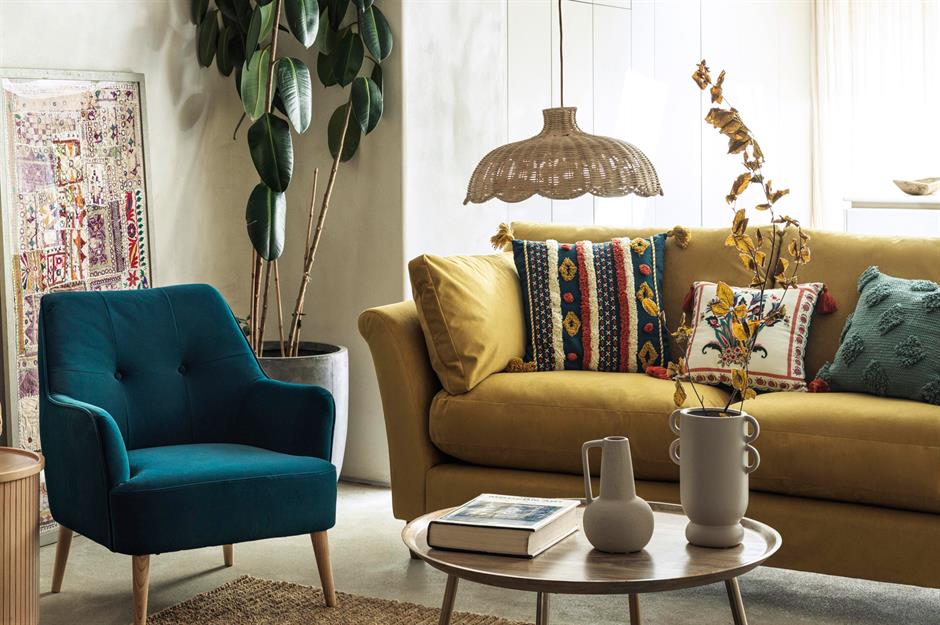 Marks and Spencer
Like the paint decorating effect, scalloped edges are going to be a hit lighting trend in 2023. Set above a dining table or kitchen island, the wave-like curves are soft and fluid, creating subtle attention to detail that's totally up to date.
Expose the wires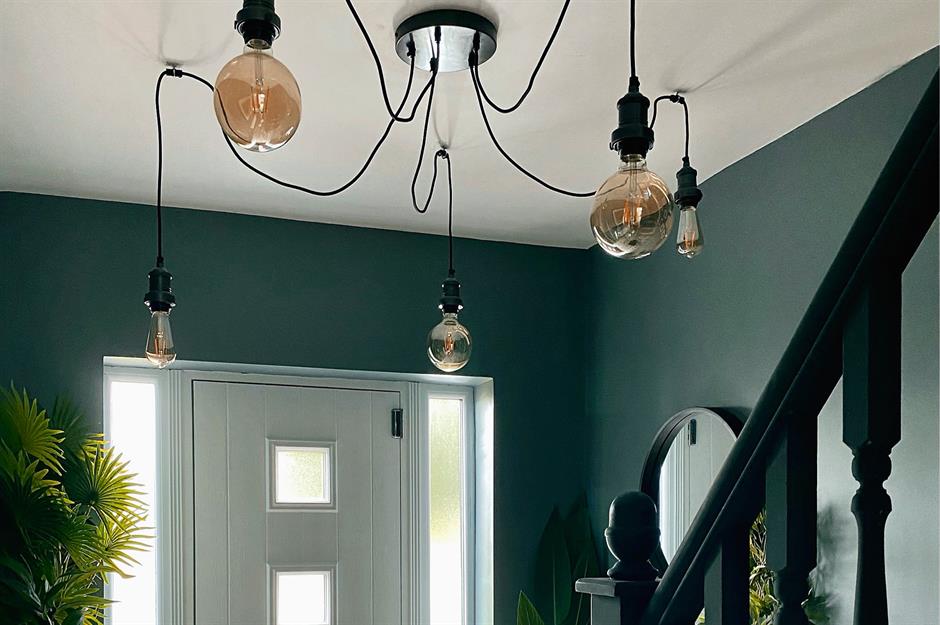 @_lifeafterlockdown / Industville
If exposed lighting cables conjure up visions of dusty construction extension leads trailing across the floor—think again! Uncovered wires create bespoke looks that offer an industrial edge in modern homes. From suspended spidery chandeliers to red braided rope lamps, there is an array of choices.
Soften with smoked glass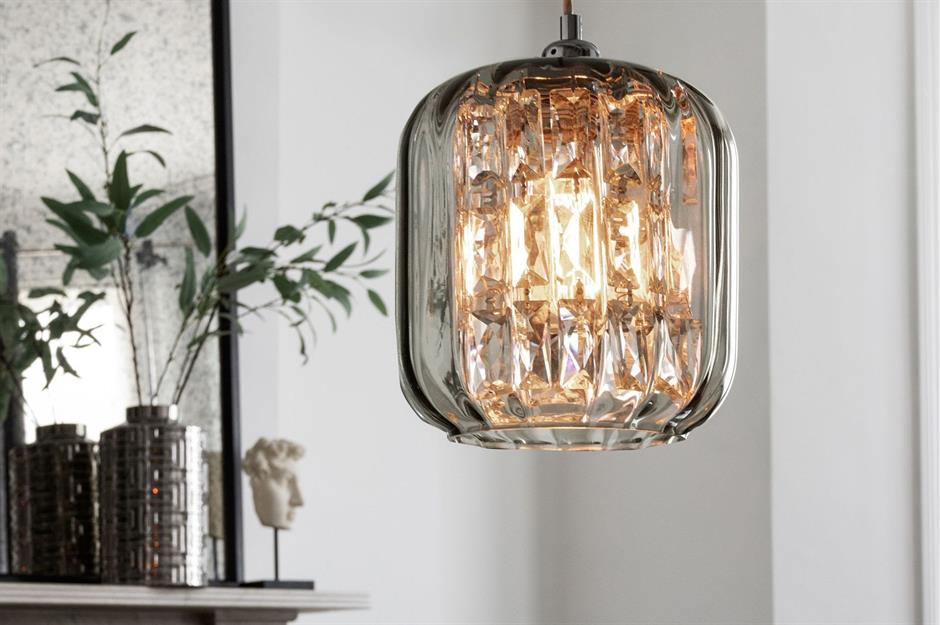 Next
Add a twist to popular bulb lighting with smoked glass shades and pendants that add a glamorous contrast to neutral schemes. The delicate addition adds a soft hue to create a warm traditional decorating idea that's timeless and chic.
Feature a sculptural chandlier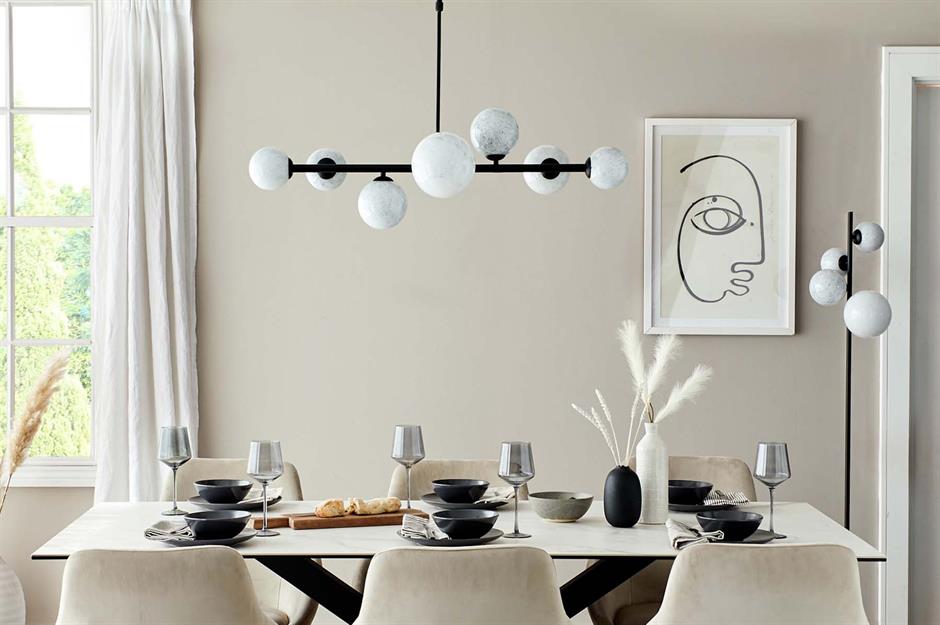 Danetti
Chandeliers have been a decorative luxury lighting option for centuries. But, contemporary versions with sculptural interest are making a popular warm welcome in modern schemes. These architectural chandeliers are sleek, avant-garde, and artistic.
Pop in powder coated metals
HomSense
Powdered coated metal gives classic industrial-style lights a colourful update. Pastel tones are proving more popular than ever and will introduce pretty notes into neutral schemes or add a fresh finish to contemporary, minimalist rooms.
Have fun with novelty bases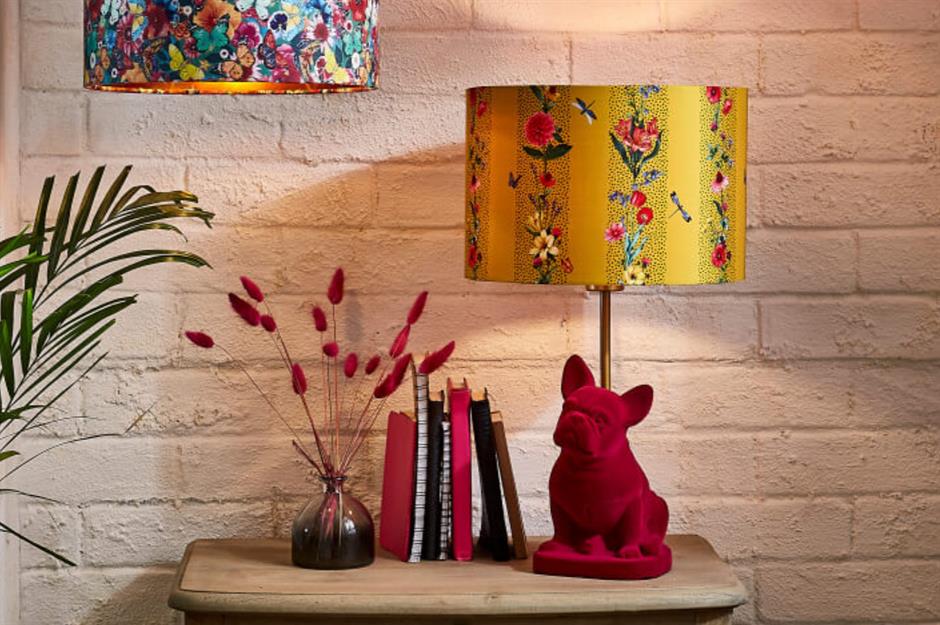 Joe Browns
From brass monkeys hanging from ceilings clutching light bulbs to exotic bird bases propping up patterned light shades, whimsical lighting ideas that add interest to a scheme are filling up the lighting aisle shelves. We love this little pink bulldog table lamp that will sit faithfully in a retro living room with a cool, kitsch character.
Calm with Japandi charm
As the latest trends are heavily influenced by the environment and sustainability, it's no surprise that designers are looking to use eco-friendly materials in bold designs that really pack a punch. Naturally translucent, the beauty of a paper lantern is in the soft glow as the light is able to permeate through, perfect for the darker months when we're looking for comfort and cosiness rather than clear, bright task lighting. Paper is also widely used in lantern making, which ties in nicely with the ongoing love for Japandi style.
Pick up a portable lamp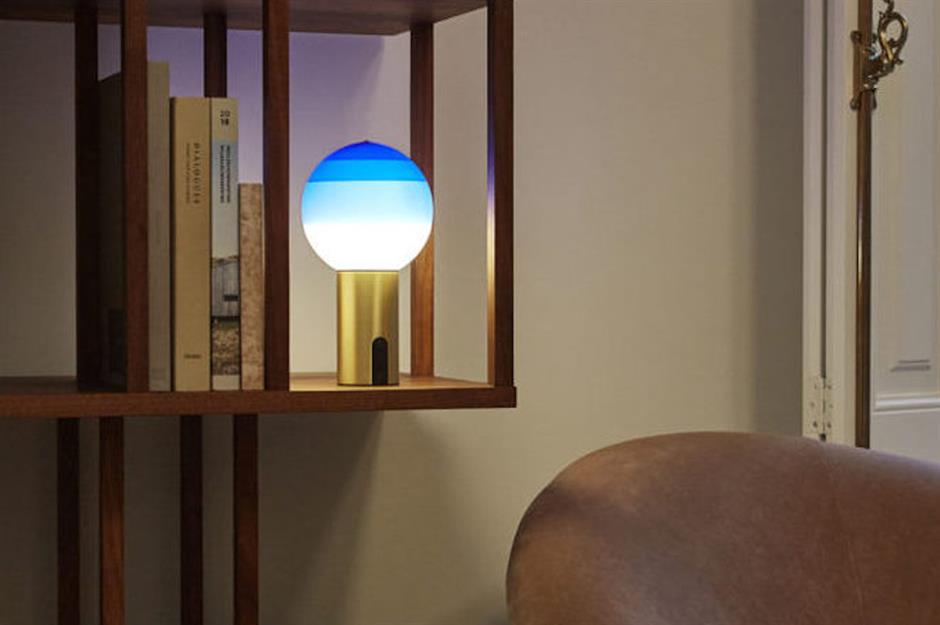 Nedgis
With the threat of possible blackouts looming, it's no wonder flexible, battery-powered LED lamps are having a facelift. The Dipping Light portable lamp is a wireless splendour designed by Jordi Canudas. It delivers 20 hours of warm glow that is a far cry from those basic camping lamps we have been used to until now.
Colour up rattan lampshades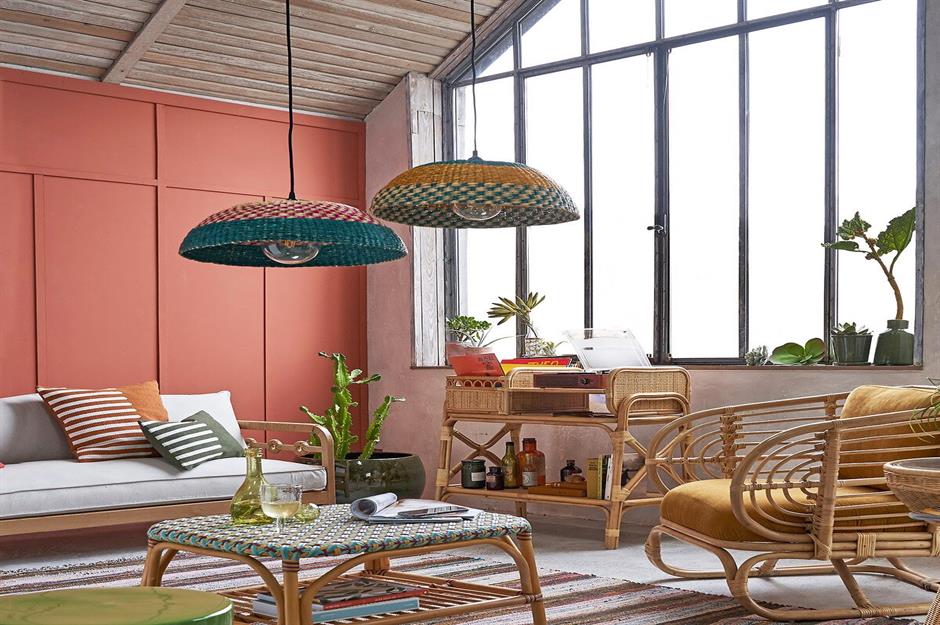 Le Redoute
Rattan has been a popular lighting material in neutral and rustic schemes for a while, so it's refreshing to see a colour update in the mix. The Hilo colourful woven straw lighting range is handcrafted from braided straw and brings a fun, bohemian vibe to colourful schemes.
Light up rechargeable lamps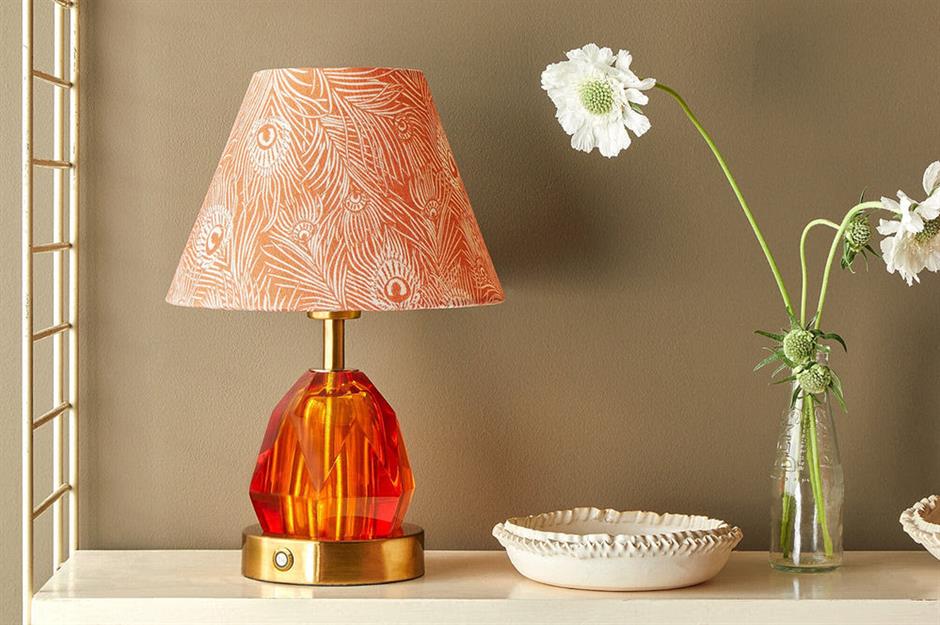 Pooky
Black-outs be gone as technology is changing the way we light our homes. This amber resin lamp really is a jewel as it's rechargeable. With at least ten hours of dimmable charge, it can be moved into any dark corner to create an exotic glow without needing wires or sockets.
Set up sustainable style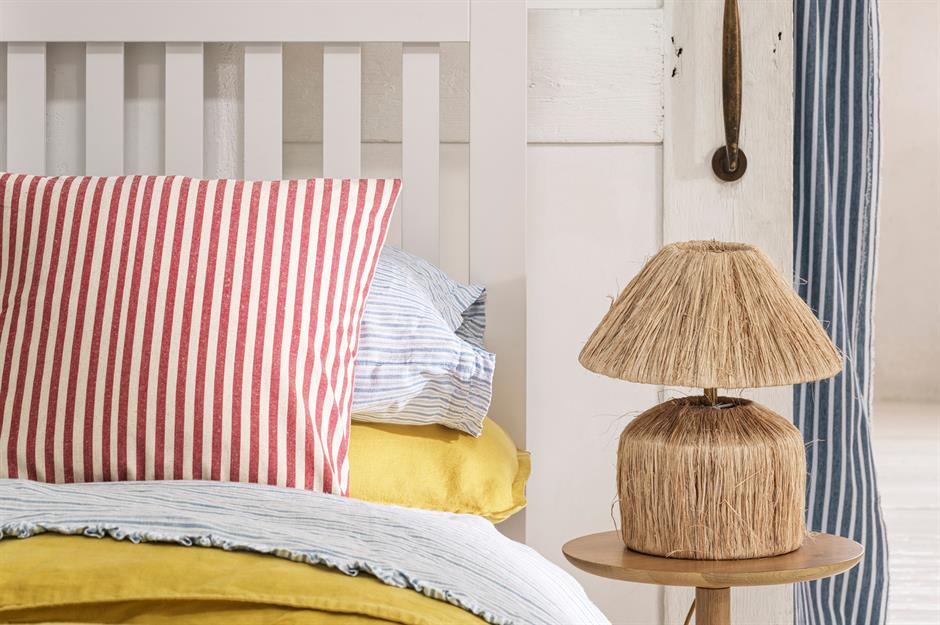 Furniture Village
Our need for sustainable style hasn't fallen short in the lighting industry. As well as LED and rechargeable interior components, design aesthetics are also getting an update. Despite glass saturating lighting looks right now, we love materials such as wood and natural rattan, too.
Use strip lights in an alcove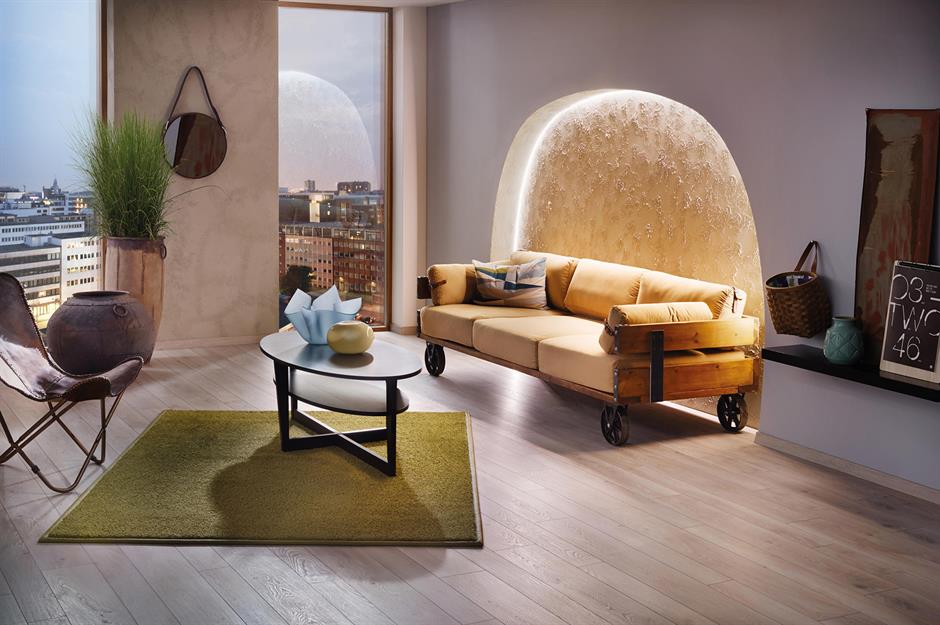 Hera / Architonic
LED strip lights have opened up a world of possibilities for the home decorator. Simply attach them with a double-sided sticky backing and you can use these long illuminated ribbons anywhere, plus they're battery-operated, so no unsightly wires. One simple way to create a glowing feature is to outline any architectural features such as alcoves, tray ceilings or wall recesses. As this project proves, curves, in particular, look stunning.
Add attention-to-detail text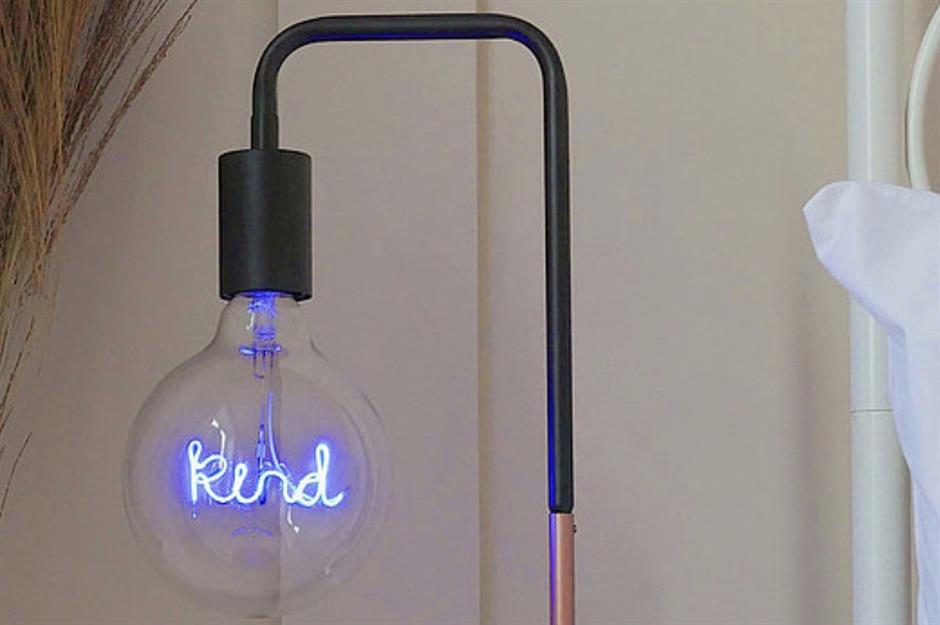 Aurina
Give your Edison bulb feature lamp an extra style statement by adding a light bulb like no other. Text light bulbs are quirky and set the mood with a smile.
Mix marble with metallics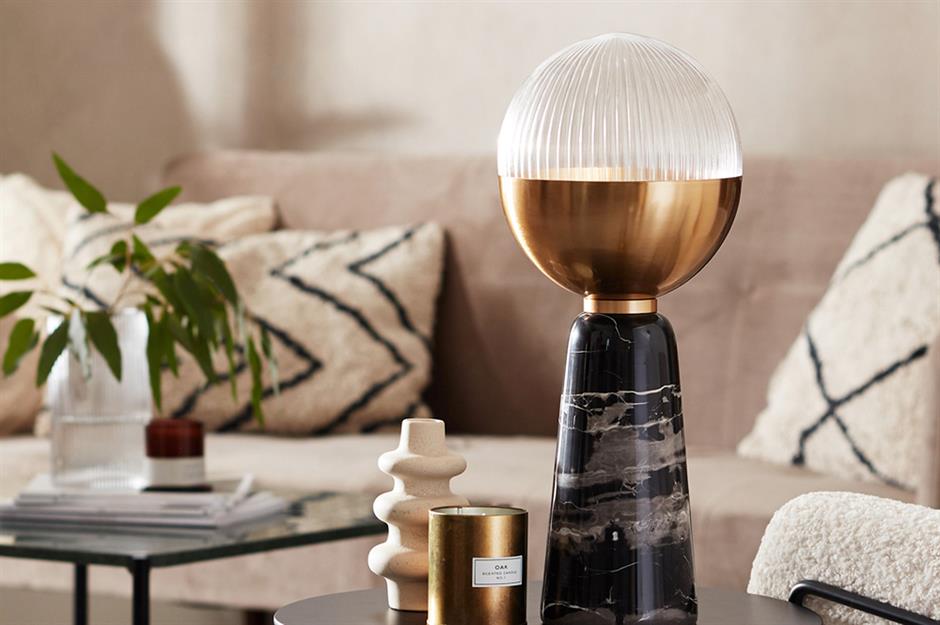 Cult Furniture
From bedside lights to task lamps, table lighting is an essential consideration for any home interior. Pairing practicality with a sleek, modern design, this oversized gold-infused light bulb makes a glamorous statement with a marble-effect dome base. The combination of materials adds glamour to monochrome or Scandi-inspired schemes.
Choose an intriguing task lamp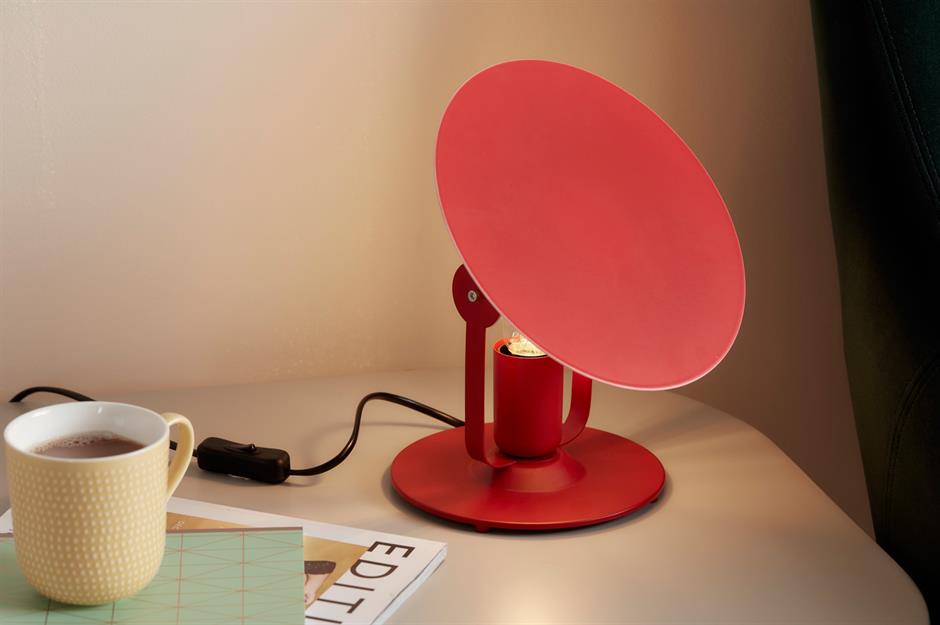 B&Q
A good task light is a must if you want to pursue your work or hobbies on a dim winter afternoon. An angled desk lamp is your best bet. Look for a design that diffuses a little mood lighting through the shade while focusing a stronger beam on the task in hand will give you the best of both worlds. This contemporary Kiranat Matt table lamp embraces our new love of primary colours and has a striking flat, adjustable shade designed to reflect light onto walls and objects.
Display a cloche lamp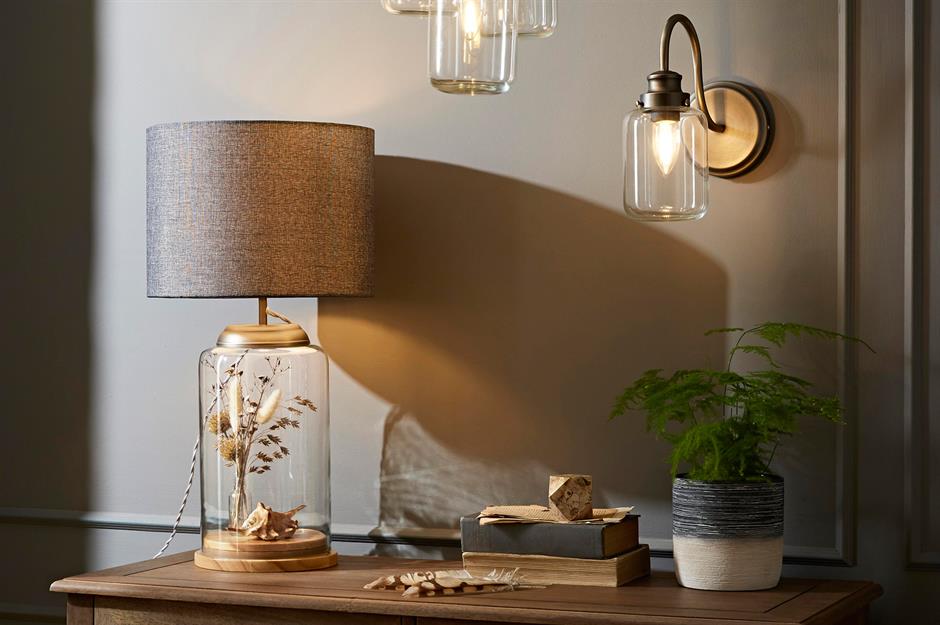 Dunelm
Glass plinth lamps allow the owner to add a personal touch to lighting that tells a seasonal story or matches a particular decorating scheme. Remove the clear glass cloche base from the wood stand to display a touch of greenery or an ornament within. The decorative element makes a timeless addition to classic and country looks.
Arrange an arc lamp
Cuckooland
Following the hot trend of curvy, wavy, and arch decorating, go for a large arc floor lamp to illuminate the area you need. Position one over the sofa for reading, watching television or just chatting with friends. You can even mix up the finishes—we love this copper design, but you could go for steel or black for a more dramatic feel.
Introduce modernist silhouettes and shadows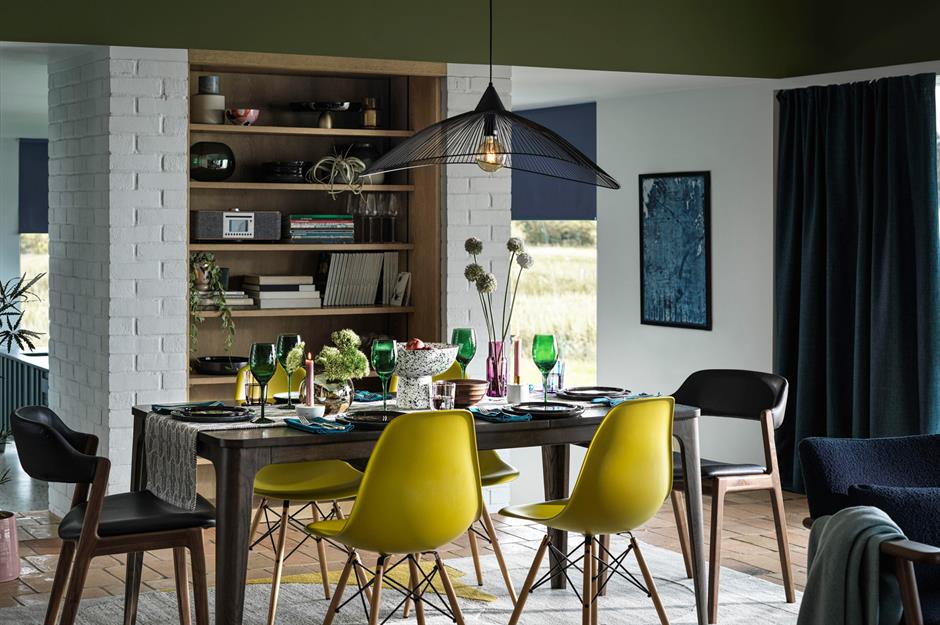 Ceiling lights with striking and contemporary vibes are pushing the boundaries with organic shapes. This Hiko light has been created with metal threads that curve into an uneven profile. The floating-style aesthetic glows from the centre through each narrow panel casting inviting shadows on nearby walls.
Go bold with colour and pattern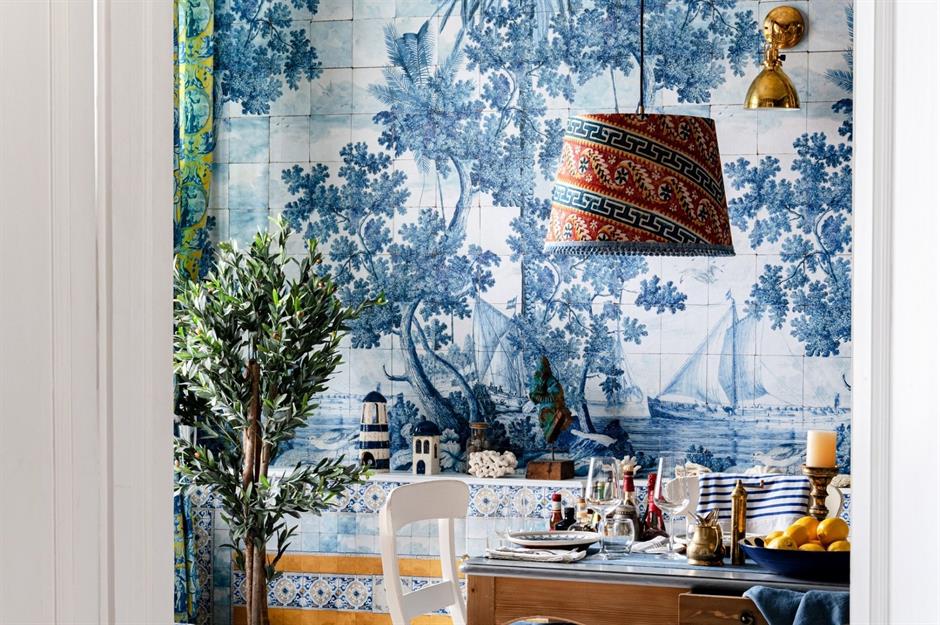 Mindthegap
This season, lighting is all about bold colours and eclectic patterns, so why not combine the two to create a truly wow-factor space that is entirely your own? Forget white walls and complementary lamps, because right now it's time to throw out the rule book and get playful with interesting prints and palettes. Pay homage to art and the latest global décor trend and you're sure to create a living space you'll never want to leave.
Hang handblown glass
H&M Home
The trend for organic, rounded shapes has moved on from seating to lighting, with clear glass as the material of choice for 2023. Handblown forms play on imperfection and asymmetry, while the translucent quality means this oversized lantern feels as light and airy as a bubble.
Make it all about orbs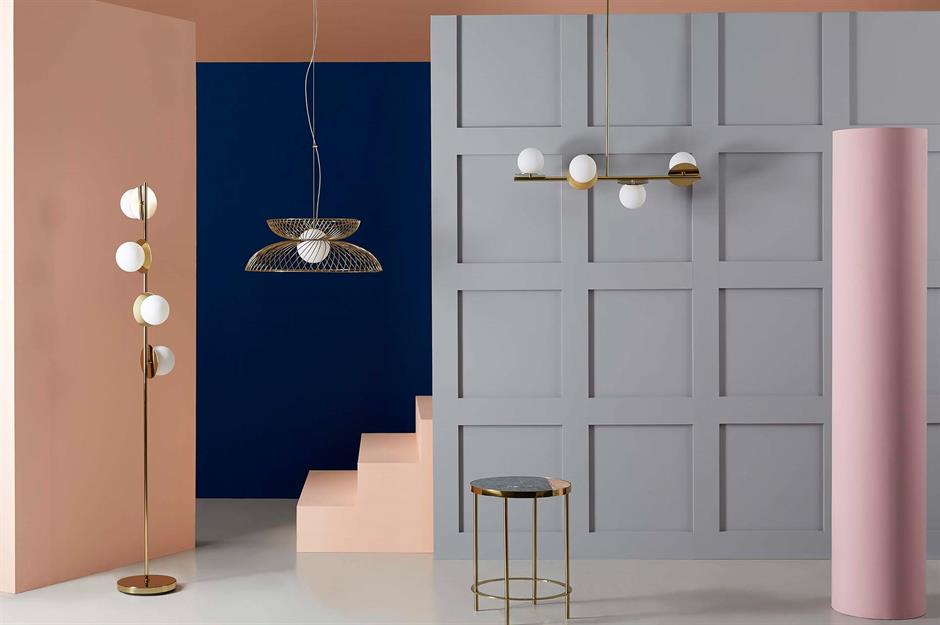 houseof
Taking inspiration from the recent Art Deco renaissance, orb lighting is an easy way to bring your interior bang up to date. Evoke the glitz and glamour of the Roaring Twenties with a gold wire pendant shade that frames the spherical bulb to perfection. Pair with a complementary floor lamp, like this stunning design from houseof, to carry the curvaceous aesthetic throughout your living space.
Go tough luxe with industrial lighting
Skinflint
You'd have to have been living under a rock to have missed the huge trend for Edison light bulbs, but industrial lighting has so many different strings to its bow. From pipework wall lights to reused bulkheads and fluted glass pendants, this modern style has a rustic, textured finish that looks great in all types of décor.
Pick a pleated lampshade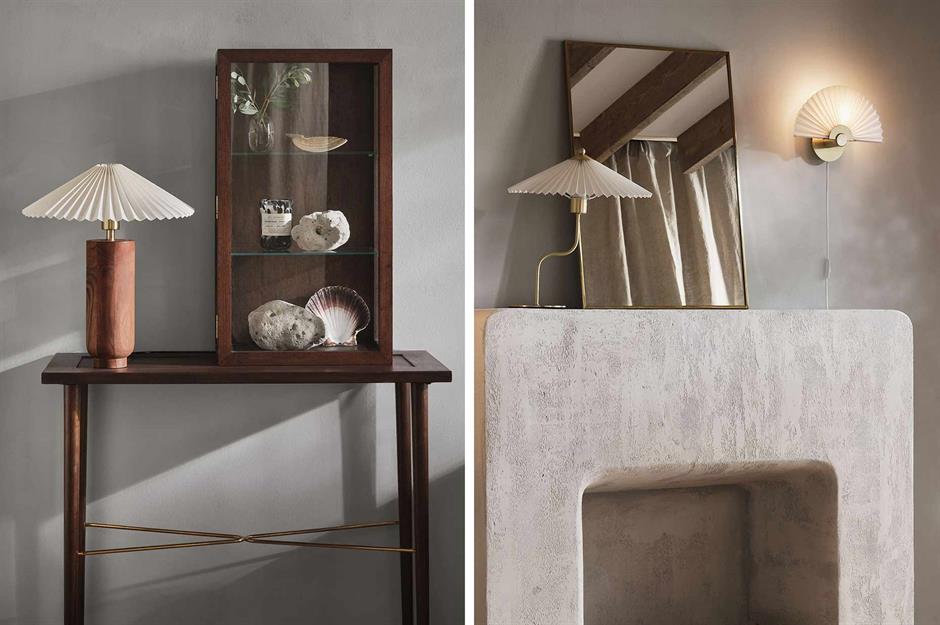 H&M Home
Testament to the fact that the 1990s revival shows no signs of abating, the once-iconic pleated lampshade is making an unexpected comeback. Pair it with a weighty coloured marble base, team it with a brass lamp or add mini shades to wall lights; you'll be surprised at how modern and appealing they suddenly look again.
Bring neon lights into the bedroom
The French Bedroom Company
The 1980s obsession also shows no sign of waning (thank goodness!), and one of the coolest ways to bring a little of this decade's style into your home is through a statement neon light. Combine it with typography to nail two trends at once. Scared of fluorescent colours? Stick to a monochrome palette and use a clean, white light—it's an absolute showstopper!
Illuminate an island with kitchen pendant lights
Kitchen Makers
Kitchen lighting usually requires three or four approaches: task lights for work areas, under lighting to highlight shadowy spots, and statement lighting to create the wow factor. A trio of pendants above an island definitely falls into the latter and the soft pools of light create a more ambient effect that's perfect for socialising. There are as many styles of pendants as there are hot dinners, from smoked glass to rustic enamelware, so pick something that complements your scheme for a trendy kitchen that won't go out of style.
Use wall lights to streamline a bedroom
The French Bedroom Company
Kill the clutter and get hotel style in one power move by incorporating two wall lights into your bedroom design. Not only do these provide the perfect reading light, they also free up space on a bedside table for more important things, like tea.
Illuminate shelves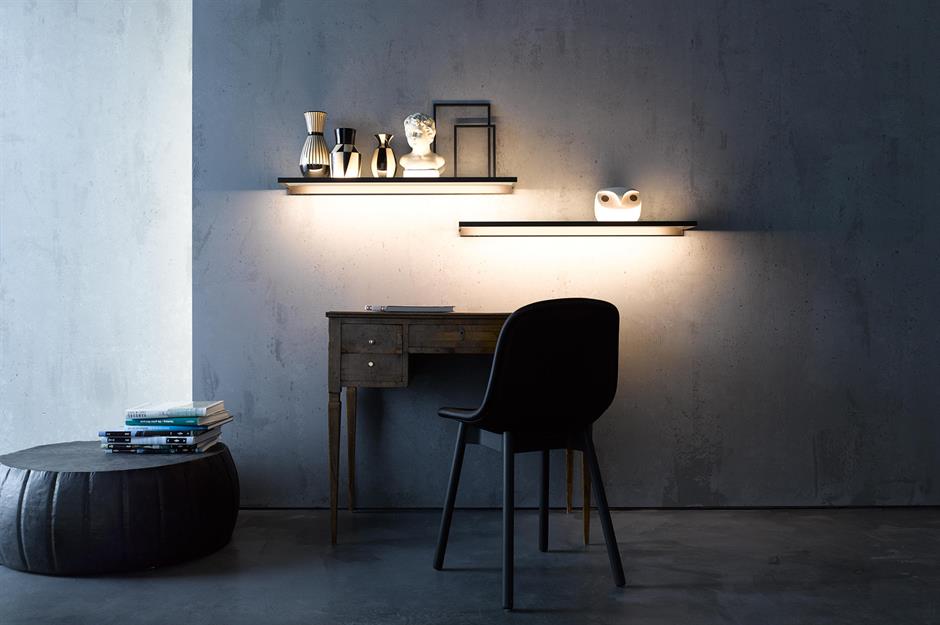 Gera / Architonic
What better way to display your favourite objects than on this cool Gera illuminated shelf? Made from fine, anodised aluminium, this clever two-in-one solution is perfect for a home office, as it can double up as a reading light. We love how it adds an ombre effect to any wall, too.
Sparkle with a modern chandelier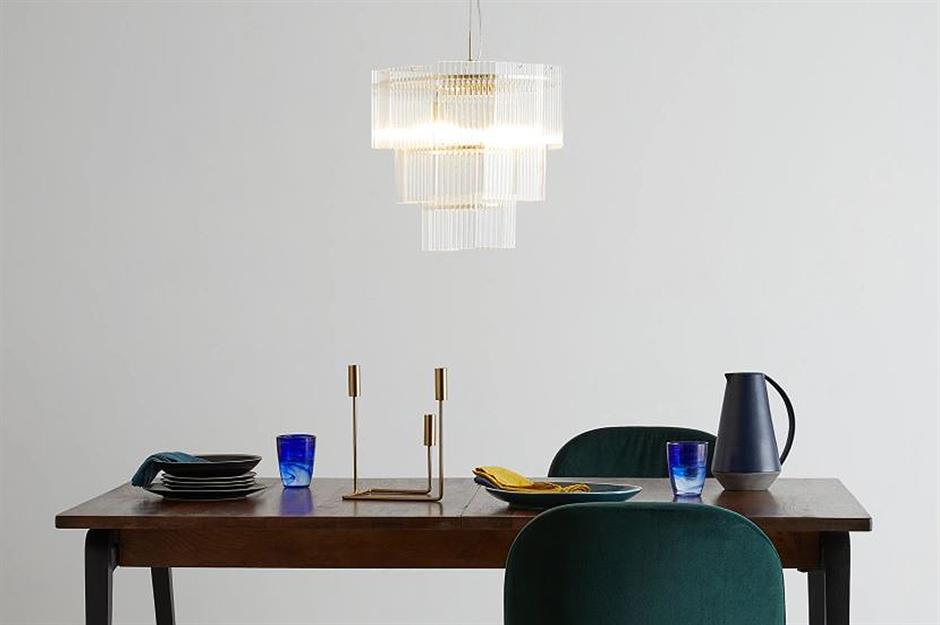 MADE
The chandeliers of yesteryear might've been all about intricate layered tiers and crystal galore, but these days there's a whole host of contemporary chandeliers more suited to the modern, minimalist home. Combining glass and brass, this sleek design wows with a fluted finish that casts a soft, warm glow. Use it to frame a dining table or illuminate a luxe living room.
Turn up the texture with a rattan lampshade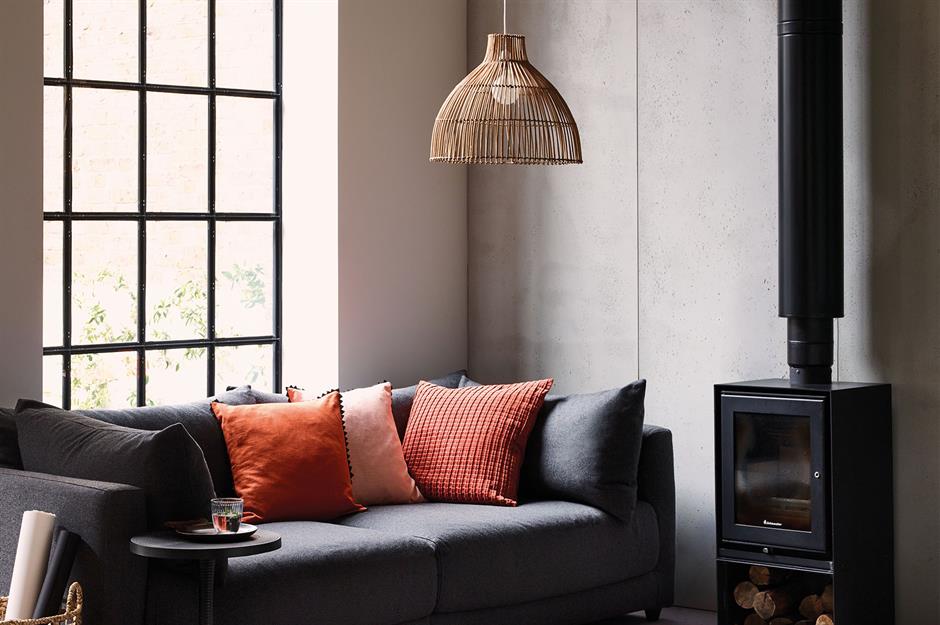 Habitat
Taking us right back to the 1970s, rattan, our favourite retro comeback kid, is taking over our home interiors all over again. Offering a wealth of texture and architectural interest, a woven pendant light is the way to go for those looking to make a serious statement. If you want to up the drama, opt for an oversized black rattan lampshade instead.
Add retro charm with Art Deco lighting
Original Article –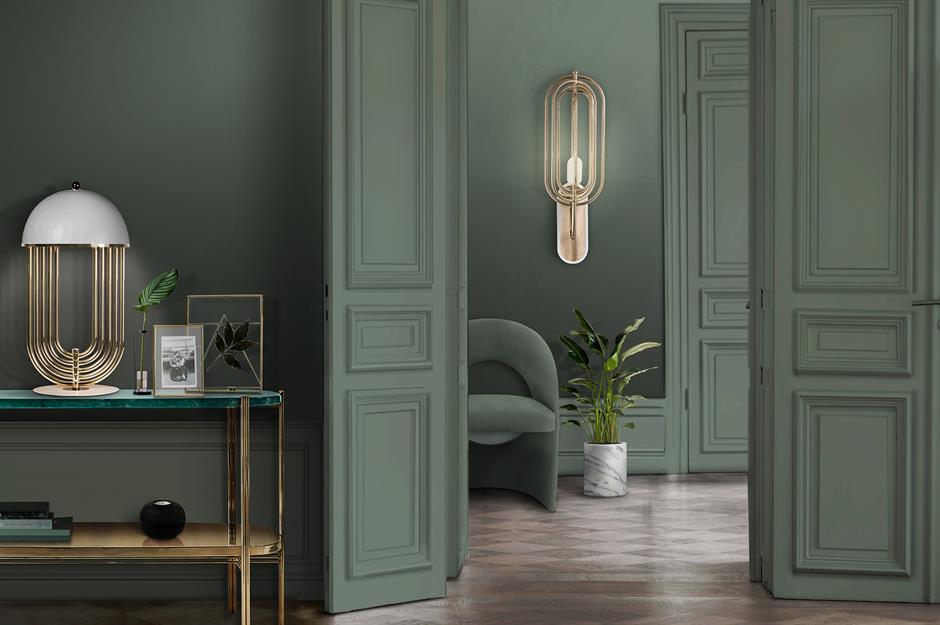 DelightFULL
The perfect addition to a period home or a new build lacking in character, 1920s-style lighting is a great way to inject instant personality into a lacklustre living space. With their warm gold hues and architectural curves, this Art Deco wall light and table lamp add a stunning vintage finish to this monochrome scheme.
Find your zen with a Himalayan salt lamp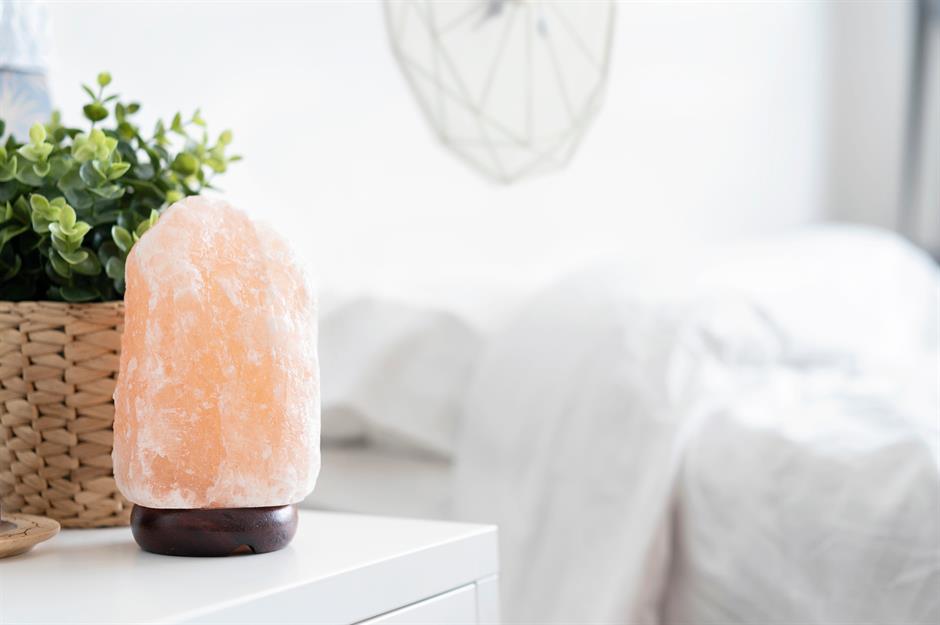 inewsfoto / Shutterstock
Believed by some to boost your mood and improve your sleep, Himalayan salt lamps are the next big thing in zen lighting. With a soft pink pigment, these unusual lights emit a warming glow that's perfect for cosying up a coffee table or adding a peaceful ambience to a bedroom. They're available both as a rough-hewn rock or in a carved, polished design for a more refined finish.
Go for glass pendant lighting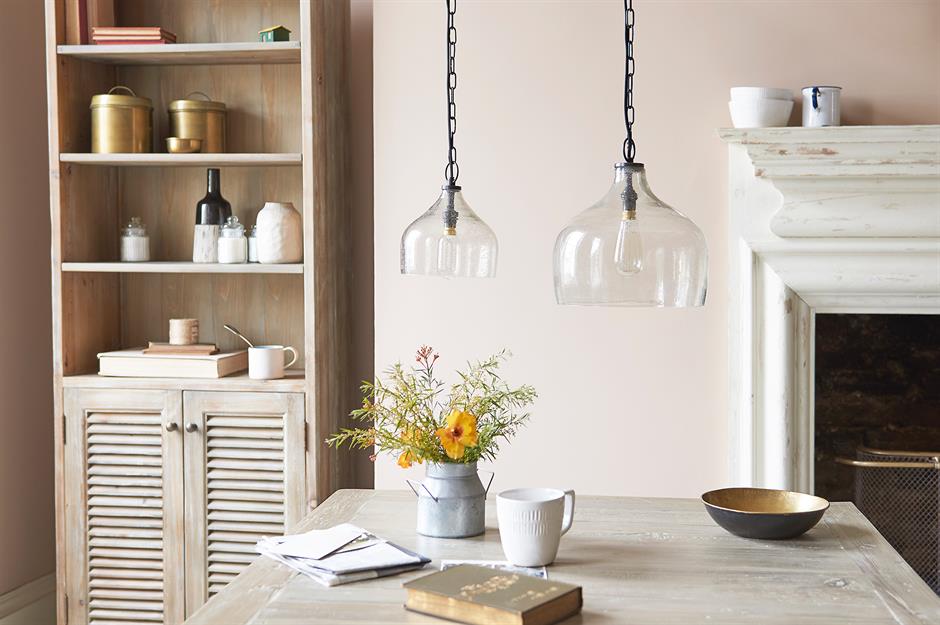 Loaf
For an elegant and sophisticated scheme, you can't beat a sleek glass light fitting. There's no shortage of styles out there, from atmospheric smoked glass pendant lights to vibrant coloured shades. For a modern country scheme, this cowbell design, complete with industrial chain fitting, adds plenty of charm to a rustic-inspired space.
Create a spectacle with a sputnik light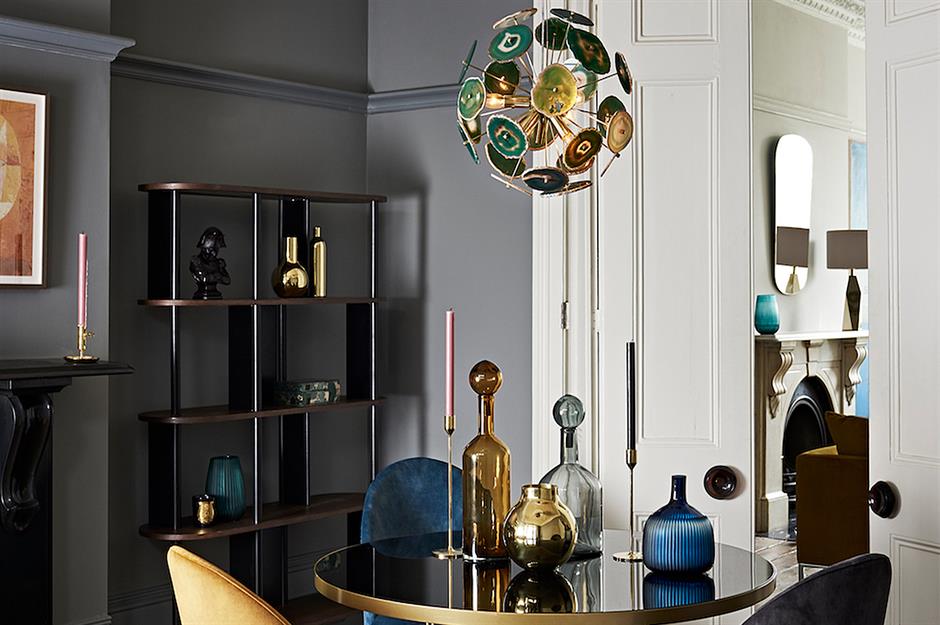 Mid-century modern fans rejoice—the sputnik chandelier is back. The perfect way to make a dazzling statement in a living area, this gold and green design from John Lewis oozes glitz and glamour. For a sophisticated dining room, pair with metallic accessories and jewel-toned tableware for a show-stopping space to entertain.
Round up a mirror light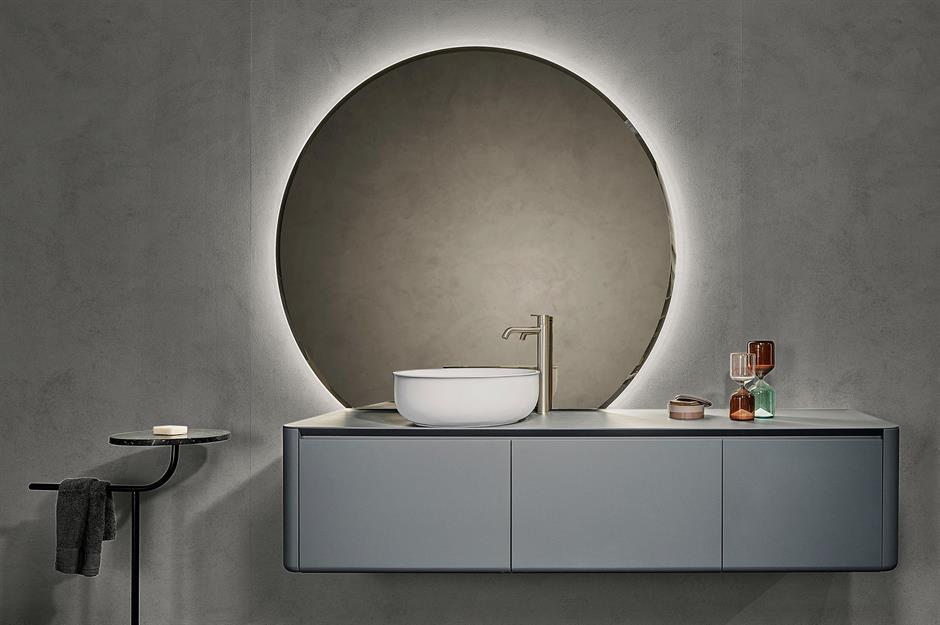 Inbani / Architonic / Baumann Fotografie
We love this statement design by Inbani, which will give any bathroom the feel of a luxury hotel. With its on-trend round shape, bevelled edge, and backlight, it has a minimalist style while fulfilling multiple functions. Mirror lights are great for smaller rooms, freeing up wall and ceiling space, and creating an optical illusion of extra inches. Plus, they are great for doing your make-up.
Colour your home with smart lighting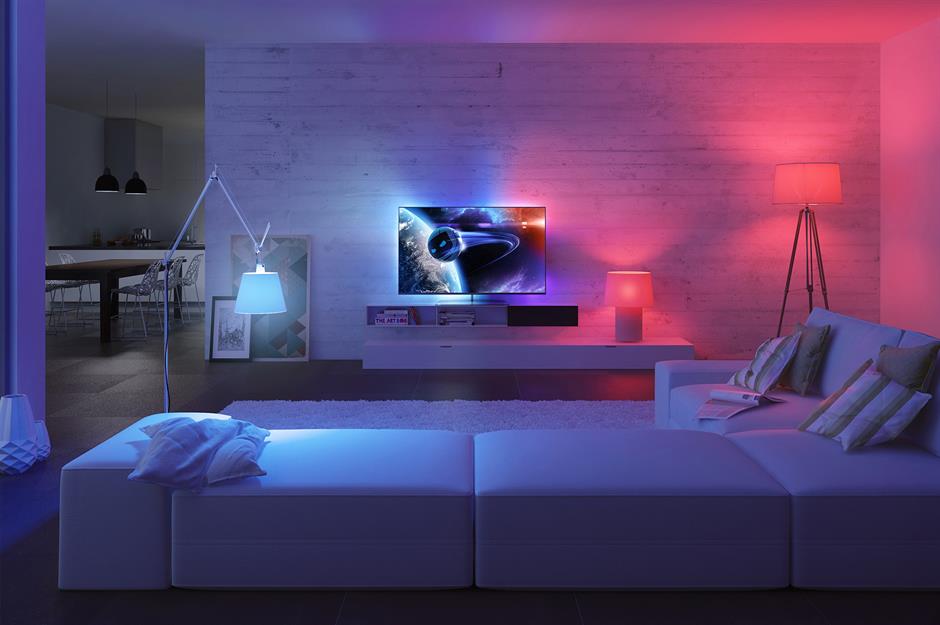 Phillips Hue
No smart home would be complete without an integrated lighting system, but now Phillips Hue is making it easy for anyone to enjoy the benefits of smart lighting. All you really need is a smart LED lightbulb and the app to start customising your scheme using a Bluetooth connection with your smartphone. You can set up to 10 different lights to different settings, ranging from bright white light that's good for working to these rich colours that will create the perfect ambience according to your mood.
Curate a photo wall
Lights4fun
String up small fairy lights on a wall and use them to peg your favourite holiday photos and snaps of friends and family. It makes a wonderful alternative to traditional photo frames while adding light and illumination to the room.
Celebrate celestial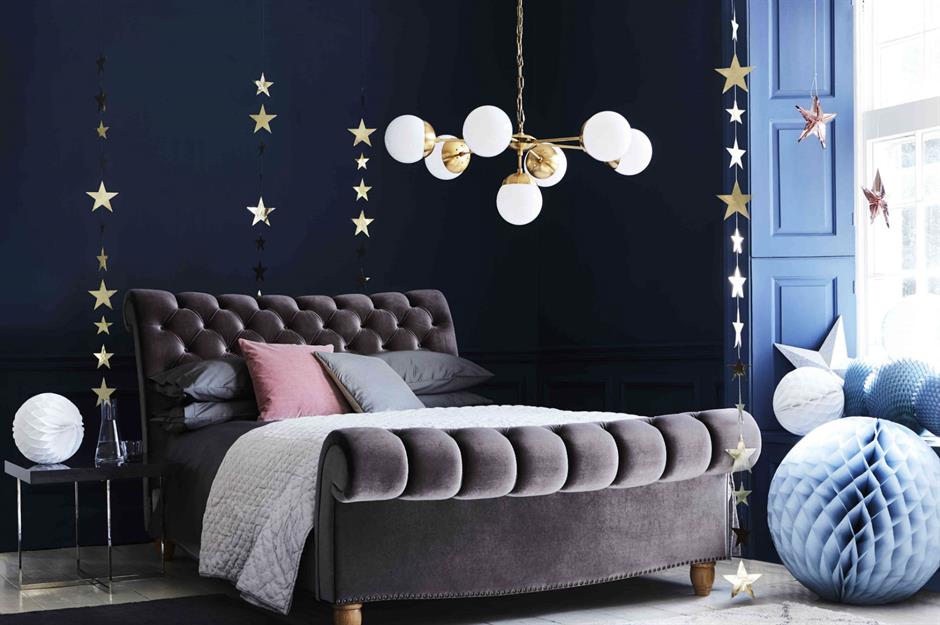 Furniture Village
Use lighting to set the decorating scheme for a room. Here, a stylish celestial pendant has been used over the bed. Teamed with a spherical bedside lantern, it sets the stage for a starry space-inspired scheme. Using moody colours, the lights take centre stage for this look.
Go wild with animal designs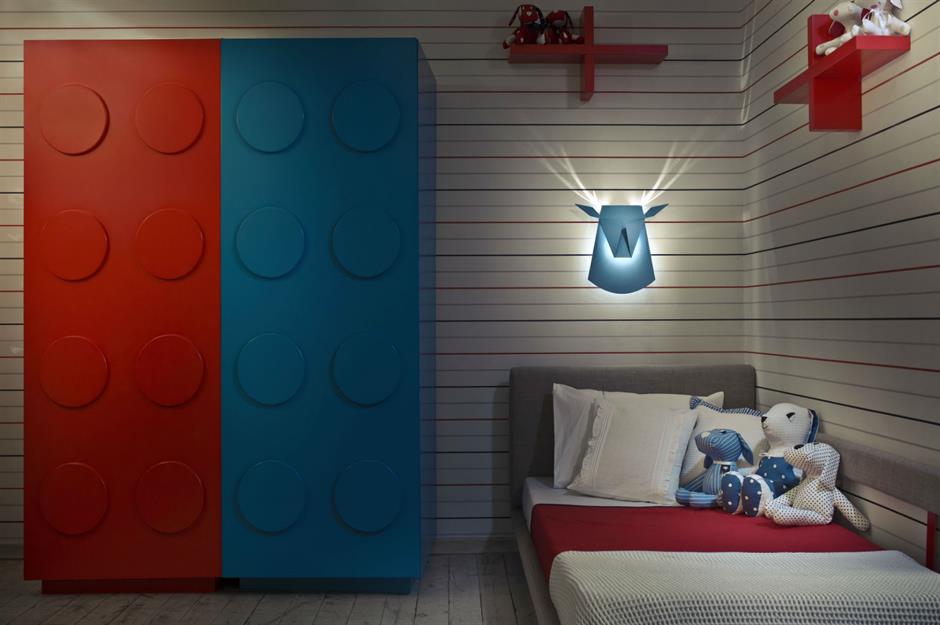 KSL Living
Why not ditch the same old lighting options and go for something a little out of the ordinary? In children's rooms, it's especially fun to use animal-shaped designs. This blue stag head wall lamp is a great feature in this blue and red bedroom.
Lay fairy lights along a ledge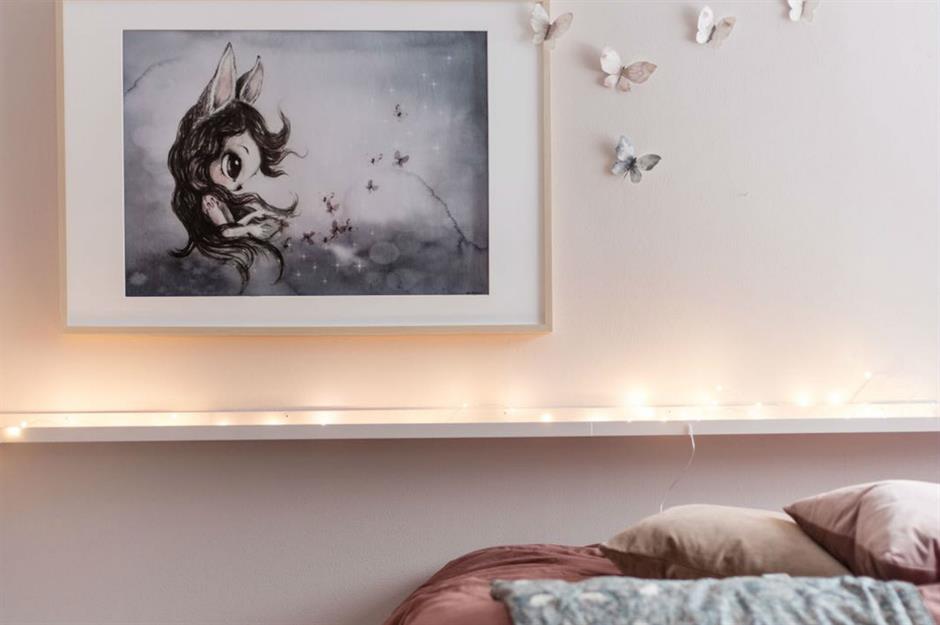 Norsu Interiors
Look around your home for areas that are lacking in light. Instead of opting for a conventional table light, ceiling pendant or floor lamp, try something a little different, such as running a length of fairy lights along a shelf.
Bring in a moon lamp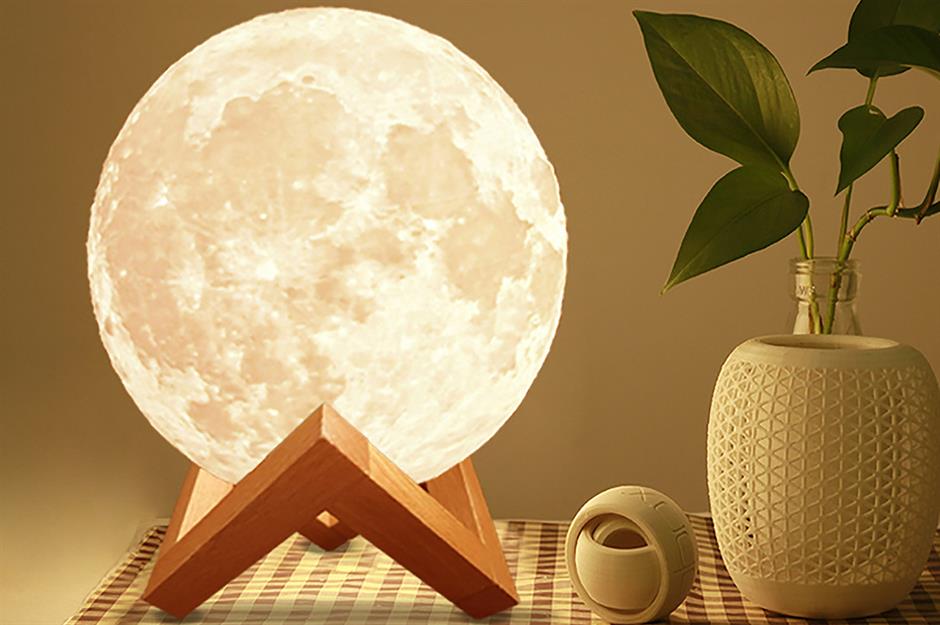 LoomisCollection / Etsy
One for stargazers and dreamers alike, this gorgeous homage to the moon makes a beautiful night light. Whether you go for an oversized orb to hang from the ceiling or a smaller lunar lamp, there are lots of options available now that these beauties have grown in popularity. Some have LED lights that change colour at a touch and others come wall-mounted with remote controls, but all have that amazing texture and shading for a lifelike appearance.
Have fun with tactile tassels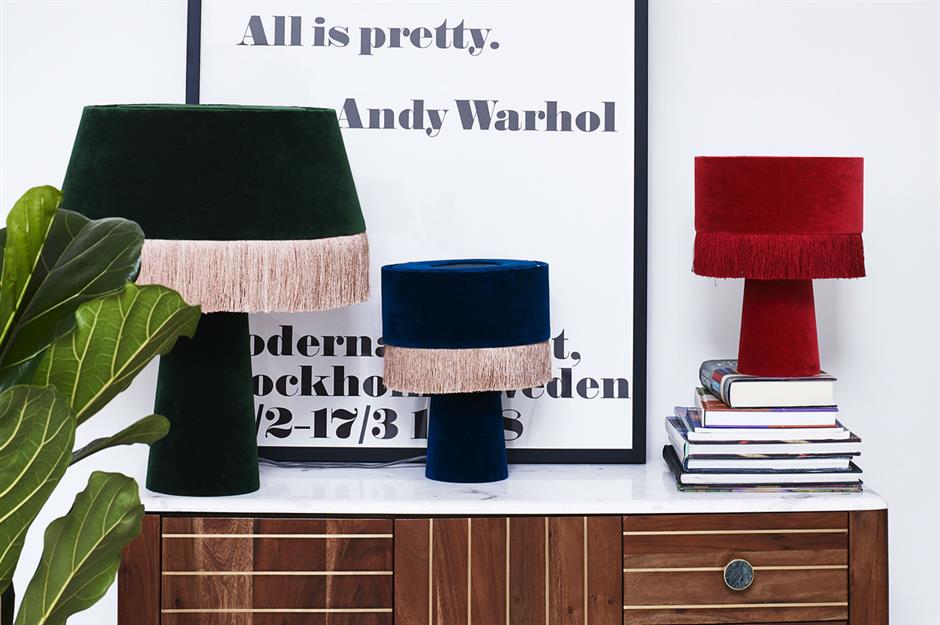 Oliver Bonas
This season there are plenty of new and exciting lighting options, including these gorgeous velvet and tassel lamps from Oliver Bonas. They come in a range of colours and are a great way to add texture to a room—we can imagine these in pride-of-place in the living room.
Mix and match shapes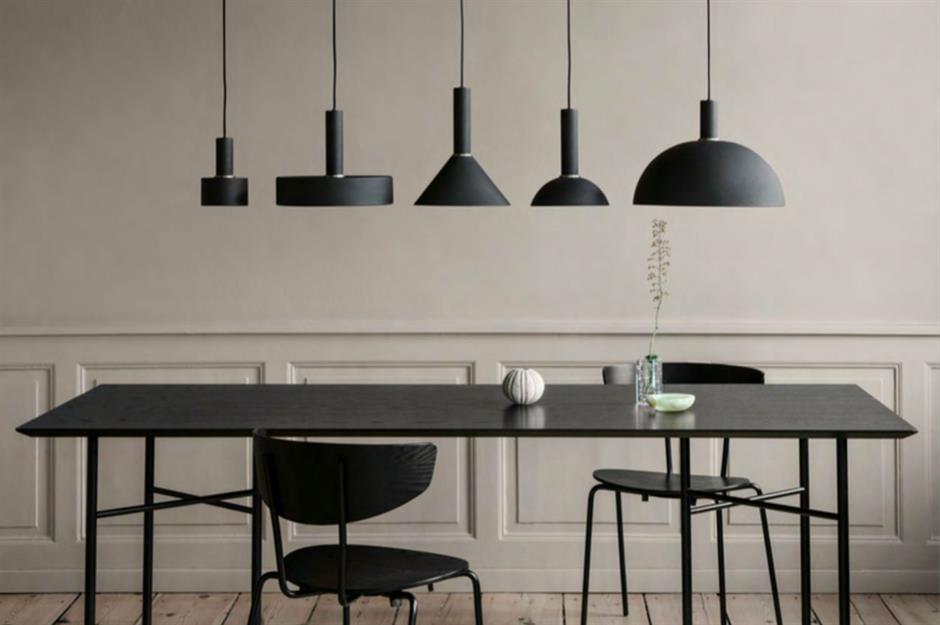 Nedgis
Bring together a variety of different pendant designs and position them in a line over the dining table or above a bed. For a minimalist feel, use the same colour, or if you're feeling extra daring, mix up colours and finishes for a cool, mismatched look.
Lead the way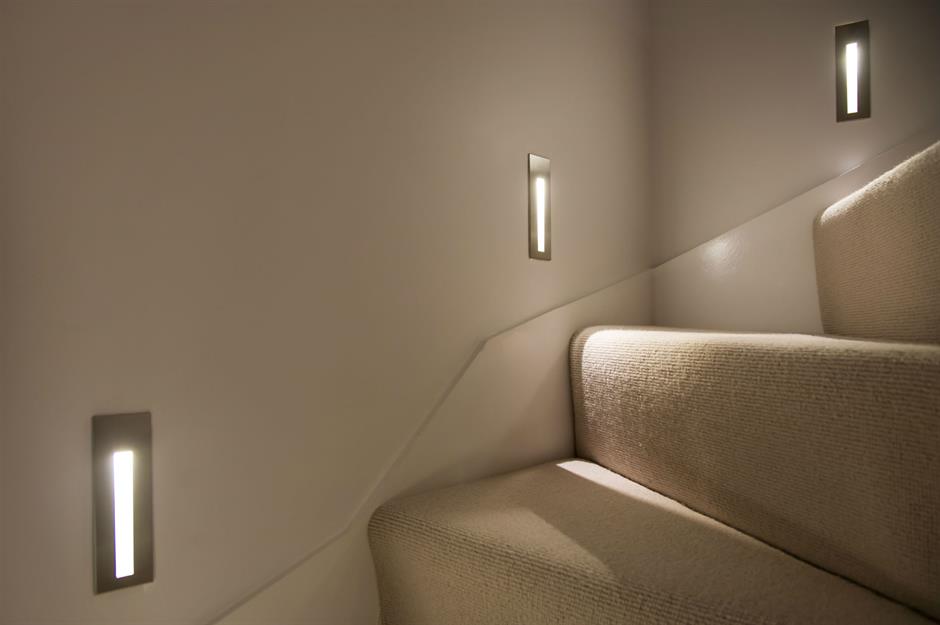 Astro Lighting
Create atmosphere in your home by installing low-level lights up your staircase. Ideal for safely moving between floors at night without having to switch on the main light, you could even install a handy motion sensor.
String up festoon lights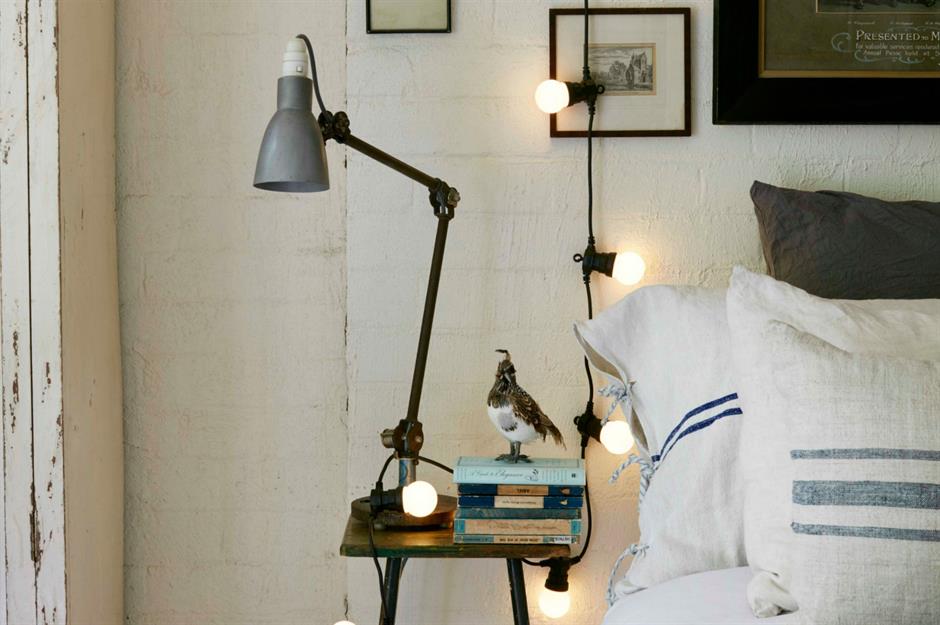 Lights4fun
Not just for the garden, festoon lights look great draped just about anywhere in the home. They're often battery-operated, making positioning much easier as you're not governed by a power socket. Try trailing them up the banister, across a headboard, along a shelf or around window frames. The trick to making them not look like Christmas lights is to go for large white bulbs for an industrial feel.
Hang a crystal pendant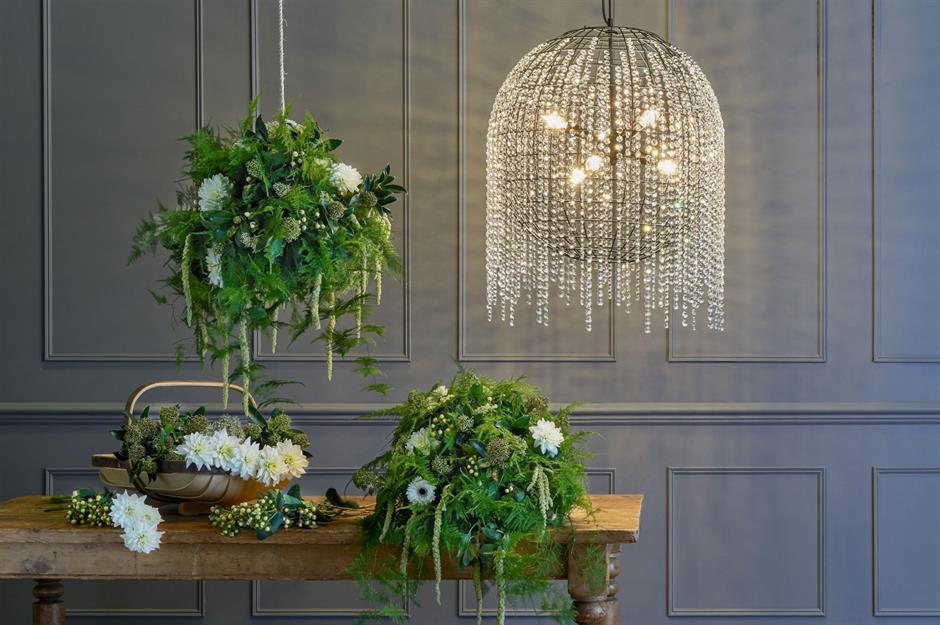 Dar Lighting
A large, dramatic crystal pendant is totally worth its investment for a wow-factor centrepiece. Showing off hundreds of strands of individual crystals, this design from Dar Lighting refracts light around the room beautifully. One of the charms of lighting is playing around with shades to cast light in unusual ways, so don't be afraid to experiment.
Soothe with a baby night light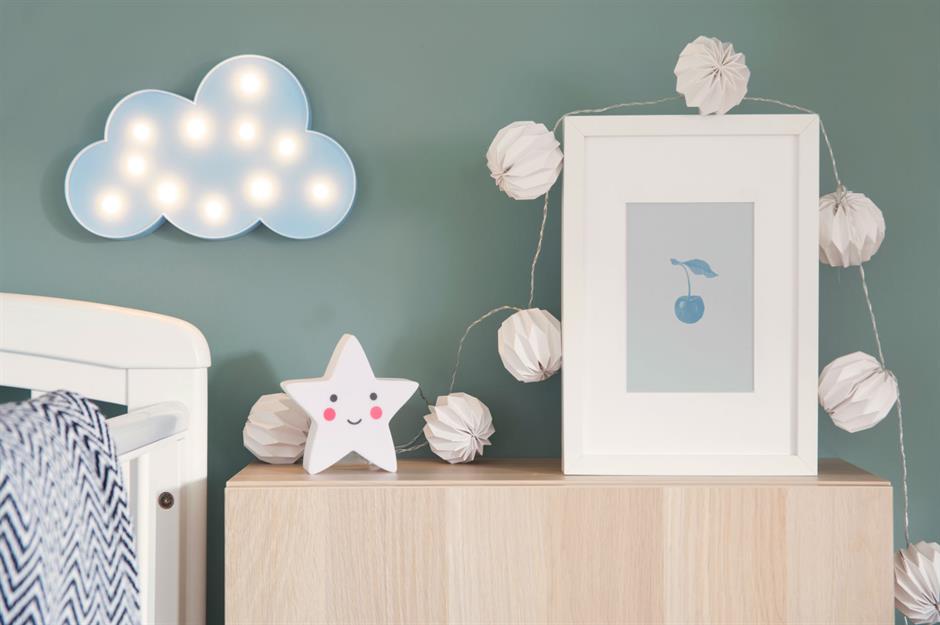 Follow the Flow / Shutterstock
Babies need colour and stimulation, so be sure to bring some light into their nursery or around their cot. An illuminated mobile hanging above the cot is ideal, but you could also add draped paper lights, a cloud-like wall lamp or a cute illuminated star. Whatever you incorporate, be sure that it's not blindingly bright or overpowering and just omits a soft glow. ​
Add a playful touch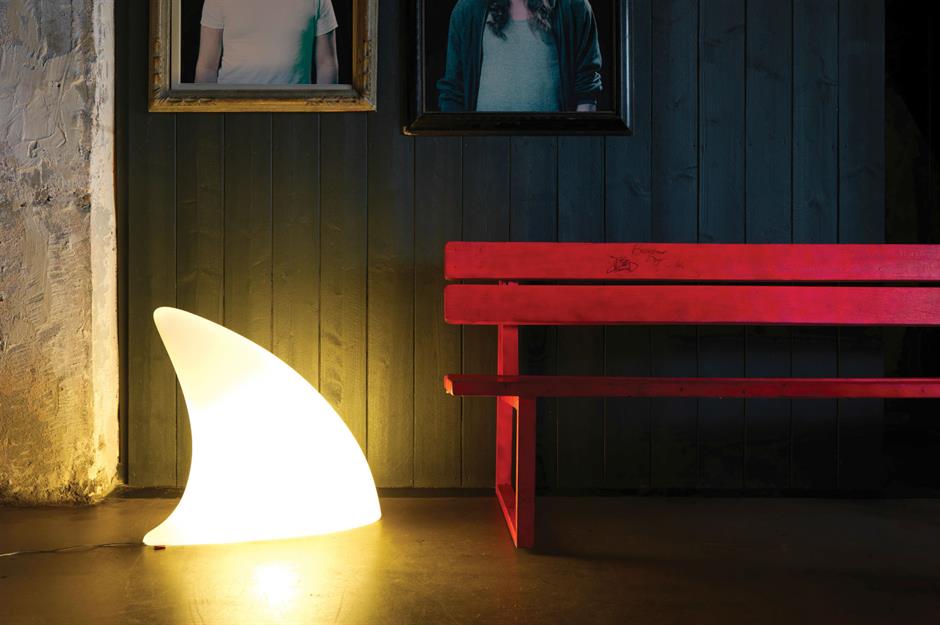 Lime Lace
How cool is this shark-fin floor light from Lime Lace? It really adds a playful touch to whatever room you place it in. Created by German designer Moree, the fin will look great in a living room, bedroom or hallway—we can't think of a more impressive way to greet guests. It's made from high-quality plastic and can be illuminated in a range of colours and controlled by remote.
Light up your art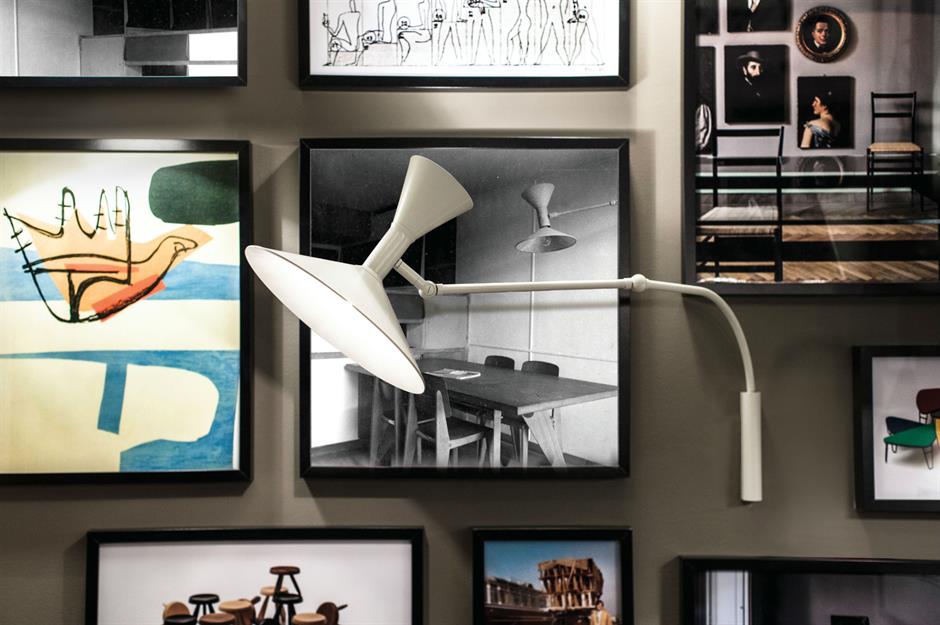 Nedgis
If you have a gallery wall of photographs and paintings, think creatively as to how you're going to illuminate them. Instead of the typical overhead ceiling lights or spotlights, go for a flexible wall-hung lamp that you can move around and direct to your favourite piece.
Create a cosy hallway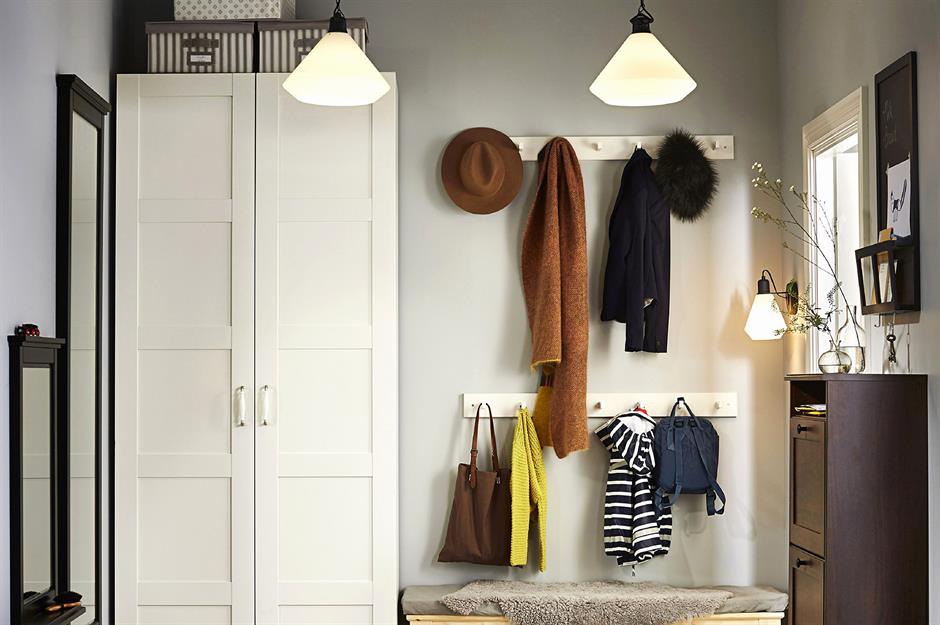 IKEA
The right lighting is essential for a warm welcome in your hardworking hallway. Combine overhead pendants with a wall light or table lamp to layer up your lighting and create a cosy atmosphere. For extra convenience, make sure lighting can be controlled from a switch next to the front door, ideally on a different circuit to the main light so you can opt for bright, functional lighting or a soft, homely glow.
Have a light bulb moment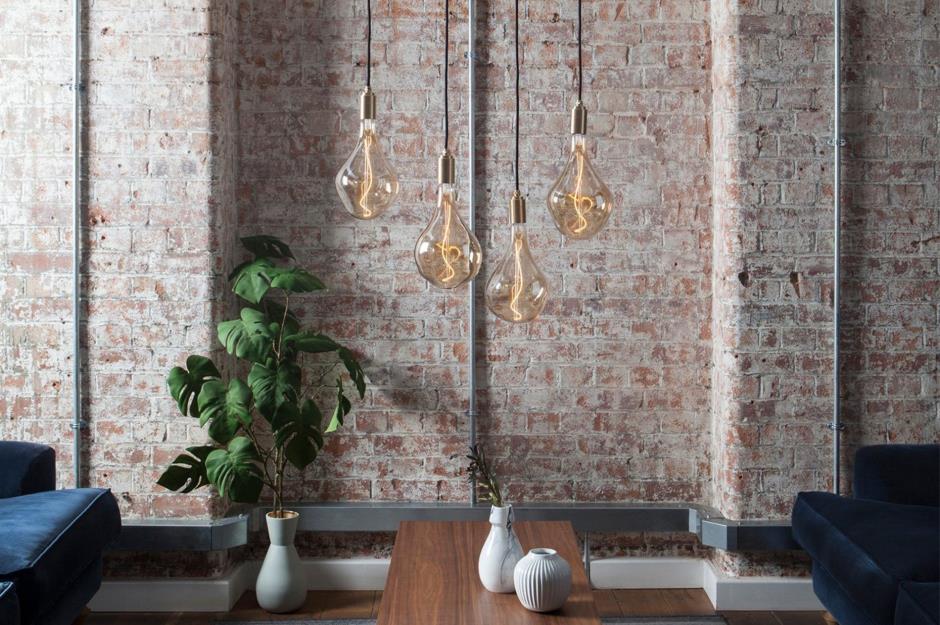 Tala
Making sure you have the right light bulb is essential if you want your home to feel cosy and snug. Modern LED bulbs offer a vast colour spectrum to choose from, from almost orange to cool white. If you want your bulb to emit a warm glow, pick one with a colour temperature of 2700 Kelvins or less.
Layer the lighting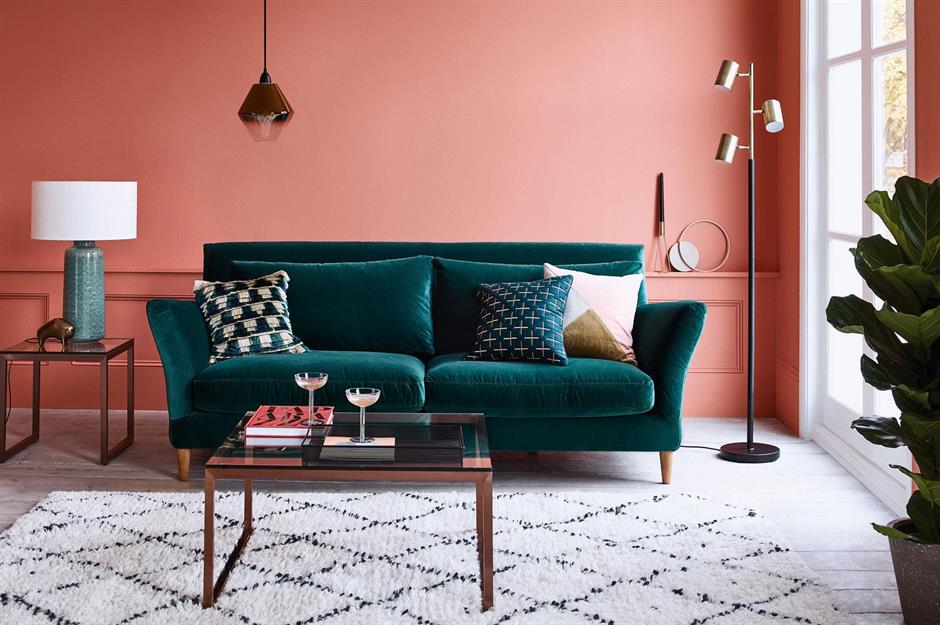 Habitat
When it comes to selecting the lighting for a room, you don't have to be stingy—layering is the key to any successful scheme. Instead of sticking to a single pendant light, build up the ambience in a living space by combining a ceiling fixture with a floor lamp for task lighting and a table lamp to create a soft glow in the evenings.
Add an antique lamp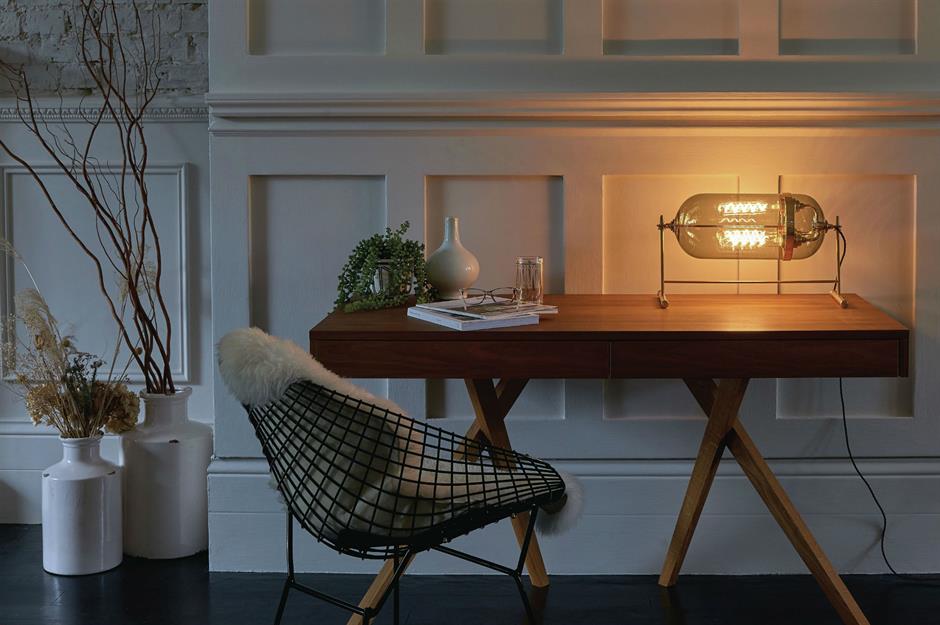 Fritz Fryer
Take a look around antique fairs and shows to find unique lighting that you won't see anywhere else. You can buy replicas, of course, but finding a one-off can be the starting point for a whole decorating scheme. This home office looks so stylish with this old industrial lamp from Fritz Fryer who specialises in restoring antique lighting and has a bounty of beautiful pieces.
Illuminate the windowsill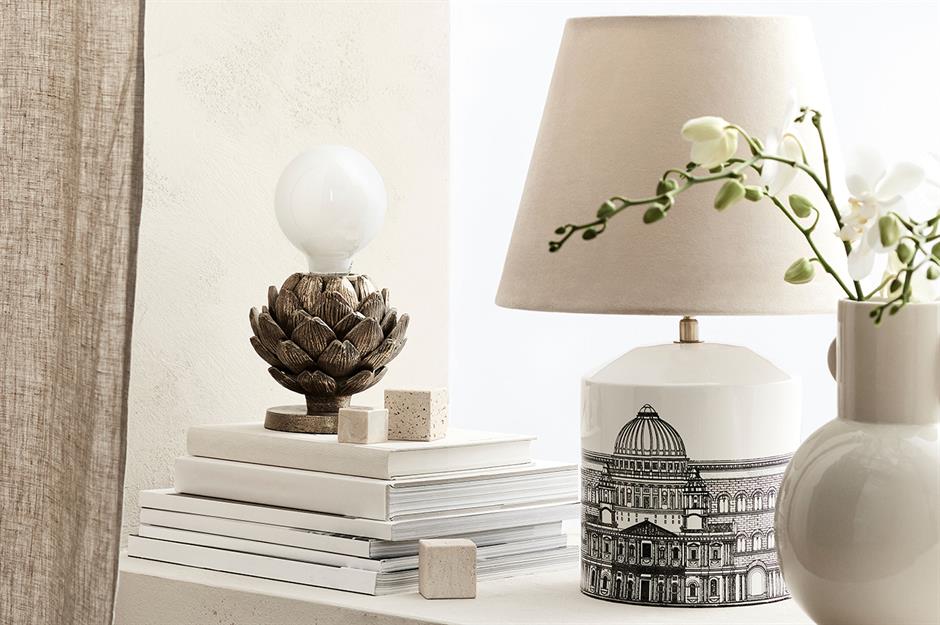 H&M Home
Don't neglect the smaller spaces in your home—after nightfall, windowsills can become dark and lifeless without the sun streaming in. Banish the evening gloom by sprucing up your sill with a statement lamp or two. Not only will it add a stylish flourish to your home by day, but it'll also provide a welcoming beacon after dusk.
Drape fairy lights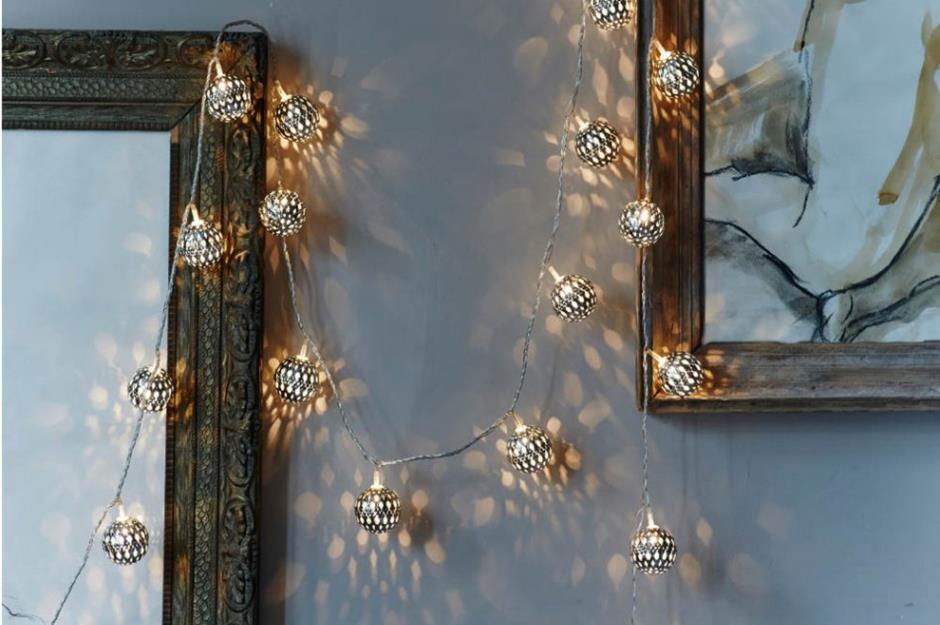 Graham & Green
A versatile lighting choice, string lights can work in an interior all year round. From illuminating artwork to adding a cosy glow to a snug or bedroom, there's a wide array of designs out there to choose from. This latticed metal design casts a pretty pattern, elevating neutral walls and adding a welcome touch of warmth.
Fall for a floor lamp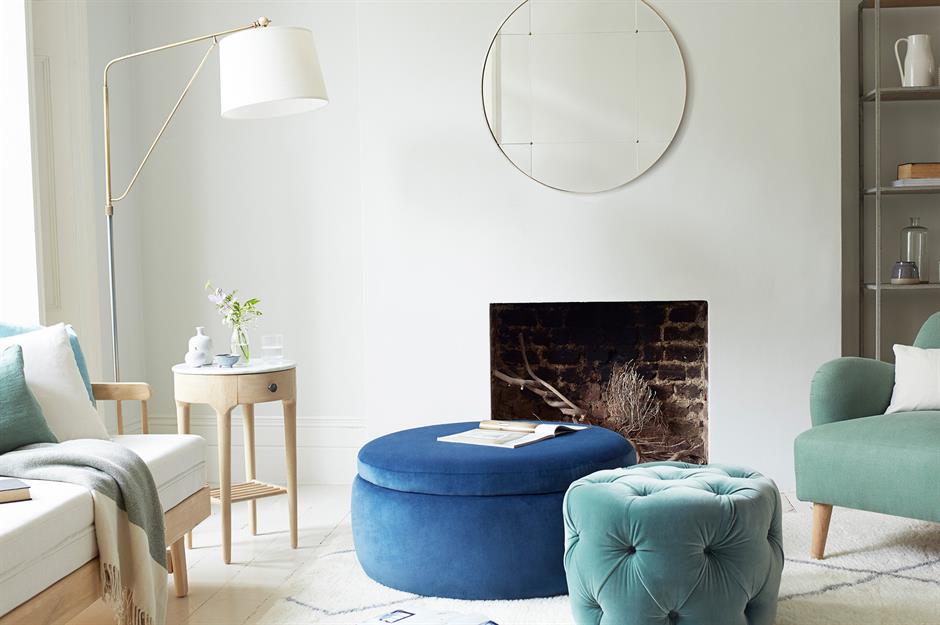 Loaf
There's an array of stylish ways to illuminate a dingy living room with a standing light. This coastal-inspired space pairs a gold-plated design with soft white walls and pops of seafoam green and royal blue. If you're feeling daring, you could swap out the neutral shade for something bold in a contrasting hue.
Try a trio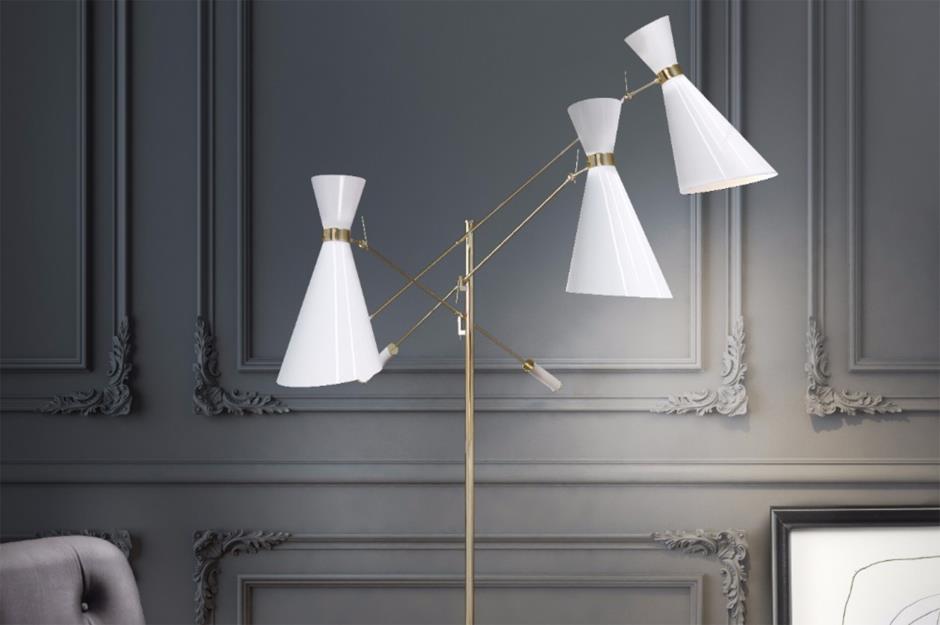 Delightfull
Why have a single light source when you can have three—or more—in one? A multi-arm lamp really comes into its own when the season turns grey. You could, for example, use one light for reading, one to cast a soft glow on the floor and one to create an ombre wall or curtain.
Beat the winter blues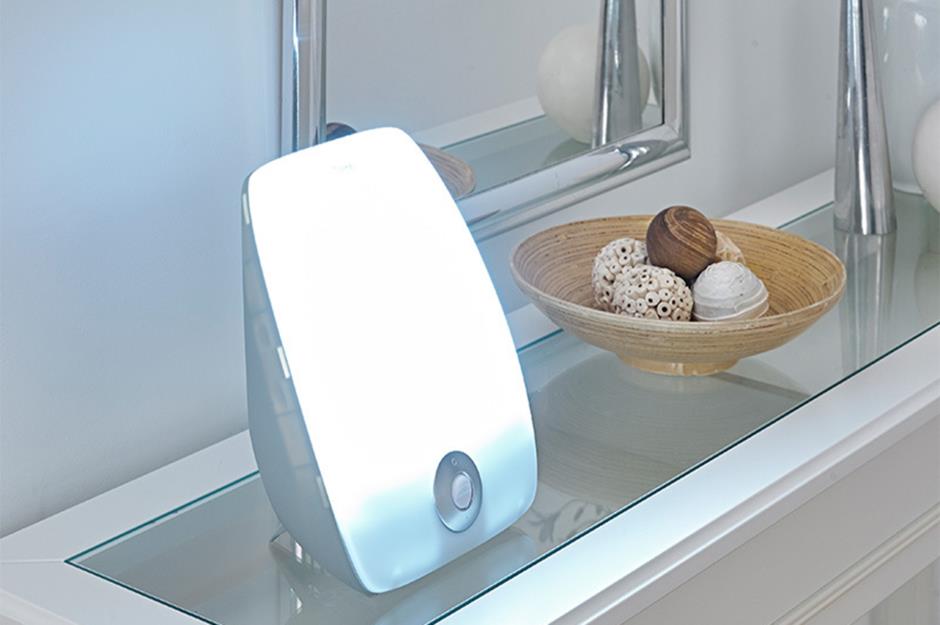 Care Co
If you're one of the 29% of people in the UK who suffers from seasonal affective disorder (SAD), a light therapy lamp will introduce a much-needed ray of sunshine into your home. These LED lights simulate the spectrum of natural sunlight, triggering serotonin production in the brain and boosting your mood.
Invest in daylight bulbs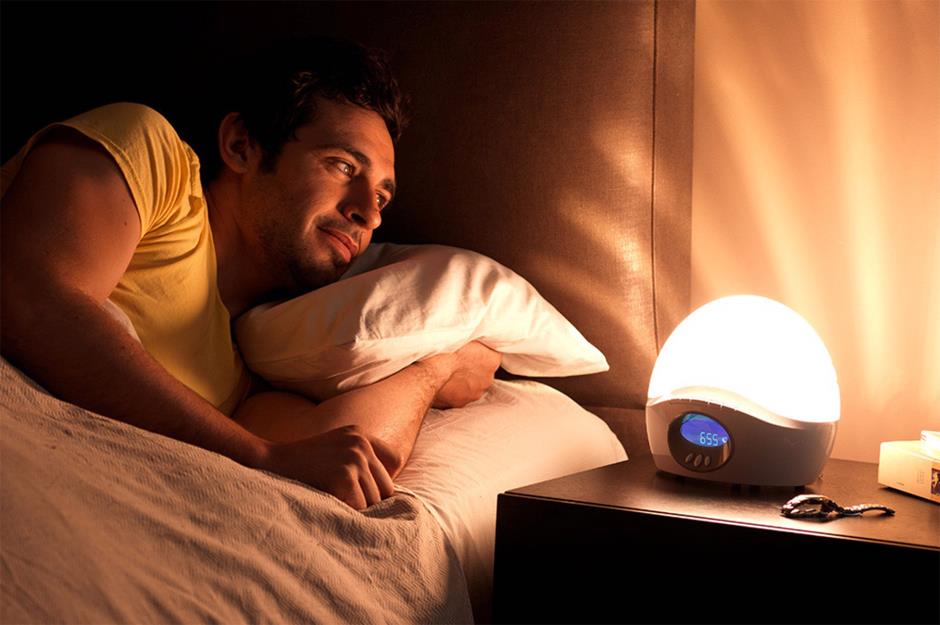 Lumie
If the dark mornings are getting you down, a light-based alarm clock can help to ease you out of bed by simulating the dawn. The clock becomes gradually brighter over the course of 30 minutes, waking you up slowly and gently, just like the sun would. The Bodyclock wake-up lights by Lumie also come with an optional alarm beep, just in case.
Light up a vanity mirror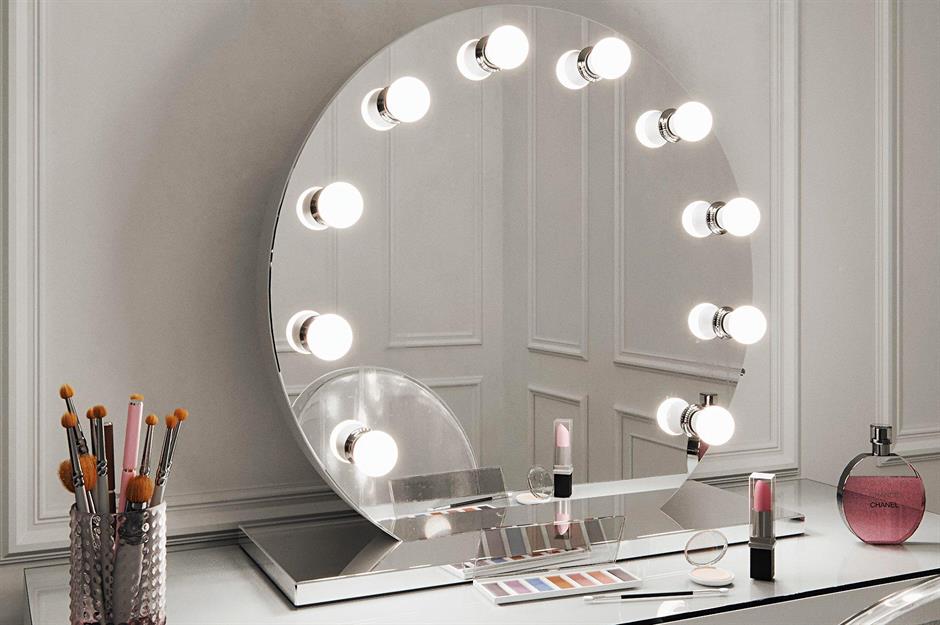 Hollywood Mirrors
A staple of Hollywood dressing rooms, what vanity station is complete without a mirror studded with light bulbs? A must-have for carrying out morning ablutions, the right lighting is key for a flawless look. This circular design includes a handy mirrored pedestal to make getting ready a breeze.
Install a dimmer switch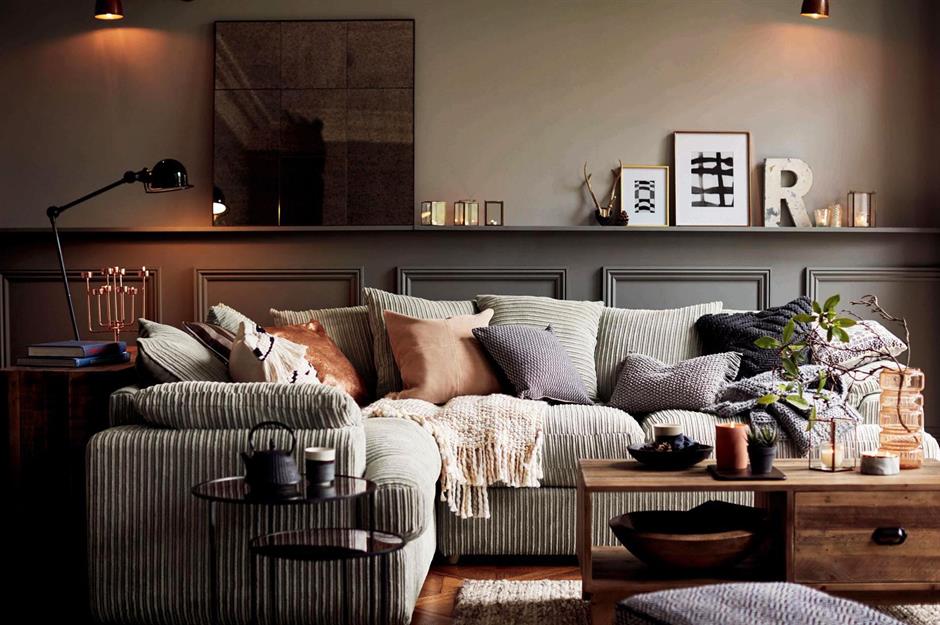 DFS
If your living spaces feel cool and clinical, consider opting for lighting with dimmer switches to add warmth to your interior. An easy way to create ambience, they can be easily adjusted to suit the occasion, from offering a soft glow on a cosy evening in, to injecting drama and atmosphere during a dinner party.
Create a cluster overhead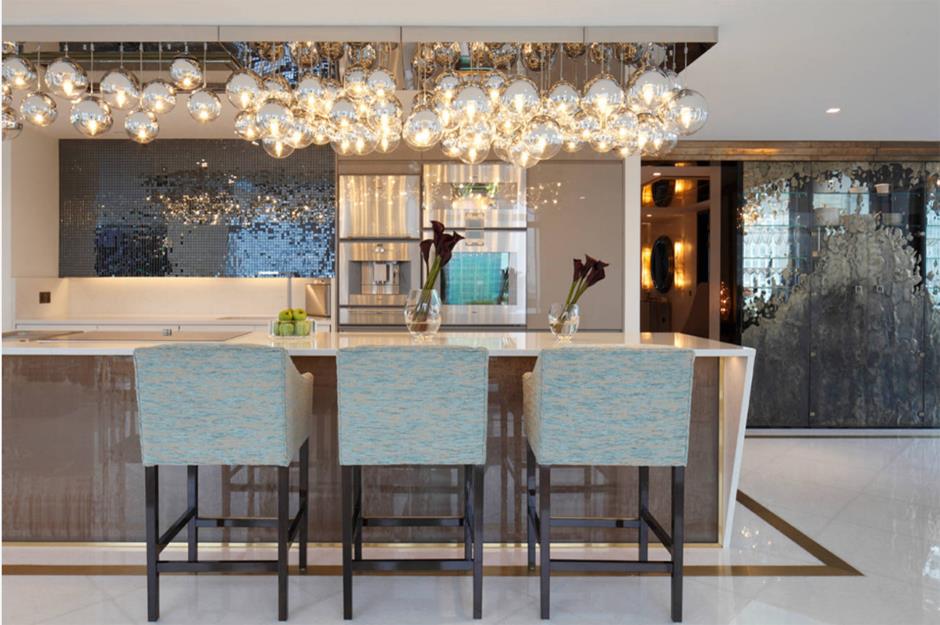 Rocco Borghese
Sometimes more is more! Clustering lights together can transform even the simplest fittings into a striking installation, creating an irresistible glow. Group your lights in odd numbers to create visual interest and make sure they're fitted to a dimmer switch so you can adjust them depending on the mood.
Add a bathroom glow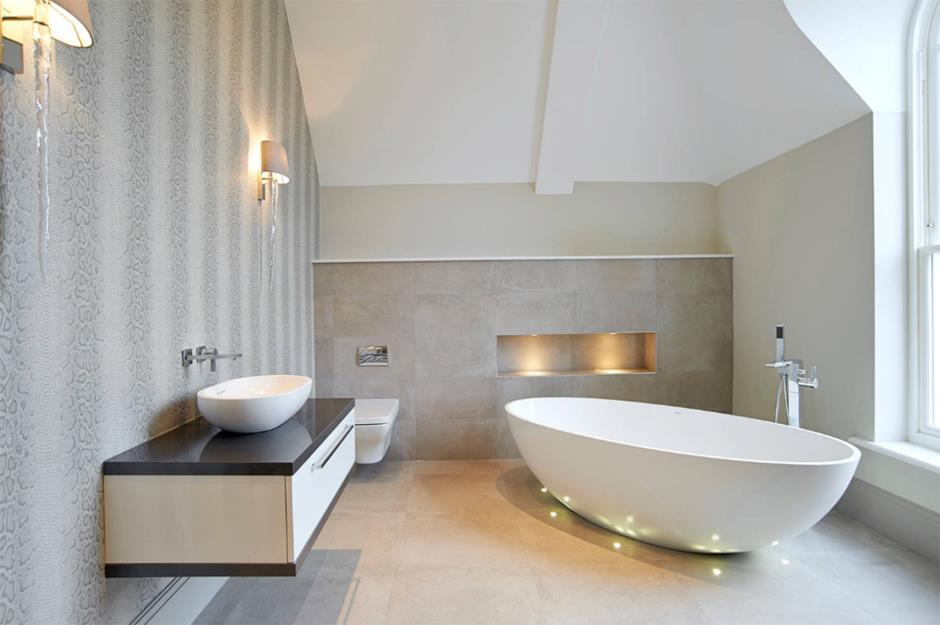 C.P. Hart
It's easy to overlook bathroom lighting, but treating yourself to layers of soft light is a luxury you won't regret when you're enjoying a soak in the tub on a chilly night. Tiled rooms tend to feel colder, especially if you don't have underfloor heating, but a bit of carefully-placed uplighting, downlighting, and recessed lighting using warm-spectrum bulbs will make even the coolest white bathroom feel cosy.
Display oversized light-up letters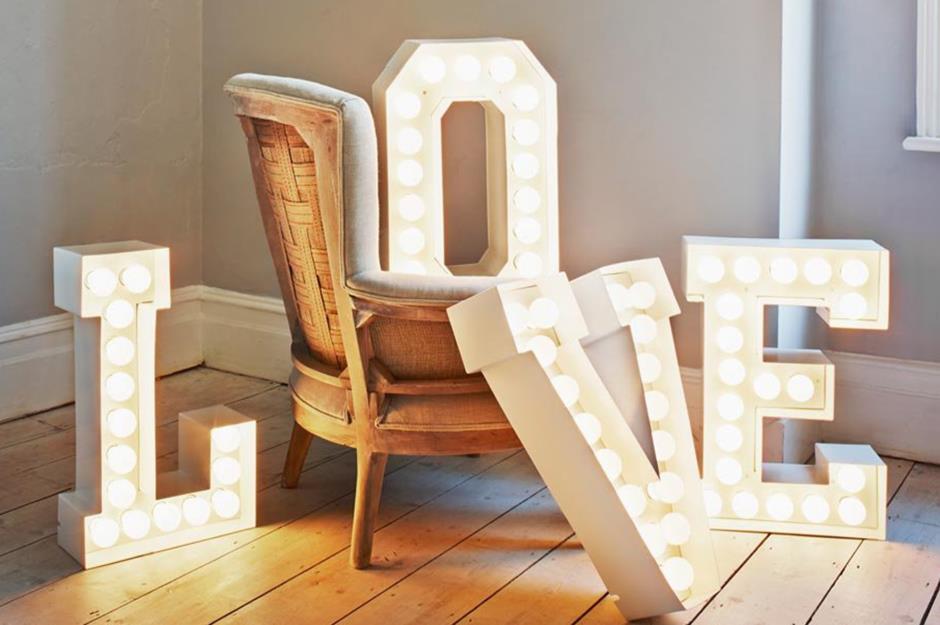 Graham & Green
Letter lights make a bold decorative statement and are a fun way to brighten up a dark corner. Go for an evergreen word or phrase that will withstand the seasons—if you're opting for larger letters, stick to four or five-letter words for maximum impact.
Play with different shapes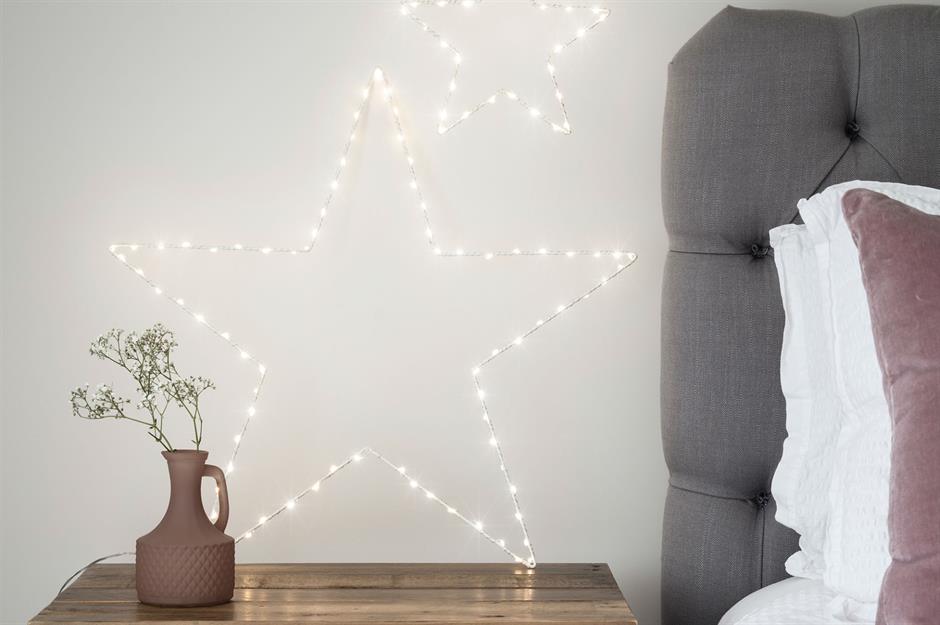 Lights4fun
Add a whimsical touch to your lighting scheme with fun shaped designs. These sparkling stars feature strings of white LED lights wrapped around a metal frame. You could try mounting them on a wall or attaching them to a base to create freestanding table lighting.