Our hot tips for next year's biggest interiors trends
(Original Article – https://www.loveproperty.com/galleries/155149/2023-interior-trends-mushrooms-wallpaper-borders-and-vegan-leather?page=1)
Lust Home
Maximalist design, lozenge-shaped furniture and, erm, guacamole green, are some of the legacies left by 2022. But what does 2023 hold in store for interiors? Some of next year's trends are an evolution of existing styles—increasingly inventive multi-functional spaces and Art Deco-inspired motifs to name a couple. Others—wallpaper borders and lampshades made from mushrooms—may be less expected. As for colours, we're looking at tones that take their cue from nature and promote wellbeing. Let's take a sneak preview of what lies ahead…
Trend: Lavender
Annie Sloan
Lavender is no longer confined to the dustier corners of your granny's wardrobe. It's been creeping onto the catwalk for a year or so and, as ever, where fashion leads, interiors soon follow. Vibrant purples, such as Pantone's 2022 colour of the year Very Peri, will soften into more classic, soothing shades in interior design schemes that promote calm and wellness—another growing trend right now.
Lavender: Make it modern
Drummonds
The key to mastering modern lavender is to incorporate elements of contemporary design throughout your scheme. If you've plumped for lavender walls, going too trad with your furniture and accessories could easily lead you into 'twee' territory, so throw in some unexpected avant-garde forms or an unexpected dash of a contrasting colour to bring the look up to date.
Trend: Modern stained glass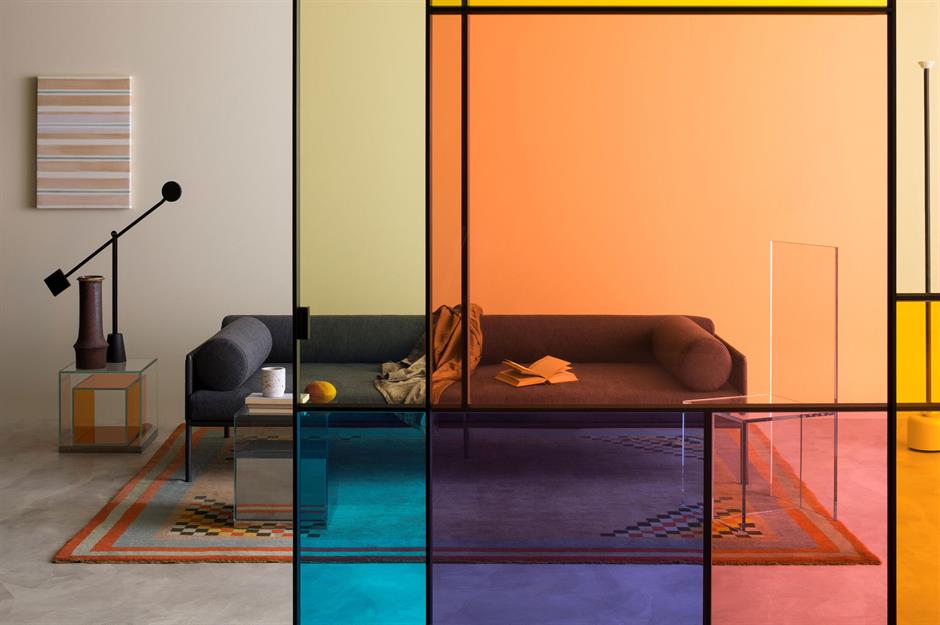 Glas Italia
Stained glass isn't just for Victorian fanlights and churches. Artists are sharing their exciting new takes on coloured glass and shaking up this traditional craft by ditching fussy picture panels in favour of stripped-back, geometric designs. Look out for them in room dividers, shower screens, and lighting, as well as in windows and doors.
Modern stained glass: Sculptures and artwork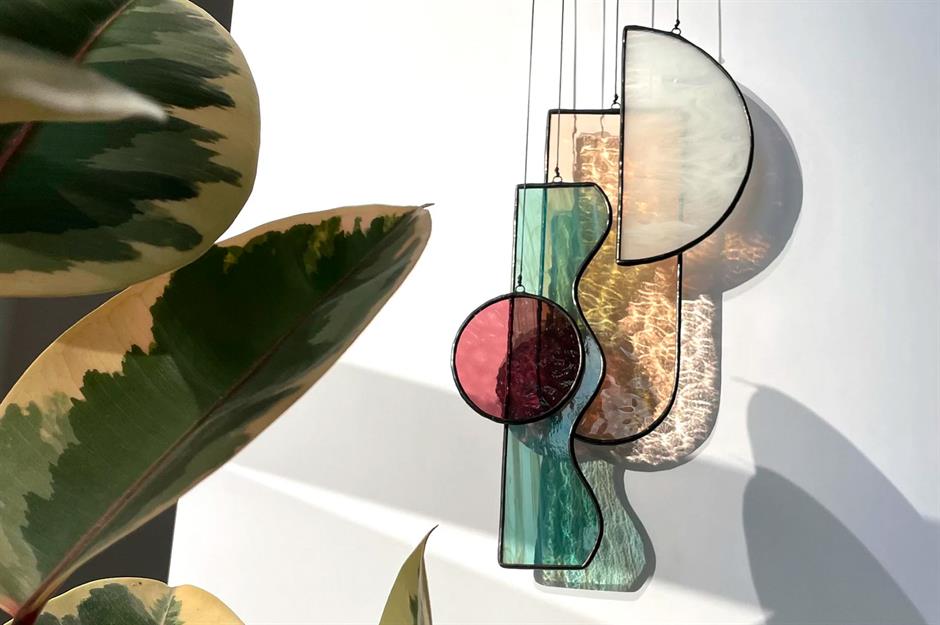 multipleshapes / Etsy
If a large stained glass installation is too big a statement or expense, you can still nod to the trend with smaller, decorative stained glass pieces. Mobiles and dreamcatchers are an obvious match for stained glass, as you can hang them in a spot where they will catch the light and cast a rainbow of abstract shapes around the room.
Trend: Statement stone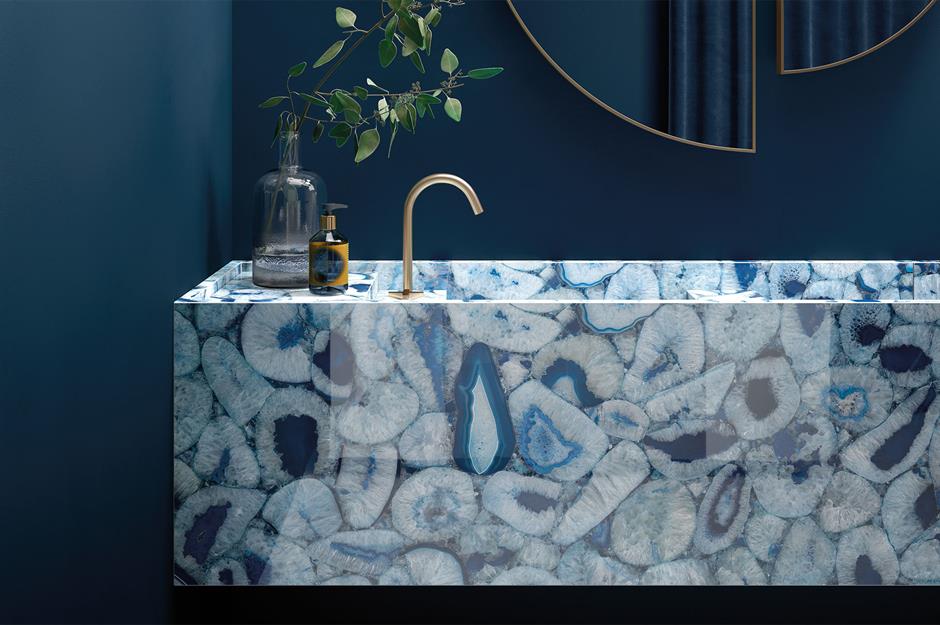 West One Bathrooms
Natural stone doesn't have to be plain and neutral. Designers are turning to the rich colours and striking patterns of raw minerals for inspiration, whether it be on walls, floors, ornaments, worktops, or even sanitary ware. It's an opulent look that often comes with a price tag to match, but you can get the same effect for less with stone substitutes. The sink shown here, for example, may look as though it's been hewn from agate but is actually made of porcelain.
Statement stone: Lava stone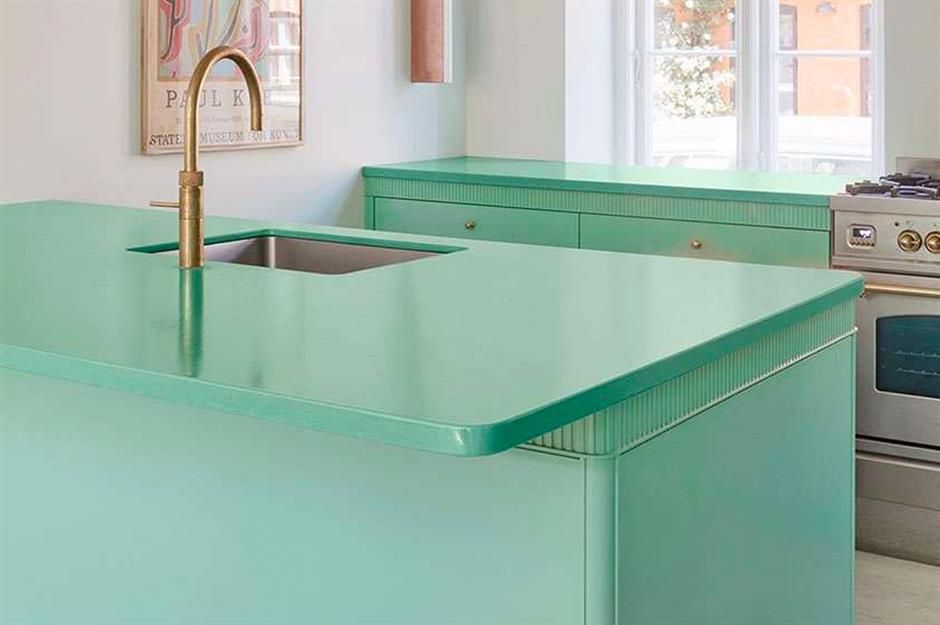 Made a Mano
Some designers are giving nature a helping hand, transforming stone products with brilliant hues. Danish company Made a Mano are taking advantage of lava stone's ability to be glazed and fired to create hard-working, aesthetically appealing worktops in more or less any colour you can imagine, such as this eye-popping green countertop. If a lava stone worktop is a bit much for your taste or budget, you can incorporate a little bit of the look using tiles instead.
Trend: Irregular rugs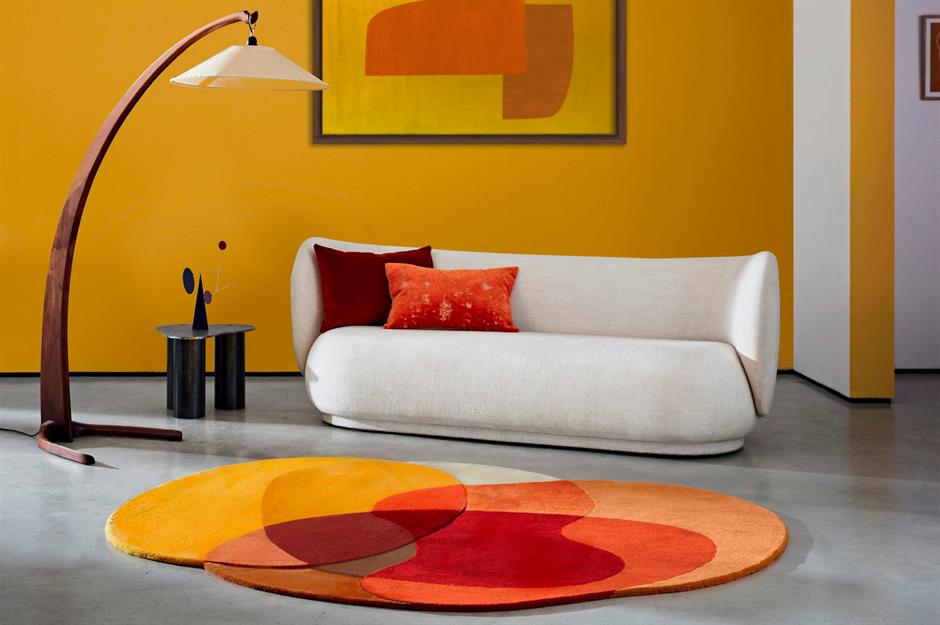 Sonya Winner
Rug designers are thinking outside the box with avant-garde creations that play with the actual form of the rug itself, rather than just the patterns depicted on it. These are essentially works of art that you can walk on and they're appearing in all sorts of irregular shapes, often with a curvaceous, organic feel. Much like a piece of artwork, they can make a great basis for a colour scheme, so if you're planning a complete room refresh, start with the perfect rug and build your scheme around it.
Irregular rugs: Pared-back colourways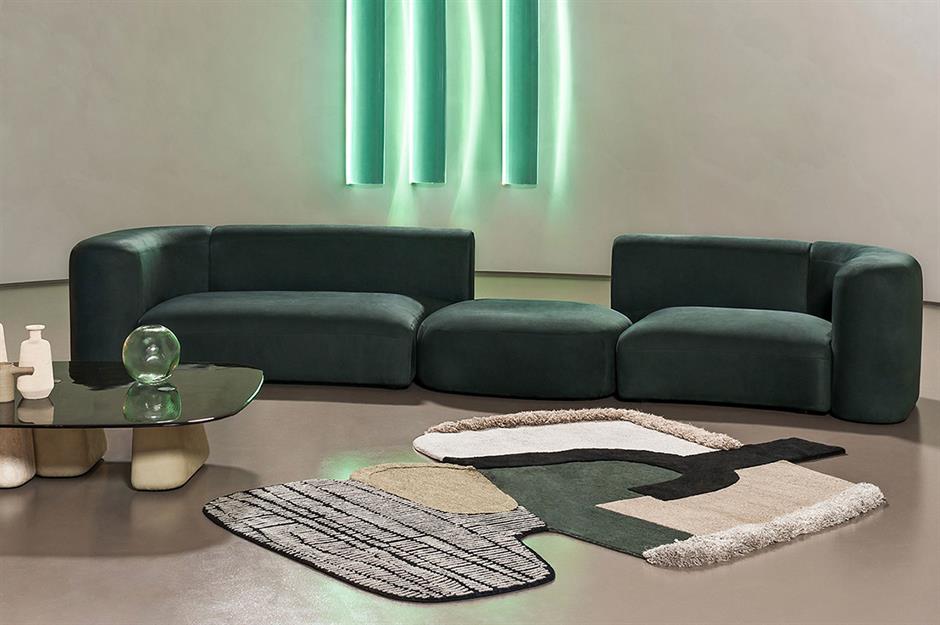 Baxter
An irregular-shaped rug is also a smart choice if you're looking for a quick and easy way to add edge to an existing scheme. The very fact of its unusual shape makes it a talking point, but it doesn't necessarily need to pull focus from the rest of the room. It can be unconventional without being ostentatious, which makes it the perfect choice if you want to up your interior design credentials without resorting to loud style statements or making changes to your space that are difficult to undo.
Trend: Modern Egyptian
Soane Britain
Egyptomania shows no signs of slowing down. This opulent, maximalist style is a sub-trend of the Art Deco revival and was originally inspired by archaeologist Howard Carter's discovery of Tutankhamun's tomb in 1922. The bright young things of the Roaring Twenties went gaga for its lavish looks following the austerity of the First World War, and perhaps today's designers and consumers are drawn to it for similar reasons.
Modern Egyptian: Hieroglyph patterns
Soane Britain
Going all-out Egyptian may not be for everyone, but you can embrace elements of the trend by incorporating stylised patterns inspired by hieroglyphs into your soft furnishings or combining ochre, gold, turquoise, and clay tones—all colours raided right out of a pharaoh's tomb. Furniture designers are doing their bit for the movement with contemporary takes on Ancient Egyptian silhouettes.
Trend: Curves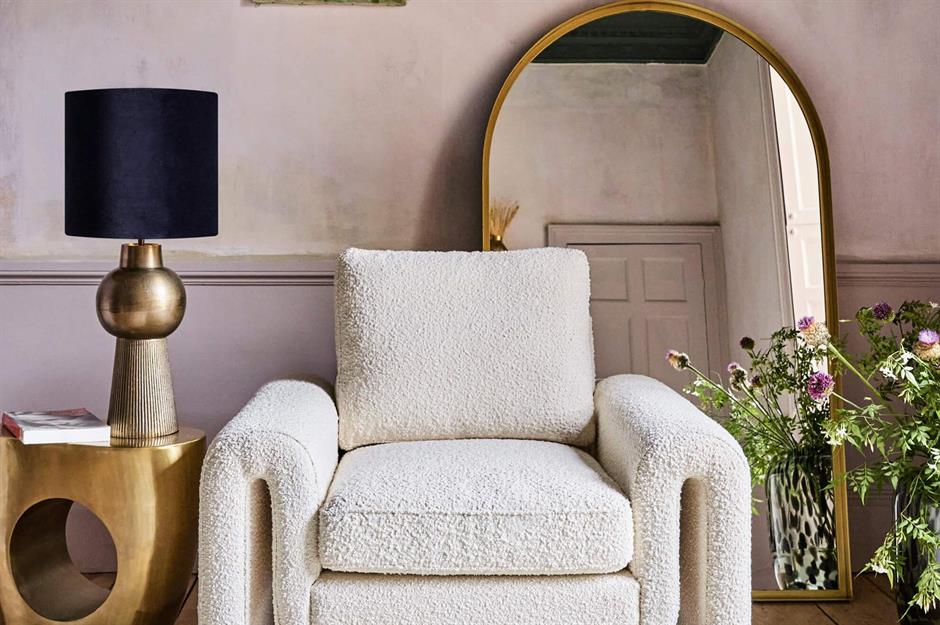 Graham & Green
Interior design has become conspicuously more curvaceous over the past couple of years. Perhaps the comfort of soft, undulating lines holds extra appeal during times of uncertainty. Or perhaps a pent-up longing for glamour and excitement has us clamouring for the streamlined shapes of Art Deco—a huge recent style revival. Either way, it's clear that curves are here to stay but this year we'll move into unexpected places such as round cut-outs in side tables and tubular forms.
Curves: Alcove arches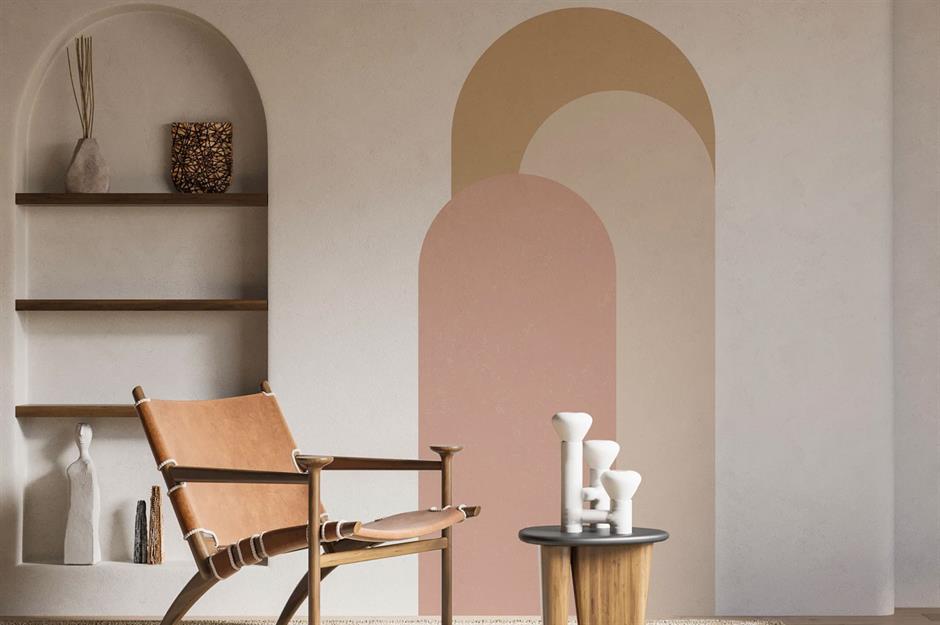 LocusPrintDecor / Etsy
Arches, in particular, are springing up all over the place. The arch is a timeless shape that can also look surprisingly modern depending on how you treat it—fill an arched alcove with bold paint or wallpaper and you'll give a classic scheme instant contemporary flair. Architects are building arches into their designs in the form of doorways, windows, and niches, but if remodelling isn't on your agenda, you can create a similar effect using paint or arch-shaped wall stickers, as shown here.
Trend: Wallpaper borders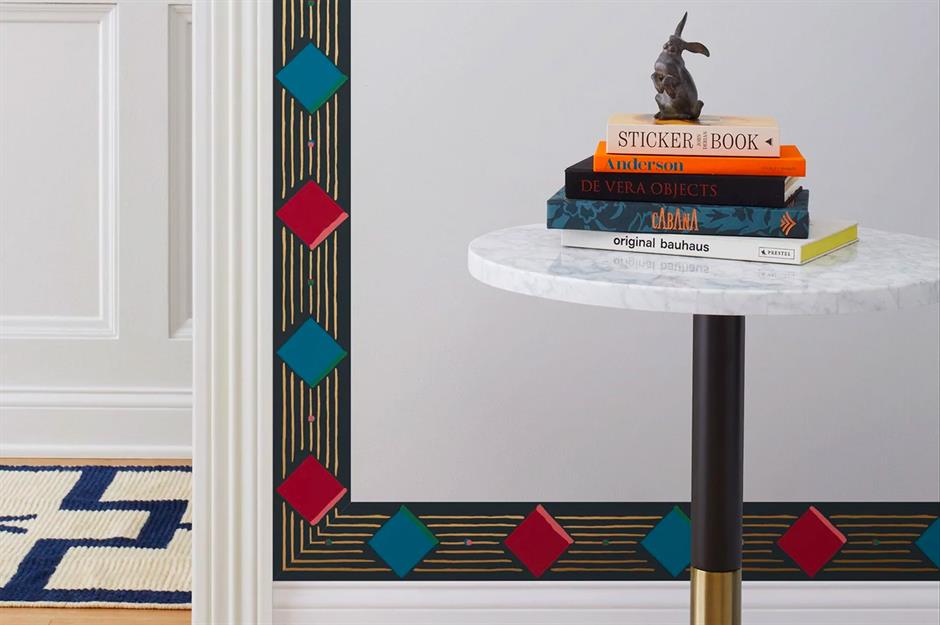 Hygge & West
Not the chintzy floral bands that were last seen in the 1980s, thank goodness, but a new wave of playful, bold designs that add edge to your walls in more ways than one. Whereas in the past borders were generally used to cover the transition between two-tone walls at dado rail height, today they are also being used to highlight architectural details, such as door frames and windows.
Borders: Mix and match patterns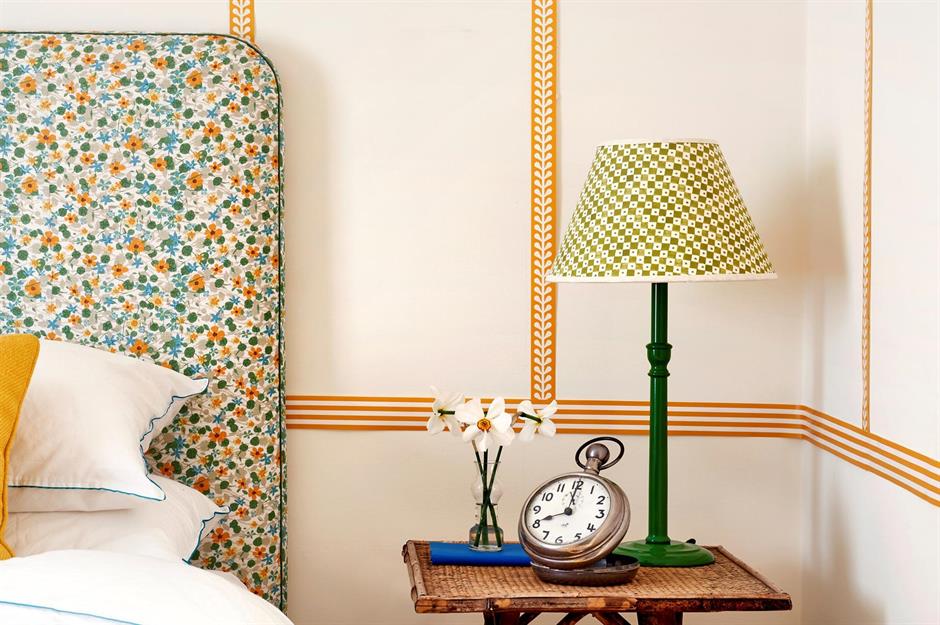 Susie Atkinson
There's no need to stick to just one wallpaper border, either. Mixing and matching different border patterns gives this look a modern remix and is a great way to add character to plain painted walls. A border can create a unique design that's both easier on the eye—and your budget—than an all-over statement wallpaper. If you want to push the boundaries even further, clash your border design with other patterns in the room for an ultra-eclectic look.
Trend: Wild Wonder
Dulux
The natural world has had a huge influence on interior design lately. A combination of being stuck indoors for multiple lockdowns and increasing awareness of the need to protect our planet has sparked an appreciation of nature that designers are reflecting in organic forms and leafy hues. Ever the trendsetters, Dulux's colour of the year for 2023 is a 'glowing and uplifting' shade combining gold and green that goes by the name of Wild Wonder.
Wild Wonder: Colour clash
Dulux
Depending on the light and how you use it, this shade can look more yellow, beige or olive and is a soft neutral perfect for pairing with pops of vibrant contrasting colour such as electric blue or coral. With Wild Wonder, the Dulux colour experts aimed to offer a 'connection with nature that brings a sense of natural magic into our homes.' It's an understatedly clever colour that somehow manages to be both earthy and zesty at the same time and sits equally comfortably amid a muted palette, as in the previous picture, or in contrast to bold flashes of colour, as shown here.
Trend: New sustainable materials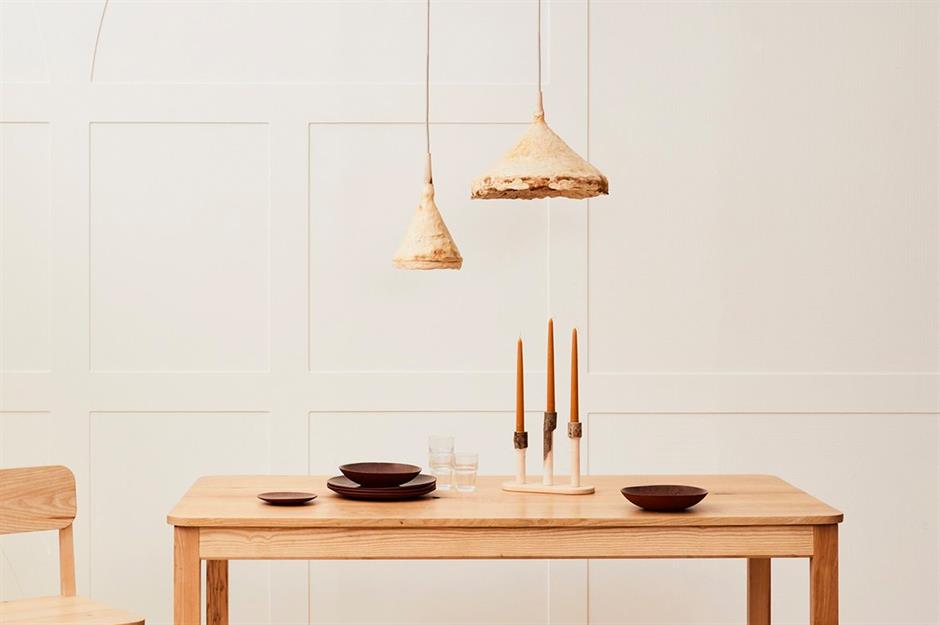 Sebastian Cox
A growing focus on sustainability has seen designers and scientists working together to come up with planet-friendly interiors products. Many of them have looked to the natural world for ideas and the result is a thrilling surge of unexpected and inspired homeware. Two leading materials are mycelium lampshades and furniture, which is grown in moulds from the 'roots' of fungi, and Solidwool – a composite material a bit like fibreglass but made with the wool of Herdwick sheep.
New sustainable materials: Fruit leather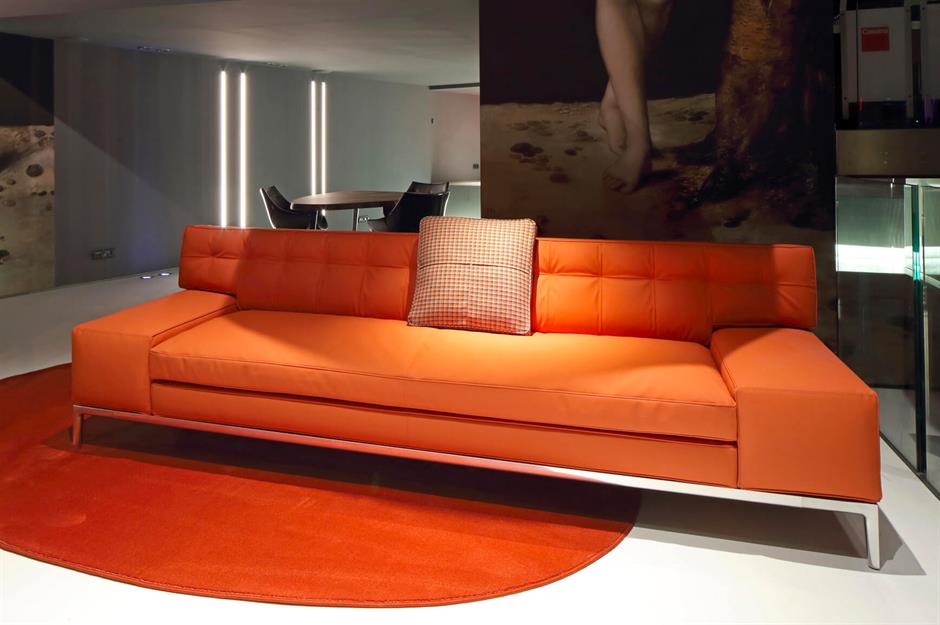 Starck
The leather industry is one of the most environmentally damaging on the planet so it's perhaps unsurprising that eco-conscious designers have focused their attention on sustainable, vegan alternatives. Pineapple leather—or Piñatex—was first embraced by fashion and is now finding its way into home accessories and furniture. French designer Philippe Starck, meanwhile, has created a furniture collection upholstered in Apple Ten Lork, a vegan leather made from apple cores and skins.
Trend: Paprika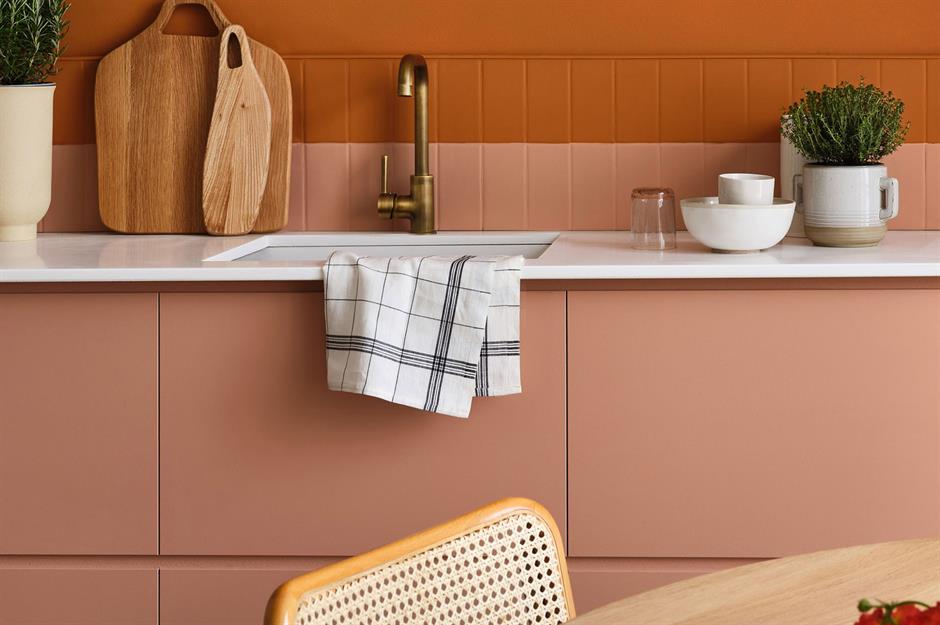 Paint & Paper Library
At the opposite end of the spectrum from laid-back lavender is another of next year's hotly-tipped hues—paprika. More vibrant than terracotta but less in-your-face than orange, paprika is an energising shade that is surprisingly easy to work with. If you team it with more muted tones in the same colour family it takes on a reassuring, earthy persona.
Paprika: 70s colour combos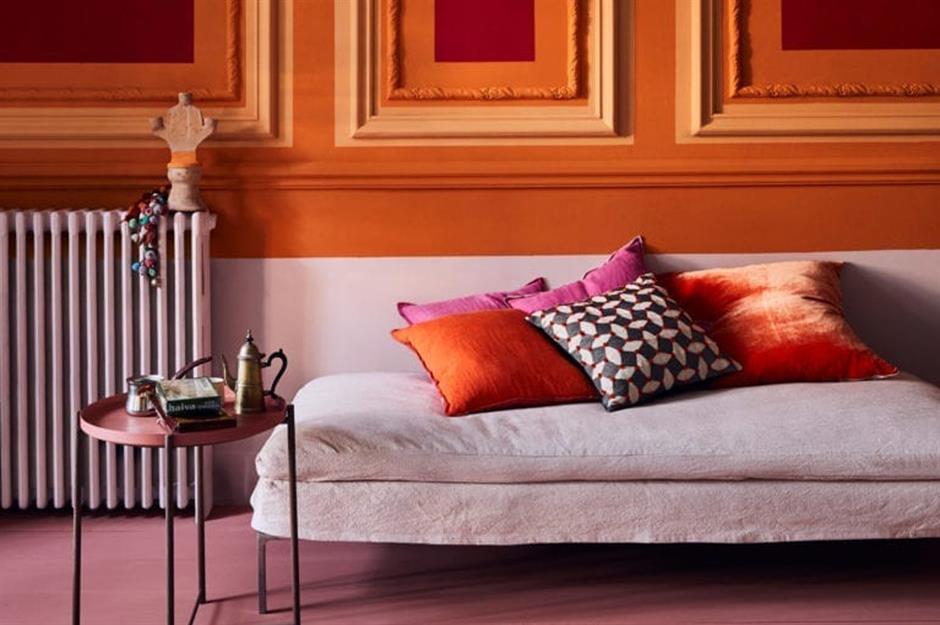 Annie Sloan
Paprika and lavender—a dream team or an assault on the eye? It's certainly not a look for the faint-hearted, but it does tap into the kaleidoscopic colour combinations of the late 1960s and early 1970s, which have enjoyed a resurgence in bolder homes. The key to pulling off this look is to use the colours in equal measure. If one colour is relegated to a mere accent, it will stand out for all the wrong reasons.
Trend: Multi-functional spaces
Duravit
Whether out of necessity or a desire to deliver more flexible ways of living, homes have to work harder today than ever before. Home offices have been squeezing into unexpected nooks since the pandemic, and home improvers are getting increasingly creative in their approach to multi-functional spaces. This could be using portable furniture on wheels that will work as a desk, a kitchen island or a dining table, or bathrooms that double as libraries.
Multifunctional spaces: Sleeping nooks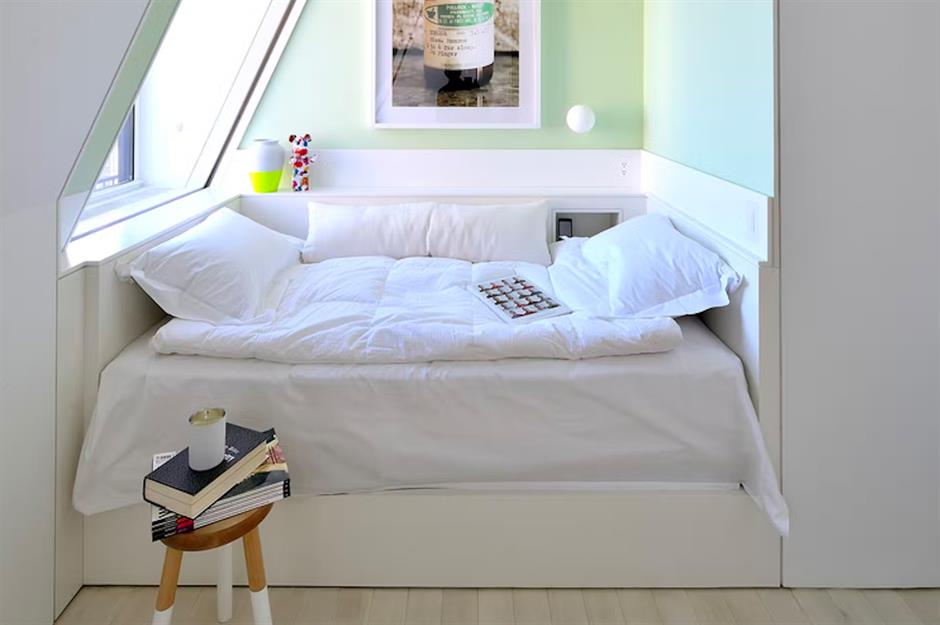 Dwell
If you're short of a spare room but have an awkward alcove that you've always wondered what to do with, a sleeping nook could solve two problems in one. We expect to see these sneaking into the savviest design schemes in 2023. When you don't have guests staying, cover it with an attractive throw and some scatter cushions so it can double up as a day bed or reading corner.
Trend: Oversize lighting
MarrakecharTreasures / Etsy
Supersize lighting looks set to take over our ceilings. And we're not just talking chandeliers. Think classic pendant designs blown up on an extreme scale in spaces that you might not expect, such as above a kitchen island. This look may not be for the more traditionally inclined, but it's certainly a way to create a talking point with your design scheme.
Oversize lighting: Small spaces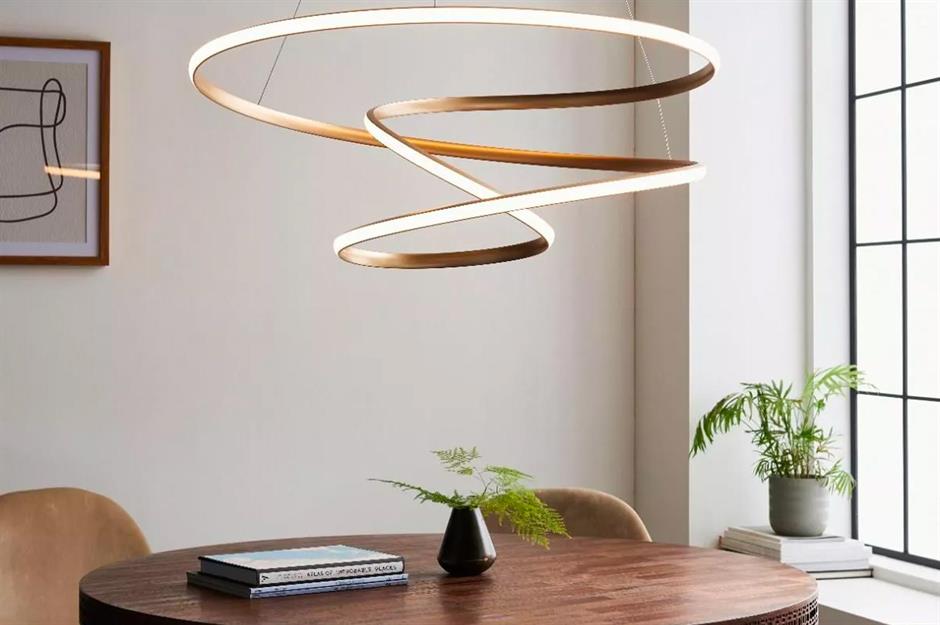 KES Lighting
If an enormous pendant feels a bit overwhelming but you'd still like to give oversized lighting a try, go for an airier design that leaves open space between the solid elements but still takes up maximum space. That way you can make a bold statement without blocking sight lines or natural light—especially important if you're working with a smaller room.
Trend: Patterned stainless steel
Stala
Not long ago stainless steel was only to be found in professional kitchens or the homes of the most committed industrial minimalists. Its cold, blank surfaces are too sterile for most people to live with on a daily basis. That could be about to change thanks to a handful of forward-thinking kitchen companies who have begun embellishing their stainless steel units and worktops with patterns, from zigzags and stripes to wood effects and polka dots.
Patterned stainless steel: Laser etching
Stala
A variety of techniques are being used to create these steel effects, from classic circle brushing to the more futuristic laser etching used by Swedish brand, Stala. While the patterns add character and even playfulness to the metal, an all-over steel kitchen may still be a little too clinical for most. Throw some natural wood and organic curves into the scheme to soften steel's hard lines and you'll have a cutting-edge kitchen that's both inventive and inviting.
Trend: Mushroom motifs
Lust Home
While scientists are busy growing fungi furniture, mushroom motifs have started popping up throughout the rest of the interior design world. Wallpaper designers in particular seem to be using mushrooms as muses and you'll find them in all shapes, sizes, and colours, from earthy woodland tones to bold, psychedelic hues.
Mushroom motifs: Shapely stools
Nordic Nest
Mushroom lamps have been with us since the Atomic Age and have boomed once more amid the mid-century modern craze of the past decade. But keen trend spotters may have clocked fungi-like features starting to appear in other homeware recently, from ornaments and dinnerware to tables and stools. And of course, mushroom lamps aren't going anywhere, though they may get a modern colour makeover with contemporary hues like plaster pink and navy blue taking over from atomic orange.
Trend: Luxe laundry rooms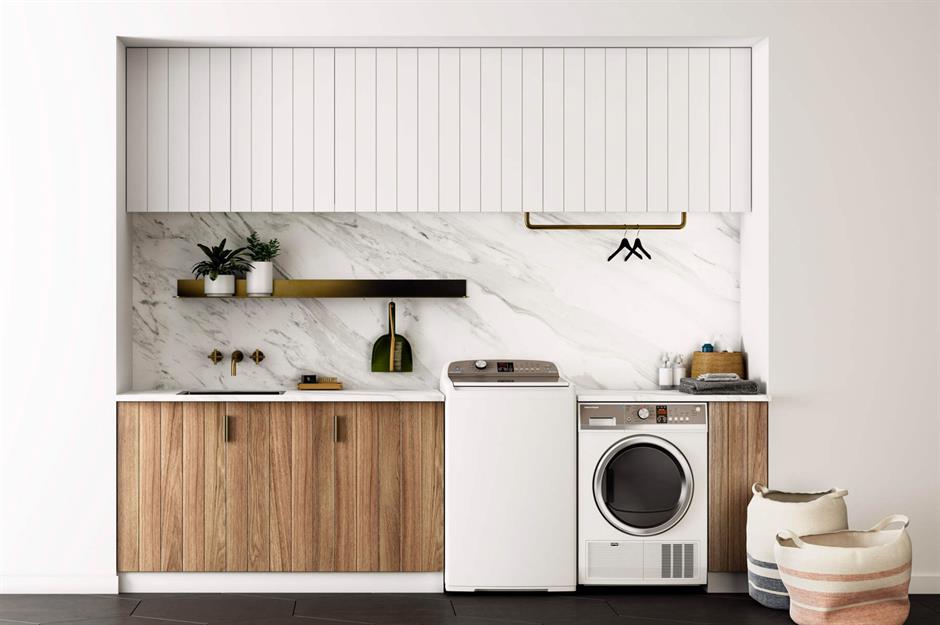 COD Kitchen Appliances
Laundry rooms used to be a place to shove all the ugly appliances and odd socks that would otherwise be cluttering up your kitchen. Then lockdown left a lot of people stuck at home wandering around the same few rooms day after day. Some of them stumbled upon their utility room and realised the design potential of this once-overlooked space. Since then, luxe materials such as marble and brass have been adding a touch of much-wanted glamour to doing the washing and ironing.
Luxe laundry rooms: Bespoke boot rooms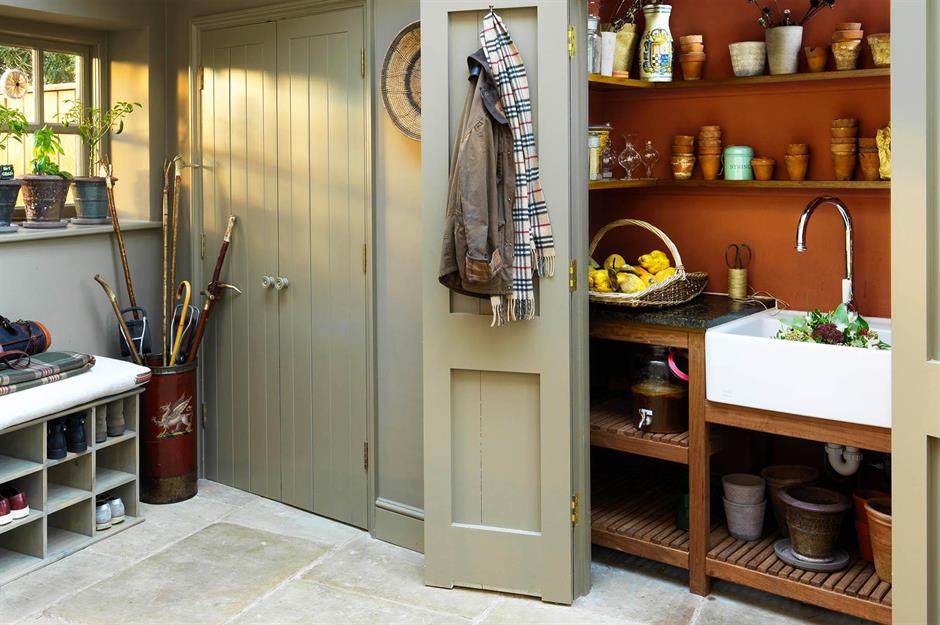 Edward Bulmer
At the top end of the scale are ultra-bespoke utility spaces in which everything has its right place. Handmade cupboards hide away washing machines, cleaning products and any other unsightly reminders of daily chores. Footwear is stacked neatly on bespoke shoe racks. Any practical products on display have been carefully chosen to fit the premium aesthetic—think a vintage-style feather duster in a country scheme or a streamlined iron tastefully mounted on the wall in a modern laundry room.
Loved this? Check out more interior design ideas for your home